Valentine's Day is all about love, which makes it so special. If you and your love interest are about to celebrate your first ever Valentine's Day, then the expectations could be quite high. After all, there is just something special about the first Valentine's Day date that makes it so exciting. The two of you are going to remember the day and the time you have spent together for sure. So why not make it even more memorable with some First Valentine's Day Gift Ideas. Here are some amazing gift ideas that you can consider for the first ever date on V-Day.
---
Suggested read: See What The Stars Have In Store For You This Valentine's Day!
---
A journal
This is one of the classiest things that you can gift to your Valentine. If they are into writing, then they would certainly love it. It will give them a chance to write about their day, feelings, and almost everything else.
Charm bracelet or pendant
This is a chic and heartfelt Valentine gift that you can get for your lady. When it comes to charm bracelets or pendants, the sky is the limit. You can be really creative and pick something that she likes. If your budget allows, then you can get an engraved piece of jewelry as well.
A thoughtful book
A book is undoubtedly one of the best gifts for any bibliophile. If you know that your date is into reading, then visit their Goodreads page. Buy a book from their "to-read" list. They will certainly appreciate the gesture and your thoughtfulness.
Personalized gifts
While personalized gifts have been around for a while, they never seem to go out of trends. You can get them a personalized coffee mug, pen, bottle, pillow cover, and all kinds of items. While it might be a little cheesy, it is okay to go overboard on Valentine's Day.
A stylish handbag
A designer handbag is one of the best First Valentine's Day Gift Ideas to try. If you know your date is into fashion, then you can consider getting a classy leather handbag. A tote or a shoulder bag is another option to consider.
Silver earrings
Silver earrings represent a subtle class that your lady-love would adore. You can consider buying a pair of stud earrings that would have an understated appeal. If your budget doesn't allow, then you can get silver or gold plated earrings as well.
Wooden magnets or cards
Wooden magnets, cards, and other objects have an age-old charm. You can get a wooden pen stand or a desk accessory as well. In this way, you would be able to make a distinctive presence in their life from the beginning.
A printed tie
While jewelry and bags are well-suited for women, you can consider getting a modern tie for your guy. Instead of choosing a plain silk or satin tie, choose a printed one instead. There are tons of casual ties and bows out there that you can consider buying for him. After all, sometimes a simple accessory can help him stand out of the crowd.
Engraved watch
Although this is a more serious gift, you can still consider it if the two of you know each other for a while. You can get their name engraved on a watch and give it to them. It will certainly be a timeless piece that they would cherish for years.
New-age print art
Printed art objects are making a comeback for their casual yet distinctive appeal. If they are into TV series, music bands, video games, or any other cultural phenomenon, then this would be an ideal pick.
Mini plants and vase
This is a versatile gift that can be given on a range of occasions. There are all sorts of mini plants for him or her that you can readily get. Sometimes, even a cactus can look cute in a small ceramic vase. Just make sure that the vase is trendy so that they can even place it on their desk.
Matching T-shirts
While this might seem a little cheesy, it can be a memorable Valentine's Day gift. Simply get matching T-shirts for the two of you in order to remember the occasion. Apart from romantic quotes, you can also get something funny printed on it as well.
An online class
If you know your date is passionate about something or would like to learn, then why not get them an online class subscription. For instance, if they wish to learn about modern paintings, get them a subscription for a dedicated online class regarding the same.
Wine tasting kit
Let's be honest – who doesn't like wine tasting, right? The kit would include all kinds of wines with detailed information about it. This will give the two of you a perfect excuse to get drunk and know more about wine at the same time.
Whiskey!
Yes – you have read it right. Sometimes, the best Valentine's Day gift is a signature bottle of whiskey. This is an old-fashioned gift idea that is not only classy, but will also be loved by everyone. Just be sure that your Valentine isn't sober or a recovering alcoholic.
A smartband
If you want to get a trendy gift on a budget, then consider buying a smartband. This will help your date focus on their health, sleeping pattern, and more. There are numerous options for smart gadgets like this in the market for you to explore.
Essential oil and diffuser
Set the perfect mood by giving them some essential oil and a diffuser. Essential oils are highly beneficial and can help you set the perfect ambiance. You can also consider their preferences before buying an essential oil.
---
Suggested read: Falling in love with him… was as easy as breathing
---
A couple's class
This thoughtful Valentine's Day gift will let the two of you spend more time together. The both of you can take a couple cooking, dance, fishing, or almost any other kind of class. There are all kinds of fitness-oriented classes as well that will let the two of you workout together.
Premium blankets
Cozy, personal, and affordable – this Valentine's Day gift is recommended for its utility. Every time they would feel cold and tuck themselves in the blanket, they would certainly think of you.
Sneakers
A good pair of sneakers can certainly change the way we run. If you know that your date is also fond of running, then this would be the best gift for them. You can also consider walking or sports shoes too.
Personalized white or black board
This is another simple yet thoughtful gift that your date can add to their home or desk. They can place it in the kitchen or at their workstation. Needless to say, it will help them keep things organized.
Stylized picture frames
Picture frames have been one of the most obvious First Valentine's Day Gift Ideas for a long time. You can step it up a little by getting stylized picture frames in ceramic, metal, wood, or glass.
Fresh coffee beans
Do you want them to think of you every morning? If that is the aim, then consider getting them a bag of fresh coffee beans. Just make sure they already have a coffee maker though. This will let them have some fresh brew – all thanks to you.
Woolen scarf
If you don't want to go overboard then consider getting a woolen scarf. It will be a perfect accessory and can be used in all kinds of occasions. You can include it with some other gifts as well.
Perfume
Perfumes are considered as one of the classiest things to give to anyone. You can walk an extra mile and keep in mind their preferences to pick the perfect scent.
Scented candles
This would be an ideal add-on that will certainly make your gift more memorable. Pick a bunch of scented candles and mix them up. This will set just the perfect ambiance on a special occasion.
Cozy mittens
If they are into baking, then you can also consider giving them some mittens as well. Get some cozy printed mittens so that they will think of you every time they bake something.
A Dutch oven
This is another gift that you can consider for someone who is passionate about cooking. The product is of high utility and will certainly be an amazing Valentine's Day gift.
A gorgeous dress (or a hoodie)
There is nothing quite like getting your girl a gorgeous dress. If you have something casual in mind, then you can also get some comfortable hoodies as well.
Movie posters
Last, but not least, you can also consider them getting some movie posters. Try to find unique and original posters for a movie they like the most. If you want, you can also consider framing the movie poster as well.
---
Suggested read: 12 Sex Positions To Try With Your Partner This Valentine's Day
---
I'm sure that after getting to know about these Valentine's Day gift ideas, you would be able to pick the perfect gift for your date. Go ahead and explore some of these options and let us know about your pick in the comments below.
Featured image source: Tumblr 
Summary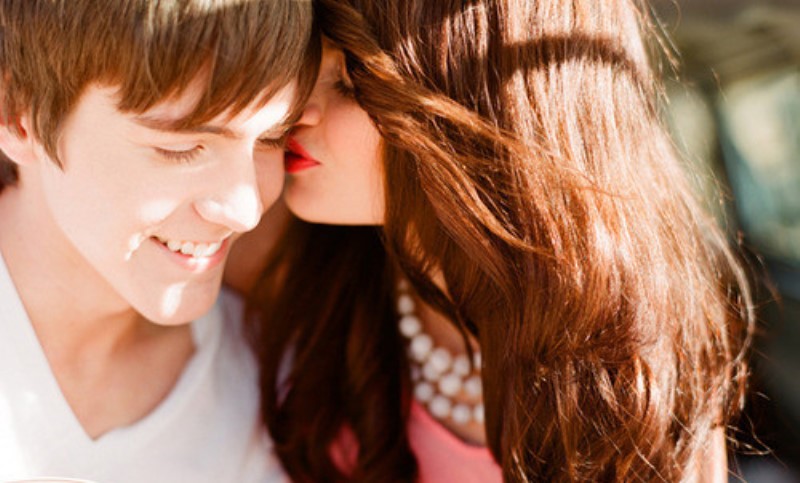 Article Name
First Valentine's Day Gift Ideas For People On Their First Ever Date
Author
Description
Why not make the 14th memorable with some first Valentine's Day gift ideas. Here are some ideas that you can consider for the first ever date on V-Day.