Fashion is akin to the wind- it comes with varying intensity at various times and changes the very direction of the scene it blows over. Now amid so many labels, boutiques and designer stores all around, there has to be one aspect of fashion that has been sealed never to change. It is here that we recall the humble saree that has seen centuries between itself – only to remain a fashion fave among generations across ages.
Now, while the basic saree has remained the same, it has come to acquire new tinges, innovative touches and jazzy drapes over time. While the saree is a unique item in that it suits everyone from young to old- it also has a way of appearing different on each one of the wearers.
---
Suggested read: 11 floral bridal lehengas for a flowery bride
---
The drape makes the difference, we believe, and here we bring you 12 hot saree draping styles. In addition, these saree-draping styles are for the skinny ladies out there. Go ahead and drape the saree like never before.
1. 'Desi girl' draping style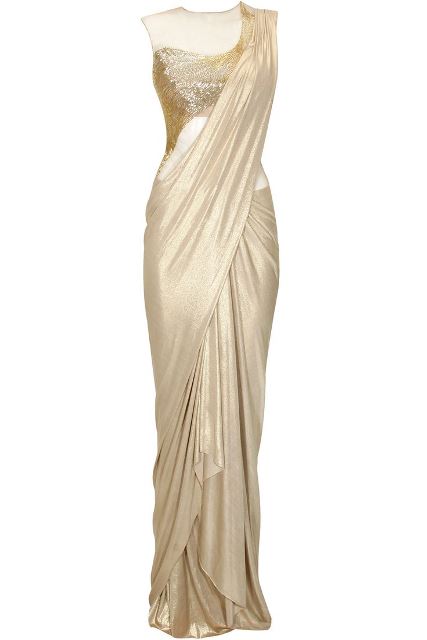 Image source: Pinterest
The desi girl drape- Priyanka Chopra rocked this one and if you have washboard flat abs and hips to die for, this is the style to pick. Among the many saree draping styles for skinny girls, this one sits with élan at the top. In addition, the style brings out the best features in you as it accentuates your curves in a way you do not appear too bony.
2. Modern Marathi mulgi draping style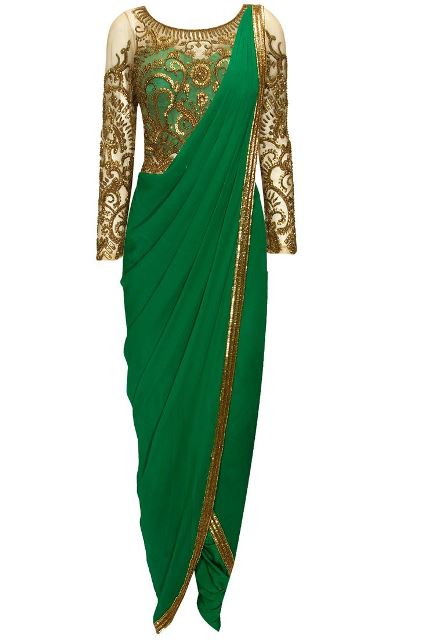 Image source: Pinterest
The pant drape is inspired from the Marathi mulgis, this drape style takes everything to a brand new level for skinny and tall lasses. You need ample leg length to rock it but given that you are skinny, you can carry this off without appearing too bundled up. Try these styles in silk sarees that are embroidered in classic sequins or sport plenty of sheen.
3. Classic draping style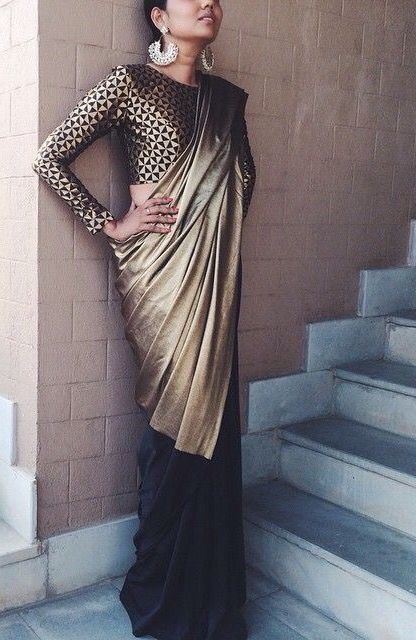 Image source: Pinterest
The quintessential classic style of wearing the saree, this is a resplendent draping style to stun onlookers. However, if you are not too skinny, you can be a wee bit daring with the blouse cut. The pallu can be stacked up higher and can fall like a train. Add this to your must-try-drape list now.
4. Sheer Splendor draping style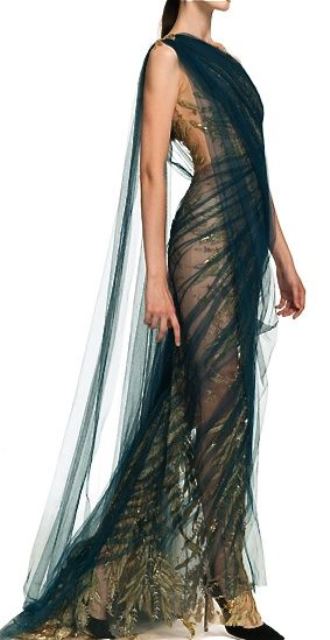 Image source: Pinterest
Flirty and frothy- this saree drape is a must-try for those with the thin genes. The saree chosen to try this drape style should be very light and net-based. The drape sits lightly on your form yet flatters it well. The drape is sexy and apt for your cocktail parties! Note—the color of the saree for this drape style must be dark for the blinding effect to shine through. Go try this one now.
5. Daring draping style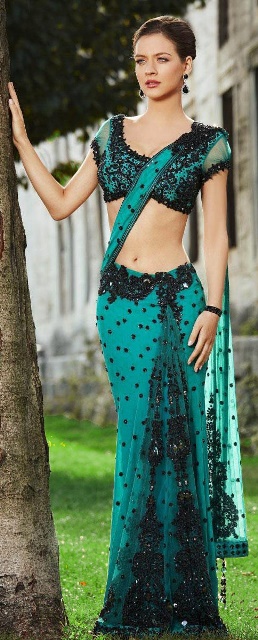 Image source: Pinterest
A very daring drape for the ballsy women out  there. Slightly more twisted and open than the desi girl drape, this is best for skinny ladies who have the confidence to carry off a little more-than-usual skin exposure. The blouse too must be well-fitted and the silhouette must cling to the pelvic area of your body!
6. Dhoti style drape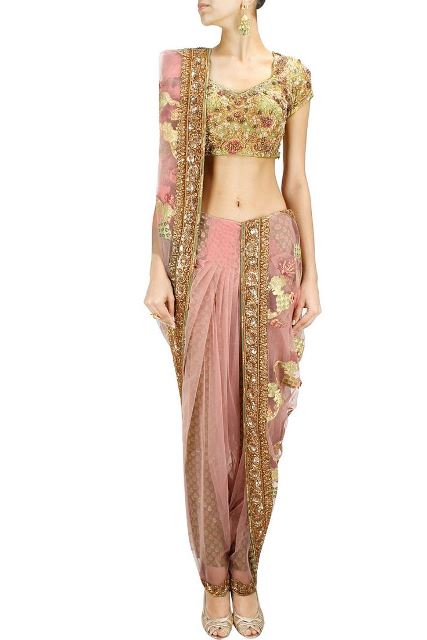 Image source: Pinterest
A dhoti style drape is for the bubbly babes who love a little bit of adventure and drama at the same time. The material of the saree must necessarily be net with zardosi sequins for an illusory effect. The color can be soft and surreal with heavy borders for the drape to assume the right flow. If you are a fashion-forward chick who just cannot ride too heavy on tradition, this is the drape for you, darling!
7. Victorian gown drape

Image source: Pinterest
This is a gown drape that combines Victorian silhouettes with some desi tadka. Make sure you choose a dark color saree offset by a blingy pallu. Drape the pallu tight in pleats and let some areas be flowy. Make sure the blouse contrasts with the sequin work on the saree and sits in a way that blends in perfectly with the drape.
8. Rajputana draping style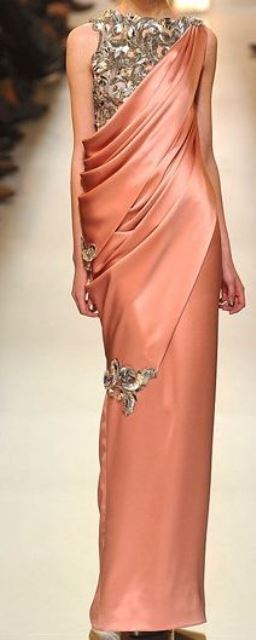 Image source: Pinterest
The Vintage drape inspired by the Rajputana royalty of pre-independence India tends to have a cling effect in the hip area. best suited for silky, satin-y, soft hues, the pallu in this drape style has to be one-sided and pleated in a smooth manner. In addition, the blouse needs to be full bodied or halter like for the best effect.
9. Modern gown draping style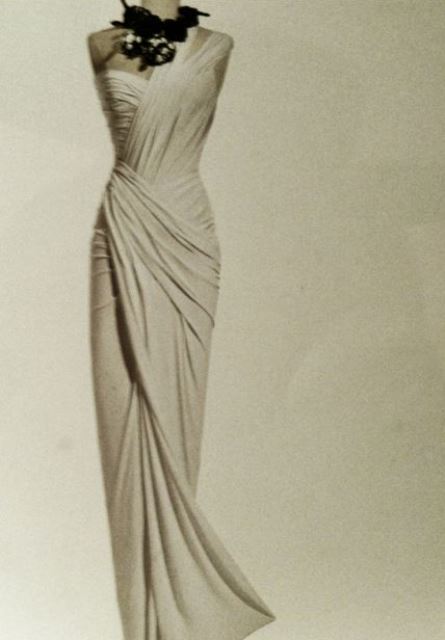 Image source: Pinterest
Here comes a more modern variant of the gown drape. This appears so real in a gown avatar that it is hard to tell where the pallu ends and the accents begin. The blouse and underskirt bits are stitched together in a neat, little cheat trick for the ladies who shudder at the thought of carrying off those nine yards! The pallu has to seamlessly merge at the back without having a fluttering edge in the front area and tadaa- you are ready, diva!
10. Lehenga saree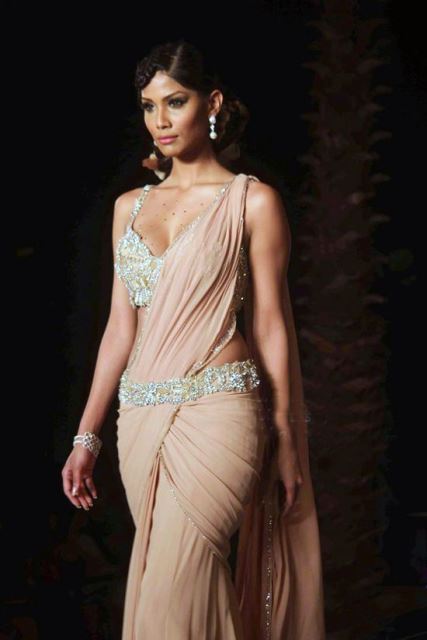 Image source: Pinterest
A bolder version of the desi girl style, this drape is very much like how you would use a lehenga saree. The belt preps the entire story up and the drape is also held in place cleverly. The blouse, usually, is one that isn't afraid to dare-and-bare, thereby, ideal for women who know how to be at ease with a little skin show. Of course, any color goes!
11. Italian gown drape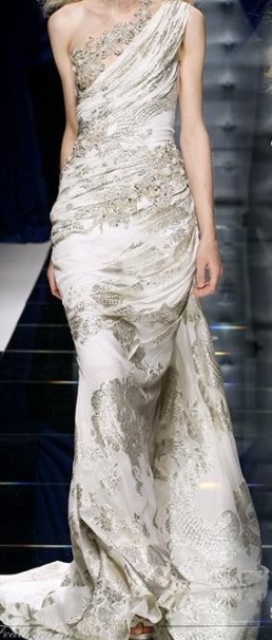 Image source: Pinterest
A gown drape that is very Italian in feel, this one has drapes pinned neatly at the back while the underskirt is left to seamlessly merge at the bottom. Comfy yet chic, the saree style is awesome and hardly traditional.
---
Suggested read: 12 sparkly wedding shoes that'll add that extra bling
---
12. Half-saree draping style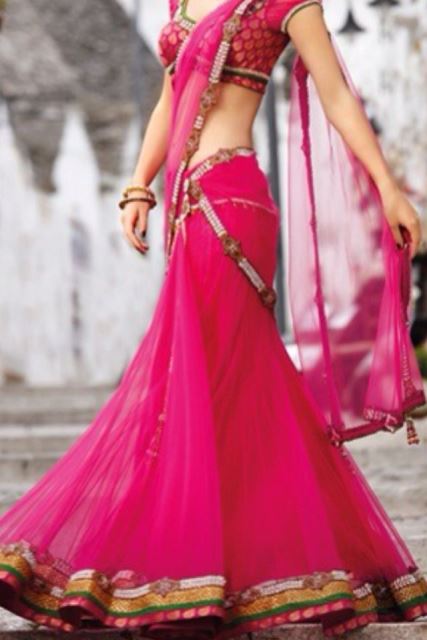 Image source: Pinterest
The half-saree drape is every skinny girl's delight. And when it is as hot as this fuchsia piece is, we know why just about anybody would love the drape. The best part about the drape is that it is uber sexy yet simple—it barely takes time either!
Who said skinny girls do not look gorgeous in modern drapes? You know to prove such statement wrong now! Go ahead and try these saree draping styles on yourself or your besties without further delay. Rock the drapes!
Featured image source: Pinterest
Summary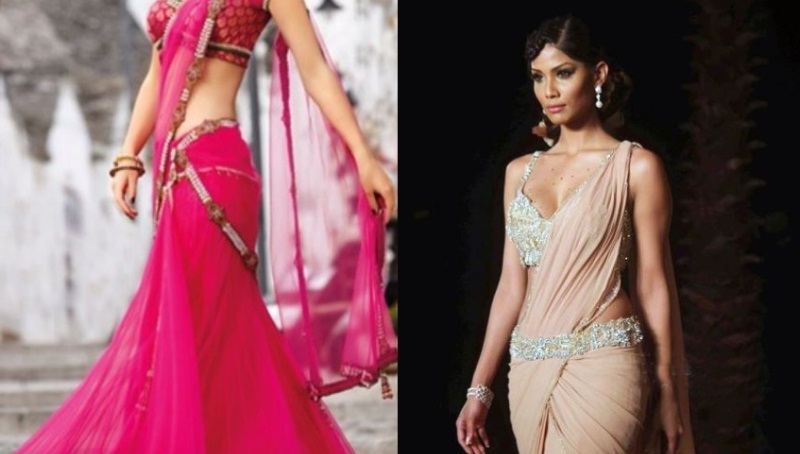 Article Name
12 Elegant Saree Draping Styles For Skinny Women
Author
Description
Skinny and rue the fact that you can't drape a saree to flatter your figure? Worry not, for here we have 12 elegant saree draping styles to choose from.