We girls love to be kitted out to perfection from head to toe, whether there is an occasion or not. We love looking our best, and for that, putting together a top-notch ensemble is absolutely necessary. You may be hitting it just fine with your pair of tights, but are you aware of which shoes to wear with skinny jeans?
---
Suggested read: Denim Trends 2016: You cannot miss out on these!
---
Every style calls for a particular kind of footwear, and skinny jeans, which are designed to flaunt that hot bod, require you to cherry-pick complementary footwear. We are assuming that you are a big fan of skinny jeans (who isn't?!), and are faced with a big dilemma, right now: You want to create the perfect ensemble, but have no clue how. You don't want to do injustice to your new pair, which is making you very finicky about your options! We know your struggle is real; we know it so well that we have racked our brains to get you a plethora of different footwear you can pair your skinny jeans with. They'll all lend you different but equally awesome looks!
Scroll down to find a collection of different pair of shoes to wear with skinny jeans, curated just for you!
1. Skinny jeans with sneakers
Plimsolls are our favorite boys, and so, they are number one on our list! The colors that these running shoes come in are mind-blowing, which makes them a must-have for your tights. Shades such as royal blue, grey and brown, are always better than outrageous patterns that completely throw off the entire outfit! We are not looking for an athleisure look right now, remember?
For your first date, you may not be looking for a very dressy-uppy ensemble, and that's where the sneakers make their entry! Slip-on plimsolls were the rage this spring, and they are not planning to exit the fashion scene any time soon. The traditional lace-ups are also a great option to team up with the skinny pair. Also, the Chanel Couture Show has already confirmed that sneakers are the new heels! For a with-it look, top off that skinny pair of denim with thick socks, rolled at your ankle.
Pro-tip: Slip into a pair of cognac lace-up Oxfords!
2. Skinny jeans t-straps
T-straps are perfect when it comes to exposing your pedicured feet, right? They also help breaking up the in-line shape on the bottom half. A T-strap that comes with a heel lends you the sleek and sexy look, and so is ideal for parties and night outs. You can go color-bingeing on them too, if that works for you. They'll offer your outfit a tone of adventure, and will make you feel more confident.
Pro-tip: To up the glam quotient, try T-straps with beads! 
3. Skinny jeans with loafers
What's the preppiest shoe for anyone who likes to play it smooth? Loafers, of course! If you want a more classic look, go for a more traditionally-styled pair. Loafers drop a hint about your easy-breezy nature, and by clubbing it with your skinny jeans, woman, you upping the ante!
When slipping into loafers do don silhouettes not only in jeans but also your shirts by teaming them up with statement leather jackets or solid-colored turtle necks. Since people will stare at you anyway, make it worth their while! We are hearting how gals are matching their tasseled loafers with the colour of their hair! It's bold, right?
Also, one can never go wrong with pairing skinny denims with pointy-toed loafers, which brings us to the next combination!
4. Skinny jeans with pointed flats
Pointed flats look super rad when worn with skinny jeans. The pros suggest that flats with embellishments and extra-detailing should be dodged, though. Extra-festooned pointed flats can kill your otherwise on-point look.  Instead, KISS!
If you want a more dramatic look, try an animal print pair to unleash your wild side! Remember to keep the rest of your prints in neutral tones, however. Strike a balance by pairing muted and conspicuous shades, and we should be good to go! If you don't have a pointed flat and want to invest in one, go for black pointy toes, since they work best with any shades of denim pairs.
Pro-tip: A nude pointed ballet flat is an ideal way to create an illusion of height without wearing heels.
---
Suggested read: 24 amazing suede ankle boots we are dying to wear
---
5. Skinny jeans with boots
Ankle boots add the much-coveted volume to the skinny jeans. It doesn't matter if they are flat or heeled, chunky or platform, or even cage, the pair will work great! Black and brown are your best bets. If you want to give your outfit the va va voom factor, get yourself a pair of stiletto boots.  IMHO, chunky platform boots look the best with skinny jeans, because they give you that sense of boldness, without shifting the focus from your amazing skinnies. But if you want something more defiant, cherry-pick the cage boots that are open toe.
If you are thinking grey or yellow skinnies, because they are awesome, keep your inner clothing profile neutral by going for a solid color jacket. With grey pants, you can also match a white top and a pair of OTK grey boots.
Pro-tip: When pairing skinny jeans with boots, the timorous need not apply! Sorry, but this combo is a gallant choice! The key to land this look is to make sure your skinny jeans are textbook, so that the fabric of your pants doesn't bulk up under your boots. Also, the boot should sharply contrast the color of your jeans or else you will look like someone with a mono-leg!
6. Skinny jeans with long Ugg boots
Think: A spontaneous white top, a poncho, a pair of skinny jeans, long Uggs and a beanie to top it with! Sounds like perfection, doesn't it? If beanies are not your style, go for a fedora!
Pro-tip: Think thick-soled Ugg boots with a skinny (not very thick) roll at the ankle of your denims!
7. Skinny jeans with converse
Meeting up with your parents for lunch or going for a movie with a friend? This is your perfect ensemble, girl! Roll up your skinny pair to flaunt the Chuck Taylors in bloody red. Match it with a knotted tie white top. Throw in a black leather jacket, and we are done. If layering is not what you are looking for, complement the outfit with a dainty necklace to embrace the feminine side.
8. Skinny jeans with black heels
This outfit is perfect for a casual Friday at work, coz it's got the double oomph factor! I mean, it is simple, the pieces are neat, and when put together the elements collide seamlessly to form a flawless blend. Slip on a sweater that is a little baggy, pair it with heels, and carry a toning bag! Don't miss out on the splash of red on the lips!
9. White skinny jeans with red stilettos
Before fall ensues, put on your white skinny jeans, and pair it with red stilettos. Another stunning combination of attires is white pair of skinnies and pink heels. A long jacket can even out the cropped pants, and also add primness to the whole look. A hand bag is a must have here!
10. High-waisted skinny jeans with running shoes
If you are the girl on the go, you can never get enough of your running shoes. High waists made a comeback last year, but boy, there are not going anywhere anytime soon! Think short tops, or tuck in shirts with your high-waisted skinny pair. This one's an ultra-mod look, and isn't it super obvious how hip it is?! White sneakers with these, all the way!
If you are thinking fall, then go for a maroon turtle neck and a royal blue denim. Invest in pointy boots and glasses instead of going for sneakers in autumn. The makeup needs to be on-point since it can enhance or kill the whole look. Tie your hair into a top-knot, and put on those diamond studs for the delicate touch!
11. Skinny jeans with naked sandals
The sun is going to shine bright for another month or so. There is no point shelfing your naked sandals already. A naked sandal is a shoe with consists of nothing more than an ankle fastening and a strap across the toes. We can classify them as footwear only because they stay on the foot! Or else, we could very easily pass these guys off as foot embellishments!
If you consider yourself a superwoman (why shouldn't you??) try on a cape. A cape looks real sexy with a pair of skinny tights and deep-v stilettos! The toe cleavage will balance out the cape.
---
Suggested read: 11 pairs of nude shoes for women who take shoe love really seriously
---
These were some basic ensembles that you can try your hands on. Geometric printed bootie is also a great option, btw. And so is a sandal of muted leather showing the right amount of skin! The point is there are just so many options that this list becomes inexhaustible! How about telling us which shoes to wear with skinny jeans?  Bi-tonal boots? Scuffled motos? The classic black pump? Gargantuan stilettos? Sound off in the comments!
For more on fashion and everything pretty, sign up for our daily newsletter today!
Featured image source: Google, copyright-free image under Creative Commons License
Summary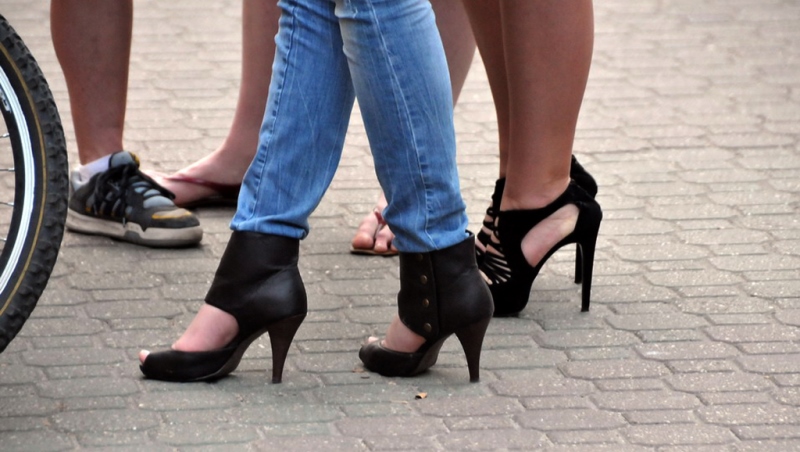 Article Name
The Ultimate Guide On What Shoes To Wear With Skinny Jeans
Author
Description
You may be hitting it just fine with your pair of tights, but are you aware of what shoes to wear with skinny jeans? Here's a guide to help you with that!