Do you remember a little movie called The Notebook that was released 11 years ago? A dramatic masterpiece that took romance to a dangerous level of addiction and bittersweetness, the movie contains a number of love lessons that you and I ought to learn from. For a trip down memory lane, here are just 12 love lessons The Notebook taught me. Happy reading!
---
Suggested read: 10 love lessons the 90s movies taught us – for better or worse 😛
---
1. "I'll be seeing you…"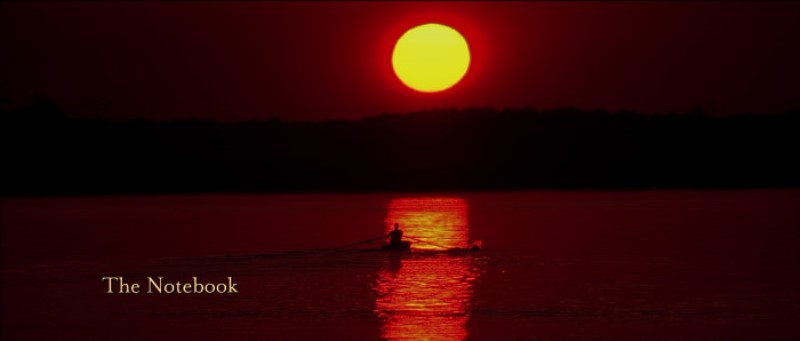 Image source: Youtube
The first scene, which haunts my memory, is of the beautiful sunset into which a man is rowing a boat. Noah knows very well that Allie is like the setting sun; he has already lost his wife in the true sense. But instead of perceiving this dolefully and pessimistically, he is holding her hand through her last sail. Noah, through The Notebook, is rousing in us a belief in a new dawn, because love is not supposed to be melancholic. It should be cherished till the end, and even after!
2. "I want all of you, forever, everyday. You and me…everyday."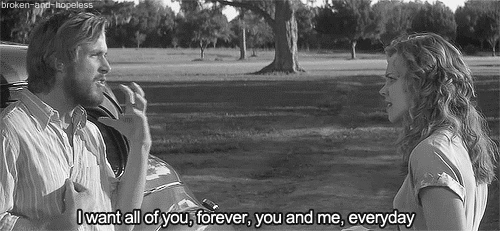 The Notebook talks of the two lovers at two spells in their lives. We watch them in the earnestness of a young romance, and then we appreciate them as older individuals. Allie is waning into an abyss, that is, Alzheimer's, but Noah is unwavering in his love. It is almost a ritual every day for him to read to Allie from a notebook that speaks of their story, their love, which has lived on no matter what. Every now and then, he says, if simply for just a few moments, the veils on her memory are drawn apart, and she recalls who he is! He lives every day for this twinkling of her memory! If this is not love, what is?
3. "I wanna go out with you!"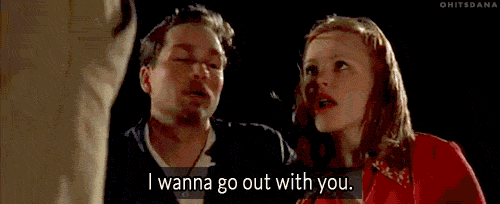 You know what is worse than failures? Regrets! The same works in relationships too. If you are not letting the other person know just because you are dreading rejection ("They will not even be friends with me if I bare my heart!"), what if their answer is "yes"? A blissful life is waiting for you to take a leap of faith and convey those emotions. If it is a "no," you will at least have tried. Experiences in love are never bad but always worthwhile: you either earn love or learn a lesson.
4. "Read this to me, and I'll come back to you."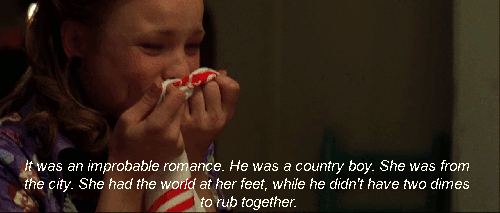 Allie is a kid from a posh family, summering at their mini castle, while Noah is a lumberjack working at the mill. He is clever and romantic, but these qualities are not considered to be worthwhile by the girl's snobbish parents. Only a miracle can tie them together. But Noah does not lose hope. Even when separated, he writes her letters (awww!). Although unreciprocated, he keeps writing to her. That is how untiring you have to be when it comes to relationships – even though you may not be parted by physical distance, metaphorically you might be miles away!
5. "If you're a bird, I'm a bird."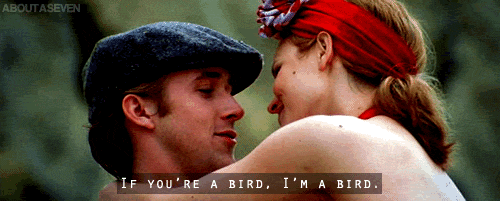 I can remember reading a tale as a kid about a skunk pretending to be another animal only to make friends and belong to a certain group. In the course of this attempt, he loses his uniqueness. Don't let this happen to you in a relationship. Compromises and sacrifices are part and parcel of the whole deal, but you have to know the difference between them and the negotiation of your identity, your real self. If your partner tries to alter those qualities in you, the relationship is definitely not healthy!
6. "You can't live your life for other people."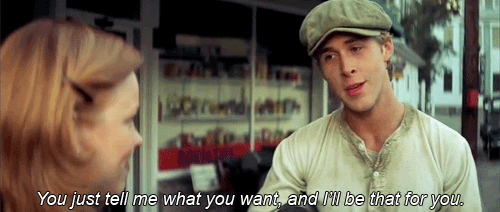 Spend time with your other half and make the greatest use of every chance you get to steal a few moments from life that you will revere and cherish forever. Life is a run of flawless moments strung together, but you'll see the dots connect only when you look back. So go ahead – take the step forward. Try to understand each other, your happiness and your needs, what you both like doing but aren't being able to. Young Noah knew that Allie had a tough schedule and thus becomes her resort, someone around whom she can be completely wild. Be one another's vent. When you are with them, life should seem like an endless ocean of possibilities.
---
Suggested read: 9 timeless love lessons from the unsinkable 'Titanic'
---
7. "This has always been enough."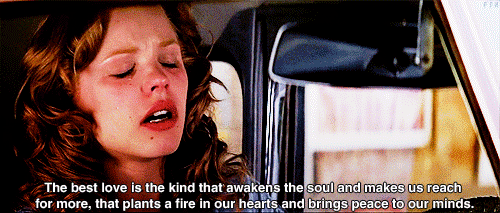 The scene where Allie is recklessly driving back to her fiancé after a fight with Noah is a huge love lesson. She tears open a letter out of the 365 that Noah had written her and is reminded of the reason why she loves this man so much. There will be arguments and fights between the two of you (and they can even be the sign of a healthy relationship if in moderation!), nonetheless keep reminding yourself of the undying love that lives between you. Don't let yourself go astray. Keep falling in love all over again with the same person.
8. "It wasn't over. It still isn't over."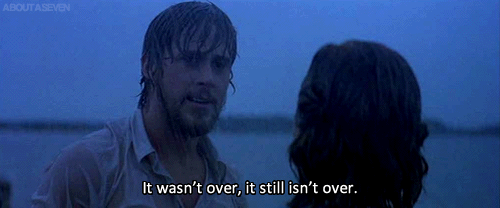 Don't be a square peg in a round hole! Your heart knows from the very first moment that it belongs to a particular someone, someone who is home to your heart. Don't try to silence this voice. In Scent of a Woman, Al Pacino says that we always know what the right path is, but it is so damn hard! There is a time in The Notebook where Noah tells Allie, "I don't see how it's gonna work!" But despite snags, don't give up on your love. Believe in it and follow your heart.
9. "Or three… I leave you."

Let's not just go gaga over Noah and Allie! The relationship between Allie and her fiancé, Lon, teaches us what I consider the most important relationship lesson: letting the other decide for themselves. When Allie confesses to Lon about her relationship with Noah, Lon reacts in a very mature way, which should be everyone's take when sharing a bond with another. He tells her that no matter what verdict she gives, he cannot have her, and that is the whole point. You cannot force someone to be in love with you, because in the process you will be ruining many lives, but primarily your own. Grow up and give space for the other to choose.
10. "There ain't no mountain high in love."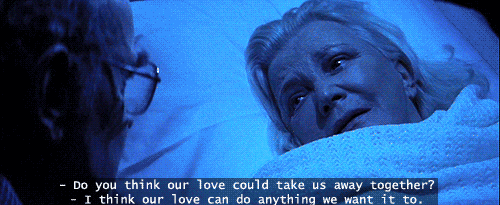 When Allie's mum discovers that her daughter has sneaked out of the city to meet Noah, she comes to take Allie away, but is stirred by the love that they share between them. She reminisces her long gone love and is choked with regrets. She reflects on how loved a life she could have had, but abandoned it for a financially secure one. She appreciates that her daughter is very happy, which she herself could never be. So be devoted to one another so strongly that your love becomes exemplary!
11. Let her go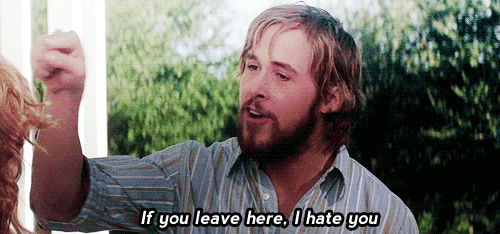 Noah and Allie were separated quite a lot of times, but in spite of that they keep returning to each other. Every time, Noah lets her go and tells her that he can endure it like he has done previously. Sometimes, to know you love her, you have to let her go, because "you'll only miss the sun when it starts to snow, only hate the road when you're missing home!" The Passenger couldn't be any more right!
---
Suggested read: 9 weird love lessons Phoebe Buffay taught us
---
12. "What do you want?"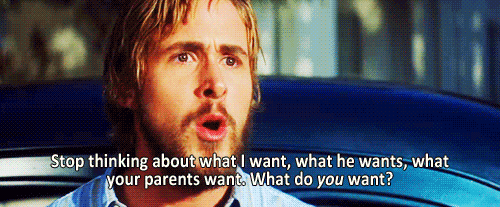 After Allie and Noah have spent a night together at the house that Noah has remodeled for his lady love, she wakes up to find herself guided by arrows to an empty canvas. I consider this poignant because Noah has done his best to win her heart all over again and shown her how happy she can be with him. Nevertheless, he lets her decide for herself what she wants to do next. He presents her with an empty canvas to paint whatever she wishes to with whichever colors she pleases. If your love is powerful and meant to be, she is bound to choose you.
Featured image source: Google, copyright-free image under Creative Commons License
Summary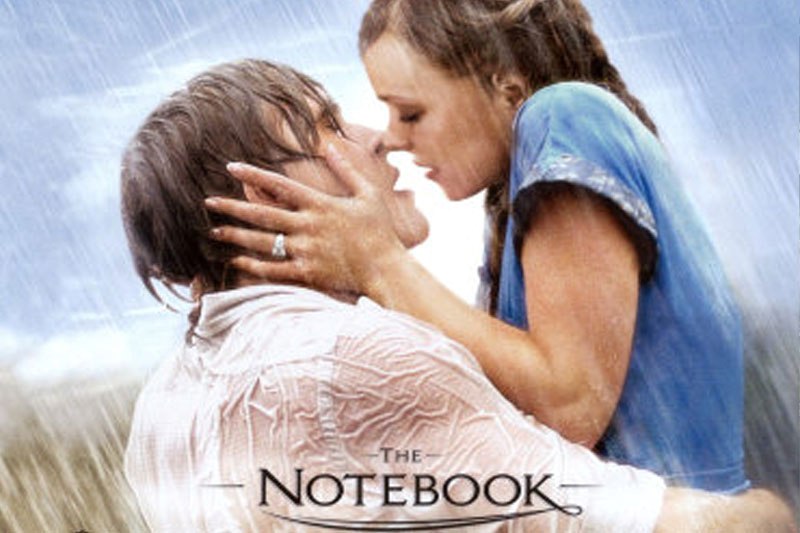 Article Name
12 Love Lessons 'The Notebook' Taught Me
Author
Description
Nicholas Sparks' 'The Notebook' is dreamy, love-beats-all-odds kind of sweeping romance. Take a look at the love lessons you can take away from this movie.