Riteish Deshmukh and Genelia D'Souza pushed the boat out as they completed 14 years of togetherness this year. First, we should take a moment to cherish this fete with them, coz 14 years is a big deal, okay?! In a melancholy-filled sea of sadness where Bollywood couples are either breaking up or getting divorced, Riteish and Genelia have stood firmly, hand-in-hand. They stand out like unicorns, I think! Don't agree with me? Well, you need to have a look at the relationship benchmarks they have set for you and your significant other!
But, before we get started, let us go in for a flashback. So, Ritesh and Genelia started courting when Genelia was a cute, bubbly teen, and Mr. Deshmukh was still trying to get established in Bollywood. Almost ten years later, they tied the knot in a fairytal-ish wedding! Today they are parents to two super cute boys!
Now that we have had a background tour, read on, smile, blush, and spread the love! Behold the Ritesh and Genelia love story!
1. Captioning the pictures right!
This caption could melt even a stone-cold heart!
2. Not forgetting anniversaries!
Now that would be a rookie mistake you want to avoid, isn't it?! Riteish gets it just right!
3. Going to the games with your man, and actually looking happy!
Celebrating as a team! If you think it means a lot to him, you do it even if you aren't that into it. Genelia, you are a babe! Sending hugs down the air waves…
4. On point when it comes to gifts!
See, when it comes to gifts, you should present someone something they want and not what you want to give them, okay boys! Pick a cue or two from Riteish, please! By the way, this guy here is Flash!
5. Holding hands come hail come storm!
In more than one occasion (read: thousands!), Riteish Genelia, have shown us that they are undoubtedly the most adorable couple in B-town!
---
Suggested read: Celeb love story – Aishwarya Rai and Abhishek Bachchan
---
6. Saying the cutest things about each other
When it comes to this, I will let Riteish Genelia speak for themselves!
So here's what Riteish thinks of his wife:
"She is my flag-bearer. I draw unconditional support and love from her. Genelia's love holds me together and to understand her love is something else. It is amazing."
Fainting with envy already, girls?! Well, let us hear what Genelia had to say:
"I love Riteish. He lets me be. He encourages and pushes me. He's proud of me and he's such a secure person."
*sobs with happiness*
7. Always making time for coffee
These two are smitten even after 14 years of togetherness! Are we supposed to get jealous, or go awwwww?!
8. Taking adorable selfies
And posting just the right quantity of them on social media accounts! Now that is PDA done smartly!
9. Posting a family picture that has all the *feels*!
This family portrait is definitely the cherry on the top of the Riteish Genelia love story! Now that they have baby number two, we cannot wait for the next family portrait!
10. Being the only couple whose PDA does not make you gag!  
Posting sweet nothings on their handles whether Instagram or Twitter, is how the duo keep their romance alive!
We see relationship goal memes floating all over social media each day! Some are cute and some, nauseatingly overwhelming! But Mr. and Mrs. Deshmukh, who address each other as Father of and mother of (respectively) Rihaan, on Twitter, you should take a bow. Any person would kill to live the Ritesh and Genelia love story!
Here's wishing you a million years of togetherness from team NLT! ☺
Featured image source: movietoaster
Summary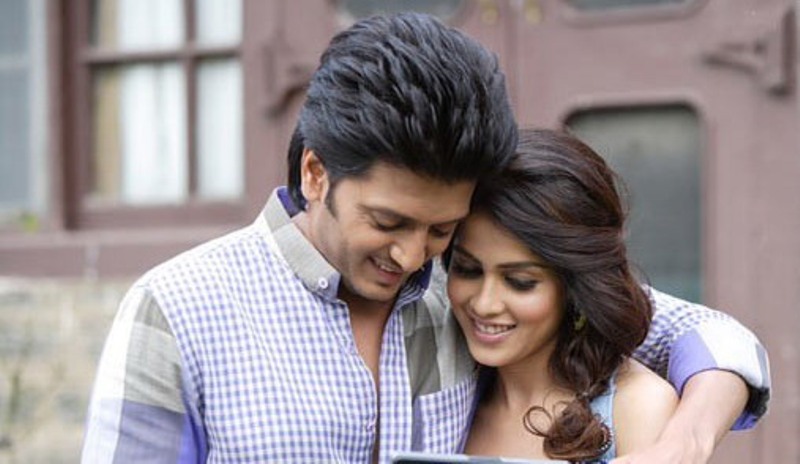 Article Name
12 #RelationshipGoals To Steal From Ritesh And Genelia Love Story
Author
Description
Ritesh and Genelia love story = ADORABLE!