Is that guy attracted to you? Do you really think he is into you at all? What are the signs that can help one know that this is for real; that he is indeed intending something? Well, let us help you with that!
Some men are really difficult to read unless they, without beating about the bush, admit their interest! Or maybe they are just taking their time, or worse, they are not attracted at all! However, lucky for us, there are some indicators that are obvious signs of male attraction. His body language can give away more than you expect, once you know how to interpret it correctly.
---
Suggested read: How to use the secret law of attraction for infinite wisdom of love
---
Picking up on these cues, you will be able to not only know of his interest in you, but also decide how quickly you should engage with him and how far this can go! It is very essential to know what is actually going on in his mind, before you lay all your cards on the table.
The following 12 signs will definitely help you deduce if he is attracted to you or not!
1. Flushed!

Image source: Tumblr
One can't escape evolution, and that, in this case, is a great thing as it serves as one of signs of attraction from men. You can call them in-built signs; the ones we can't hide, even if we wish to. Blood shooting up our cheeks is one such natural response that is triggered automatically when we are attracted to someone. A man too can't hide from this! So, if he has a lot of color in his face,, that is a good sign! The lips and the eyes, amusingly, are better markers. Red lips and unusually snowy eyes are guaranteed signs that he is absolutely locked in!
2. Happy feet!
The perfect analogy for happy feet is a compass with needles showing directions! Did you know that feet at all times point at the object of allure? Well, yes, it is true! If his feet restlessly point towards you, there are high chances that this man is into you. Along with his feet, he will constantly lock his eyes with yours! Maintaining an intense eye contact is an important cue too.
3. Lingers on!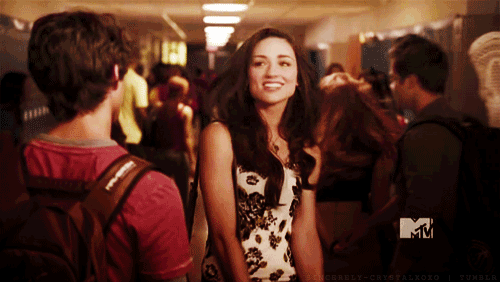 Image source: Tumblr
In today's world, the rules of attraction have reversed. Nowadays, girls pursue the guys they have a thing for. You go, girl! However, traditionally (or conventionally actually!), men are the ones who hover around their object of affection! If a guy is literally lingering around you because he loves your company, then that is the surest sign that there is something cooking! Keeping close is a blend of both a reflex and a purposeful display of affection.
4. The way he talks to you!
Upholding an interesting tête-à-tête is something that can't be done if either one of the parties is not absorbed and attracted. Conversations are very difficult, and an entertaining, amusing conversation is a different ball game altogether! It takes sincere work to kindle ideas and extend the flow of the chat. If you and he are good friends, it is quite natural that the two of you have meaningful exchanges on a regular basis, but there is definitely something more than just friendship if your curiosities are always intrigued! And if he is a guy you just met who is a great conversationalist (only when with you!), then that's a sign right there!
5. An open serving platter posture!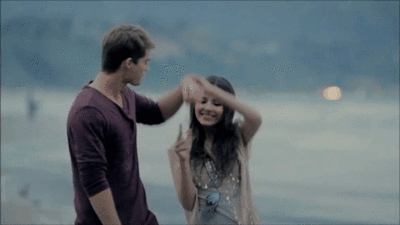 Image source: Tumblr
Cliché? Well, maybe, but also the strongest signal on this list! This too falls under the 'can't escape evolution' category but has to be discussed in detail! This posture is an obvious clue that chemistry is happening right there, in front of your eyes, but you are failing to take notice of it!
If he is giving you an open serving platter posture, that is superb news, provided you want him to be interested in you! This position is very inviting and engaging, opposed to the bottled up posture characterized by crossed arms or crossed legs. Also, if he is angled steeply away from you, chances are he is not attracted to you. But if he prefers facing you and constantly maintains an eye contact, like I said, woman, he is enchanted by you!
---
Suggested read: 8 simple ways on how to be irresistible to men
---
6. The copycat!
People subconsciously start mimicking the movements and gestures of the person they feel flushed around. Interesting fact, eh? You will notice that he is adopting some of your body language, the words that you use, and the faces that are typical to you! For example, he will start replicating the way you stand, the way you usually position your body, the way you sit, the way you say 'okay' after almost every sentence, etc., If he is head-over-heels in love with you, he will even imitate your hand gestures plus other small ticks!
7. Peacocking!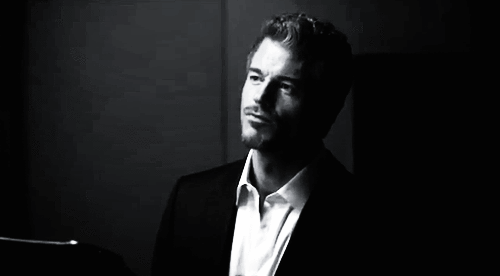 Image source: Trendsandlife
Yeah, yeah, human beings are way above other animals when it comes to intelligence, but did you know, we still haven't given up on animal rituals like peacocking? By 'we,' I mean men! They still live by (knowingly or otherwise) some old-school tricks of the animal kingdom when it comes to the signs of attraction!
Fertility is definitely one of the reasons behind this. A fit, strong, bodily appealing male, is presumed to be more fertile. So, if a man stands up straight, inhales deeply to puff out his chest, positions his feet and shoulders evenly, he is trying to catch your attention. Arched spine, an ankle on a knee, etc., are also signs of attraction from men.
8. The Nobleman's tease!  
Any Tom, Dick or Harry can tease a miss, and most of them do! Teasing, in many cases, is a way of self-defense that signposts anxiety and insecurity. But the nobleman's tease? Now that is a different story!
Lively and confident teasing, done in a good spirit can, at times, be charming and even lovable as it was when we were in the 9th grade! Teasing in an entertaining and light-hearted manner is an absolute sign of attraction. It could be that he really wants to be friends with you, but hey! Friendship is a breeding ground for a love affair!
9. Considerate memory
Image source: Paperblog
Developing a considerate memory for someone, now that is one of the sure signs of male attraction. He will mark and make the effort of remembering small details about things which are of importance to you. Remembering what exactly you like in your coffee isn't the kind of thing we are talking about here! He will recall that, on days that it rains you love drinking hot chocolate with marshmallows in it, and so he will surprise you with a cuppa!
A pattern of comfort behavior, he does this to come across as non-threatening; he wants to subtly encourage you to bond with him but not push you to do the same!
10. That husky tone!
You need to pay careful attention to this because it is about the tone of speech that a guy uses when around you. While the girls always end their stretches on a high note (quite literally!) making it sound almost like a screech, (of course we will ask you plenty of questions and tell you how unsure we are of ourselves, right?) a man will constantly try to maintain a deep tone coupled with decisive low ends to his lines when he is attracted to a woman!
A guy will complement the deep tone and low ends with a style to suggest intimacy, arousal, or seduction when he is interested in you. By the way, the pattern in which a woman's voice changes is what attracts men! Just saying! 😉
11. Hair stroking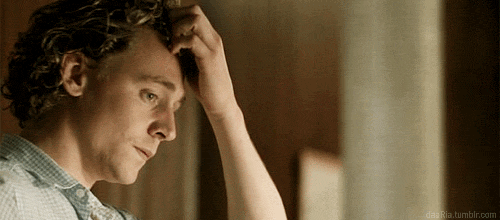 Image source: Tumblr
Not your hair, of course! A guy who reaches out and strokes a girl's hair even before she has given him an approving signal or even before they have entered that kind of a relationship, is a glaring flag that he is a tad bit aggressive, or worse, a person who is socially ham-fisted!
So the man stroking his own hair, is what we are referring to here! He won't be petting his hair, of course, but he will lightly run his fingers through his mane. This is an indicator that he is nervous and unsure of being himself in front of you! Now that's a massive body language attraction sign.
---
Suggested read: 12 teeny tiny things that men find irresisitible
---
12. What not to confuse for attraction!
Physical interaction is indeed a strong marker of desire but it is not a be-all- and end-all indicator of true love! We are social animals by nature. We need to express physically. The closer you come to a man, the more physical he is going to be with you. As in, he will pat your arm, hold your hand, and give you a bear hug, and so on. That is only because he is really comfortable with you. These simple signs of affection shouldn't be misinterpreted as indicators of attraction!
Men don't have many signs of attraction and so it can be difficult for a girl to be sure that she has indeed caught a guy's eye. These 12 signs of male attraction, however, will help you hit the bull's eye and know that this particular man wants to get involved with you. The ball now is in your court! 😉
Featured image source: Shutterstock
Summary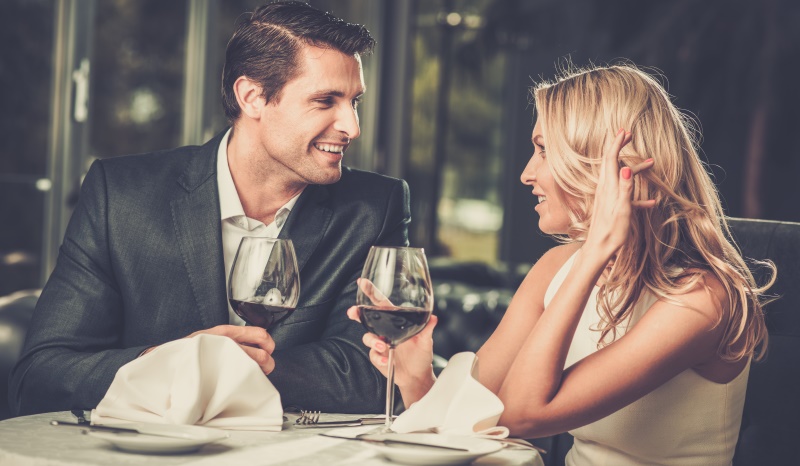 Article Name
12 Sure Signs Of Male Attraction
Author
Description
We have decoded the sure signs of male attraction that will clue you in on whether or not he's into you. Let's take a look.