Are you finally ready to make the move? It doesn't matter if you are asking her out for that first date or if you are making it official, it can get a little nerve-wracking for every guy out there. It is both scary and exciting at the same time, but if done right, it can end up being one those everlasting memories that would be cherished by the both of you forever!
Being with your significant other could be a big deal and it can change almost everything in your world – from your schedule to your perspective towards life. Don't worry! Since you love her eternally, the change would be positive and it would definitely make your life better in every way. The question of the hour is how to seal the deal and make that moment last forever at the same time. Sit back and relax!
---
Suggested read: 20 clever ways of asking a girl out on a date
---
We have come up with a list of quick, easy, and foolproof ways of asking a girl to be your girlfriend:
1. With a puzzle
There are a lot of websites that will let you create customizable puzzles for a special occasion. Create a personal puzzle with your pictures and the big question written on it. Scatter all the pieces around and let her solve the puzzle that would surely leave her surprised in the end. As she would read the big question, confess your feelings for her and seal the deal with an honest kiss. A kiss is, without a doubt, the most sincere gesture of true love, and will surely let the two of you remember that moment forever.
2. A romantic getaway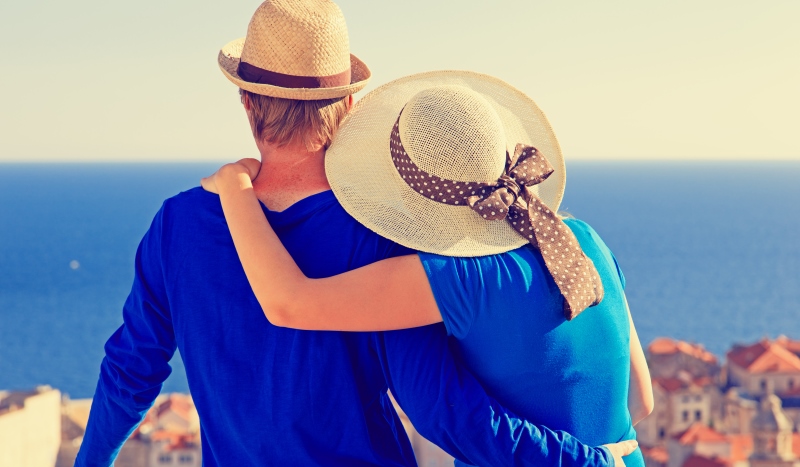 Image source: Shutterstock
Asking a girl to be your girlfriend and making the two of you exclusive is something that would definitely be remembered. Do this by taking her out to an exotic romantic getaway. Plan a small vacation and pop out the big question as you both are sitting in the middle of lush green meadows or near the ocean waves. Look for a perfect destination and make the best out of the moment.
3. A dedicated website
Take the help of technology and create a dedicated website just to ask her to go steady with you. Fill the space with various videos, pictures, dedications, love notes, and almost anything and everything that you can think of that reminds you of your relationship. The collection of all these personal things at one place will definitely let her walk down the memory lane and make her emotional.
4. Write it down!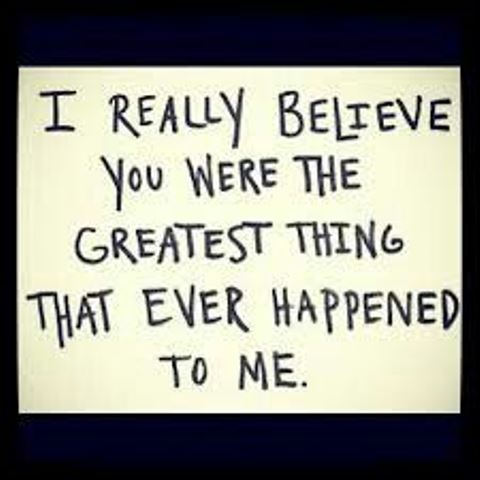 Image source: Pinterest
Girls love to read love notes. The best way to ask a girl to be your girlfriend is to try the old-school way and write down a love letter. If you are too shy, then pick a greeting card that you think best describes your feeling, and give a personalized touch to it by writing down a few lines. Try to know her better and write down about what she would love to read. If she has a favorite author, then quote her most cherished couplet of a poem that would melt her heart. Nothing can touch her heart like your words. Invoke the inner Shakespeare in you and write her a romantic poem. Pour your heart out on that piece of paper and make sure that you are as romantic as you can. It is your one chance to show your true emotions and you should leave no stone unturned.
5. Make it interesting
If your girl has a thing for mysteries, then there is no better way of asking a girl to be your girlfriend than organizing a treasure hunt. Invite her to a game of treasure hunt and let her figure it out by herself. If she loves challenges, then this will surely excite her and will leave her amazed at the end of it.
---
Suggested read: 10 not-so-obvious things men look for in a woman before asking her out
---
6. Take help from nature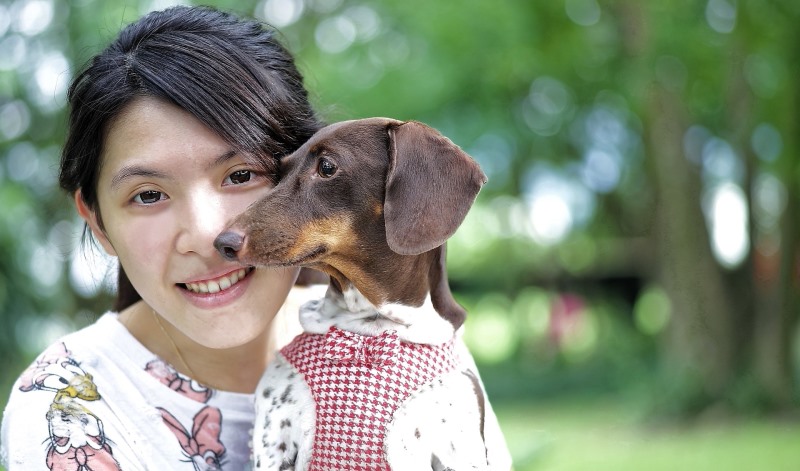 Image source: Pixabay, under Creative Commons License
No girl can say no to that innocent face of a kitten or a puppy. Write it down on a sign board or a small note and make a cute puppy or a kitten deliver it for you. If you have a pet, then involve it in the big plan. Your girl would not be just amazed by it, but would be touched by the gesture at the same time. If you want to go traditional, then use a carrier pigeon and send it to her place with a note. This will surely melt her heart!
7. A romantic dinner
Taking her to a memorable dinner is undoubtedly one of the best ways of asking a girl to be your girlfriend. Clichéd as it sounds, nothing can beat the warm, intimate ambiance created by a candlelit dinner under the moonlight. Food and music always help in creating that perfect environment for an amazing dinner. Have a personal conversation with her and pop out the big question while holding her hand. Make her yours while taking a sip of her favorite wine and seal the moment with a passionate kiss.
8. Say it with a gift!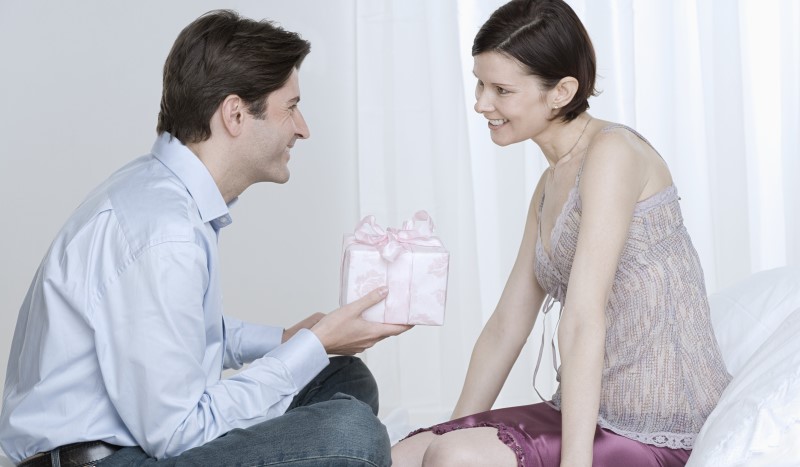 Image source: Shutterstock
Make that day even more memorable with a cute gift. A quirky gift, a chunky bracelet or a cheesy piece of jewelry, a box of her favorite licorice, or a three-course meal cooked by you, can make a big difference because they are all twists on the same old cheesy gifts. This will make her realize that you are ready to walk that extra mile for her by making her smile, and that you really value her in your life. Your present will stay with her for years as a gentle yet unforgettable reminder of your love for her.
9. Be inspired by music
Everyone has that one song that defines their entire life. If you know the soundtrack of her life, then give it your voice. Sing it for her and give her the best live performance of your life. If you can't sing it in front of her, then record it first and play it when the time is right with a special note. You can also go the traditional way and create a playlist for her with your favorite love songs. The age-old trick always seems to work wonders!
10. Make use of props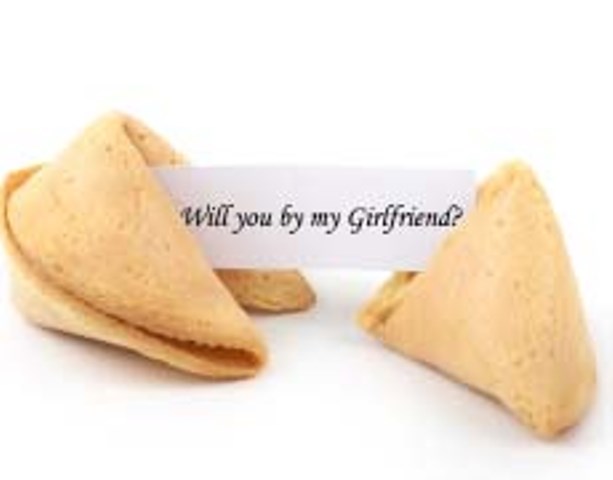 Image source: fortunecookieplanet
Asking a girl to be your girlfriend can get tricky at times. If you would like to go a little unconventional, then make use of those everyday props. Writing a personalized message inside one of those cute fortune cookies will surely surprise her. Or make her read it aloud by wearing those customized T-shirts, having a quote written for her. Or, if she loves colors, then make use of multi-colored balloons of different shapes while asking her out. They will surely help you shine while making her feel special. She would certainly appreciate your effort of making something so cool out of everyday things. It will make her realize how well you know her and that you are able to make something magical out of simple and mundane things.
11. Say those magical words
It is not official until and unless you both have said those three magical words. Don't leave her hanging right there, and make your intentions clear. A simple "I love you," can create a lot of difference. There is a reason why these are called magical words, right? They will certainly help you win her heart and make it yours.
---
Suggested read: 8 valid reasons why you should ask someone totally out of your league
---
12. Make it large!
Remember that this is one of the opportunities of letting her know how you feel. If she likes larger than life gestures and is a fan of all those rom-com movies, then give her an experience that she would never forget. Organizing a flash mob for her could be a great idea. Not only would she appreciate the effort, but would love all the attention, if she's not the shy type. As she would see all those happy people dancing in unison for her, it would certainly bring a smile on her face. She would love it all – the music, the dance, and you entering with those magical words. It already sounds like one of those perfect fairy tale moments. It's your turn to make it real at last.
Still thinking of how to ask her to be your girlfriend? Pick the best way out of the above suggestions and give them a personalized touch. Most significantly, when you are doing it, be honest. You should understand that this could be the start of a new relationship and something that could change your life. When you are at it, remember that timing can create a big difference when it comes to asking her out. Though there is no such standard time to make the move – it could be after the third date or after a few months of knowing her – but the moment when you want to take a step up, you should be sure that she is not getting distracted.
Give your best and take comfort in the fact that you have made your effort count. If you know that she is the one for you, then there isn't anything in the world that can stop you from making her yours. Go make a move, champ! It's now or never.
Featured image source: Youtube
Summary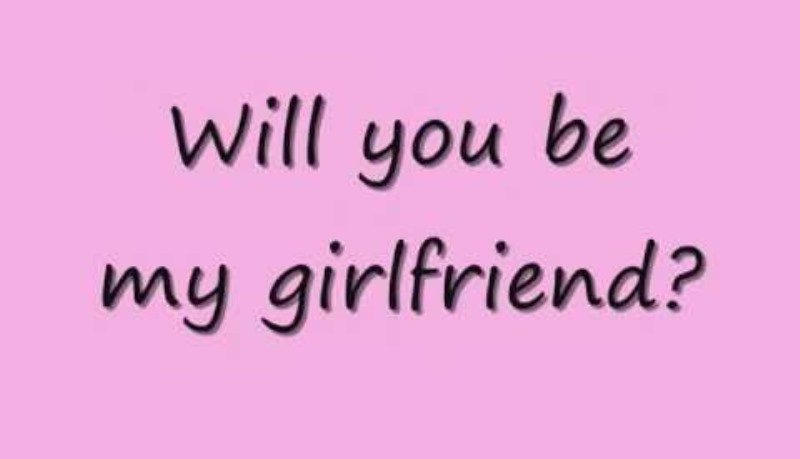 Article Name
12 Ways Of Asking A Girl To Be Your Girlfriend
Author
Description
Wondering how to go about asking a girl to be your girlfriend by going steady? Worry not for here we have 12 foolproof yet cliched ways of doing just that!