No matter what people say, however strong and reticent, I bet my heart that love is one disease no one can ever be immune to. There, I said it! We are all vulnerable to the contagious 'crazy' in love sickness. So, how about getting ready for the next step? It could be any moment when Cupid makes you the target of his unbeatable arrows and you finally find the perfect girl of your dreams. What follows next is a drill that is going to take your very best efforts and every ounce of your energy – asking a girl out.
You are a great guy and she is the beyond-perfect dream come true, but what's the use of any of this if you never get to know each other? And let me be the one to break it down for you – all those pink and happy dreams of a happy ever after are only going to nest in your imagination unless you do something about it. We're not letting anymore of the girls you fall for slip away!
---
Suggested read: 6 easy tips to finally get yourself to ask that girl out on a date
---
So, get ready for a romantic ride ahead because here are the most fabulous answers to how to ask a girl out on a date, and you are in for a sure-shot score this season of love. Enjoy!
1. Dare to ask a girl out movie-style!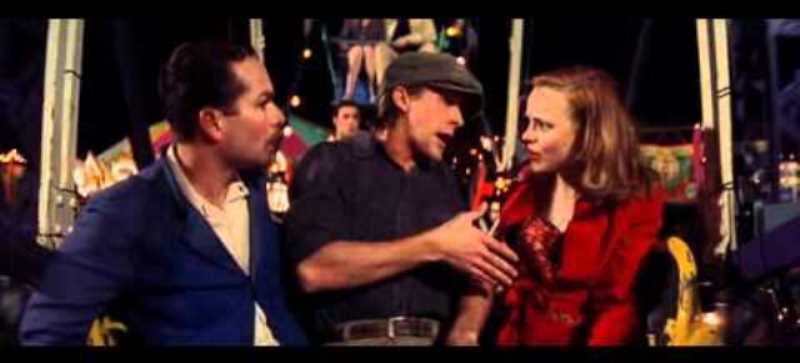 Image source: Pinterest
Now, what have epic romantic movies like The Notebook taught us? Oh yes, the wooing tricks that never fail. So, either jump up a swing or down a train when you're popping the question, and you'll have yourself a yes!
2. Making her sing it is the best way to ask a girl out (Try it!)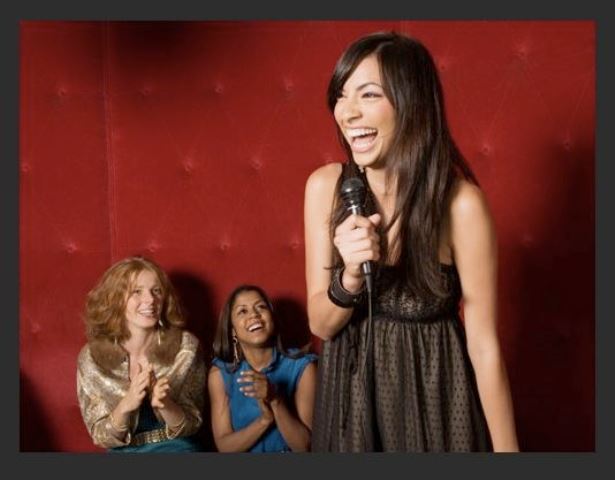 Image source: Pinterest
When she's out for karaoke, fiddle with the lyrics, and sing a duet together. When your turn comes, you'll be singing the question and in her part, she'll be replying with a musical yes.
3.  Pop the question with a balloon bonanza – Is she 'UP' for a date?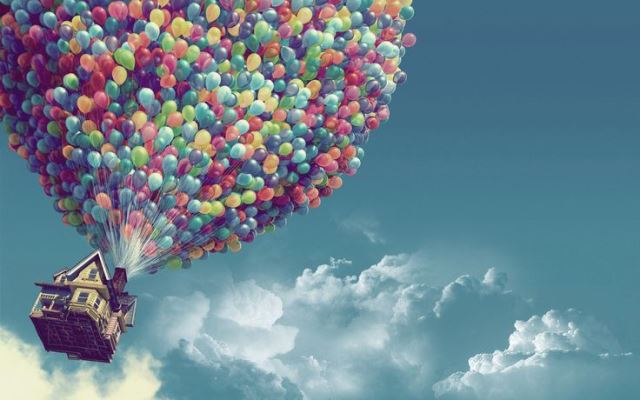 Image source: Pinterest
There are many ways to use the cuteness of balloons for asking her out, but one thing's for sure, they work wonders every single time. This, right here, is the 'UP' style to make her plan that adventure with you.
4. It's going to be the best adventure of your life – give her the heads up!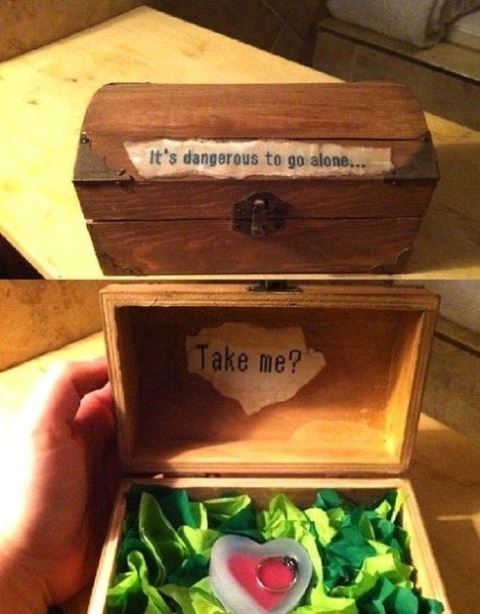 Image source: Pinterest
If she's the adventurous kind, give her a treasure chest with the key to your heart and there's no way she'll be able to deny being your comrade on your voyage of love #PirateStyle.
5. Let's steal a page from a 'book' this once (FYI: At your OWN risk!)
She loves books and you know it. How better to steal that love than by making those dear books ask the question for you? Be sure to use a movie or show ticket for the first time and just be ready to get a totally-worth-it hit along with the 'yes' for tearing her beloved book apart. (ouch!)
6. Use the crazy cool of a love trail to bring the yes to you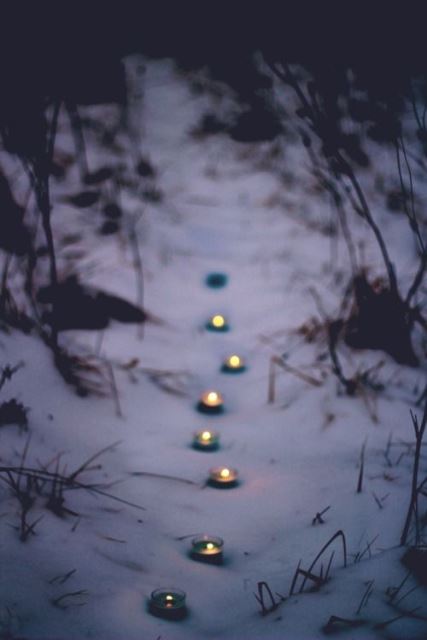 Image source: Pinterest
To ignite her excitement for a fabulous night with you, bring her to her favorite spot with a trail of lovely lights. She'll be 'wowed' by the lovely ambience and is sure to say yes.
7. Use the tech-y hacky way to her heart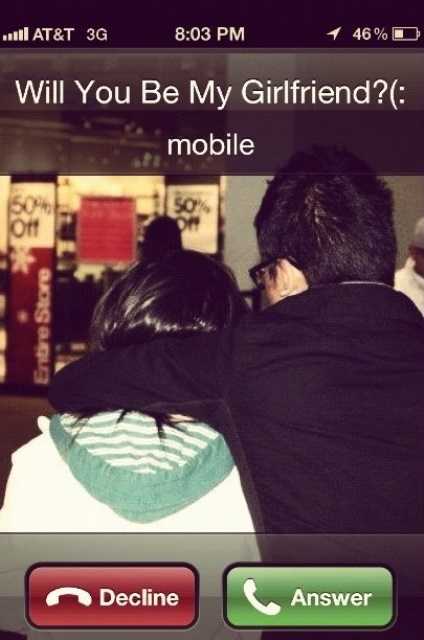 Image source: Tumblr
Here's what you gotta do – hack her phone, change your name to 'Will You Go Out With Me :)' and give her a call later. If she doesn't decline the call, you have your answer!
8. Appeal to her sweet tooth – steal the cake trick in the trickiest way
What people usually do is use the icing on cakes and toppings on the pizzas to simply spell the question out. But you, my friend, are going to shock her with your crazy strategy! She'll find the question when she slices the sweetness and you'll not be surprised with what happens next.
9. Flood her front door with your timeless 'letters of love'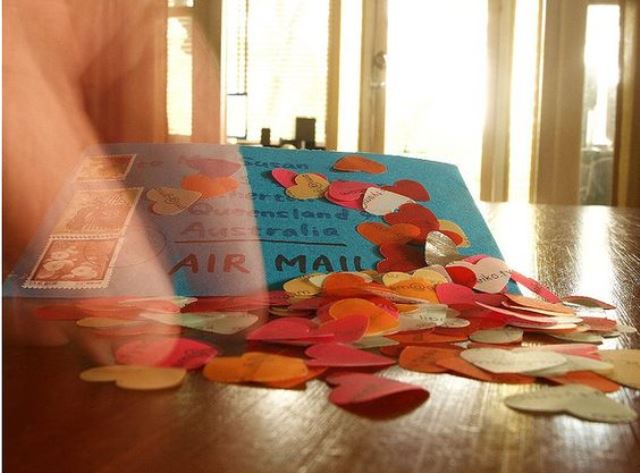 Image source: Pinterest
Now, I know this one is neither new nor out-of-the-box, but in the world we're living in today, conveying your feelings in a classical way like this is undoubtedly a different way to go about asking a girl out. If she isn't too freaked out to reply, it's definitely going to be a yes.
---
Suggested read: 5 easy tips to finally get yourself to ask that guy out on a date
---
10. Let her lift her answer and make sure it's a YES!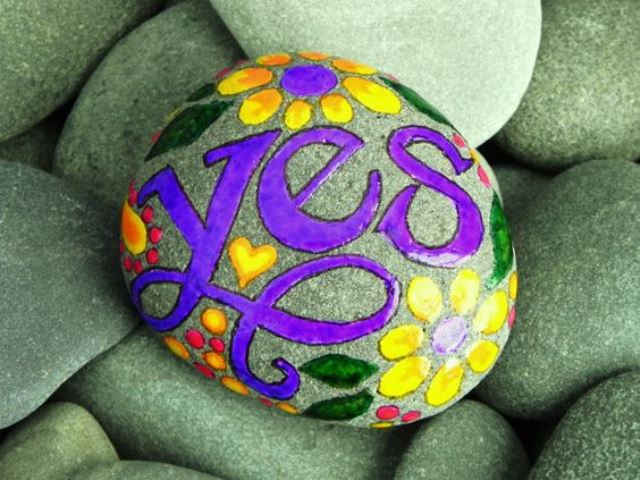 Image source: Pinterest
Knock on her door and when she opens up, she'll find you with a card asking – 'Will you go out with me? Bring me your answer,' along with one light-as-feather pebble with a 'Yes' and a strong-as-hell with the 'No'. Ha, what do you think it's going to be, eh?
11. Post the question on her door (and everywhere she looks!)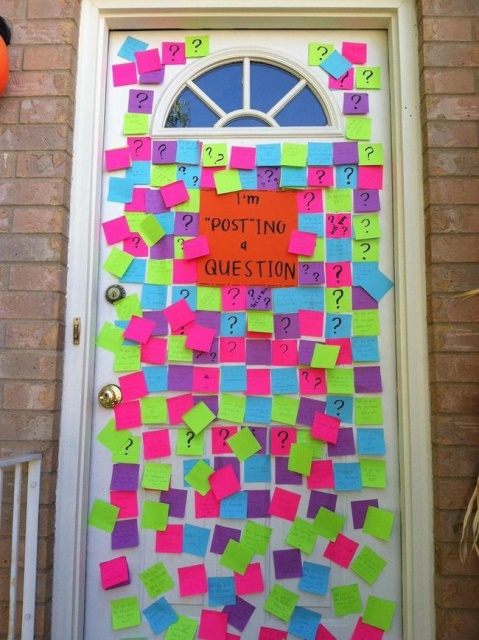 Image source: tipjunkie
Perfect for the busy no-time-for-anything attitude, the colorful stickiness of these post-it notes are just what you need to ask her out. To get even more creative, try creating massive hearts or even her portrait for a special effect.
12. Invite her over for the game of love (without the 'M' word, please!)
Asking her out is what every other guy does, right? So, try asking her over for some game time. When her inner gamer is tickled with the Mario Bros, you're going to have more than just a girlfriend (a sure win-win!)
13. Set the test – it's a question after all! (It's creativity at its best)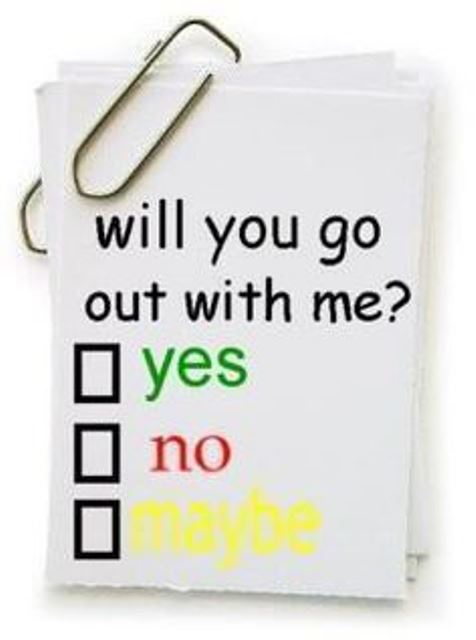 Image source: Pinterest
This one's the best way to ask her out if the girl's from your class or the hot teacher herself (with no judgment whatsoever). Just slip it into the test, wait with an irresistible glance, and you'll make her answer it a 'yes'.
14. Grab your shovel and gardening tools – it's time to ask your girl out!
They say that hard work pays off, don't they? So, whether it's digging up some grass or planting some, just put your heart into it, and she just might have the date right there and then.
15. Block her way with your question and make her take the turn with you.
Place your question on the road she rides the most and she's sure to take notice! (Better keep your ignition on!)
16. Put your question on the big screen for an even bigger theatrical yes
If she's a fan of the movies and you are brave and creative enough to pull this off, have the person in control show your personal video asking her out before the actual show starts. (Trust me, she'll miss the remaining show and more after that!)
17. Sing your heart out in front of EVERYONE!! (and the yes is yours)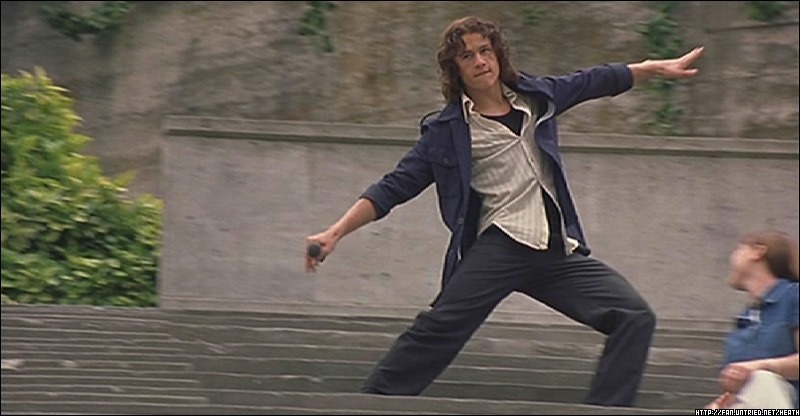 Image source: Listal
Remember 'I love you baby' from 10 Things I Hate About You? Yeah, make it impossible for her to say no with a little help from your friends and she's yours for the date.
18. Let the favorite books make it hard for her to say NO!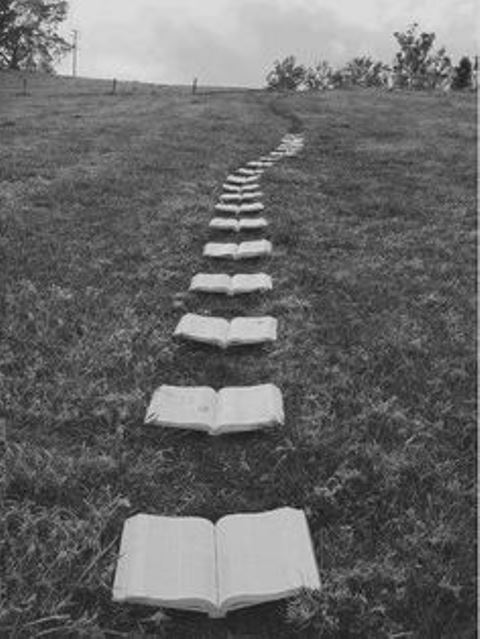 Image source: Pinterest
This one resembles the light trail idea we discussed earlier. This one is especially for the classic book lovers, and when you have planned that huge pile as her gift, a 'yes' is sure to follow!
19. The unbeatable magic of music to make her go out with you!
Image source: buglemag
The effectiveness of music is definitely beyond comparison, but here's how the non-musical ones can use it to their advantage. Call her favorite radio channel and get her a dedication that'll make her shout a 'yes' on air.
---
Suggested read: Why asking out that hot guy at work is the best thing you can do
---
20. The craziest way of asking a girl out? Here's the perfect answer – DON'T!!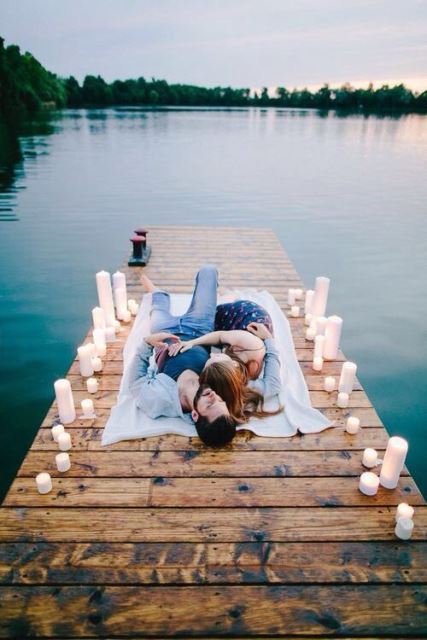 Image source: Pinterest
Asking your chick out is old-school, but you don't have to go by the book every time. This time, don't play the gentleman in distress, but win her over with your 'too cool to be said no to' side. Walk her right into a beautiful spot and the magic of the site magnified by your magnetism will make it a date in no time. There's your date – viola!
It can be very hard to express your feelings for someone. But how will you get her on a date if you don't?  So, now that you've read these creative ideas for asking your girl out, I suggest that you buckle up and start planning for the final step, because love can sometimes cost you a lot.
I wish you the very best of luck!
Summary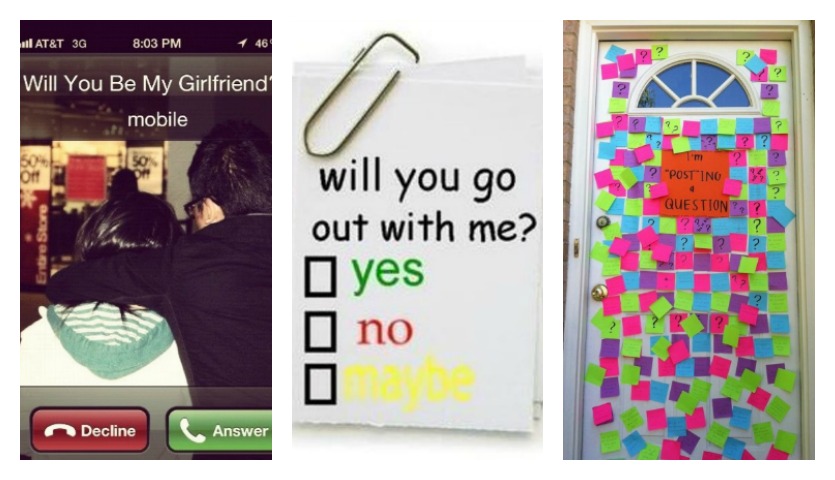 Article Name
20 Crazy Ways Of Asking A Girl Out On A Date
Author
Description
Asking a girl out on a date in a way that she HAS to say yes, is what we have here. Pick one of these crazy ways to ask her out, and she'll be impressed!