If you are the kind of person who really takes delight in nail art but cannot relate too much to the nail art ideas pinned or shared on various social media platforms as those are really edgy for you, we have something you could find inspiration in! The art you feature on your nail speaks volumes of who you are. Let your personality shine through your nail design. The chicest black-tie events require you to cherry pick minimalist yet elegant and modern manicure. From delicate sparkles, which fade, to the ones with stunning shattered glass effects, nail art ideas today have upped the game to a different level altogether. To get you started, we have curated some glam spurs from Instagram that can be your cue!
1. Joie de vivre!
Sparkles on only one nail is extremely eye-catching and yet not OTT!
2. On lace & satin!
To go with that little white dress of yours!
3. Auburn-murk!
For those days when polishing your nails in a plain hue is just not enough!
4. Metallic mystique!
If you think this is too shimmery for you, you can nail a half moon part misty design.
5. Floral splatter!
We heart splatter accents! But you can get a little ambitious, and give it some meaning by waving around and playing with petals or hearts for that matter. You would most definitely steal the show!
6. Three-layered nude!
Nude gels well with fingernails of all shapes and sizes! But there are some subtle ways that you can renew your nude game! Consider going for a holographic glitter. It is simple yet pretty. You can place hexagon glitter strategically, and expect to be the show stopper!
7. Entrancing rubicund with rhinestones
Though the color palette boasts of a thousand hues, bloodshot red will always hold a special place in my heart! Red speaks so many emotions at the same time, don't you think? All you need is some poise to vaunt the color. Experiment various combinations with it, and it will never let you down!
---
Suggested read: 20 nail art ideas for fabulous-looking nails
---
8. Pink noise!  
Blush polish is the trendiest hue this season. An ombre contrast could work really well, considering that it will add just a dash of pop to your cheeky pink polish!
P.S.: It is Queen Elizabeth's beloved color! #JustSaying
9. The twist!
This is real fun, but make sure it is not the middle finger that you paint a different hue! You don't want to look like you are swearing at people even when you are not! Hahaha!
10. Hot lines
This is one of the easiest designs that are making news coz of the panache they lend your hands!  Use a gel paint for the lines while a bolder hue to serve as the base!
11. The blockbuster mani!
This green on pink blockbuster manicure is anything but strait-laced when teamed up with denim! What say?
12. Hoop nail art
Ink your nail in a stripe nail art to start your week on the right foot! 😉 Allow me to offer some guidance with this! Apply a coat of bold nail paint and let it dry! Now put a band of stripe tape across, vertically or horizontally, and apply a top coat so that your stripes stay in place. And we are done!
13. Patterned nude!
This is grace extraordinaire! Just look at how the colors have blended so well and yet are distinct. Perfect for a Sunday banquet!
14. Master-cut!
I call it the master-cut because it is! Look at the richness of the colour and the hint of metallic! Remember Khloe Kardashian's variant of this nail art? So you know it is something you must try your hands on! Like literally!
Hope our picks entice you to give these subtle nail art ideas a try. Do let us know how it went! ☺
Featured image source: hubpages
Summary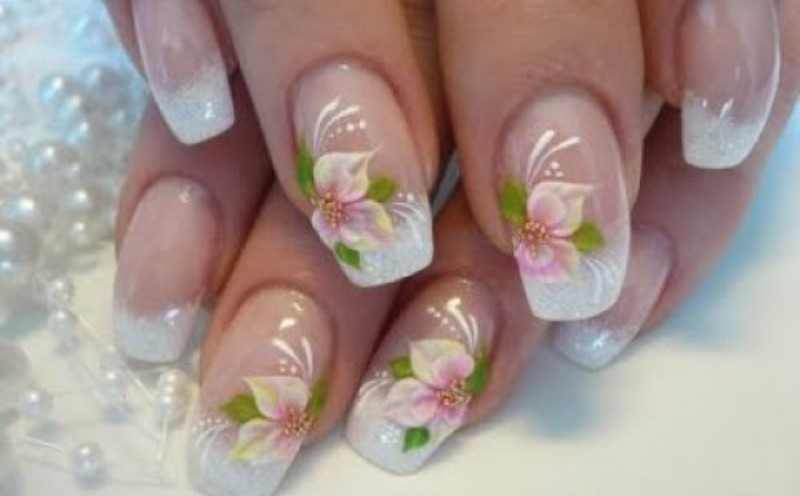 Article Name
14 Feminine Nail Art Ideas For Women Who Like It Subtle
Author
Description
You will love these nail art ideas!