Nail art, like every other form of fashion goes through phases, where some things are totally on trend, whereas other things just seem lame now (remember how cool white tips and French manicures were back in 2010?) We are well into the new year, and it is time to check out the best nail art trends of 2018, so that you don't have to walk the walk of shame when you are running with the cool crowd.
Before we can dive right into what your nails should look like in order to be on trend this year, let us check out some of the fav looks that were served to us last year:
---
Suggested read: The Insider's Guide To The Best Gel Nail Polish Of 2018
---
Chrome nails
Even though technically there isn't any nail art involved, chrome nails were all the rage last year and turned out to be an art form in themselves. Everyone, including high profile celebs like Beyoncé were seen sporting these shiny, metallic reflective surfaces, and we can see why.
Black accents on nails
Black was back in 2017, but subtly so. Instead of going full black, people decided to play around with black nail polish, and black accents seemed to be a big hit with celebs and beauty bloggers. They looked edgy, minimalistic and high on fashion.
Pop art nails
Bright colors, ostentatious patterns and color blocking was all the trend last year, as everyone, starting from street fashion experts to runway models and beauty gurus sported brightly colored nails with fun patterns and contrasting colors that became the highlight of their outfit.
Geometric nails
While minimalism and geometry and clean lines have sneaking their way into mainstream fashion, it made a huge, loud and bold impact on the nail world, where people were seen with geometric nail art designs, which not only looked super chic and fashionable, but also was super easy to do!
Nail Art Trends of 2018
Now that we have seen what the past year gave to us in terms of nail fashion, let us see what is to come. It is easy to predict what the new year is going to have for us in store, because more often than not, it is inspired by the year that has been, and needless to say, 2017 has been a pretty exciting year for everyone who is enthusiastic about nail art.
If you want to be on trend, and move with the cool crowds who only sport the latest fashion, whether it comes to clothes or nails, then check out these trends that we are expecting will take 2018 by storm.
1. Magnetic nails
This, this is the nail art of the future guys. Magnetic nail polish contains little magnetic particles which can move around with a super strong magnet that you get with the manicure kit. You use it to draw ethereal streaks on your nails, so that the shiny stuff moves around you look like you have an actual solar system on your nails.
Magnetic nail polish comes in various shades, but irrespective of that, they are going to change color and look like actual real life magic when you hold them under light, or even sleep in them. Do you see me freaking out? You would too, if you had magnetic nails FFS.
2. Animal print nails
Animal print nails have already been spotted on high profile runways, which is why you should totally expect them to be seen everywhere this year. They are cool, colorful, fun and quirky. This is the kind of exciting positivity we are looking for in 2k18, so why not make your nails do all the talking?
This nail art style also gets bonus point because it is super easy to do and you don't have to dish out millions for your manicure. You need a steady hand and a couple of handy brushes and you are ready to own 2018.
3. Black single streaks
While last year was all about black accents, you can expect to see a lot of single streak black deliciousness on important hands this year, because it has been sanctioned by some of the best designers and magazines already.
It looks minimalistic and classy and can also be used to make a statement. It is also bold without being over-the-top, and like all revolutionary fashion trends, it is easy and affordable. You can go boho with dots and spikes to highlight your streak, or paint your feature finger with a single black streak with matte accents. The possibilities are honestly endless.
---
Suggested read: Here Are The Nail Art Accessories That Will Make Your Nails Sexy AF In 2018
---
4. Gemstone nails
Putting metal and jewelry on nails has been around for a while now. However, 2018 is the year that you put actual semi-precious gemstones like quarts and jade and geode on your nails to make them look like actual works of art.
Don't worry, they don't actually scoop out the surface of your nails to make place for the gems. This is usually done on fake nails, but if you are going to be fashion forward and be a trend-setter, then fake nails should be the least of your problems. Plus, these look pretty as hell.
Summary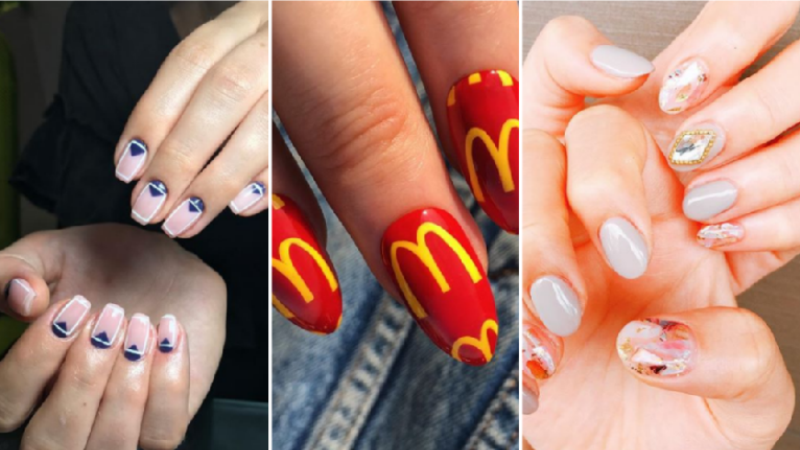 Article Name
Nail Art Trends Of 2018 So You Can Sit With The Cool Kids
Author
Description
Check out the hottest nail art trends that you can sport in 2018, to be on top of your nail game!
Read the rest of the article:
Next