We know how broken nails feel … and so, we also know how those bad days just don't seem to whirl by with the help of red lipstick and nail paint anymore! After all, there's nail art everywhere and what's more, those glam patterns are now available in trebled doses – yep, in 3D! If you have been wondering whether those enviable nail art ideas you see everywhere can ever be splattered on your nails, well, we actually have some inspiration at our fingertips! 😉
Because we do not care to stop anywhere for the pizzazz we'd like to adorn our beautiful nails with – we scour through nature, fantasy, cartoons, reality TV, friends, and even history to splash some inspiration on our beloved manicured hands! Coz the pastel palette is passe, and the mere whacky neons do not make the cut anymore. But do not stop reading just yet. We know just how tedious you think actualizing nail art ideas can be – so here's the good news. All our nail art ideas are fun, cool nail art ideas that are easy, breezy, and well, if we can throw modesty to the wind, absolutely stunning!
---
Suggested read: Awesome wedding nail art ideas for your D-day
---
Check out our heart-picked list of funky nail art ideas that will make those nails pop out and how:
1. The cutesie cartoon character nails
If you have a favorite cartoon character that you just cannot get enough of, why not carry him/her at your fingertips! Yep, check out this cool and fun idea of painting your favorite character on your nails with nail art brushes, after you have painted them with a light base color. Cuteeeee!
2. Bold black and gold glam
No matter what people say, black is never going out of style. Check out this bold black-ilicious look with a black base coat adorned with gold nail jewelry. Of course, the pattern can be varied to suit tastes and preferences. Go whacky or stay conventional. This look will be SEXY – whichever path you choose to tread!
3. Glitz = glamorous
If you aren't afraid of bling-y bombs, then go all out and drop these on people. You will not only catch them unawares and blow (blast?) them away, but be the dazzling diva who they won't stop raving about!
4. Flowery delight
You can try countless patterns here. From spreading blossoms all over your nails to painting them on the sides or as in this case, on the tip with some crescent base on shiny top-coat painted nails, with some glitter added to the intersection – you can experiment as little or as much as you want and rule the day with some faux fragrant fabulousness! 😉
5. Edgy graffiti nails
To attain this crazy edgy look, you need to get the desired shape of your nails, apply the base coat and then paint your nails navy blue. After this, all you need to do is create swipes of silver paint, add in brush strokes of gold, and round off with a top coat! Tadaa … who thought that complex-looking graffiti look could be this easy! Well, we promised you EASY!
6. Tippy twist on nude nails
Image source: Pinterest
This one is so easy and yet so elegant, you may want to come give me a hug, girls! After painting your nails nude, just adorn the tip of your fingers in metallic hues- gold, copper, bronze, rose gold or silver! The result- stunning! See…
7. Animal print nails
Image source: Google, copyright-free image under Creative Commons License
Animal prints are super-easy to create and one need not be limited to the colors mother Nature has bestowed upon fauna! Try zebra prints in yellow and orange or a leopard print in a light pink base coat with a darker hued pink for the marks! Choose the hues that rev up your heartbeats and then, get set to rev up those of the people around!
8. Loofah makes 'em lovelier
Paint your nails in a light pastel and then stick out loofah pieces when the paint is still wet! Let the loofah strips set in and then, top it up with a relatively thick layer of top coat! Unique and dazzling, this is the stunning pattern you'd been waiting for!
---
Suggested read: 15 fun wedding hairstyles for brides with short hair
---
9. Braided nails
Another cool nail art idea, doing this one is super-easy. For achieving this look, choose three fast dry nail paints and overlap each color as shown in the picture and allow enough time in between to dry the layers and you are done.
10. Polka dot and bow nails
Image source: Google, copyright-free image under Creative Commons License
A chic idea, this one is a reigning design. Easy and pretty, this one just needs the base color, the paint for polka dots and rhinestones to make that super-cute and adorable bow on your ring finger! You may alternatively choose to skip the polka dots, pick an eye-catching neon shade and paint it on your nails, whilst choosing to go halfway on your ring finger, so you can chip in the rhinestone bow.
11. Glitter gradient
Image source: Pinterest
Glitter gradients are the coolest thing this summer. Go for the watery shades – turquoise, sea-green, mint blue and others whilst using a sponge to dab on glitter nail paint on the tips. Apply top coat when dry! See – enchanting!
12. Water droplets nail art
Image source: Youtube
You can get this look by applying any monochrome paint or creating gradient look and topping with a matte clear coat , allowing it to dry completely and then adding dots of clear nail paint using toothpick at one side of your nail.
13. Feather nail art
Image source: Youtube
The trendiest of the lot, this one makes use of a real feather to give your nails that regal look that is chic and modish as well as refined and sophisticated at once. All one needs to do to get this look is paint one's nails, put the feather in when the paint is still wet, wait for it to set, and then, trim off the extra! Finish it up with a top coat and our look is ready!
14. Side French nails
Side French nails use the same formula as with painting the tips in a conventional French manicure, save the paint for the tip now goes on the side. One can use tape for crisper lines. The choice of colors is endless!
15. The diagonal-nail do
These nails look very pretty and are very easy to do. Just paint your nails in one color and when it is completely dried use cello tape to paint other half and top coat.
16. Heart garden nails
Another super-fun and cool nail art idea, this one involves off-white base, with heart shaped blooms, painted with brown stems, and teensy green leaves! Yep, that easy!
17. Two-toned French nails
A funky idea for the nails, this one involves doing the French manicure, albeit in different colors. So a golden tipped with black and a fuchsia tipped with pink are all ideas! Do all your nails in different combos and attain a stunning effect!
18. Reverse color accent polka dots
Image source: Pinterest
Reverse color accent polka dot nails need one of your nails, in most cases the index or the ring finger, to reverse the polka dot color theme used on the others. The style makes for a chic and fun effect, and the idea is suitable for all sorts of casual events!
---
Suggested read: 15 vintage wedding hairstyles for that classic look
---
19. Rainbow caviar nails
Hot pink nail paint and copper, bronze, purple, pink, green, and silver tiny beads along with top coat are all you need. Paint your nails pink and then dip your fingers in the beads when the paint is still wet. If there remain spaces that are still bare, where the beads haven't stuck, stick your fingers into the bead cup again. Allow the beads to set and then, top off with the top coat.
20. Stain glass nails
Stained glass look is pretty easy to create. Just use the same nail paint colors as in a stained glass pattern – orange, yellow, cobalt blue, red, and green – and apply them within the stained glass pattern you make with black nail paint and a nail art brush over a light base coat. Your stained glass nails are ready to rock!
Tell us about your favorite in the comments below.
Featured image source: Google, copyright-free image under Creative Commons License
Summary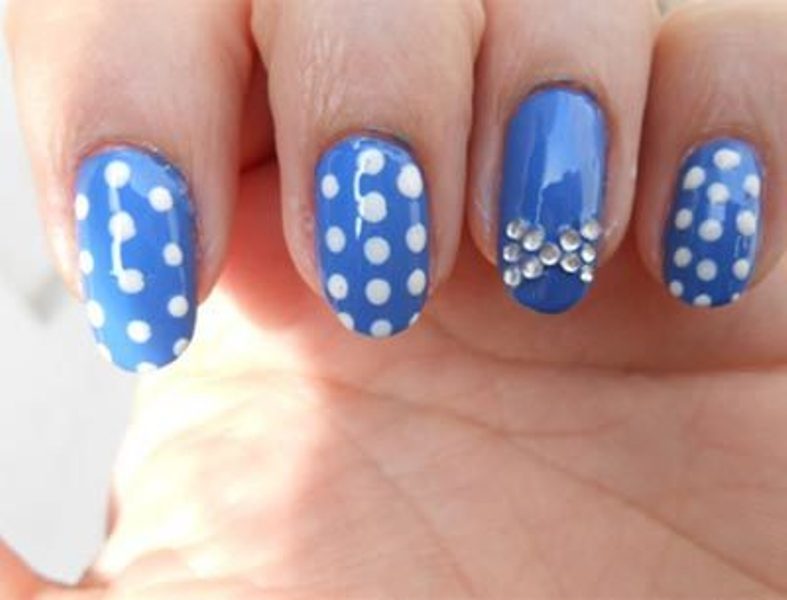 Article Name
20 Fabulous Nail Art Ideas For Funky Nails
Author
Description
With our easy nail art ideas, you'd never have to resort to the 'red nails day' ever again! Brighten your mood with these cheery nail art design ideas.