It is practically impossible to invest a ton of money every time you want to look good. The problem is, you want to look good all the time, especially if you are obsessed with nail polish and nail art like I am. Salons and manicurists have access to some of the best cosmetics, equipment and nail art brushes which you lust after every time you get your nails done professionally. What if I told you, you could get all this at home, and consequently, give yourself the best manicure ever, without dishing out money every time?!
---
Suggested read: The Insider's Guide To The Best Gel Nail Polish Of 2018
---
I am not kidding around with you. I am in fact, going to show you the best nail art brushes out there, because you need it now more than ever to make sure your nails look anything but boring. Nail brushes, like makeup brushes are also a thing in themselves, and you have to know which ones to buy and how to use them, if you want nails like those perfect Instagram models. Here is everything you need to know:
The Best Nail Art Brushes Ever
Nail art is an intricate process, where the most important thing is precision. Unless you are clean and precise in your art, it might look a toddler drew on your hands. It is this precision that we aim to achieve, with the help of the following tools. Here are the best tools you need to add to your manicure kit, if you want perfect, intricate nail art at home.
1. The liner brush
The liner brush, which is also known as the striper brush is one of the first things that you should invest in. Whether you are aiming for a classy minimalistic look, or a more intricate design, this is the brush that is going to help you achieve those perfectly straight, clean lines.
Stripes are a huge hit this year, and you want yours to be absolutely perfect. You can even use the wand of a good quality eye liner, but it is always best if you invest in a set of long-handled liner brush, exclusively for your nails.
2. Round Brush
A round brush almost looks like a paint brush, but is much thinner. This is also a precision brush that you need, when you are indulging in intricate nail art, like marble nails, animal print nails, and other such patterns. These patterns require you to make intricate designs on a limited surface area, which is why you need a proper, stable and strong brush which can help you.
If you have acrylic powder or any other substance to create 3D nail art, then too this round brush is going to come to your rescue. They have some of the best output values, and if you plan to do nail art at home, this one is a must have!
3. Shader brush
Shader brushes are also known as flat brushes, because of the shape in which the hairs of the brush are placed and trimmed. They are excellent for shading eye shadow and the like, but you might be wondering why you need a shader brush for your nails. These multi-purpose brushes could give you incredible nail art effects, if you know how to wield it right.
If you are going for a subtle ombre effect, then a shader brush could come in handy. It is also effective when you want a faded effect with your glitter polish, and want to evenly distribute the glitter. Shader brushes are great for gel nails, and when you want patterns which have a broad, one-stroke effect.
---
Suggested read: The All-Round Guide For Choosing The Best Nail Strengthener
---
4. Fan brush
A fan brush is also traditionally used for face makeup, but in the world of art and makeup (which is essentially the same thing), no one cares for traditions. A fan brush is a splayed out brush with long hair, which is also a vital tool used by nail artists to create magical nail art patterns like this one right here:
It is not only great for shading, but also creating a natural airbrushed effect, effortlessly. You can apply more than one color to your brush to create an even more exciting effect. You can make swirls and lines and distressed designs, and play around with glitter as well, when you are equipped with the handy fan brush.
5. Angled brush
An angled brush is like a round brush, except the bristles are more tightly set and the edge is cut at an angle to give you more precision. You can even use a brow filler brush or an eye liner brush to use on your nails, but make sure you keep it exclusively for nail art only because you wouldn't want nail polish in your brows. An angled brush has multiple uses in the nail polish world, one of which is getting clean and precise lines.
Sometimes you need to make clean lines, but a precision brush is much too thin to do it at one go. This is especially applicable for French manicures, which have evolved spectacularly over the years. You can get asymmetrical lines, straight lines, parallel lines, whole sections and a dividing line though your nail, when you have an angular brush. The least you can expect is the lines to be perfectly straight and clean, without breaking a sweat.
Summary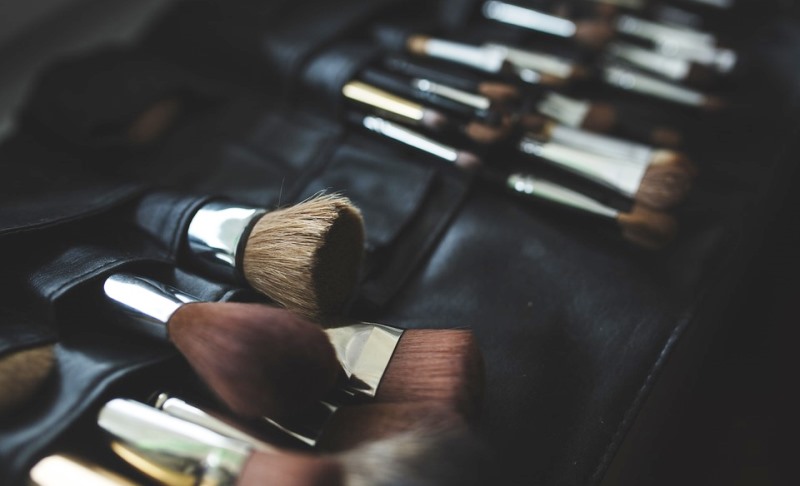 Article Name
The Only Nail Art Brushes You Need To Look Like A Pro
Author
Description
Check out some of the best nail art brushes in the market, so that that you can do your own manicure at home, and get professional-grade results!
Read the rest of the article:
Next