8. Madhavan, 47
At one point of time, Madahavan was every person's dream boy, because of his cute smile, cute personality and incredible acting skills. The cute smile and the cute personality and the amazing acting has remained, except now, he is super hot. This is what he looks like now:
He legit broke the internet with this shower selfie, and we are definitely thirsty for more.
9. Rekha, 62
Rekha is one of the most well-known actresses of Bollywood, and is a legend in the true sense of the term. Her beauty and elegance have always been a talking point, and age has done her total justice, because even now, she looks like the total queen she is:
He legit looks like an angel from heaven, and is still a heartthrob, even at the age of 62.
10. Malaika Arora, 43
Malaika Arora is the true definition of a yummy mummy, and has been stealing hearts since she sashayed with Shahrukh Khan on top of a train in Dil Se several years ago. She has kept active by working out, running and doing yoga, as a result of which she looks like this:
There is an urban legend that says Malaika hasn't aged a day for the last 10 years. We don't doubt it.
11. Sonali Bendre
Sonali Bendre is another one of those people who just don't seem to age. She has been in the movies, stealing hearts for over a decade now, yet this 42 year old mom, consistently looks like she is 24, and doesn't seem to grow old. This is her now.
Brownie points for you if you can guess when the two pictures were taken (Hint: they were taken 20 years apart).
12. Karisma Kapoor, 43
Here is another actress from Bollywood who is ageing like a queen, and is only getting better with age. Not only has she outgrown her beautiful baby face, but is now a fierce mama, with one of the strongest outfit games in the industry. Here is an example:
What a bawse.
13. Naseerudding Shah, 67
One of the most badass men that Bollywood has had the privilege of calling their own, is still one of the revered actors in business, and if you thought that he looked super cute before, this is how age has treated him:
Hint: age has treated him pretty damn well and he has become one hot old man.
---
Suggested read: 9 Bollywood Flicks That Will Set New Records At The Box Office in 2017
---
14. Neetu Kapoor, 59
Long before she was known as Ranbir Kapoor's mother, Neetu Kapoor was the undisputed queen of Bollywood, with her cute face, on-point dancing game and one of the best on-screen romances with her now husband- Rishi Kapoor. This is what she looks like now:
Even as the mum of two full grown and highly successful children, she still remains one of the sexiest, most charming women out there, not letting age get to her spirit, looks or energy.
While some Bollywood celebs have been rather ill-treated by fate and denied the fountain of youth, some of the others just never seem to age. Looking at these pictures of Bollywood celebrities then and now is one makes us wonder how many of the current actors and actresses will be able to boast being part of a list like this? Only time will tell, and we can't wait to see!
Feature image source: Instagram
Summary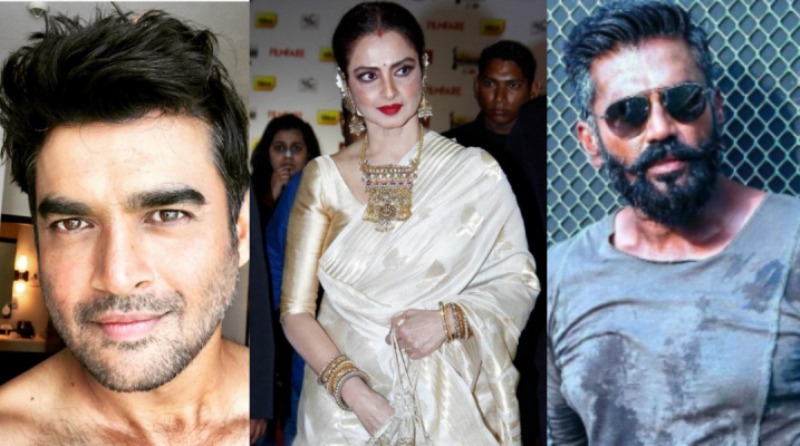 Article Name
14 Iconic Bollywood Celebrities Then And Now (Pics)
Author
Description
Here are some of the most iconic Bollywood celebrities then and now, and how they have aged like fine wine (in pictures)!