In light of the recent tragic news of actress Sridevi's death, it is time to talk about the elephant in the room. Bollywood is one of the most important industries in the world, let alone India, and the people who are a part of the Hindi film industry are also some of the most sought after public figures. Their lives are ardently followed by millions of fan, and this following sometimes borders on pure insanity. Just like their lives are under constant scrutiny, their deaths too are a matter of great intrigue to the general public.  To be fair, Bollywood has also seen its fair share of mysterious celebrity deaths, and we are here to tell you about the most unnerving ones yet.
---
Suggested read: Bollywood Celebrities Then And Now: A Guide On How To Age Like Fine Wine
---
Here are some of the most mysterious celebrity deaths in Bollywood that totally made headlines.
1. Divya Bharti
Born: 25th February, 1974
Died: 5th April, 1993
Age during death: 19
Divya Bharti was one of the most popular actresses during her time. She began her career in acting a very young age, and by the time she was 19, she was married to producer Sajid Nadiadwala, and had a number of super-hit films to her credit.
Her death, however, remains a cause of intrigue for people even today. On 5thj April, she reportedly fell out of her 5th floor window from her apartment in Versova, and died due to injuries caused due to impact. Even though her death was ruled an accident, many believe that she was either pushed, or committed suicide.
2. Jiah Khan
Born: 20th February, 1988
Died: 3rd June, 2013
Age during death: 25
Jiah Khan was a rising model and actor in Bollywood. Most people believed she got the debut of her dreams when she starred opposite Amitabh Bachchan in the movie called Nishabd and then went on to work in even bigger movies like Ghajini and Housefull.
However, it was her death which bought her into the spotlight. On 3rd June, she was found hanging in her apartment, with a suicide note incriminating her ex-boyfriend and actor, Sooraj Pancholi. Extensive criminal procedures were initiated to probe her death, and it was also discovered that she was pregnant with child when she committed suicide. The cause of her death still remains a mystery, and Pancholi has been acquitted of all charges.
3. Parveen Babi
Born: 4th April, 1949
Died: 20th January, 2005
Age during death: 55
Parveen Babi was one of the most popular faces on Indian television in the 80s and continued to be an enigma long after she gave up acting. She starred in some of the biggest blockbusters of that time, and because of her charm and good looks and acting abilities, she was considered one of the biggest female superstars to have ever entered Bollywood.
After she quit acting, she completely withdrew from public life. During her stint in the industry, she had had affairs with quite a number of people including Mahesh Bhatt, Kabir Bedi, Danny Dengzongpa and was even linked to Amitabh Bachchan at one point in time. She was found dead in her apartment after vendors reported that she had not come out of her room in several days. It is said she had been dead for 72 hours before she was found, even though the cause of her death remains a mystery.
---
Suggested read: Bollywood Divas Show How To Work Indie Chic Fashion With The Lehenga Skirt
---
4. Guru Dutt
Born: 9th July, 1925
Died: 10th October, 1964
Age during death: 39
Guru Dutt was an iconic actor, whose methods and filmography is still used to hone and perfect the art of cinema even today. Even though he lives for too brief a period of time, the mark he left on Bollywood cinema with classics like Sahib Bibi Aur Ghulam, Kagaz Ke Phool and Pyaasa will be indelible. Even during the short time that he lived, he had a torrid affair with Waheeda Rahman, which also affected his wife, singer Geeta Dutt.
He himself was the victim of depression, and had attempted suicide thrice before he was found dead in his apartment on 10th October, 1964. Although the cause of death was said to be alcohol poisoning and an overdose of sleeping pills, his son maintains that it was an accident and not a suicide.
5. Priya Rajvansh
Birth: 1937
Death: 27th March, 2000
Age during death: 63
Famously known as Heer from the superhit movie Heer Ranjha, Priya Rajvansh was one of the most well-known faces of the Bollywood film industry. Even though she didn't star in too many films, she was famous enough for her death to become one of the most intriguing deaths Bollywood has ever seen.
She was married to Chetan Anand, and after the death of her husband, she inherited some of his property, along with his sons from his first marriage. In 2000, she was found brutally murdered in her late husband's bungalow, and the two sons along with two associates were sentenced to life imprisonment for the murder of the actress. It is said that her spirit still haunts the property.
6. Manmohan Desai
Born: 26th February, 1937
Died: 1st March, 1994
Age during death: 57
If you are a Bollywood buff, then it is impossible for you to forget movies like Coolie, Amar Akbar Anthony and Dharam Veer. The man behind these all-time classics was none other than Manmohan Desai. It is also said that he is responsible for single-handedly catapulting Amitabh Bachchan to fame and super-stardom.
On 1st March, he fell from the balcony of his apartment and died due to the impact. Even though his death is deemed an accidental fall, many believe that he was depressed due to the fact that he was suffering from back pain, and also because he was not being able to make hit films, as all the later films that he made were performing poorly at the box office. No one will ever know whether his death was an accident or a suicide, but his movies, his style and technique remain relevant even today, with directors like Farah Khan and Sajid Khan drawing inspiration from his work even today.
7. Silk Smitha
Born: 2nd December, 1960
Died: 23rd September, 1996
Age during death: 35
Even though she passed away at the young age of 35, Silk Smitha lived one of the most happening lives back then, even though it was largely tragic. She appeared in more than 450 films in three separate film industries and was considered one of the biggest sex symbols of the 80s. The Bollywood movie starring Vidya Balan called The Dirty Picture was based on her life.
She was a victim of abuse and depression, and on the night of 22nd September, she called her friend to discuss something that had been bothering her. However, her friend, Anuradha was unable to speak to her and they were supposed to meet the day after. However, she was found dead in her apartment, and to this day, no one knows whether her death was a case of suicide or there was some foul play involved she continues to remain an enigma even today.
8. Pratyusha Banerjee
Born: 10th August, 1991
Death: 1st April, 2016
Age during death: 24
Prtayusha Banerjee was one another extremely well-known face in the industry. She rose to fame when she bagged the role of Anandi in the hit TV serial Baalika Vadhu. After her success on the show, she went on to star in shows like Jhalak Dikhla Ja and Bigg Boss, where she emerged as a strong contestant.
She was in a serious relationship with Rahul Raj Singh when she was found hanging from the ceiling in her apartment in Mumbai. Even though her cause of death is stated as asphyxiation, her family members are still convinced that it was her boyfriend who was at fault for pushing her to kill herself.
---
Suggested read: On The Path To Stardom: 10 Bollywood Stars Who Starred In Music Videos Before They Made It Big
---
9. Sridevi Kapoor
Born: 13th August, 1963
Death: 24th February, 2018
Age during death: 54
Added to this list is now the death of one of the most famous actresses Bollywood has ever seen- Sridevi. Often called the first female superstar of Bollywood, Sridevi's death left the entire film industry shaken to the core.
She was found dead in her hotel room in Dubai, and her cause of death is officially stated as "accidental drowning." She was in Dubai attending her nephew's wedding, and she stayed behind while her husband and daughter flew back to India. According to the hotel staff, she had not left her room in 3 days, and when her body was found by her husband, who had flown back to surprise her, she was bloated and unconscious. Her daughter's Jahnvi's debut film Dhadak is slated for release in July 2018.
There is no dearth of mysterious celebrity deaths that have occurred in Bollywood. Just like the lives of these people have been spent in the spotlight, their deaths too, have caused people to get personally involved, and we can't help but get unnerved at their dramatic exit from the mortal world.
Featured image source: Instagram 
Summary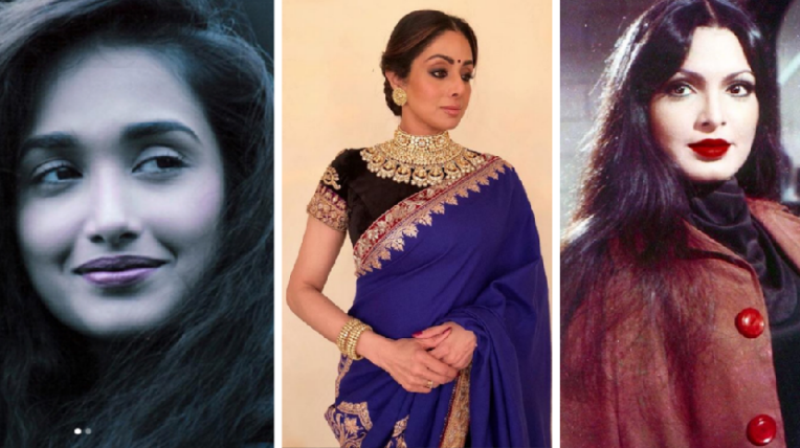 Article Name
9 Of The Most Mysterious Celebrity Deaths In Bollywood
Author
Description
Bollywood is filled with controversy, but nothing surpasses these mysterious celebrity deaths of some of the most well known faces!