Harper's Bazaar is one of the leading fashion magazines in the world, and anyone who is remotely interested in fashion knows what a big deal Harper's Bazaar Bride actually is. However, you don't need to be interested in fashion to appreciate our in-house Indian celebrities, who have been given multiple opportunities to grace the cover of this super prestigious and super chic magazine.
---
Suggested read: #BestOf2015 10 Rumors About Our Beloved Celebrities That Made Us Go WTF!!
---
Harper's Bazaar has been a trailblazer in Indian bridal fashion for over a decade now, and has made sure that their magazine covers have been spot on again and again. Here are some of the most swoon-worthy covers of Harper's Bazaar Bride, featuring some our favorite Indian celebs in never-seen-before avatars.
1. Sonam Kapoor
In no circumstances in life, will you find Sonam Kapoor looking bad, and when she gets on the cover of Harper's Bazaar Bride, you know she is going to kill the game. Here, she wears a full-length Anita Dongre jacket and sharara and owns New York like none other.
2. Shraddha Kapoor
Shraddha Kapoor is usually the girl-next-door kind of person when it comes to her fashion choices, but trust the stylists at Bazaar Bride to make her look like an ethereal princess. Here, she dons an insanely beautiful lehenga choli by Sabyasachi, in the most unconventional wedding colors and makeup, and still manages to give everyone major #weddinggoals.
3. Aditi Rao Hydari
This cover is everyone's summer wedding dream come true right here. Aditi Rao Hyderi looks even more beautiful than she does otherwise, if that is even possible, in her pale green and gold Ridhi Mehra outfit and minimalistic makeup, for the March, 2017 issue of Bazaar Bride, India.
4. Kangana Ranaut
For their 3rd anniversary issue with her, Bazaar Bride decided to get Kangana, which was frankly the best decision ever, because look how badass and gorgeous she looks?! Who would have thought that renegade Roberto Cavalli dress would have made for such an amazing traditional look? The whole cover brings out Kangana's personality and badassery perfectly, while still making her look like an ethereal goddess.
5. Katrina Kaif
If you have been thinking about what a perfect winter wedding look would look like, there here is Katrina Kaif on the December 2016 issue, showing you exactly how to do it. This cover goes to prove how literally perfect she is, and Manish Malhotra is, who designed the outfit, and how perfect the magazine is, and how everything in the universe makes sense again.
6. Kareena Kapoor and Saif Ali Khan
The literal prince and princess of Bollywood look so good here that I feel like spontaneously collapsing. With one picture, they have managed to set couple goals, wedding goals, outfit goals and every other kind of goal in existence- meaning this picture is everything. To be honest, everything about their wedding was so dreamy and other-worldly, and this cover managed to encompass all of that.
7. Athiya Shetty
Athiya Shetty might be new to the Bollywood game, but with outfits like this, and by getting featured on the cover of some of the best fashion magazines in the country, she seems to be securing her place in Bollywood, as a Fashionista to look out for. Also, apart from being a fabulous-as-hell picture, this Amit Aggarwal dress is also goals for hipster, artsy brides looking for something other than mainstream for their big day.
8. Ranveer Singh and Vaani Kapoor
This cover was clearly a promotion for their first movie together- Befikre- and even though the movie was…rather unfortunate…there is nothing unfortunate about this rad AF cover, which features a smouldering Ranveer and a literally perfect looking Vaani sitting atop him, giving the entire world a major head rush. Also, Vanni Kapoor's makeup and jewelry is so on point and everything about this is so drool-worthy, I can't even.
---
Suggested read: Bollywood Celebrities Then And Now: A Guide On How To Age Like Fine Wine
---
9. Nimrat Kaur
One of the most underrated beauties in this country wasn't left undiscovered and ignored by one of the leading fashion magazines in India, and they came together to create one of the most beautiful Bride covers ever. With minimalistic makeup, sexy as hell jewelry and the all-red couture lehenga from am:pm, this is one beautiful wearable look that graced the cover of the magazine.
10. Sonam Kapoor
To be honest, it isn't even possible to compile a list about anything fashion-related without mentioning Sonam Kapoor at least a couple of times, because she is so perfect. In this particular issue, she looks like an absolute fairy princess in her cute AF Mira Zwillinger dress in pink, and the floral headgear, which makes her look like the Snapchat filter come to life, except a gazillion times better.
11. Sonakshi Sinha
Trust Sonakshi Sinha to make Boho bridal wear look so fashionable and stunning. Both the models are in Anita Dongre numbers, and with the simplistic shirt with the lehenga and her tribal jewelry, Sonakshi looks like she is a master at slaying the Bohemian wedding look, and inspiring other brides to follow suit. This groundbreaking cover also flouts the conventional rules of wedding wear, and shows how you can pretty much dress up in whatever way you feel comfortable on your wedding day, without having to stick to the traditions.
12. Parineeti Chopra
Personally, this is one of my most favorite Bazaar Bride India covers, because Parineeti Chopra looks out of this world beautiful. This is what people dream of looking like in their wedding, quite literally, because looking like this in real life is pretty damn impossible for us mortals. Her Temperley London dress with the stunning maang-tika and the nose pin completes the look. The cover took everyone by surprise because she had never appeared in this avatar before, and everyone immediately fell in love.
13. Priyanka Chopra
Here is another person who literally doesn't look bad in anything, and when you dress her up as a Goddess, she is bound to leave you spell-bound. Even though Priyanka Chopra is out and about conquering Hollywood, she looks hella good as a desi girl in this Bazaar Bride India cover, where she is wearing an avant-garde outfit, composed of a top by Anamika Khanna, a Dior blazer and lehenga by Abraham Thakore. This literally perfection is the stuff that we live for.
14. Fawad Khan
The country's favorite obsession at the moment is of course, Fawad Khan, and this cover perfectly enumerates why that is the case, because this man looks totally unreal. The sultry, smoldering look is enough to drive everyone nuts, and he looks the part of the perfect groom in his emerald green blazer and pant suit…if only real grooms looked like him.
15. Aishwarya Rai Bachchan
Aishwarya Rai Bachchan is considered one of the most beautiful women in the world. Therefore, when she engages in a photo shoot for a Bridal magazine, sparks are bound to fly. Her looks, the dress her makeup, hair and everything is simply perfect and every time we think that this woman couldn't get any more beautiful, she surprised us with an even more beautiful look, which totally takes out breath away.
16. Alia Bhatt
The current favorite of Bollywood also manages to look stunning as a vintage style bride. A gorgeous Alia dons a stunning sequined Gucci dress for the cover shoot, and manages to stun yet again with her unreal beauty which makes her look like an actual princess.
17. Anushka Sharma
Anushka Sharma looks like an angel from heaven in her Harper's Bazaar India photo shoot for Bazaar bride. Cashing in on the glamour shots that people have recently become obsessed with, Anushka Sharma totally nails the insta-glam look, which also makes for some pretty rad hair and makeup goals for your wedding. We are also digging the minimalistic mehendi, which is ideal if you are attending a wedding, and not actually getting married.
---
Suggested read: Bollywood Divas Show How To Work Indie Chic Fashion With The Lehenga Skirt
---
18. Shruti Haasan
Putting a gorgeous twist on the traditional South Indian sari is Shruti Hasaan in collab with the highly underrated, Rahul Mishra, whose work in handloom and artsy saris and textiles has been unparalleled. Even though the styling is quite radical, we can't help but swoon over Shruti Haasan, in her never-seen-before avatar, which makes her look like a bride from the future. To be honest, we can't wait for this trend to take hold of Indian audiences.
Every month, Bazaar Bride releases some of the best dressed celebs in some of the most outlandish and gorgeous bridal wear, which makes us swoon and drool and wait with baited breath till the next edition comes out!
Let us know which one was your favorite look, in the comments section below!
Featured image source: Instagram
Summary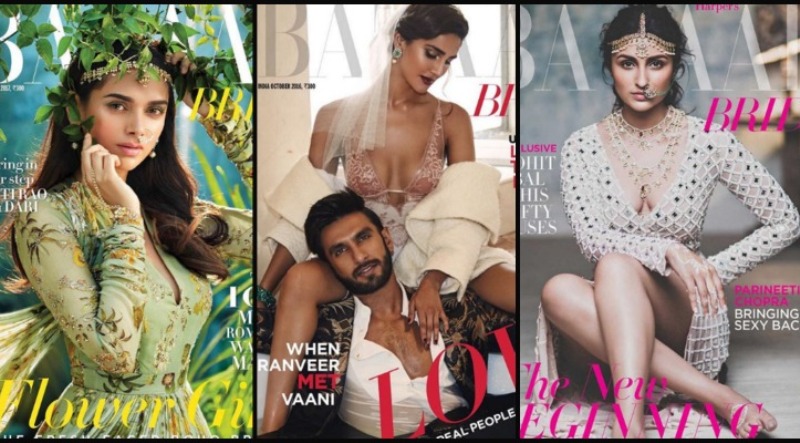 Article Name
18 Best Harper's Bazaar Bride India Covers With Bollywood Celebs
Author
Description
Harper's Bazaar Bride is one of the best fashion magazines in world, showcasing bridal looks. Here are some of the best covers featuring Bollywood celebs.