Summertime is here and one of the most effective ways in which you can put your best fashion foot forward is by donning your favorite swimsuit. However, a popular myth in the fashion world prevents a lot of beautiful women from wearing their sexy swimsuits, because they are told they are not thin enough. However, it is time to let go of such negativity and work that fabulous body that you have to keep hidden throughout the year. Here are 14 super sexy swimsuits for inspiration, no matter what your size!
1. Floral balconette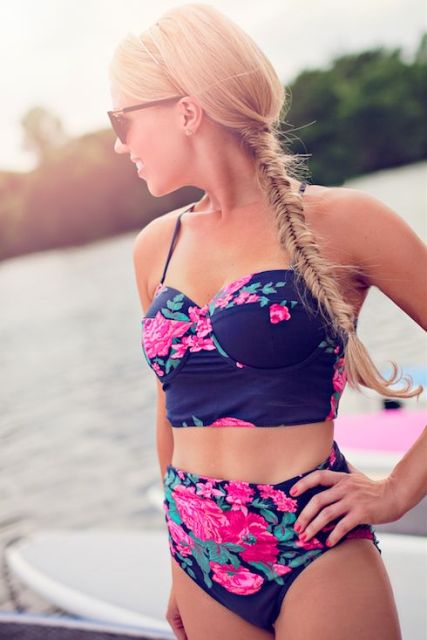 Image source:  Pinterest
This pretty little thing with floral motifs throughout its bodice is bound to stand out at any beach. The high waist also ensures that it looks fabulous on everyone!
---
Suggested read: Bikinis you can rock no matter your shape
---
2. Printed cutout swimwear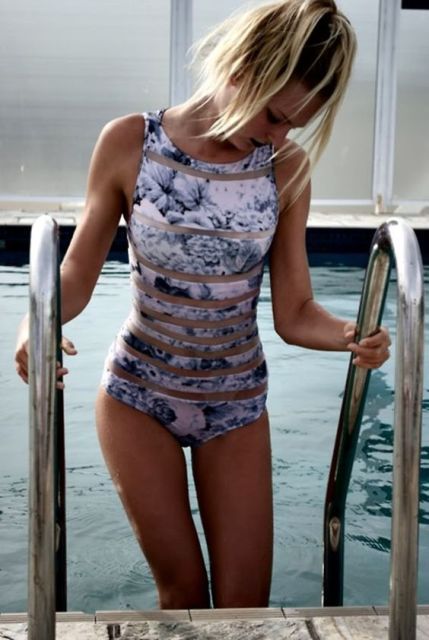 Image source:  Pinterest
This beautiful swim suit is not just another addition to your closet, but an entire work of art because of its sheer beauty. The pattern ensures that size is the least of your concerns when you are busy being fabulous.
3. Frilly monochrome print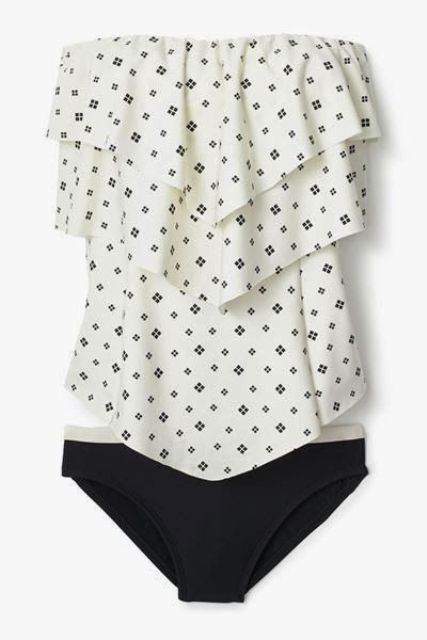 Image source:  Pinterest
When you have black and white and frills in the same swimsuit, there is no way that you could go wrong with your beach style. Also, the frills are so classy and all inclusive.
4. Black and blue stunner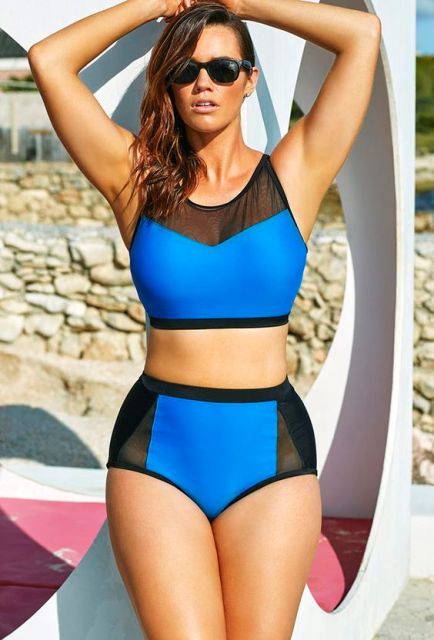 Image source:  Pinterest
This is the stuff of dreams for people who have been afraid of wearing swimsuits in the open all this while. The sheer bits on the top and the bottom adds so much more panache to an already amazing outfit.
5. Retro inspired halter neck swimsuit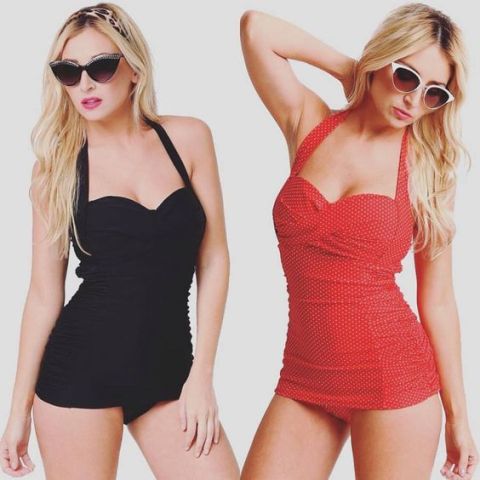 Image source:  Pinterest
Retro, polka dots and halter necks are some of the cutest combinations that you can work with when you are looking for the perfect swimsuit to show off those curves on the beach in summer.
6. Peach cut out beach wear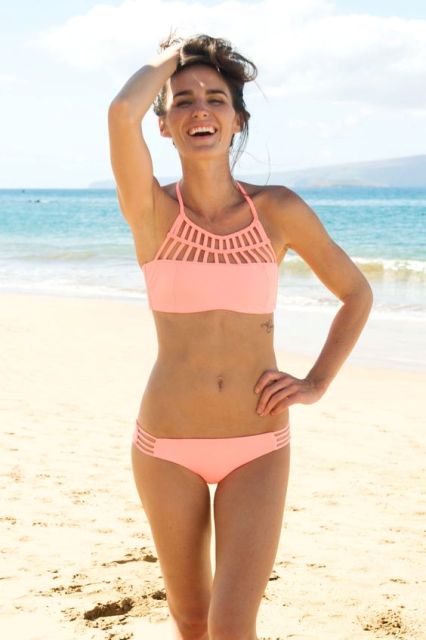 Image source:  Pinterest
Cutout swimsuits never go out of fashion, and you can dazzle on the beach with this pretty number. The slits on the Moroccan bottoms just add to the oomph.
7. Contrasting patterns in your swimsuit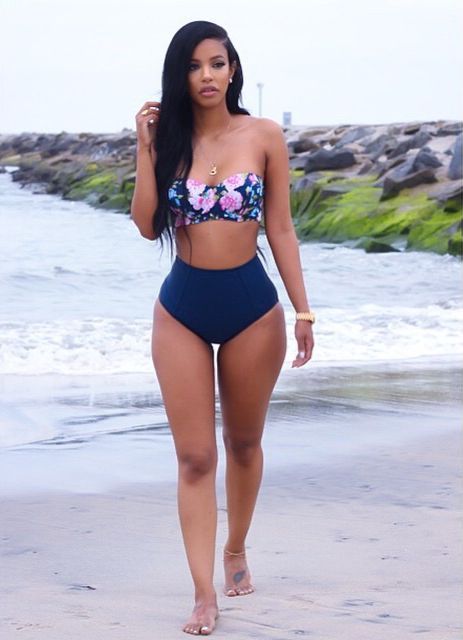 Image source:  Pinterest
A great swimsuit is one which can make anyone, with any body shape, look fantastic, such as this one which has floral patterns and a high waist classy blue bottoms.
8. Floral one-piece swimsuit with illusion neckline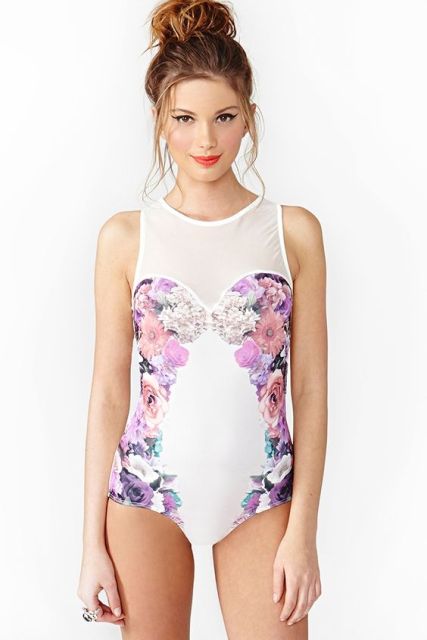 Image source:  Pinterest
A pretty swimsuit like this is not going to disappoint you when you are on the beach. The adorable floral patterns and the illusion neckline make it a unique beach wear.
9. Strapless, printed swagger on your swimsuit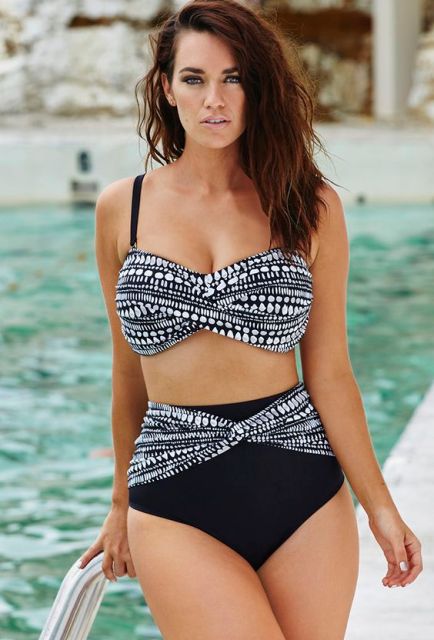 Image source:  Pinterest
The reason this swimsuit is special is because of the adorable print on the top and the tied fabric on your bottoms with the same print, which is bound to make any woman look fabulous on the beach.
10. Foliage print racer back swimsuit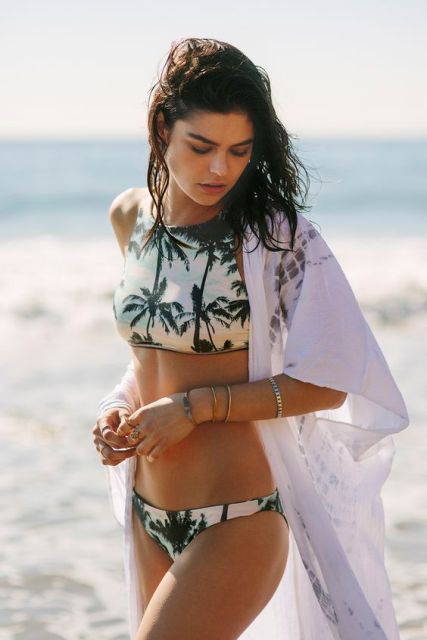 Image source:  Pinterest
When you are basking in the warmth of the beach, why not flaunt your joy in your swimsuit, especially when you have this sexy number for inspiration. The race back ensures that you are comfortable and the matching prints on the bottom just complete your look.
11. Tankini swimsuit in pop colors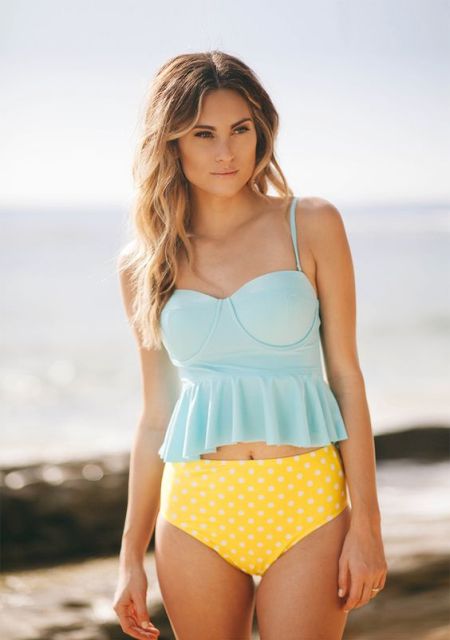 Image source:  Pinterest
This swimsuit is ample proof that cute can also look super sexy especially when you have a peplum style tankini top and polka dot bottoms to dazzle the beach in.
12. Funky printed corset style swimsuit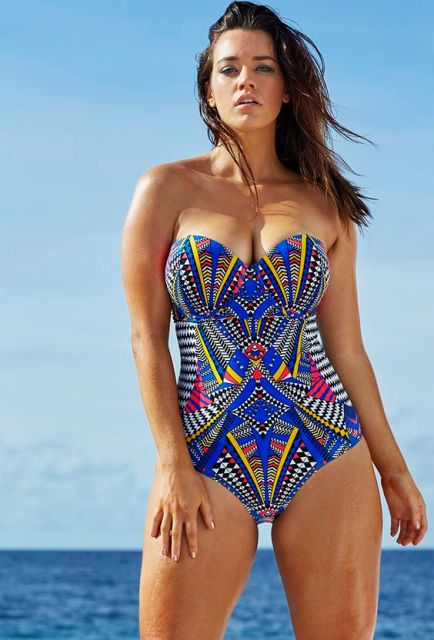 Image source:  Pinterest
If you want to dress sexy on the beach, but not expose your tummy at the same time, this corset style monokini with the most earth shattering print is the go-to swimwear for you!
13. Ultra flattering cut out swimsuit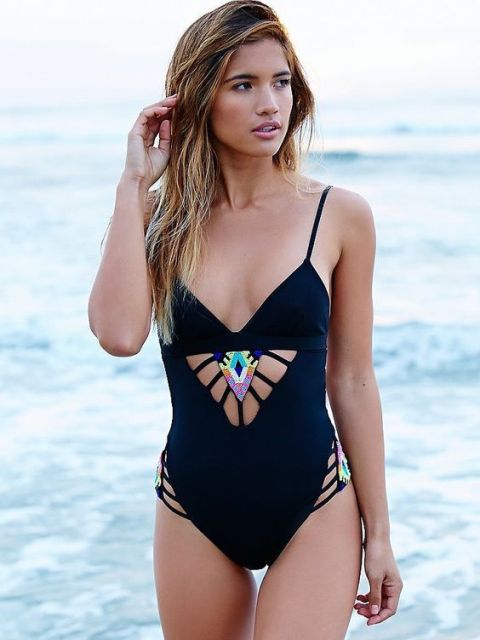 Image source:  Pinterest
Another reason why cut out swimsuits are a one ticket to being the most sought after thing on the beach this season. The best thing about this one is that it can accommodate and flatter every single body shape.
---
Suggested read: Celebrities who rocked bikinis with their baby bumps
---
14. Ridiculously good-looking floral strappy number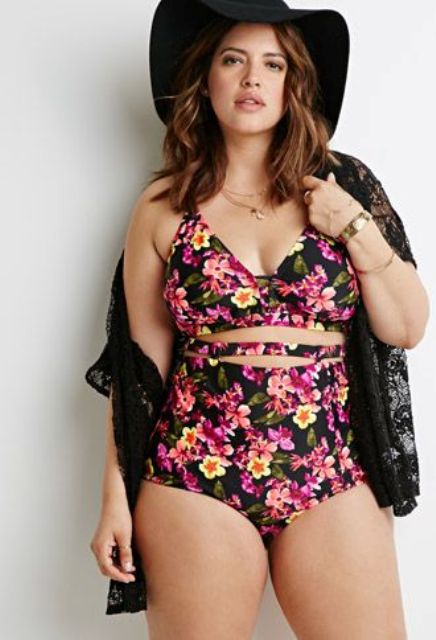 Image source:  Pinterest
Although this swimsuit is pretty as it is with its flora motifs, what makes it prettier is the super sexy strap across the midriff, which lends this pretty number with some extra gorgeousness.
Which one are you wearing this season?
Featured image source:  Pinterest
Summary
Article Name
All Eyes On You Where YOU Want Them: 14 Sexy Swimsuits You Can Rock No Matter What Your Shape
Author
Description
Because YOU add the 'sexy' to sexy swimsuits! ;)