The best thing about summer is all the holidays you get to take to all the coolest beaches, and of course, all the pretty bikinis that you can wear to these beaches and show off those curves and that tan. Here are 20 feminine and beautiful bikinis you can check out for inspiration:
1. Blue and white geometric bandeau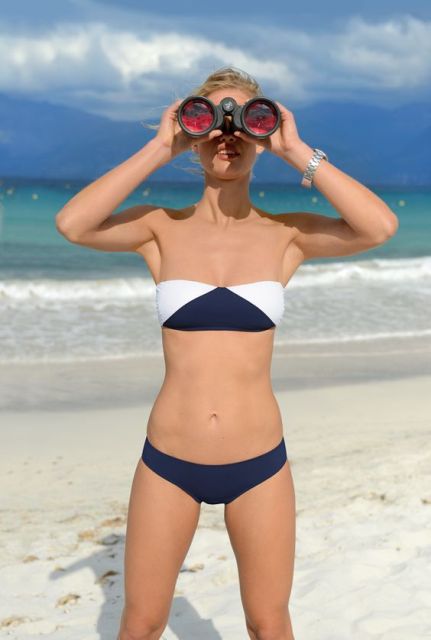 Image source: Pinterest
If you want to have some fun with your bikini while at the same time not compromise on its beautiful, feminine look, you can check out geometric designs such as this bandeau, in fun colour combinations like blue and white.
2. Strappy bikini with Aztec pattern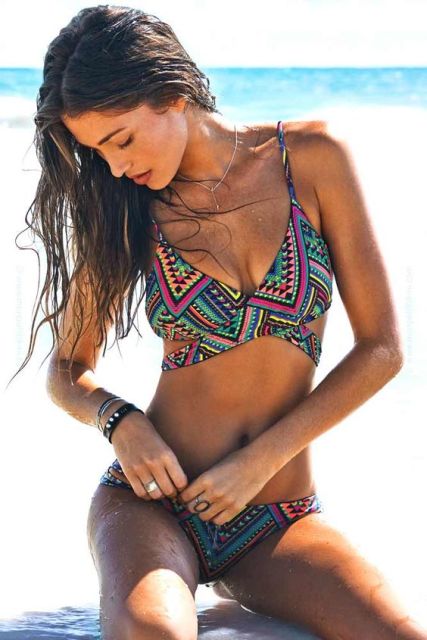 Image source: Pinterest
It is difficult to find a bikini which is unique, pretty and feminine all at the same time. One thing which will never fail is the beautiful Aztec print, which looks gorgeous on everything, including bikinis. Combine that with a strappy structure, and you have yourself a gorgeous bikini.
---
Suggested read: Celebrities who rocked bikinis with their baby bumps
---
3. Floral print balconette bikini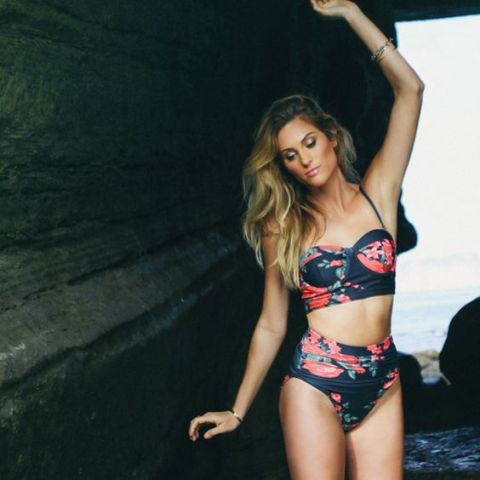 Image source: Pinterest
This vintage style floral bikini is pretty and stylish, making you the prettiest thing on the beach, or wherever you decide to wear this fun, flowery number.
4. Stained mesh bikini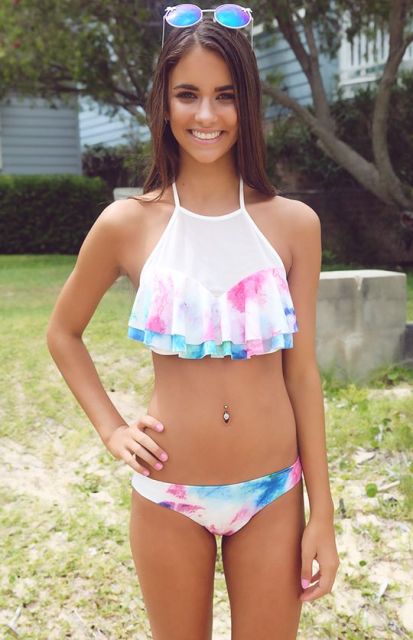 Image source: Pinterest
If you are one for unique styles and pretty colours, you can check out mesh style bikinis like this, where your tops are embellished with a thin film of stained mesh in pretty colours, with matching bikini bottoms.
5. Black and white geometric balconette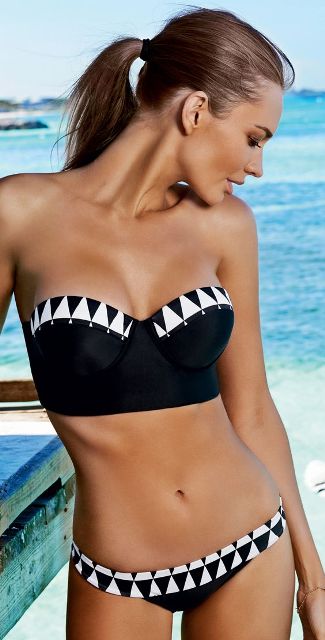 Image source: Pinterest
This is another balconette which is different from the rest with its cool contours and beautiful geometric designs.
6. Halter neck bikini in coral colours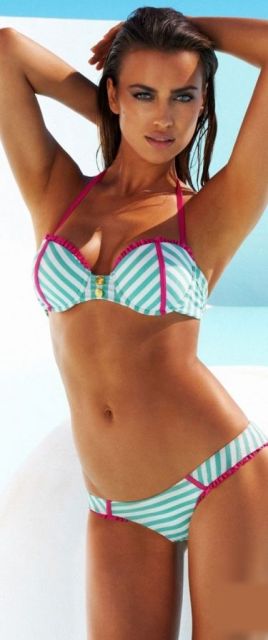 Image source: Pinterest
Unconventional bikini styles include coral colors and halter necks and golden embellishments in the form of cute buttons, such as this one, which is bound to make you stand out in the beach.
7. Adorable pink bikini with frills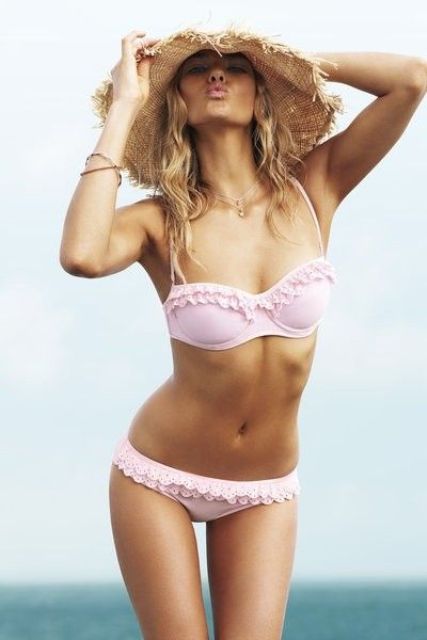 Image source: Pinterest
Just because you are wearing a bikini does not mean that you will have to compromise on your feminine side. Bikinis too come in pinks and frills and manage to look absolutely gorgeous at the same time.
8. Jungle themed textured swimwear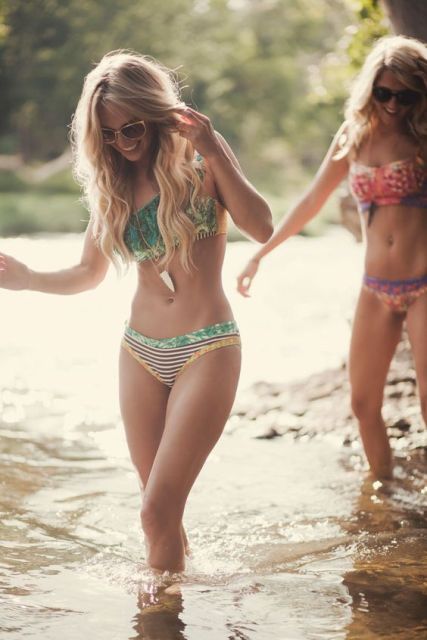 Image source: Pinterest
There is absolutely nothing wrong with stripes and wild print, such as in this quirky little number, which is not only comfortable and unique, but also one shoulder, which makes it stand out.
9. Sweet patterned bralette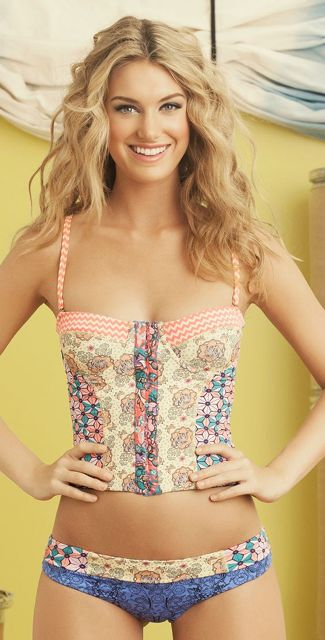 Image source: Pinterest
The more the patterns, the better, and this bralette proves exactly that with its sweet pattern, modest top and matching bottoms, making it an irresistible choice for your summer adventures.
10. Crochet net black bikini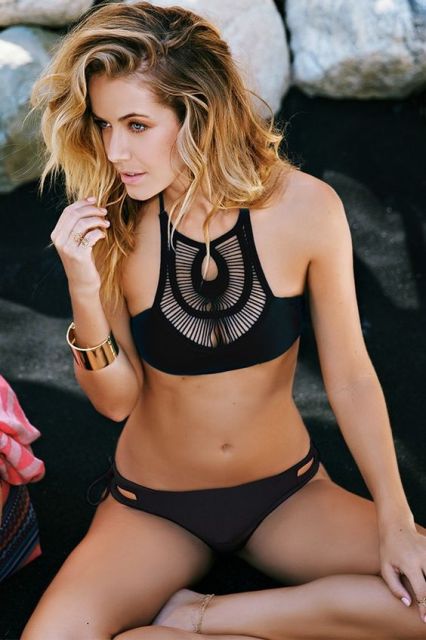 Image source: Pinterest
Wouldn't it be infinitely more exciting if your bikini had something to oomph it up, like a crochet neck and cut-out bottoms, which make you look like a swimsuit supermodel, if not anything else.
11. Tribal vibes on the beach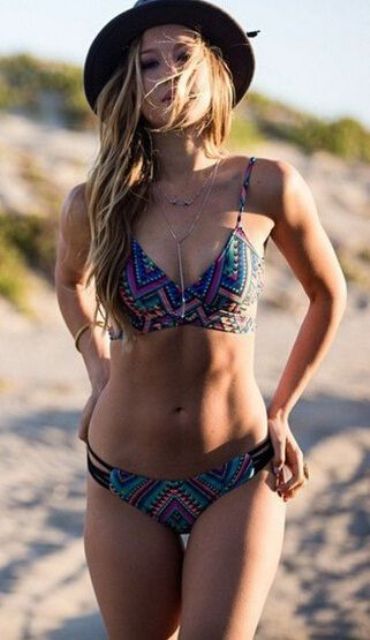 Image source: Pinterest
If you are feeling adventurous and colorful on the beach, check out this tribal bikini which is fun, spunky, and bound to stand out in a crowd.
12. Dainty blue and white bikini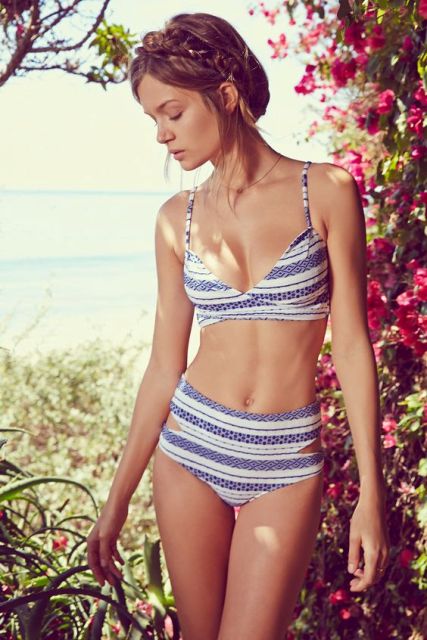 Image source: Pinterest
Finding classy bikinis that reveal just the right amount and look beautiful at the same time can be quite a challenge. Check out this blue and white cut out number in dainty silhouettes for inspiration.
13. Fun red high waist, in navy stripes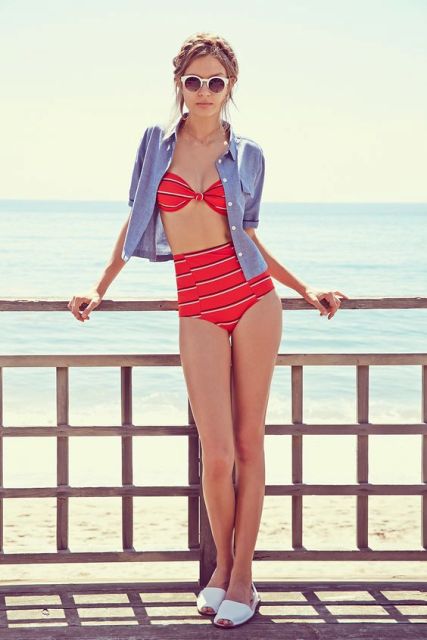 Image source: Pinterest
Nothing could look cuter on a sweltering summer day, than this red strapless number, which comes in stunning navy stripes and a cute high waist bottom, which would only look better with your sunnies and loose cotton shirts.
14. Bold prints on your sporty bikini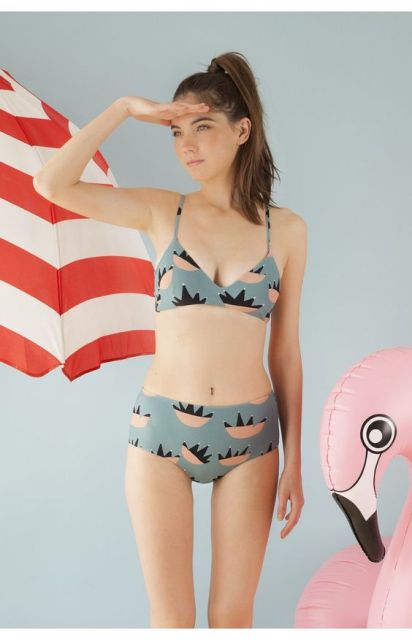 Image source: Pinterest
If you are tired of mini prints and patterns, you can check out bikinis which have fun prints like pineapples, umbrellas, or even abstract prints, which makes your bikini fun and bright at the same time.
15. Another vintage high waist stunner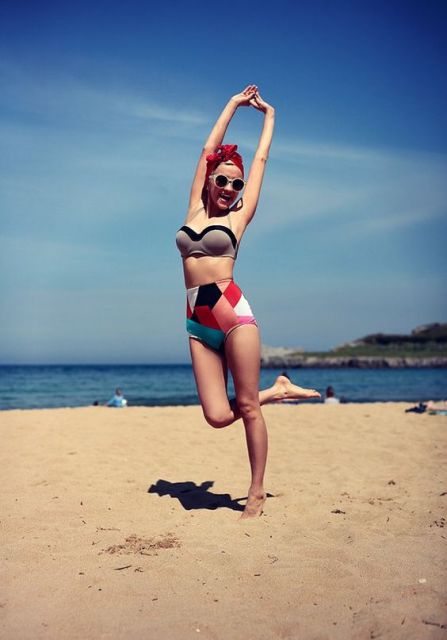 Image source: Pinterest
Color blocking with adorable geometric patterns is one of the more underrated features of a great bikini, but definitely a sure shot way of standing out in a beach full of people.
16. You can't go wrong with polka dots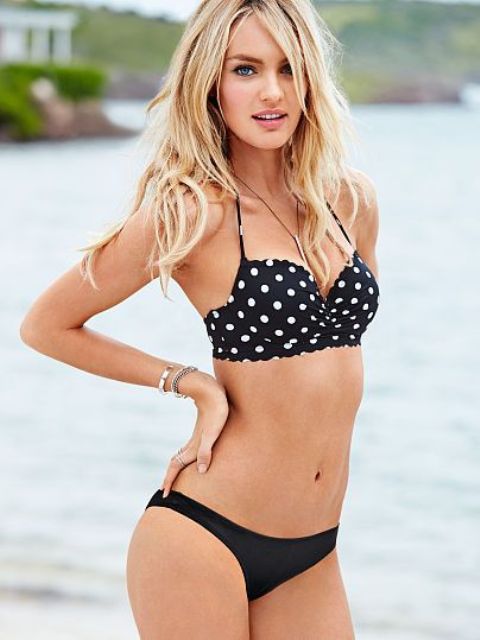 Image source: Pinterest
When you have something as cute as polka dots on your bikini, there is no way in hell you could go wrong with your beach style, especially because of it's fun, cute, vintage vibes.
17. Ruffled bandeau bikini top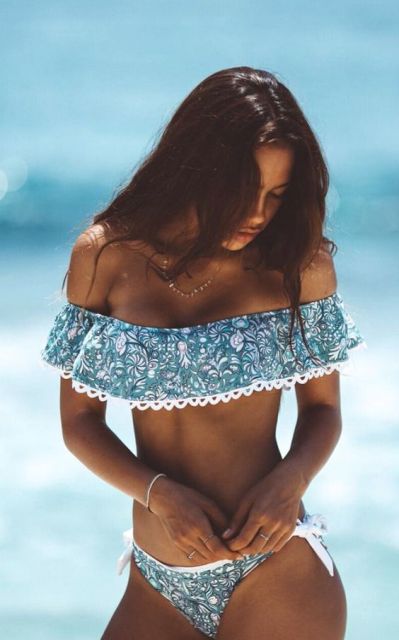 Image source: Pinterest
If you want something that is cute and feminine and drop dead gorgeous, then think ruffles, cool watery colors and a bandeau top which makes your bikini that much more interesting than your neighbor's.
---
Suggested read: e
---
18. Beach cut bikini tops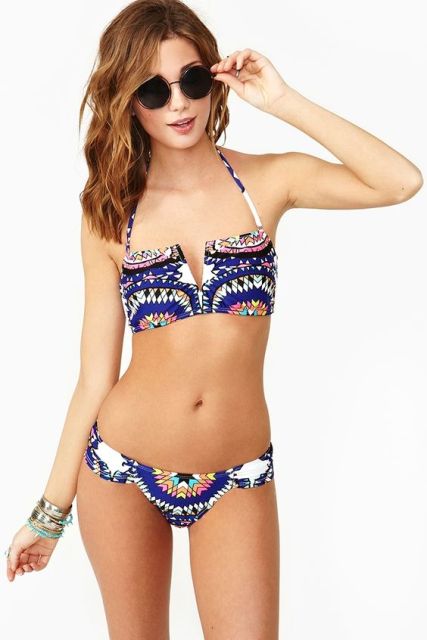 Image source: Pinterest
We have already determined that patterns are a thing when it comes to looking pretty yet different in your bikini. Add to that a bikini which has a sweet beach cut V on its top and you have a winner.
19. Harnessed strappy bikini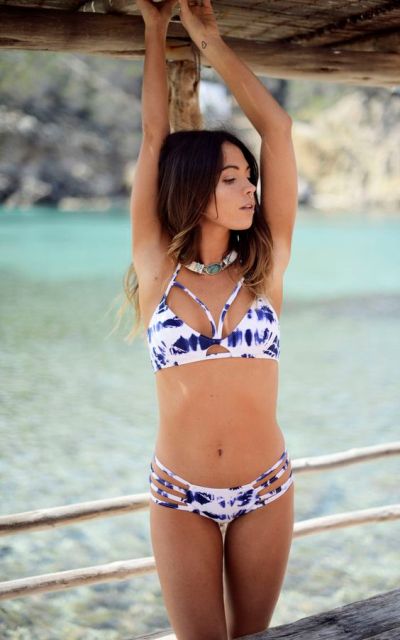 Image source: Pinterest
No one said cute cannot be sexy, which is what this bikini is out to prove with its straps, cuts and stained colours, along with those stunning bikini bottoms.
20. Boho lace trimmed number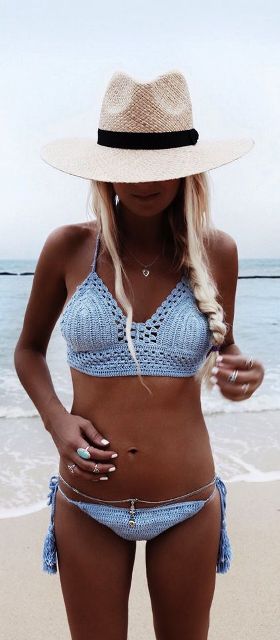 Image source: Pinterest
When you combine two amazing things, that is, lace and bikinis, you have a style that is so uniquely Boho chic that you are bound to be planning more trips to the beach than you thought you would.
Tell us about your favorite from our beautiful bikinis in the comments.
Featured image source: internetbillboards
Summary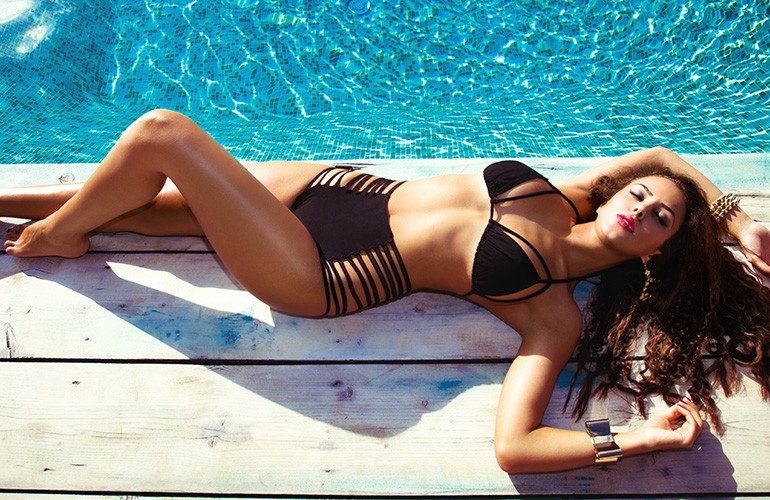 Article Name
Of Sand, Surf And Sun: 20 Beautiful Bikinis We Are Dying To Wear
Author
Description
It's time to bring out the beautiful bikinis, babes!