When summer time comes calling, you know it is time to get that bikini out of the closet and rock your figure on the beach. However, this is what everyone is going to think, and you are going to have to complete with a ton of people doing the same. You have to figure out a way to stand out in a crowd, for which you can check out these stunning bold bikinis for inspiration.
1. Rock the beach with Boho crochet bikinis
Image source: Pinterest
Who would have thought you could rock the Boho look with the perfect bikini set, done up with beautiful stringy crochet work. The cutouts and details on the top and the bottom are absolutely to die for, and rest assured, there isn't going to be a second pair like this on the beach!
---
Suggested read: Bikinis you can rock no matter your shape
---
2. Bold black Nike bikini set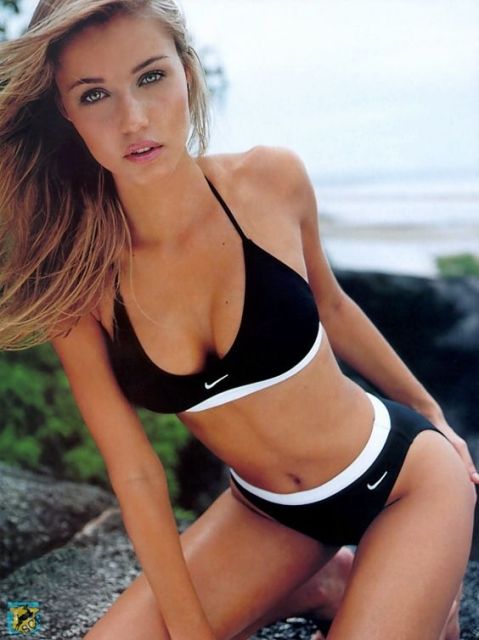 Image source: Pinterest
Nike creates some of the most beautiful swimwear out there, but most of it is usually sporty and fun looking. This one manages to keep with the traditional Nike tradition, but still manages to be bold and attractive with its amazing strappy top and distinctive monogram.
3. Patterned halter neck bikini set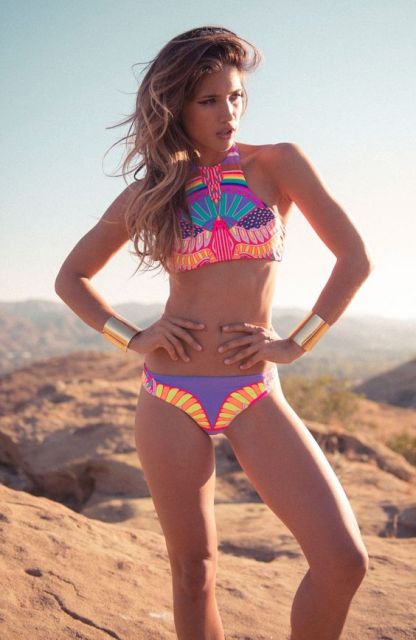 Image source: Pinterest
Bring a pop of color to the sunny beaches with this amazing padded, patterned and halter neck style bikini set which is simply bursting with colors of the coolest kind.
4. Cool blue magic on sunny beaches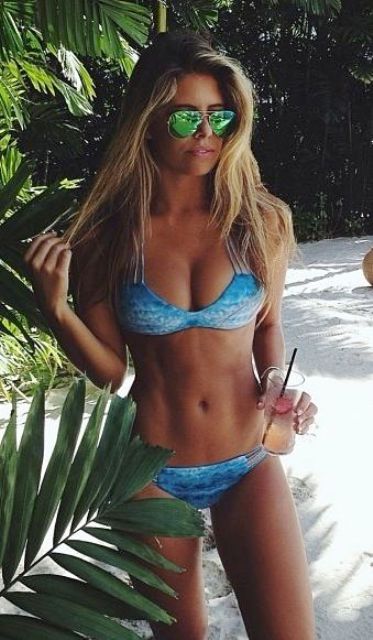 Image source: Pinterest
If you plan to wow your fellow sunbathers with your bold choice in bikinis, you can check out this cool blue set, with the most alluring stringy straps and the ombre blue sea shades on your bottoms and top.
5. Modern structure bikini set in moss green
Image source: Pinterest
If you want to rock a more modern look on the beach, check out this carefully cut and structures green bikini set, where the buckle tying the semi-choker with the bandeau makes it a great wear on the beach.
6. Cute lobster prints on your bikini set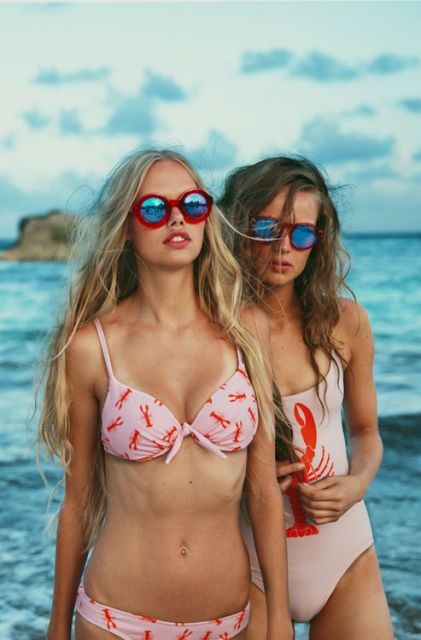 Image source: Pinterest
Why not celebrate the sea in your new bikini set with adorable lobster prints on your tops and your bottoms. The navy knot in the front makes this bikini extra cute and super bold at the same time.
7. Balconette style stunner in neon and mint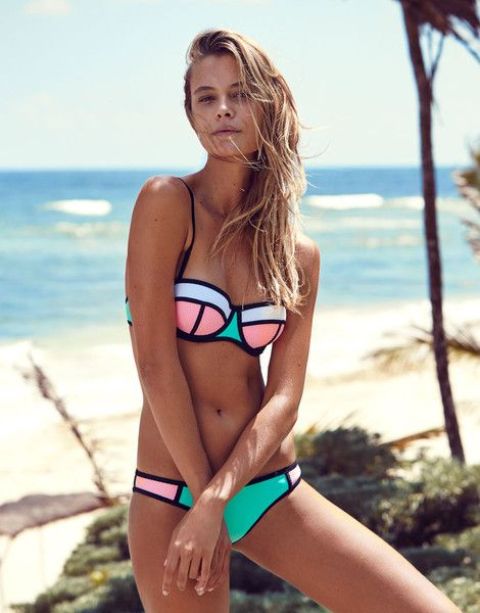 Image source: Pinterest
Nothing screams bold better than a balconette styles lined bikini in super cute colors like mint and neon, which are also rare on bikinis, making yours one that is definitely going to stand out in a crowd of boring old stringy bikinis.
8. One piece bikini mesh in monochrome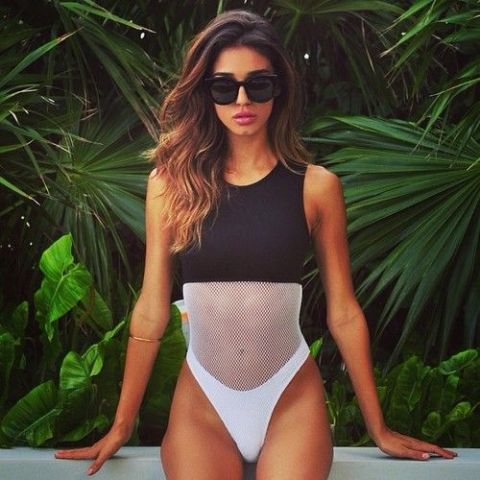 Image source: Pinterest
You might think that it is impossible for one-piece bathing suits to look stunning on a beach. Here is a mesh style one piece bikini which has a cool black halter neck top and a meshed torso with a high cut bottom in pristine white. So cool, so different and so stunning.
9. Seashells style bikini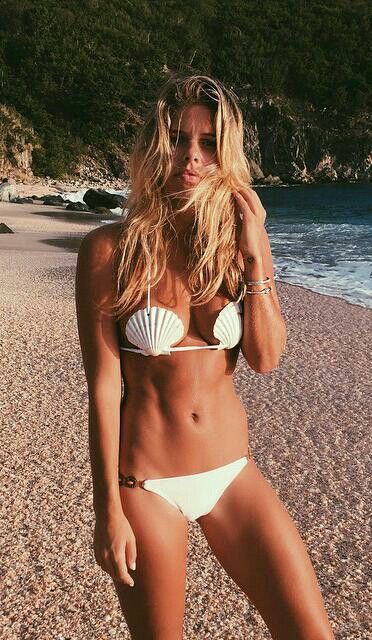 Image source: Pinterest
Rock the mermaid in you with this seashell style bikini in all white, with an alluring shell-shaped top and a sexy bottom to match.
10. Vintage style front knot bandeaus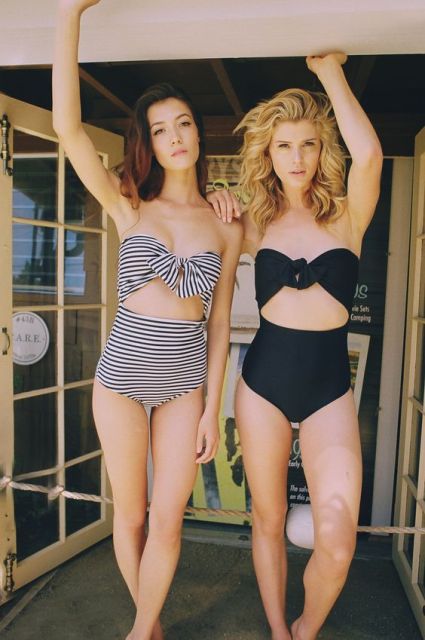 Image source: Pinterest
Vintage is something which, ironically, never goes out of fashion. Navy style stripes or even plain monochromes with front knots and high waists are what is going to definitely work for you when you want to work the bold fashionista in you on the beach.
11. Bold patterns and bolder colors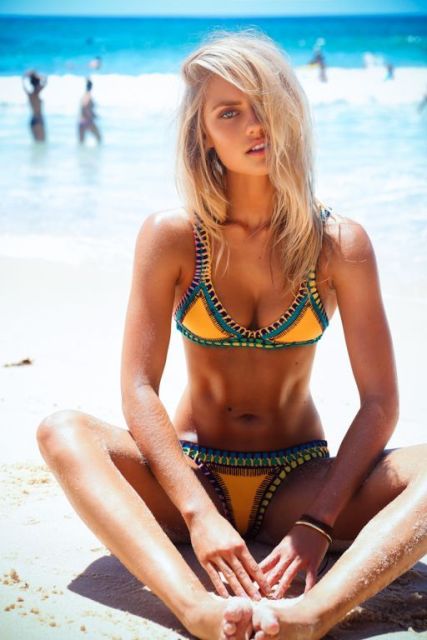 Image source: Pinterest
Simple patterns are great when you want to be a boring old maid on the beach. However if you want to be different and look different, then you can check out bold patterns which line even bolder patterns for the ultimate bold beach look.
---
Suggested read: Celebrities who rocked bikinis with their baby bumps
---
12. Sequins and bikinis and a whole lot of YES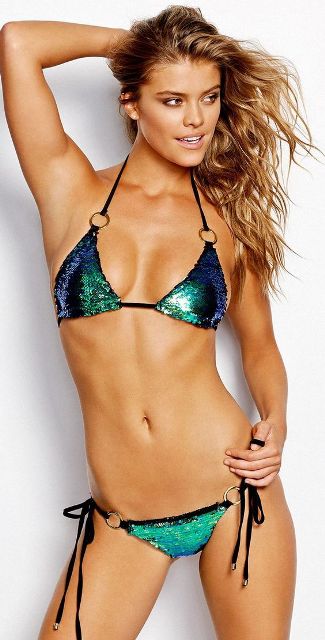 Image source: Pinterest
A lot of people are wary about adding sequins to their bikini set, but bikinis like this prove that it is just the right amount of razzle dazzle to make you look like the boldest, sexiest thing on the beach.
Are you ready to let the sun envy you with these bold bikinis?
Featured image source: Flickr
Summary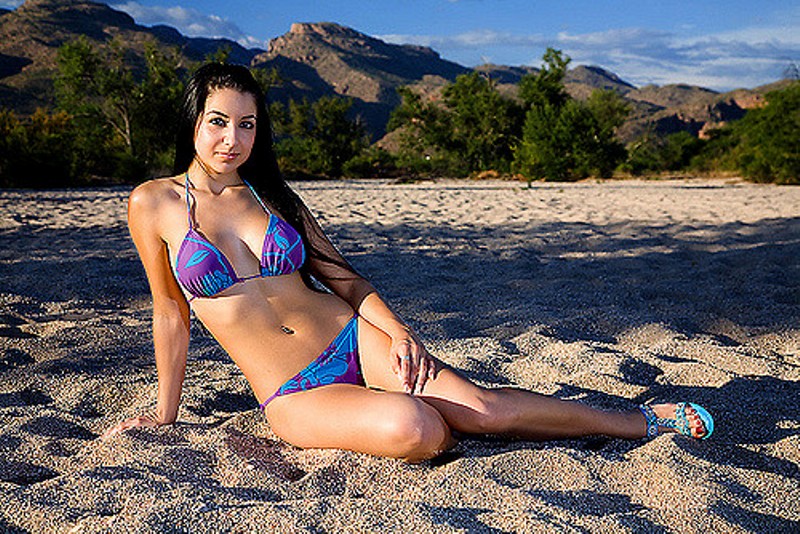 Article Name
12 Bold Bikinis We Cannot Take Our Eyes Off Of
Author
Description
Dare to wear these bold bikinis?