A lot of things have been going on recently.
First, summer is here and it is time to take out your itty-bitties from the back of your wardrobe and strut the beach in all your glory.
Second, the disgusting high body shaming was riding on is taking blows left, right and center because of which more and more women have stopped being self-conscious about their bodies, and become iffy about strutting their stuff- of course, if they want!
And so, there is no need to fret because you are fabulous as it is, and there is a bikini that will look perfect for whatever body shape you have been gifted with. Here are the different types of bikinis that you can rock, according to your shape.
1. Straight or rectangle body type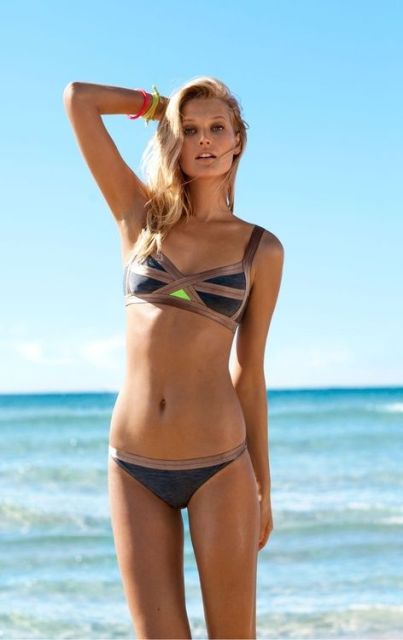 Image source: Pinterest
If you happen to have a supermodel-shaped body with straight lines and minimal curves, then you "bold and bare" should become the new bikini motto of your life. Because you have fewer curves, it is best to wear the bikini which is slightly more revealing to give the illusion of curves. Do not wear things which highlight your wait, aka, monokinis which might dangle from your frame.
2. Pear shaped body

Image source: Pinterest
If you have a pear shaped body, then you have a heavy waist and bottom and thigh region, whereas you are not very well endowed in your upper half. Therefore, your bikini should highlight your torso, which can be done with plunging necklines, strapless blouses, halter straps etc. and it is perfectly complimented with high waist bikini bottoms or wrap arounds.
3. Apple shaped body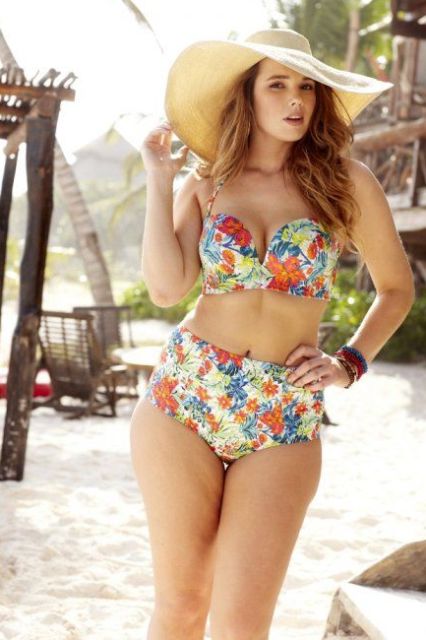 Image source: Pinterest
The characteristics of this body type are- a high waistline, a bust which is larger than the waist section and well defined hips. Your bikini should draw attention away from your upper body, to give it a balanced form. Fun colours, prints, high waists and supportive tops are what you should be looking for in your bikinis!
---
Suggested read: Celebrities who rocked bikinis with their baby bumps
---
4. Hourglass shaped body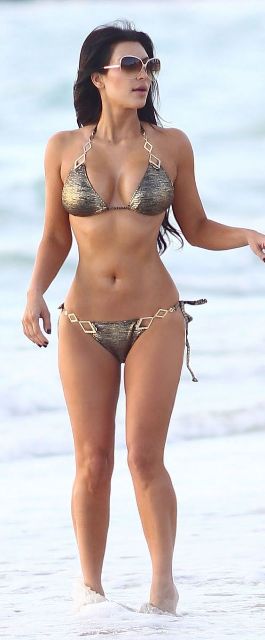 Image source: Pinterest
An hourglass body has a bust and a bottom in equal, harmonious proportion, which means that you can play around as much as you want with your bikini, provided your top portion is supportive and the bottom half is too.
5.Oval body shape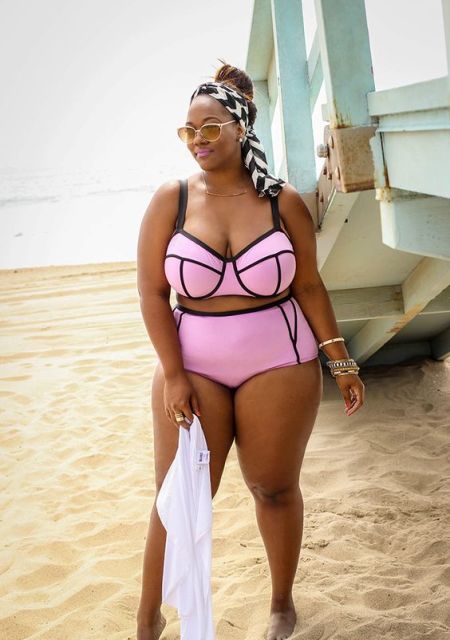 Image source: Pinterest
"Plus-sized bikini is necessarily boring"- said no one ever, and even if they did, there is no reason you should be listening to them. If you have an oval body type, then your bust is larger than the rest of our body, and though you have narrow hips, you tend to look heavier near the midriff. Bright colours or black, along with high waist bottoms and patterned or printed tops can make you look as fabulous as ever.
6. Body types with small busts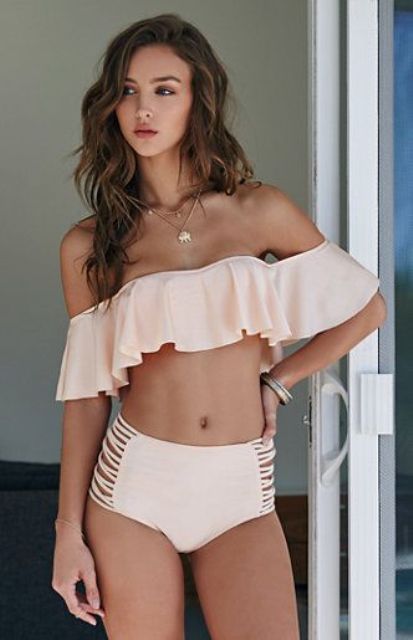 Image source: Pinterest
If you want to highlight your upper body section, you need to wear bikinis which either have frills, laces, patterns or prints on your bikini tops, so that it draws attention (the right way) to your top, while the bottom works well to complement it.
7. Skinny body type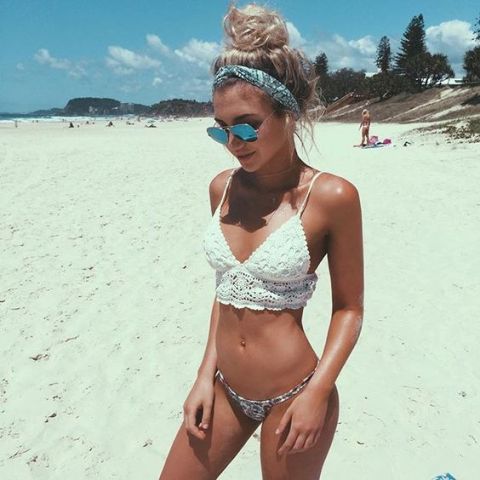 Image source: Pinterest
A skinny body is one where the bust as well as the legs and the thighs are thin, and bony, which means that you need to add some virtual weight to your body with your bikini. This can be done if you have frills, lace and other add ons on your bikini, and where the bottom isn't small enough to highlight the extreme gap between your legs.
8. Curvy body type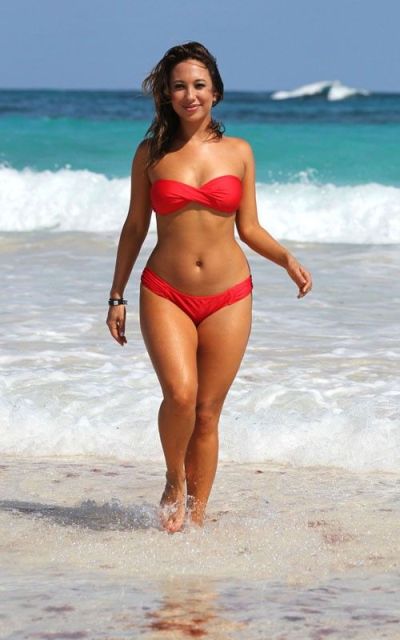 Image source: Pinterest
A curvy body is a well proportioned body which is balanced in the bottom and the top. If you have curves, there is no reason you shouldn't be showing them off in your favourite bikini, whether it is a strapless number or a halter neck bikini top, you can rock any kind of bikini, and you are going to look absolutely fabulous!
Now go, bring that bikini out!
Featured image source: thefashionablehousewife
Summary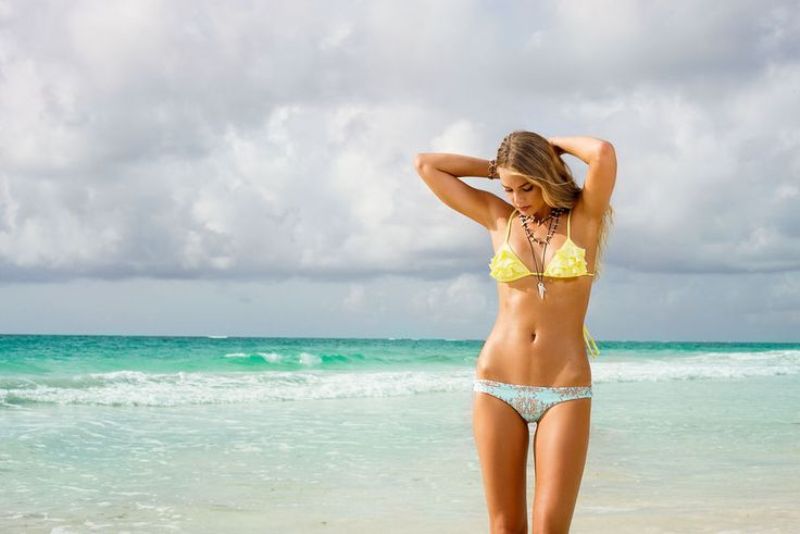 Article Name
#SummerStyle The Best Bikinis You Can Rock For Your Body Type
Author
Description
Yes, all the bikinis in the world are saying HI! Shout back!