"Baby bumps and bikinis? No, I don't think so! It feels so awkward. Everyone will have their eyes on me!"
Well, that's what celebs want, right? 😉 Baring baby bumps in sexy bikinis and carrying them like a diva requires you to be confident and sure of yourself! Celebs fulfill both of these requirements and so they flaunt that bulge with oomph and swag!
From Megan Fox and Jessica Simpson to Victoria Beckham and Jamie King, these fabulous women have rocked their bikinis with their baby bumps, and today NLT wants to praise these pregnant celebrities!
---
Suggested read: Pregnancy pampering for expecting mothers: What is safe and what isn't
---
Get ready to 'bump' it up!
1. Jamie King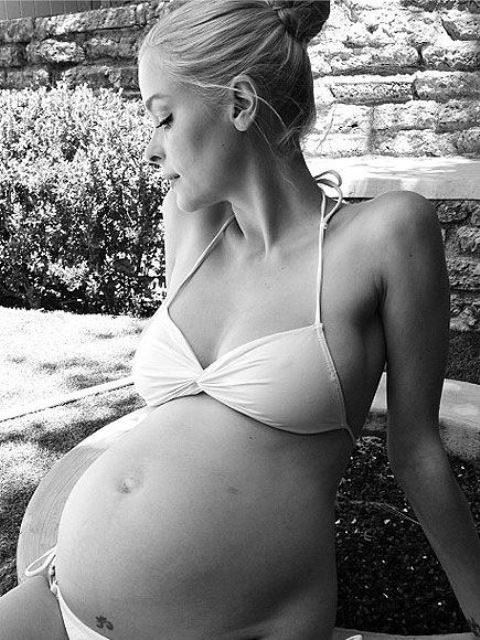 Image source: Pinterest
Jaime King, the star of 'Hart of Dixie', rocked a bikini and her baby bump in July. She shared a picture on her Instagram handle and captioned it, "Backyard Summer with baby and father." She was referring to her husband, filmmaker Kyle Newman.
After she announced her pregnancy in May this year, the first timer(!) has kept her fans informed via her Twitter handle, where she once posted the joke, "Our baby has the best name: The Untitled Newman-King Project!"
In an interview, Jamie King spoke of her pregnancy and said, "Pregnancy is the ultimate symbol of womanhood, beauty, and sensuality, so make it a celebration of creating life. You don't have to hide anything or try to suck in your belly. Why not put on things that are tighter, flashier, or more fun?"
I am sure she was referring to the bikini! 😉
2. Jessica Simpson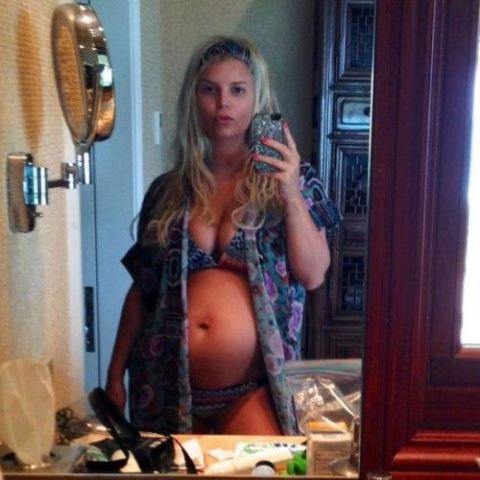 Image source: Pinterest
When singer-turned-entrepreneur Jessica Simpson was expecting her son, Ace, she tweeted a ballsy portrait of herself on Twitter and captioned it, "Bumpin' and Proud." This was in December 2012. This portrait was a rather revealing shot in which the blonde bombshell was bare-faced and showing off her baby bump, plus her cleavage! The patterned bikini made the 'Fashion Star' social media's baby!
While she was vacationing in Hawaii on Christmas day, Simpson finally confirmed that she and her fiancé, Eric Johnson, were pregnant with their second baby. She then tweeted another picture of herself with her daughter, Maxwell (8 months at that time), at the beach with the words, "Big Sis" carved in the sand!
3. Tori Spelling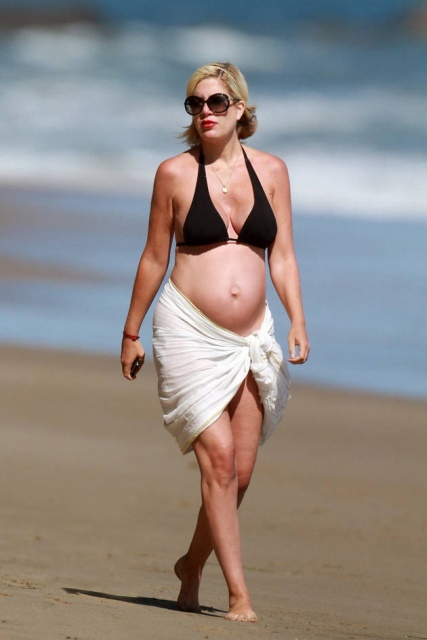 Image source: Pinterest
When Tori Spelling was expecting her third baby, she rocked the bikini with her baby bump. This was in May 2011, on the beaches of Malibu! She draped a white sarong and flaunted her bulging bump in a sexy black bikini! We could even peek-a-boo a little at her tattoo which displayed her wedding vows to Dean McDermott, her husband!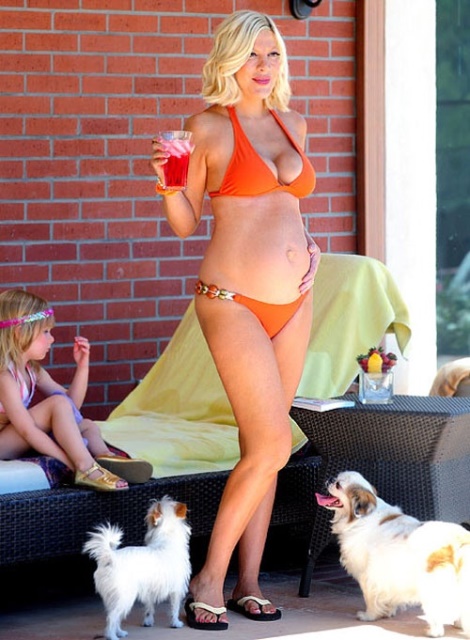 Image source: Pinterest
We were lucky to catch another glimpse of this reality star in a vibrant ochre bikini!
4. Alessandra Ambrosio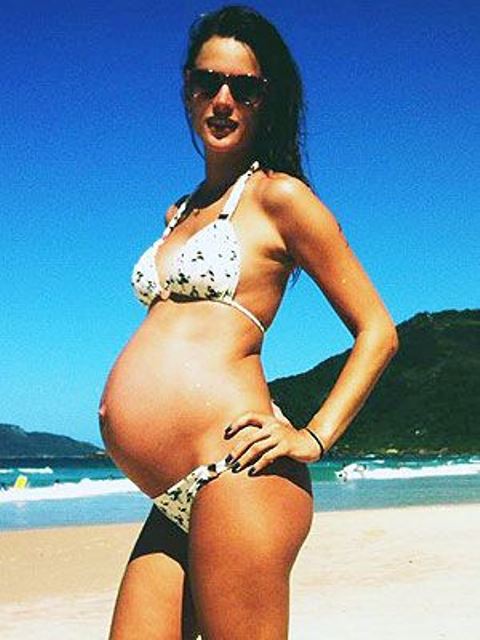 Image source: Pinterest
Model mama, Alessandra Ambrosio, relied on Twitter to post some pics of her bumping belly on the beach where she celebrated her baby shower. This was just weeks before she welcomed kid number 2! The caption read, "So much fun at my little boy baby shower. Now just have to wait for him to arrive!!!" Alessandra rejoiced with family and friends while sporting her baby bump in Florianopolis, Brazil.
The secret to that body? We have it from the horse's mouth:
"I've been very active. I've been exercising. I've been going for walks and doing yoga. Playing with my daughter all the time gets me in good shape I guess."
5. Jessica Alba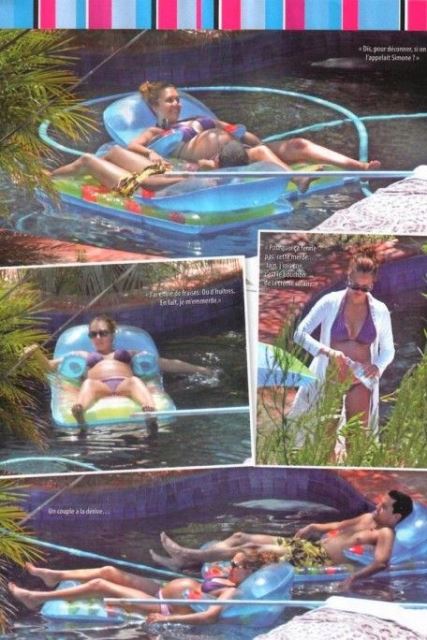 Image source: Pinterest
While Jessica Alba was pregnant with her baby girl, Haven, she showed off her blossoming baby bump in a teeny weeny bikini while vacationing in Cabo San Lucas, Mexico. This was in May 2011, when she was expecting her second child with her husband Cash Warren. At the vacation, her 3-year-old daughter, Honor, was seen following the Valentine's Day star everywhere.
According to Alba's personal trainer, Ramona Braganza, she remained fit throughout her pregnancy by following three simple rules:
She revised her usual training routine
She indulged rationally
She worked more on her core strength and sense of balance.
6. Pink
Image source: Pinterest
When singer Pink was expecting her daughter Willow with husband, Carey Hart, she rocked her baby bump in a stunning black two-piece. She was at the beaches of LA in November 2010. The proud Grammy winner Pink confirmed her pregnancy rumors shortly after this picture was taken.
7. Bethenny Frankel
Image source: Pinterest
Just a couple of weeks before the reality TV starlet had her first baby girl Bryn, she dazzled us with her baby bump in her swimwear! She was honeymooning with her husband (now ex) Jason Hoppy. They were in St. Barths, France. Beautiful place, beautiful people!
The couple (now separated) had just tied the knot in March in NYC and the star went into labor rather early, greeting her daughter warmly into the world on May 8th.
---
Suggested read: Yes, I am dating a pregnant woman…
---
8. Megan Fox
Image source: Pinterest
Although the Transformers actress Megan Fox and her (now separated) hubby, Brian Austin Green, maintained their silence on the pregnancy rumors, the brunette babe unveiled her mushrooming baby bump in some beachwear. The couple was in Hawaii for a romantic getaway!
The photos were as adorable as could be, with heaps of PDA! Brian was seen cuddling his lady's bare bump as they stood on their private terrace and watched the serene view. They tied the knot during this vacation to celebrate their second anniversary.
Megan Fox has always shown off her stunning body with grace and we were glad that she made no exception during her pregnancy. Graceful is the word!
9. Alicia Keys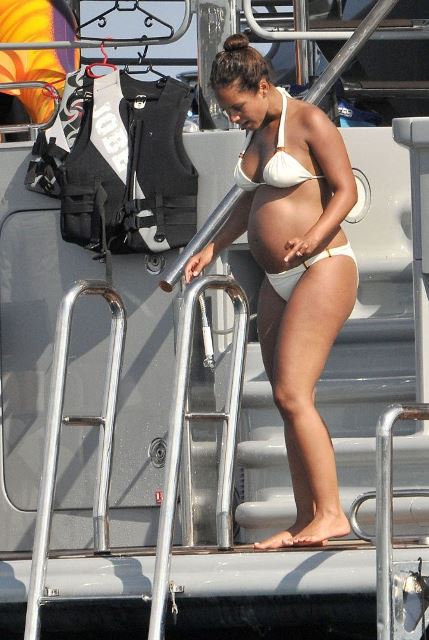 Image source: Pinterest
The Grammy Award-winning singer Alicia Keys, said "yes" to Swizz Beatz on the French Island of Corsica. They were then photographed honeymooning in St. Jean Cap Ferrat, France. She stood on the deck of the luxurious yacht and showed off her bump!
According to Harley Pasternak, Alicia Keys' trainer, "Regular exercise is especially key during pregnancy. It helps with so many things: your mood, heart rate, and blood glucose levels, as well as having some sense of control over your body, which is easy to lose when you're expecting and feel as if the baby is taking over."
And it of course helps these stars rock their baby bumps in bikinis!!
10. Kendra Wilkinson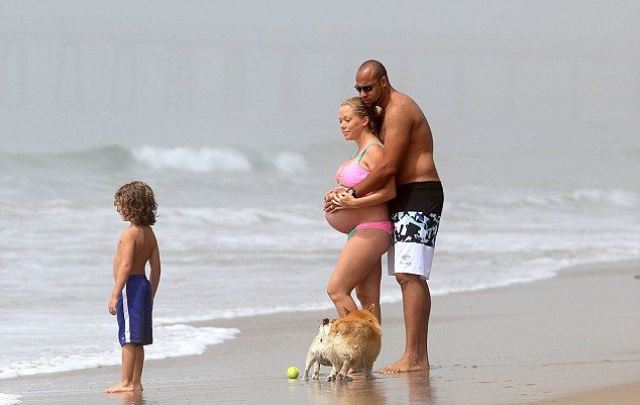 Image source: Pinterest
After getting hitched to Hank Baskett at the Playboy Mansion, reality TV starlet Kendra Wilkinson was photographed honeymooning on the St. Lucia beach shortly after. We spotted a mini baby bump! They welcomed their first kiddo in December 2009.
During her second pregnancy, when she was expecting her daughter Alijah Mary, we spotted her in a pink two-piece swimsuit with her husband's arms around her and her son playing around them at the beach!
11. Kim Kardashian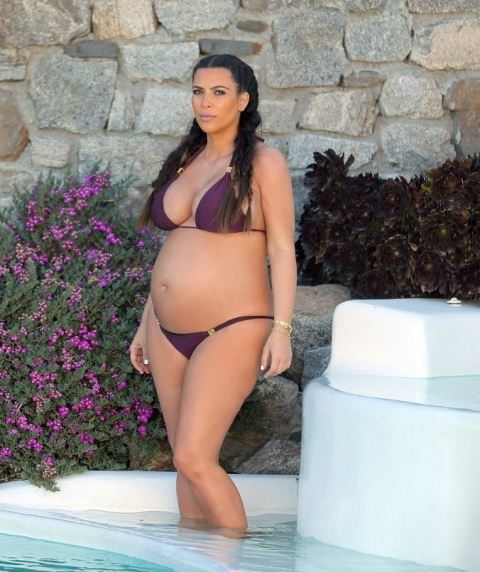 Image source: Pinterest
When Kim K was pregnant with her first baby, North, she was vacationing in Greece. She flaunted her bare burgeoning belly in some trendy bikinis. She was spotted soaking up the sun in Mykanos, an island in Greece. She just looked gorgeous in braids and this lovely purple two-piece!
12. Minnie Driver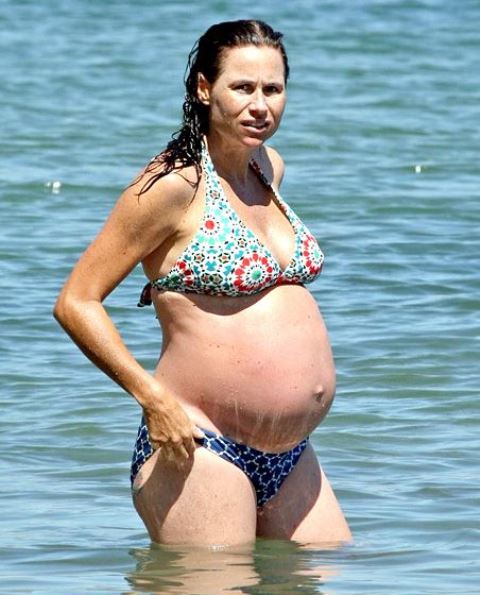 Image source: Pinterest
Actress Minnie Diver revealed her bump only when she was nine months pregnant. How? In a bikini, of course! The Good Will Hunting actress was seen taking a stroll with her also-pregnant sister. The Oscar-nominated film star dazzled in her kaleidoscopic bikini while vacationing in Malibu.
13. Camila Alves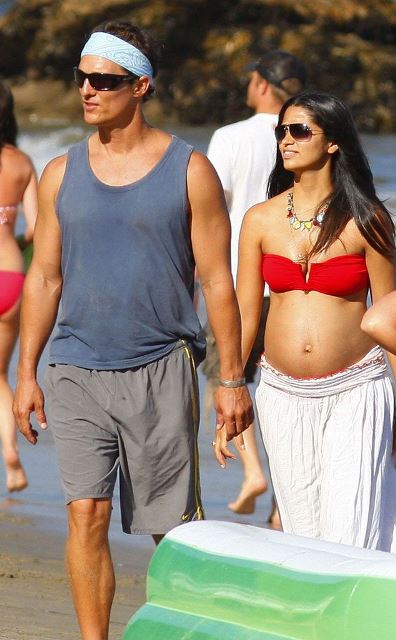 Image source: Pinterest
Mathew McConaughey and the members of his crew spent Labor Day at the beach in 2009. The actor's pregnant girlfriend (at that time), Alves, and their boy, Levi, were spotted walking along the shores of Malibu. They looked like one happy family!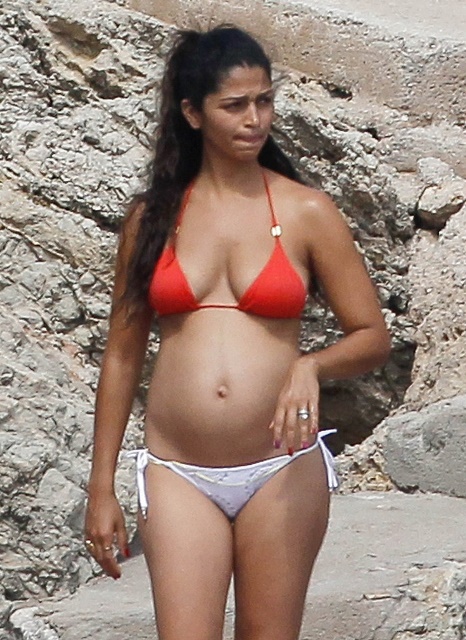 Image source: Pinterest
Camila was five months pregnant already and chose to display her baby bump in a red hot bikini top and long summer skirt. The couple soon got married.
14. Jenna Dewan-Tatum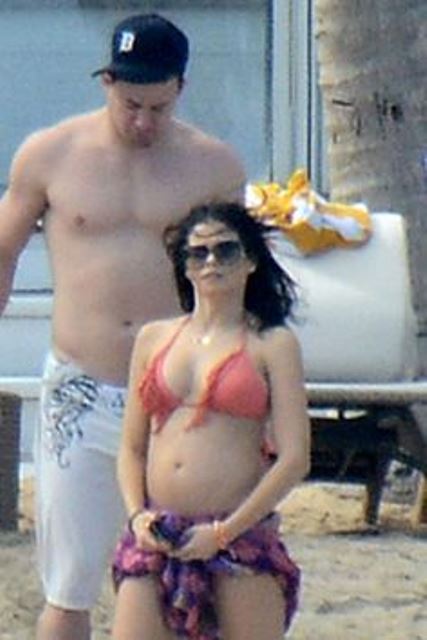 Image source: Pinterest
The Vow actor Channing Tatum and his partner, Jenna Dewan-Tatum, were photographed when 'baby'mooning in Saint Barths, France. The couple were relishing the sand and surf. While Channing indulged in some snorkelling, Jenna was busy flaunting her bare belly in a colorful sarong and carroty-colored bikini top.
They were also spotted taking a romantic stroll on the beach later that evening. She gave birth to their first baby, Everly, in 2013.
---
Suggested read: 10 cute ways to tell your husband you're pregnant!
---
15. Gisele Bündchen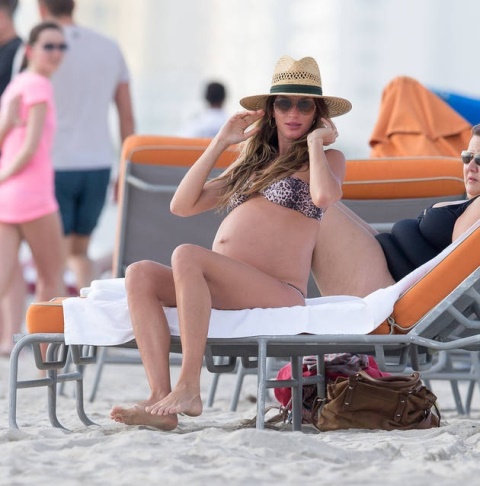 Image source: Pinterest
In her third trimester, Gisele Bundchen rocked her animal print two-piece bikini in Miami Beach, Florida. She looked simply radiant in this leopard skin print bikini. She was also sporting a straw hat and a pair of aviator shades. This Brazilian beauty was skinny-dipping with a friend at the beach when the shutterbugs caught her.
For all expecting mommies, going on a vacation can be a panic alert. And if the location picked by hubby dearest turns out to be the beach, she is most likely to back out! Wearing a two-piece swimsuit is out of the question, even if we had to wear it to a 'make-believe' beach party in our backyard!
But these pregnant stars seem to feel otherwise. They not only 'exhibited' their celebrity baby bumps in sexy swimsuits, but also nailed the look! So next time you are 'bumped,' rock it with a bikini!
Featured image source: Pinterest
Summary
Article Name
15 Celebrities Who Rocked Bikinis With Their Baby Bumps
Author
Description
Who says you can't wear a bikini when you're pregnant? Just take a look at these celebrities who showed off their baby bumps in rocking bikinis!