With the fad of perfectly sculpted, clear, and naturally beautiful faces being the hottest trend this season, it's only fair that we provide you with answers to the question, how to get a clear face popping in your mind. So, get ready ladies, with the wonderful list coming your way, the time to make and stick to a happy skin care regime starts right now.
1. Start with a perfect washing routine
Image source: Google, copyright-free image under Creative Commons License
Consistency plays a great role in maintaining the health and complexion of your skin. When you're planning to have a clear and naturally glowing face, the first thing you want to do is chart out a washing plan and always stick to it. This might sound a little silly at first, but you'll fall in love with the effects. Plan how many times you need to wash your face in a day, as well as what products you'll use. A gentle wash before bedtime is one time you should always commit to.
---
Suggested read: 8 easy face exercises that help tone your face
---
2. Moisturize your skin on a daily basis
Oil and dryness are something your skin struggles with regularly. Using moisturizers is the best way to ensure that the battle doesn't trouble you at all. It keeps your skin fresh, clean, and nourished by creating a perfect balance. Be it right after the shower, after each and every wash (which is a must,) or after every time you dry your hands, moisturizing should become a ritual for you.
3. Always be sure to remove all the makeup at night
Image source: Shutterstock
An essential must-do on the list of your skin care routine is knowing just when it's time to say goodbye to your old makeup products. It's understandable how it's next to impossible to avoid using any product, but one thing that is still in your control is not letting them hurt your skin. Whatever makeup you apply, never go to bed without washing it off completely. Keep a stock of nice and mild cleansers and always follow the cleanup with a thorough wash with lukewarm or cold water, depending on the weather.
4. Picking your pimples is a big NO
Now, your wish to get a clear face asks for a big sacrifice from you. You have to curb the irresistible temptation of scratching your skin or squeezing those ripe pimples. For one thing, they are not only unhygienic but also invite the risk of infections. It only ends up worsening your skin condition. When you're dealing with skin trouble like pimples, acne, rashes, or anything at all – follow a proper remedial regime or consult a specialist if you're not sure what to do.
5. Be a little choosy about what products you use
Clear skin is healthy skin, and one way to ensure the health of your skin is keeping it out of harm's way. Everyone has a different skin type – dry, oily, sensitive, or with some condition, and there are so many products that are specifically designed for each type. What you need to do is figure out what products go with your skin type and only use the products that suit your type perfectly. Also, choosing between the chemical, non-chemical, or vegan products is also a new way of choosing products.
---
Suggested read: STOP making these face cleansing mistakes – NOW!
---
6. Staying hydrated is the key to naturally beautiful skin – drink up!
Image source: Pixabay, under Creative Commons License
While moisturizers help keep your skin soft and lustrous from the outside, water is how you keep your skin moisturized and well hydrated from the inside-out. You should make it a compulsory routine to drink at least about seven to eight glasses of water every day. Wherever you go, don't forget to bring along a water bottle with you. When you have ample amount of water in your system, you'll not only appear nourished and beautiful, but you can also count on attaining sound health as well.
7. Make the most of face masks
Face masks can supply your skin with everything it needs to stay clear and beautiful. The best thing about these wonderful face masks is that though there are many options available on the market, you can also prepare your own recipes at home as well. Popular face masks with honey, lemon, oatmeal, and even clay, promise you wonderful results. So, assure yourself the clearest and the prettiest face by soaking in the goodness from these amazing masks from time to time.
8. Occasionally engage in different cleansing methods with water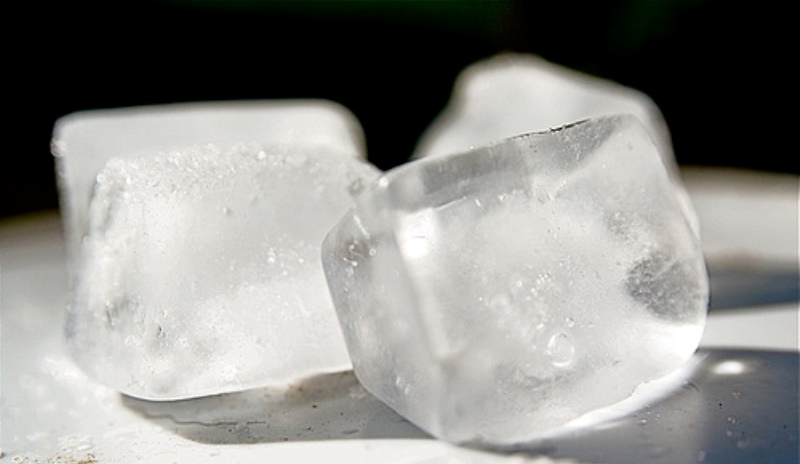 Image source: Google, copyright-free image under Creative Commons License
Consider other uses of water to clear your skin, such as steam and ice! Steam can remove deeply-lodged dirt from your skin as well as open up your pores. It even gets rid of excess oil, preventing unwanted conditions like pimples. Also, when it comes to preparing your skin for any cream or mask treatment, a nice rub with some ice is all that your face needs!
9. Don't underestimate the hygiene of your beauty tools
As you're researching what types and how much product you're using, another reform that your beauty regime needs right away is getting a little selective and strict about your beauty tools as well. Hygiene is essential for clear skin, right? So, it's very important to keep all your tools, from brushes to combs, clean as well. It'll prevent the growth of bacteria and save you from any risk of infections and take you a step closer to a perfectly clear, naturally beautiful face.
10. Protect yourself from exposure to sun and pollution
One greatest trouble that stands between you and your flawlessly clear face is the damage from everyday life. From harmful UV rays to the damage from pollution in the air, you need to keep yourself nicely shielded from both. One great way to fight the damage is by using sunscreen lotions. Their protective coverage works wonders in keeping your skin safe. Plus, accessorizing accordingly can also come in handy. So, bring out the hats, shades, scarves, sleeves, and umbrellas this season. Let's make safe skin the new sexy.
11. A healthy skin-friendly diet is a must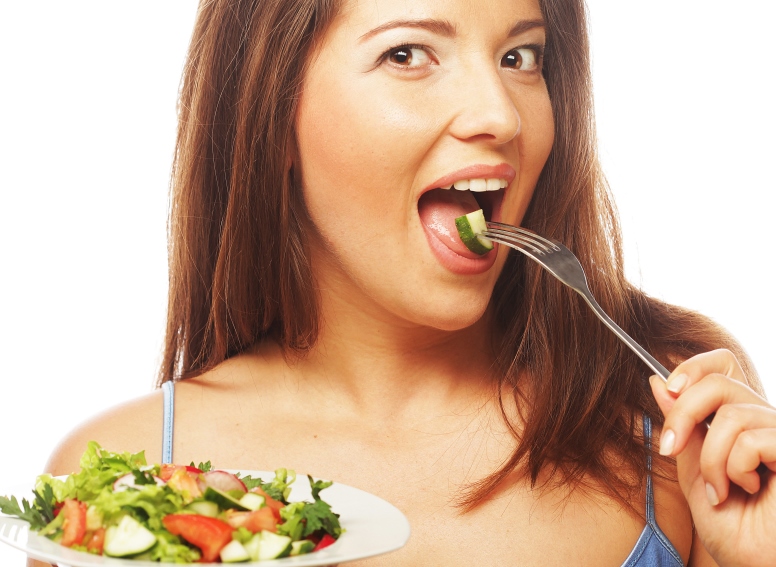 Image source: Shutterstock
What you eat reflects directly on how healthy your skin is and how good it looks. Your diet is the best answer to how to get a clear face. There are many foods that promise you robust and naturally glowing skin, and it's about time you add those to your diet charts. It's a big welcome for veggies, grains, and proteins, and an equally big no (or at least a promise of avoiding) to high carbohydrates and saturated fats. The rich supply of vitamins, minerals, and healthy fat, carbs, and fibers from foods like nuts and fruits are the yummiest way to naturally awesome skin.
12. Don't shy away from the right replacements and substitutions
You don't have to compromise on taste all the time. For example, instead of cutting off the dairy products completely because of their saturated fats, you can either limit the quantity or eat low-fat versions. The same applies to your tea habits – how about green over brown? Just put in some effort in planning your food and drink choices and you won't have to trade the delights of taste for the pleasure of a beautiful clear face.
13. Believe in the concept of beauty sleep
When they tell you to get some beauty sleep, it's no metaphor from a fairytale. Even science supports the concept today. While good hours of sleep ensure you a healthy body and a fabulous face, you can add onto the effects with some extra efforts. Opt for pillow and sheets with the softest surfaces (best when hypoallergenic!), and never forget to change them often. Sleeping easy will energize you from within and bring out your best natural beauty.
---
Suggested read: 6 homemade face packs to remove sun tan
---
14. Include rejuvenating yoga, exercises, and meditation in your lifestyle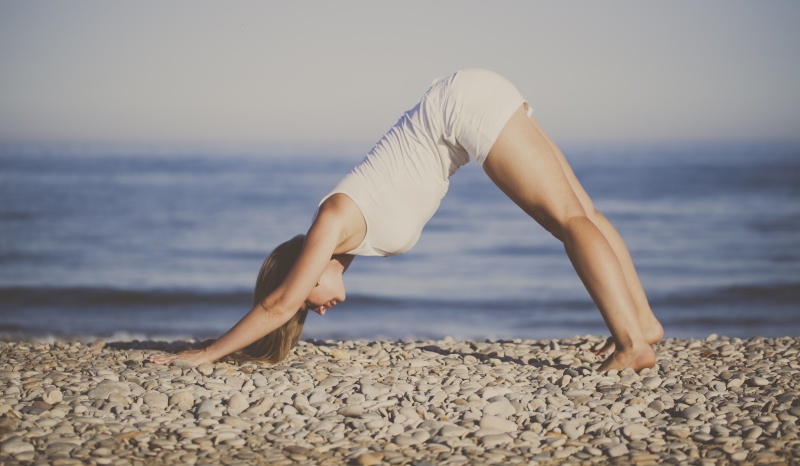 Image source: Shutterstock
This isn't a clichéd epic-ending point. Somehow, the slightest healthy lifestyle changes like fifteen minutes of meditation or a half mile walk can bring about great changes in your beauty and health. Engage as much as you can in yoga and other exercises, and this will help improve your overall health, both mind and body.
This list provides some great answers to how to get a clear face. All you need to do now is take a deep breath, make the resolution, and stick to it.
Happy beauty care!
Summary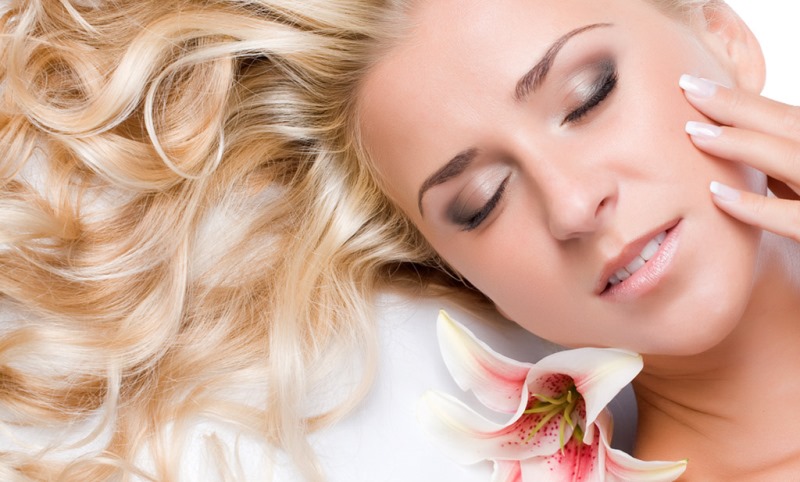 Article Name
14 Top Tips On How To Get A Clear Face Naturally
Author
Description
Every woman covets a clear, glowing face. But how to get a clear face naturally, without any chemicals or its resultant side effects? Here's how!