When people think of their dream wedding, they often have very specific details in their mind. It may be of a wedding on golden sand, with the waves splashing in the background. Or it may be under a huge oak, golden leaves falling everywhere. Or it might even be on a ground covered in snow, a winter wonderland. However, when it comes to reality, the very thought of an outdoor wedding may seem tiring, and most people stick to a church or similar indoor venue. Well, we think that planning your dream outdoor wedding isn't as difficult as it seems; you just need to organize it well!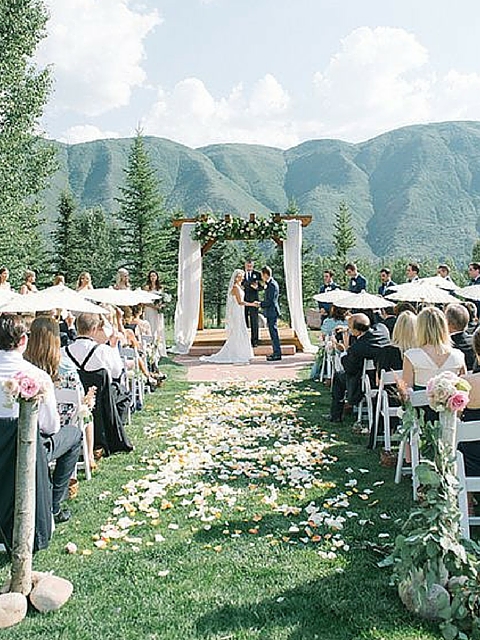 Image source: Pinterest
Of course, it goes without saying that an outdoor wedding does require more consideration than an indoor wedding, as many more factors come into play when you step into the great outdoors. We may wish for a fairy godmother to flick her wand and get your perfect outdoor wedding ready, but it doesn't work that way! While you deserve to have exactly the wedding you want, it is important to keep practicalities in mind, starting with the season. The date of your wedding doesn't matter much when it's going to be held indoors, but when it's an outdoor wedding, the season becomes the number one deciding factor!
Here are the very basic essentials that you absolutely need for an outdoor wedding, sorted by season.
Summer outdoor wedding must haves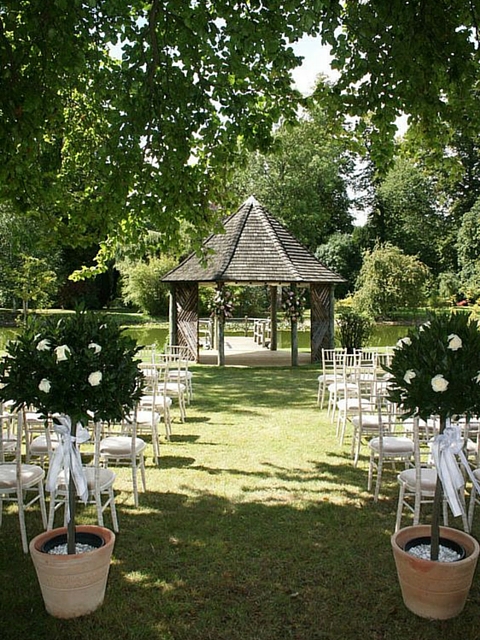 Image source: Pinterest
Summer weddings are perfect for those lovely strapless dresses and the sunshine gives out some bright, positive vibes. However, the excess heat brings its own challenges, and you need to ensure that you are well-prepared to counter it.
1. Adequate shade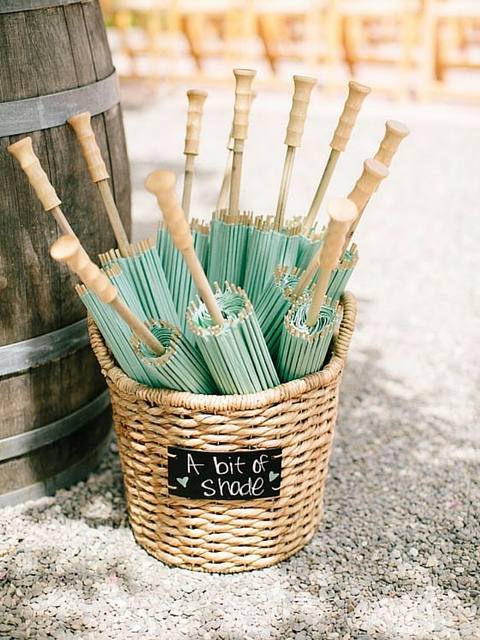 Image source: Pinterest
The first thing to consider is some kind of protection from the blazing sun. If you're planning an outdoor wedding reception with the actual ceremony being held when the sun is at its brightest, it's best to have a nice big tent that'll accommodate everyone. Another option is attaching a small parasol or umbrella with every seat, so that guests can use them in case it gets too sunny during your outdoor wedding ceremony.
2. Cooling arrangements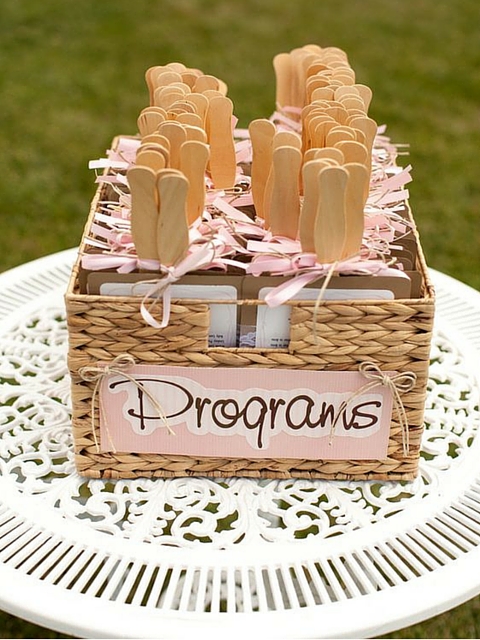 Image source: Pinterest
A tent may ensure the guests are protected from the sun, but what about the humidity? You don't want people melting in the heat, particularly the bride and bridesmaids! Large blower fans work well, and you can place them in inconspicuous locations – just make sure they don't generate a lot of noise. You can also give out wedding programs in the form of fans, so that the guests have something to cool themselves with.
3. Cold beverages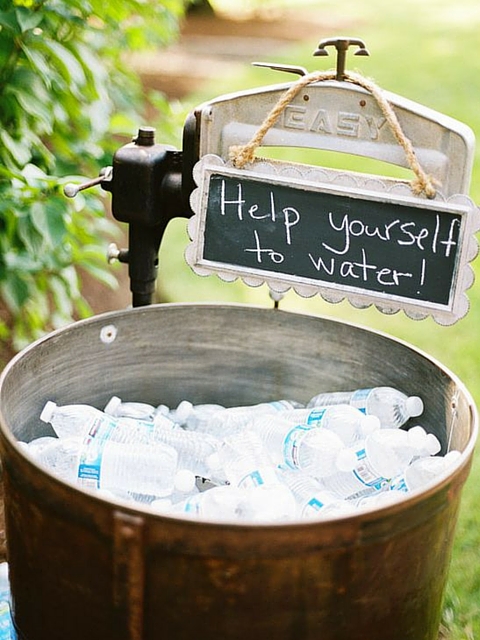 Image source: Pinterest
For a summer wedding, a cold beverage is a must-have! You want everyone to be well hydrated throughout, so keep a big basket or pail of water so that everyone has easy access to it. Ice creams and popsicles are fun additions to a summer wedding, and a vintage ice cream cart will work well too.
4. Sunscreen and sunglasses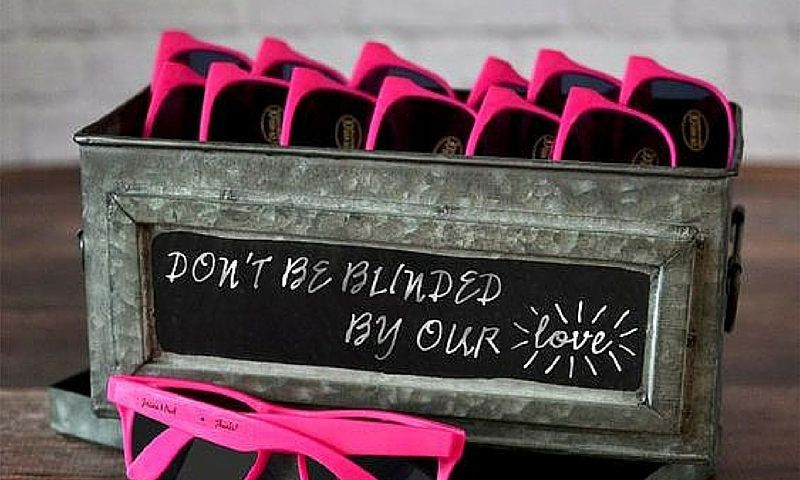 Image source: Pinterest
Sunscreen is a must have for any kind of outdoor summer wedding, while sunglasses are essential if you're not having a ceremony in a tent. You can either have a dispenser for the sunscreen, or give them out in individual bottles along with the sunglasses; perfect summer wedding favors!
---
Suggested read: 75 simple summer wedding ideas for a memorable ceremony
---
Spring outdoor wedding must haves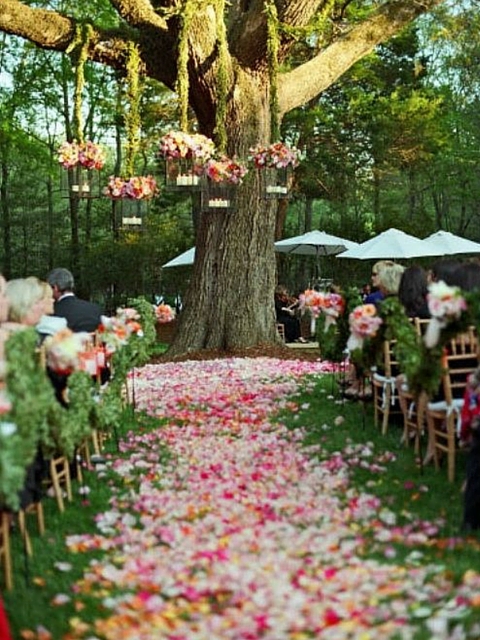 Image source: Pinterest
Spring is probably the most colorful season of the year, with pretty flowers blooming everywhere and the temperature being just right! However, spring also comes with the likelihood of rain and the associated humidity needs to be tackled!
5. Food protection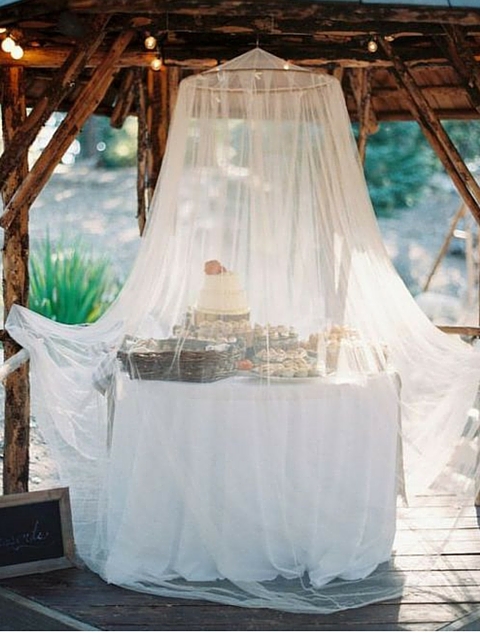 Image source: Pinterest
It's not just the guests who'll melt in the humidity; the food will too! Along with the drinks, appropriate measures need to be taken to ensure that cool foods like salads or desserts stay cold. It is absolutely essential to make sure the wedding cake is not made of anything that'll cause it to collapse if the weather gets too warm. Besides, there's the matter of pesky flies, so a pretty cover for the food or dessert table can help.
6. Wet towelettes and facial mists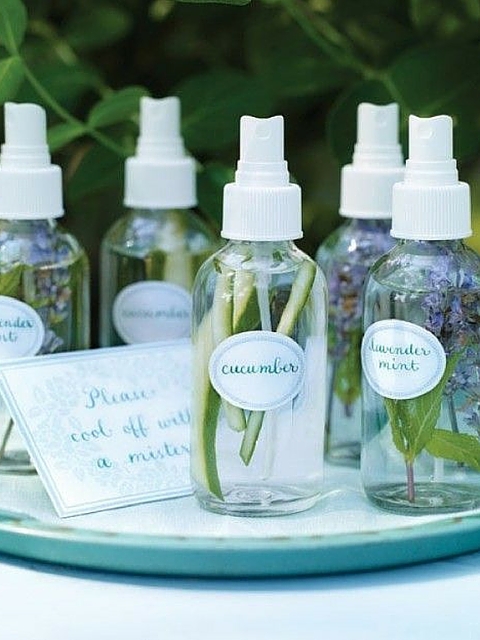 Image source: Pinterest
If you're having a spring outdoor wedding, you want the flowers and the guests to stay fresh all the time! Counter the humidity with wet towelettes or facial mists that the guests can also take home as favors. Try to stick to the theme of the wedding; for instance, if your color scheme is purple, opt for lavender mists, or mint for a green wedding, lime for yellow and so on.
7. Insect repellents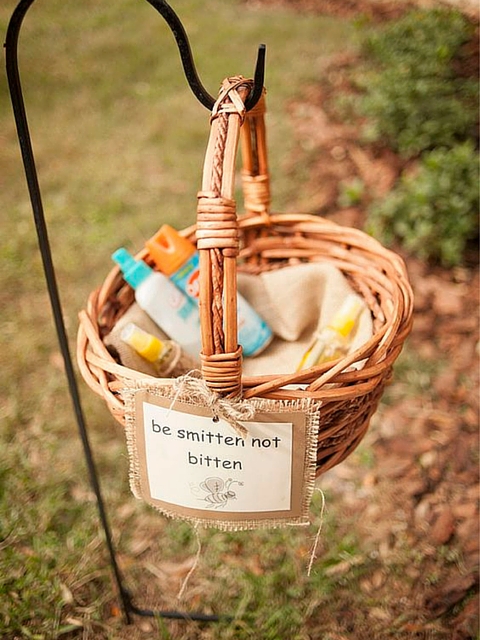 Image source: Pinterest
The bug problem in spring weddings is not just for food, but people as well. You don't want your guests to go home bitten all over, so provide small bottles of bug sprays. Try to keep them natural, so you don't have allergy problems later. An alternative solution is giving out individual bug patches, which the guests can stick on.
8. Primping spot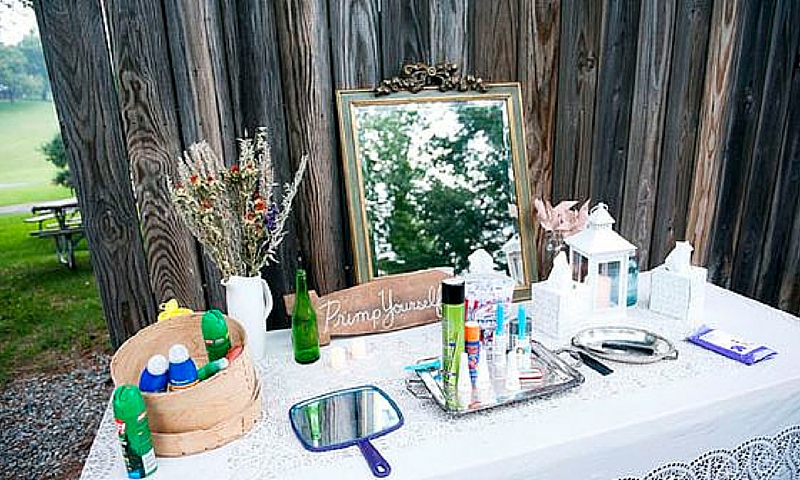 Image source: Pinterest
Having a primping spot is important for outdoor weddings, especially for spring and summer. The humidity can mess with people's makeup and hair, or maybe the guests want to fix flowers to their hair or lapels. Having a dedicated vanity spot with a large mirror and primping essentials will ensure everyone looks and feels great!
---
Suggested read: 25 of the most stunning, surreal wedding photographs of 2015
---
Fall outdoor wedding must haves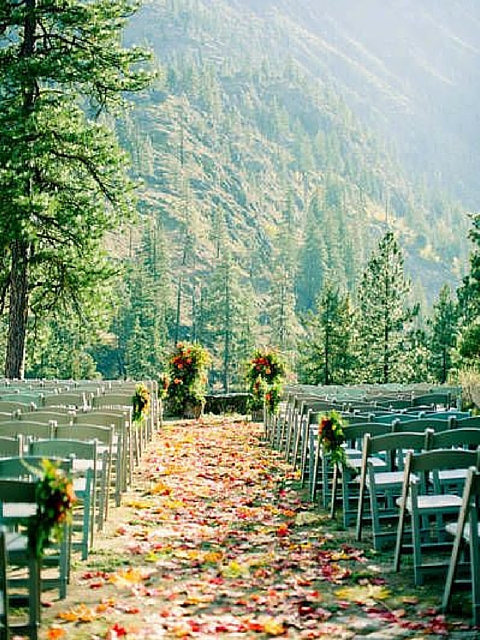 Image source: Pinterest
Autumn is a lovely time to have a wedding, and nature is at her photogenic best. The lovely colors make for the perfect backdrop, but the unpredictability in the weather will need you to take some extra precautions.
9. Extra lighting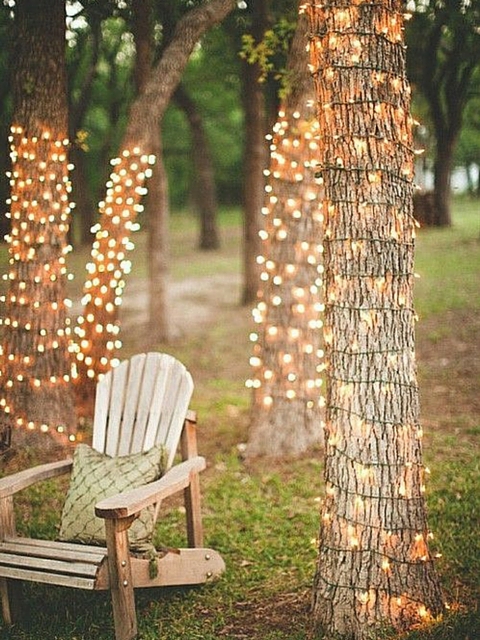 Image source: Pinterest
During fall, it can get dark earlier than you expect; so even if your program is entirely during the day, it's best to keep some extra lighting on hand if it extends into the late afternoon or early evening. Fairy lights, paper lanterns or candles – choose what fits best with your theme and decor.
10. Heel covers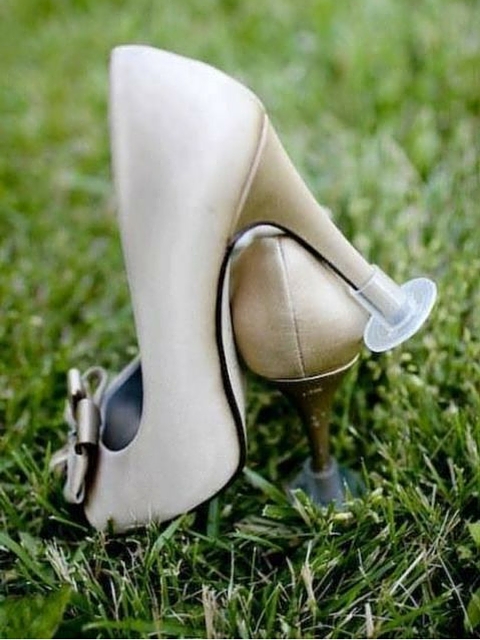 Image source: Pinterest
Fall is when the leaves, well, fall, so the ground can be slippery. Pointy heels can get stuck, so it's a good idea to have heel covers on hand – yes, they exist! The women can just fix them to the end of their heels and have a great time at the wedding!
11. Matching wraps for bridesmaids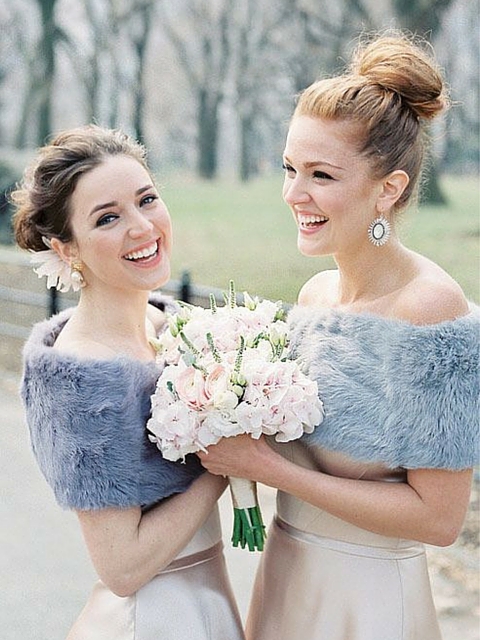 Image source: Pinterest
Like we said, the weather in fall is quite unpredictable, and it can get chilly early in the evening. So it's best to stay prepared with matching wraps or shawls for your bridesmaids, so that they don't end up shivering!
12. Flip flops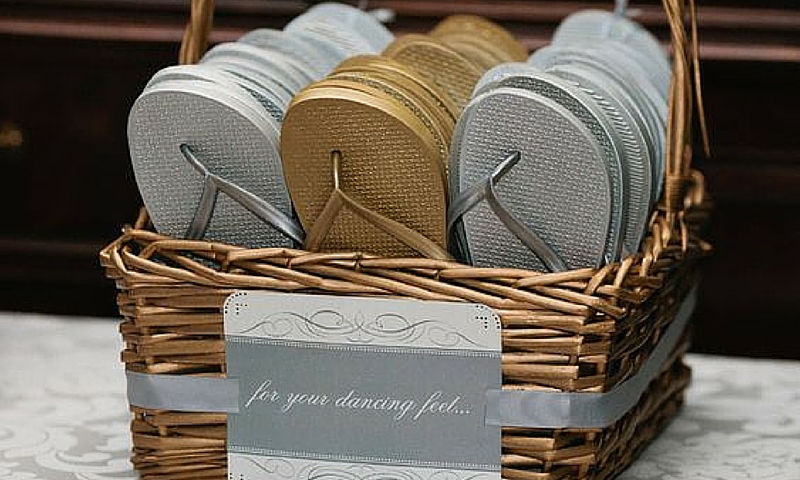 Image source: Pinterest
You can give heel covers to prevent your guests' heels from digging into the mud, but when it's time to dance, it's better to toss them away altogether! Get anti-slip flip flops that are perfect for autumn ground conditions so that they can dance the night away and truly enjoy themselves!
Winter outdoor wedding must haves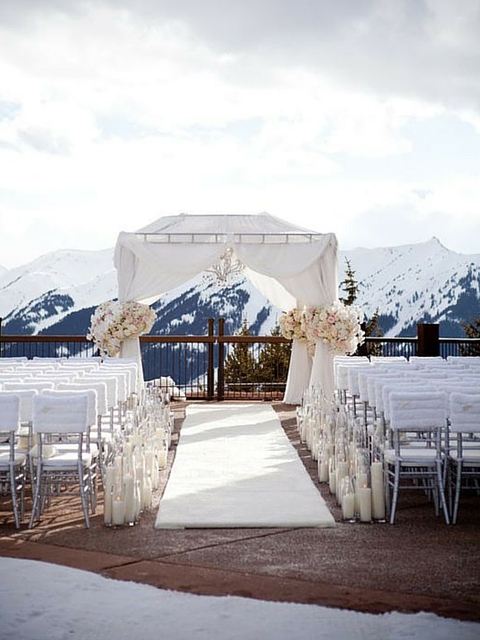 Image source: Pinterest
The end of the year is a magical time to get married, and there's a general festive buzz in the air because of the holiday season. You just need to make adequate preparations for the cold, especially if it's snowing.
13. Extra blankets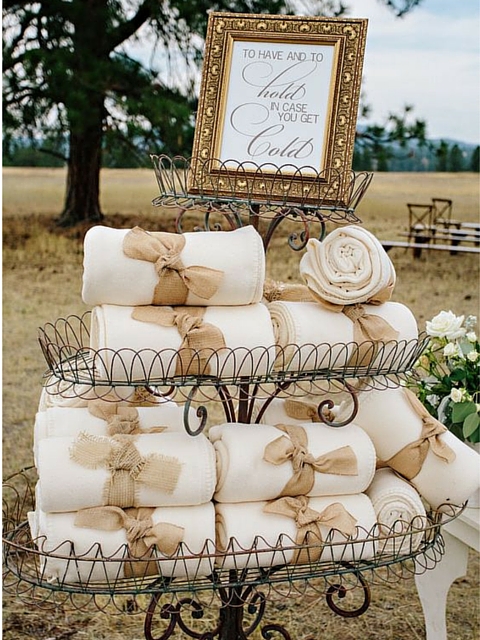 Image source: Pinterest
Your guests will probably dress warm for a winter wedding, but they might need some extra protection as the day progresses. Keep some soft blankets in a basket handy so they can take one if they're chilly. Let the blankets be in the same color theme as the wedding.
14. Heating arrangements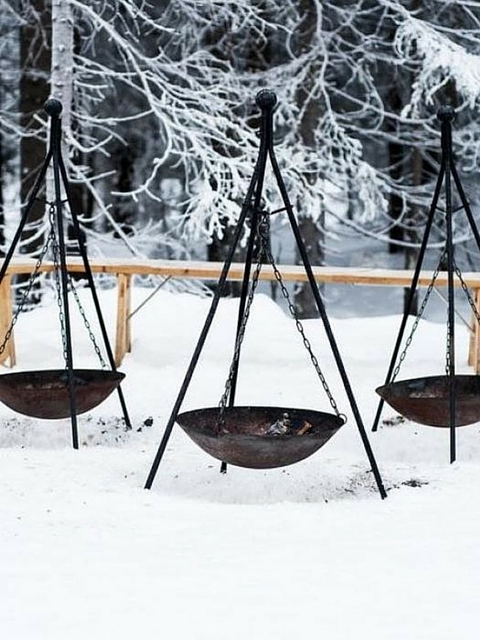 Image source: Pinterest
If it's likely to get too cold, having proper heating arrangements is absolutely essential. You can place outdoor heaters at specific locations, or go for fire pits. Make sure you take care of the necessary safety considerations in the latter case.
15. Food warmers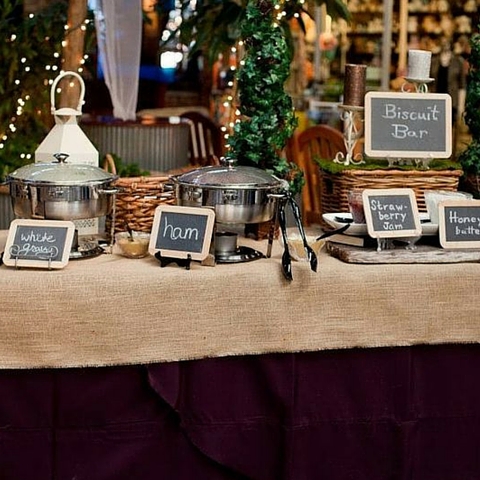 Image source: Pinterest
When it's cold outside, everyone wants something hot and steaming to eat! Make arrangements to keep the food piping hot, especially when it's something like soup. And if it might snow, use a canopy of some kind to protect everything.
16. Warming beverages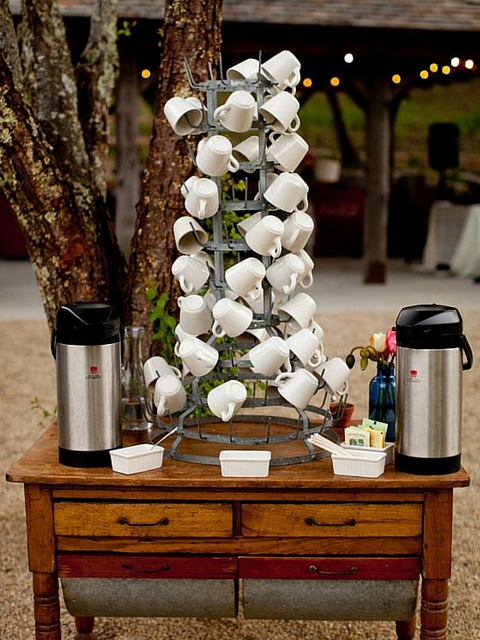 Image source: Pinterest
You've ensured the guests are all toasty on the outside, but you need something to warm their insides too, besides the heartfelt toasts! Have a coffee/tea/cocoa bar where the guests can help themselves to a hot beverage from thermos flasks and stay nice and warm!
---
Suggested read: 15 breathtaking winter wedding dresses for a white wdding
---
Now these are season-specific requirements for a perfect outdoor wedding, but there are some general tips to consider as well, irrespective of the season. For instance, a proper restroom is absolutely essential, and it'll need to be something more sophisticated than a port-a-loo! An organized waste disposal system is also required, or you'll have guests running hither and thither to toss their straws and used paper napkins. You also have to ensure you have the proper permit to conduct your ceremony – make sure all the papers are in order. Then there's the sound system – when you're outdoors, there can be a lot of unexpected noise, and you'll need a good quality sound system to make sure the vows and toasts can be heard over the din.
Having the perfect outdoor wedding of your dreams may require a little more planning and effort, but the outcome's going to be totally worth it! Starting to plan well ahead gives you a lot of time to plan for contingencies and get everything to match perfectly with your chosen theme. Do all the work in advance, and then get dressed and enjoy a beautiful wedding in the fresh, open air – the one that you've always dreamed of!
Happy planning!
Featured image source: Google, copyright-free image under Creative Commons License
Summary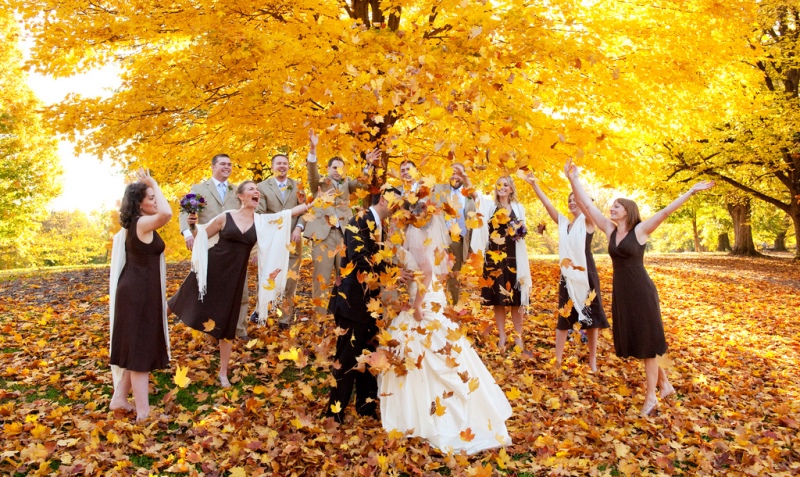 Article Name
The Perfect Outdoor Wedding: 16 Things You NEED To Know
Author
Description
Having your dream outdoor wedding doesn't have to be a distant dream! Just take care of these 16 essentials for a perfect outdoor wedding.