When you are getting married, the attention is on every single detail of your get-up, starting from the dress (duh) to the shoes and everything in between. This also includes your nails, especially since you will be wearing your wedding ring on your hands, which is an important part of the entire ceremony. Making sure that you have the perfect wedding manicure is essential.
However, brides tend to have a lot of questions regarding the details, since they want everything to be perfect. Do you go all out and have striking nails, or go minimalistic chic? Do you go for the classic French manicure, or risk colors, despite a striking white dress?
---
Suggested read: Wedding Nail Art: 10 Ways To Have Fun With Your Nails
---
Always remember that when you are picking your manicure, you have to consider how it will look against your dress. That being said, here are a number of wedding manicure ideas that you can borrow from real brides, so that you look absolutely perfect on your wedding day!
1. Minimalistic glitter
It is undeniable that you would want a little special something on your manicure, since it is your wedding. If you are afraid to commit to a handful of glitter, then this is the perfect manicure, which is perfect for showing off an even more gorgeous ring. A fine, nude polish with a gold glitter base is the ideal manicure for a simple, but striking set of nails.
2. Minimalistic gold detail
This is the kind of special manicure that you would want for your wedding, which is a special day. You don't want to go over the top with your manicure, which is why it is wonderful if you can get a pink polish, with slight rose-gold tints and a striking gold band to add that touch of glam to your nails. Also, this is the kind of manicure that would look good against any wedding dress and wedding band.
3. Classic French Manicure with a twist
If you are all for a classic French manicure, but want something extra special for your wedding day, then you can check out this look, which is all about the details. A little glitter and sequins on your wedding ring finger, along with a full white polish is exactly the kind of subtle importance you would want to give to your wedding ring on the Big Day.
4. Bejeweled ombre
Ombre is a wonderful way to go when you are prepping your nails for your wedding, because the style reflects the dreamy nature of the ceremony. This one is a very subtle pink and white ombre, with the ring finger highlighted with just the right amount of silver sequins, making it the perfect manicure for your wedding day!
5. Minimalistic lace
Even if you have the slightest hint of lace on your wedding dress, then this is the manicure for you. The incredibly minimalistic floral pattern on the ring finger is all the details you need to make your nails look super special on your special day. Despite the simple nature of the design, this is possibly one of the most breathtaking manicures ever.
6. Story nails
Wouldn't it be lovely if you could tell a story through your manicure, without making it look garish? One of the most striking things about this is how much it speaks, by doing so little. In this case, the ring finger is painted with an Eiffel tower motif, which is highlighted even more because it is balanced out by the nude and white tones that the other fingers are painted with.
7. Jewels and glitters
You would think that a combination of the two would look garish, but one look at this beauty and you know what subtle gorgeousness you could achieve when you know what to do with the two. While the ring finger is polished with rose gold to highlight the pinky nude of the rest of the fingers, the adjacent finger is embellished with nail jewels which, not only highlights the rest of the nails, but also the main bling on your hand.
---
Suggested read: 20 Essential Things You Must Know About Painting Your Nails
---
8. Peach and gold wedding nails
Here is one way to look special on your wedding day- get a badass wedding mani and show it off like a boss with your wedding rings. The subtle gold on white designs of the nails on the ring finger highlight the wonderful rings, which is offset by the simple pinky nude shade of the other nails. It is the perfect combination of cure and glamorous for your wedding.
9. Doily nails
Wouldn't you love it if it looked like an extended version of your wedding dress? Believe it or not, it is ridiculously simple to recreate the lace patterns on a dress on your nails, and if you have lace on your dress (or even if you don't) you can get a manicure like this to stand out. To make it even more interesting, you can alternate between normal, nude nails and extra, lacey nails for a magical effect, like this one.
Summary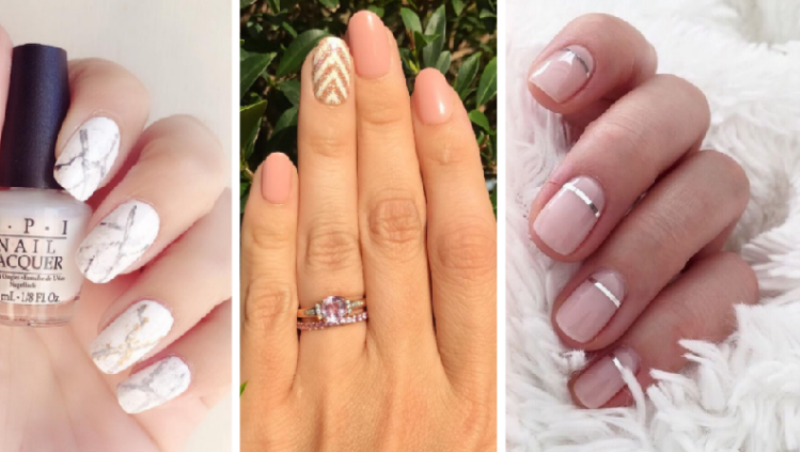 Article Name
17 Drop-Dead Gorgeous Wedding Manicure Ideas
Author
Description
Prepping for one of the most important days of your life? Check out these romantic wedding manicure ideas!
Read the rest of the article:
Next