"Women should never go without earrings. Passing on them is an opportunity missed." – Jennifer Lopez
Just like a man is known by the shoes he wears, a woman is known by how well she accessorizes. It is just not the shoes or the bags that a woman carries that define her sense of style. It lies in the sense of her accessorizing in terms of jewelry pieces too. Gone are the days of heavy weight and typical jewelry. Women today have found a deep connect with anything that makes a statement. And when it comes to picking ear accessories, women love those that scream out her personality.
---
Suggested read: The ear jackets I have to tell you about!
---
Check out some mind-blowing ear accessories that make a woman so lovely and lovable!
1. Sculpt in some style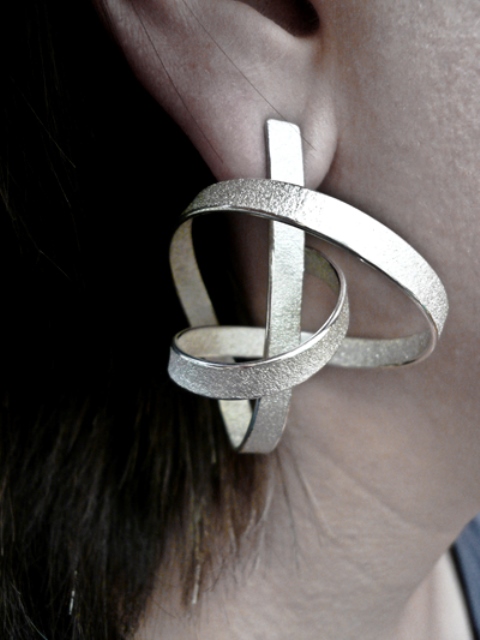 Image source: utedecker
Geometry and architectural sculpting meets fashion with this ear accessory. The sheeny finish makes it ideal for formal occasions, while the clear cut makes it wearable even to fun dos.
2. Keeping it simple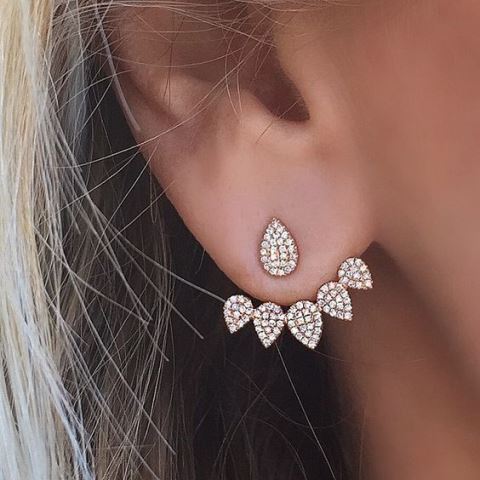 Image source: Pinterest
When in doubt about the right ear accessories choice, go for those that are traditional and dainty. This piece screams out a modernist vibe, but seals in the traditions too. Done in stone, this ear accessory is perfect for a date or a party!
3. Silver always works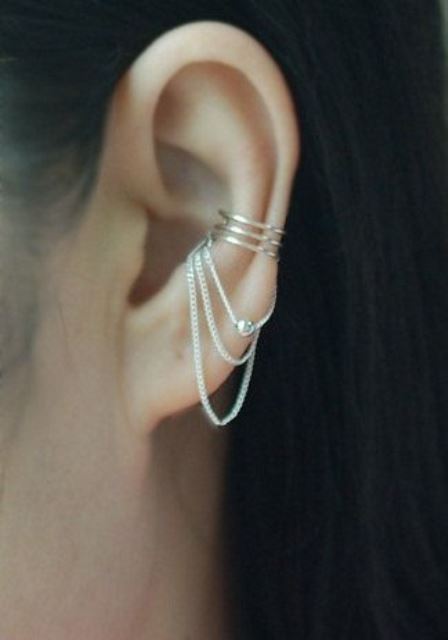 Image source: Pinterest
Cut the bling and give in to some subtle silver. This pair is like a cocktail of cowboy-ish trends with a bit of diva glam. Wear it to work and rock a date at the same time. The ring and chain combo makes it a must-have piece that will be "in" for ages to come!
4. The catty lady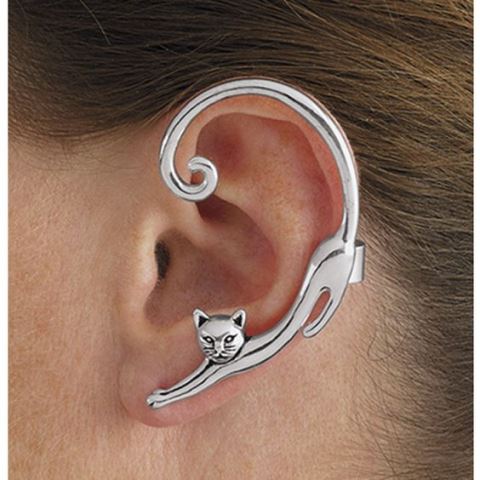 Image source: Pinterest
Who said only Catwoman gets to rock the cat accessories? Get naughty with this sassy pick that charms onlookers. It has an inherent naughtiness that is never really unsophisticated! This has a certain edge but not really cheeky as you might believe it to be.
5. Rain it down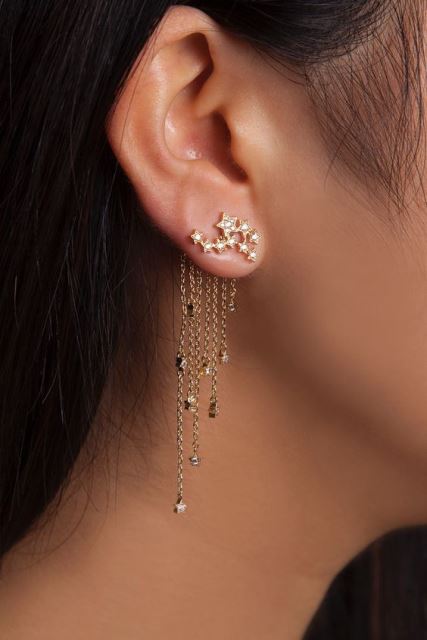 Image source: Pinterest
Gold is one color that fits in with all moods and occasions, and when you have it in brushed finish, it's a win win. The rain-like effect reminds us of the oh-so dreamy shooting stars! Sigh!
6. Elf it up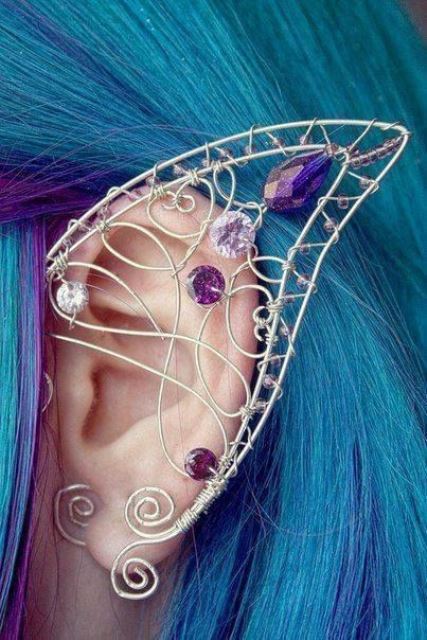 Image source: Pinterest
This elf ear-like piece is a stark pick, and reminds us of the Christmas fables! The beads make it fabulous, while the geometric structure makes the piece wearable to a night out!
7. Feather it up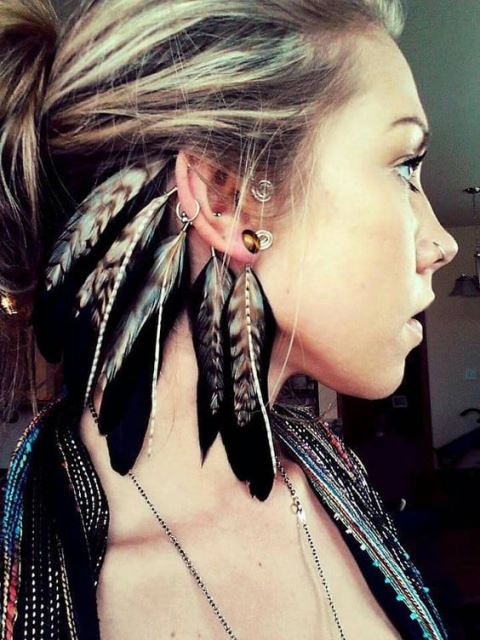 Image source: Pinterest
Well, well, this might look like we are stretching it too far, but trust us, there is a lot of glam vested in the piece. Team it up as part of a Goth look and make the most of it. The accessory is best reserved for casual or funky occasions. In case you plan to wear it on a date, make sure this is at least the second date with your guy!
8. Wrap it up
Image source: Pinterest
This is one of those ear accessories we call an ear wrap. This is not a stud or a ring. Simply string it up cleverly, and make sure you add oodles of confidence to the way you flaunt it around.
9. Ear cuff with the dragon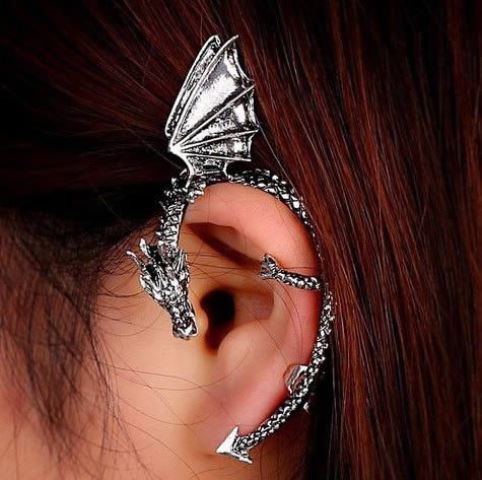 Image source: Pinterest
This almost reminds us of the Mother of Dragons Daenerys Targaryen in the popular TV show Game Of Thrones. Deck up a casual outfit with this gorgeous piece in oxidized silver. Make sure that you keep your makeup and clothes minimal, since we do not want too much clutter happening when wearing this piece!
10. Rosy nothings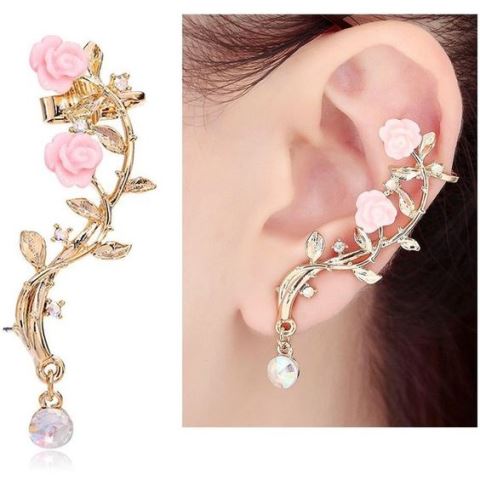 Image source: Pinterest
This ear cuff-style accessory is a must-have for those ladies who like to make a mark with their fashion statement. The best part is the antique rose gold finish that makes you want to keep wearing it!
11. Orbit trends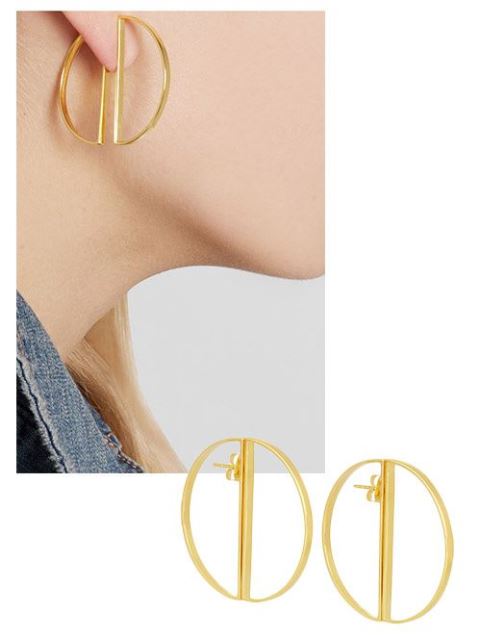 Image source: Pinterest
The orbit inspired design is a great pick for the busy boardroom divas who love to make a mark with minimalist pieces. The main effect of the piece comes from the way it sits right in place. Powerful – that is what best defines the accessory!
12. Be a happy bee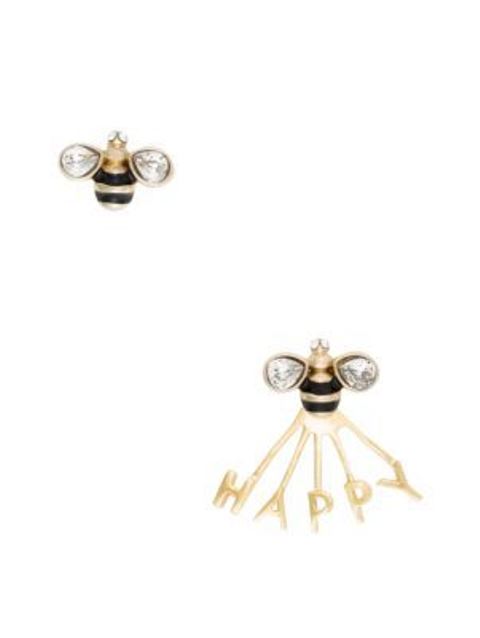 Image source: Pinterest
This piece oozes funk and lets you revisit your carefree childhood. It is perfect to team with a grunge look and sees you through any date you might have.
13. The tentacle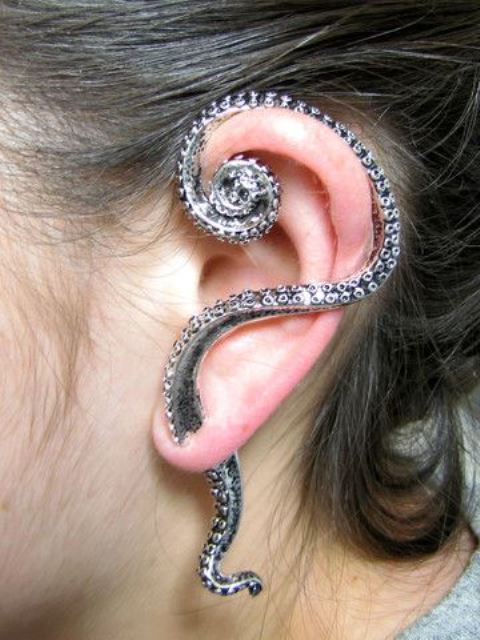 Image source: Pinterest
Get fierce in terms of style thanks to this quirky tentacle ear accessory. This looks gorgeous and helps you go Goth in a jiffy.
14. The Saturn earrings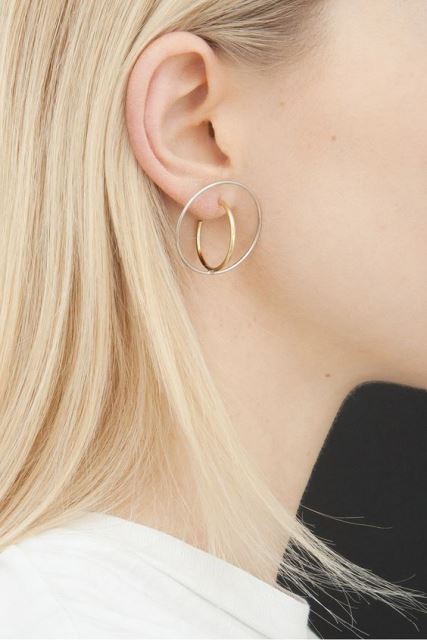 Image source: Pinterest
If you love to ooze out a style that is funky yet very lady-like, opt for this prime pick among ear accessories. The gold and silver finish make it wearable with most outfits, and the circle-within-circle setting makes it a glam pick for formal occasions.
---
Suggested read: 18 hair accessories we'd do anything to get
---
15. Spike cuff
Image source: seventeen
Take fashion a notch higher with this daring ear accessory pick. Style it with a crisp look that you can wear to a cocktail party or a black tie event with ease! The main reason we love this piece is how girly and strong it is at once!
So what do you think of our picks? Tell us which ones caught your eye! We would love to hear from you!
Summary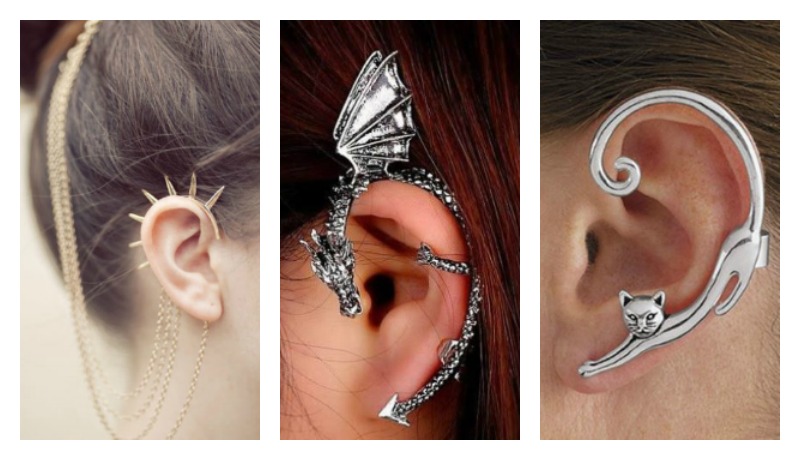 Article Name
15 Adorable Ear Accessories We Can't Get Enough Of
Author
Description
Your outfit isn't complete without appropriate ear accessories. Check out our top picks that are so adorable that you'd want to buy them ASAP!