Though we have all heard the adage 'less is more,' we fail to stand by them. In fact, a lot of beauty techniques such as contouring, highlighting, smoky eye, plump lips, and shimmery eye shadow have made the art of being beautiful all the more tricky. They tempt us so much that in spite of not getting it right, we swear by them.
Image source: Pinterest
Beauty bloggers and gurus have inspired us to use many products on our face, from a basic moisturizer to the more advanced elixir of life, bronzer. That's not an issue though, but what really concerns us is we end up looking 10 years older. Besides indiscriminate use of these products, we cannot avoid the toll environmental pollution is taking on our skin. Harmful UV rays of the sun are speeding up the pace of wrinkle formation, air pollution is making our skin dusty, and stress is making our beautiful skin age well before their time. What's more, these consequences are beyond our control, far from our reach.
---
Suggested read: Top 30 beauty terms you MUST know by heart
---
But there's always a solution when you look for it. It is true that we cannot prevent pollution from taking its toll, but we sure can avoid beauty mistakes that age us and make us look like Olive from Popeye, rather than making us look like Elsa from Frozen.
So here are the 16 beauty mistakes you must avoid at all costs if you don't want to look older than you are!
1. Overusing foundation
Image source: Pinterest
If you are aiming for a flawless skin, extra foundation should not be on your list. To tone up the face, many women wear their foundation in excess. You must always go for a fine milled translucent powder that will not look cakey. If you are using the base powder more than necessary, you are allowing it to emphasize the fine lines around your lips and eyes. There is also the question of discoloration of skin. So make sure you avoid this beauty mistake by applying your foundation gently with a fluffy brush.
2. Skipping foundation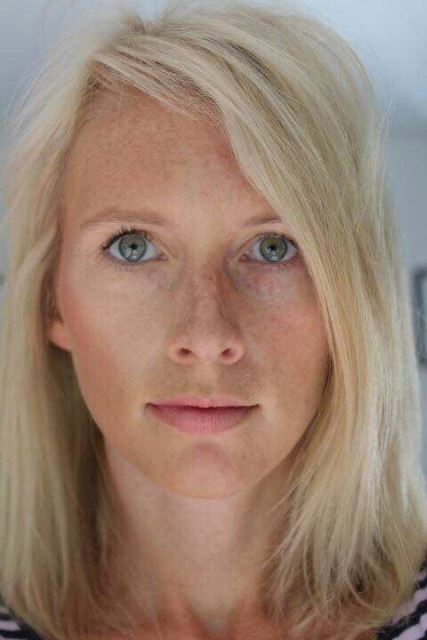 Image source: Pinterest
There is a common belief that using less makeup makes you look youthful. That is, no doubt, true, but you must never do away with one product in your beauty bag – foundation. And when I say foundation, I mean selecting the right one for your skin tone and type. While overusing foundation makes you look older, not using it will make you look dull and dusky. Your makeup items will not be equally distributed on your face without a good foundation. Your face will look partly shiny and partly dull.
Using the correct foundation will blow life in your skin. It will make you look younger than you are. There is no better way to test a foundation than trying it on. So when you are buying a foundation, apply it on your skin. Walk out of the store and see how it works on your face in natural sunlight. If it turns out to be cakey, try another one.
Tip: For oily skin, use pressed powder, for dry skin use liquid foundation.
3. Dark, unending brows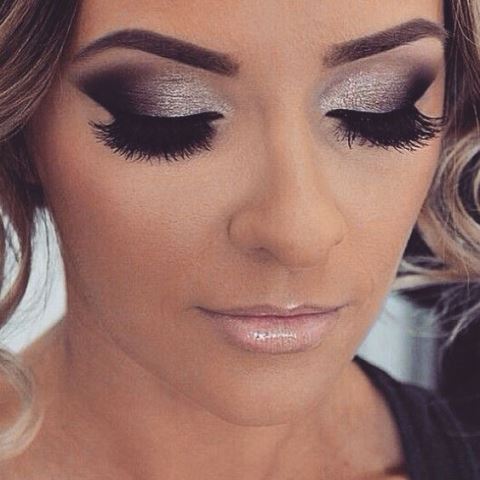 Image source: Pinterest
Well defined brows can pull off your look very well. But when you literally extend your brows, they make your eyes look droopy. Moreover, dark brows just look nasty. They may help you click amazing pictures, but in reality, they are a big no! To master your brows, use a brow pencil that's slightly lighter than your natural brow color. Fill your brows with short quick strokes and finally give them a finishing touch with a brow brush.
4. Choosing the wrong concealer
Choose a darker shade, and you will end up looking like an insomniac. Choose a lighter shade, and you will look like a teen experimenting with a concealer for the first time. What do you do? Choose the correct shade, silly! One shade lighter won't raise many eyebrows, but more than that will turn heads.
Also, in an effort to hide fine lines and wrinkles, women cake up their concealer. In actuality, excess concealer will do the opposite. It will dry and crack and emphasize what you are trying to hide. Too much of anything is dangerous!
5. Runny makeup
Image source: Pinterest
When it comes to makeup, not applying any is far better than applying it the wrong way. If you are running late and don't have the time for it, go for the basics. A moisturizer with some gloss on your lips won't make you look bad. What will actually make you look bad is runny makeup with flooding lipstick, one winged and another crooked eyeliner.
6. Matte and dark lips
Image source: Pinterest
We all know dark matte shades are trending. Wherever you look, you find women carrying a dark lipstick. But not everyone can pull off this look the way Kylie Jenner does. Wearing darker shades can easily draw attention to fine lines around lips. If you want to successfully try dark shades, start with a lip liner and fill the rest of your lips with your stick. Apply tinted gloss on top so it gives you a soft accentuated look.
7. Not going step-by-step
Image source: Pinterest
If you don't stick with the rules, you lose it all. First comes your moisturizer/SPF, then your foundation, then the concealer, then blush, your eye makeup, and finally your lips! If you don't adhere to this sequence, you turn up looking messy or maybe even ugly. Read the rule book before you think of dabbing anything that you can get your hands on.
---
Suggested read: 25 amazing lazy girl beauty hacks that will get you looking fab in no time
---
8. Over contouring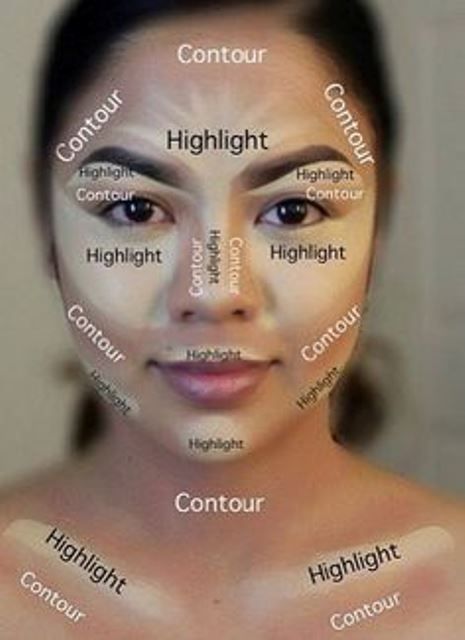 Image source: Pinterest
Like I said before, not doing it is better than doing it the wrong way. If you don't know how to contour, just don't do it. Because it will look as though you are wearing too much makeup to hide the creases on your face.
9. Tanned is not toned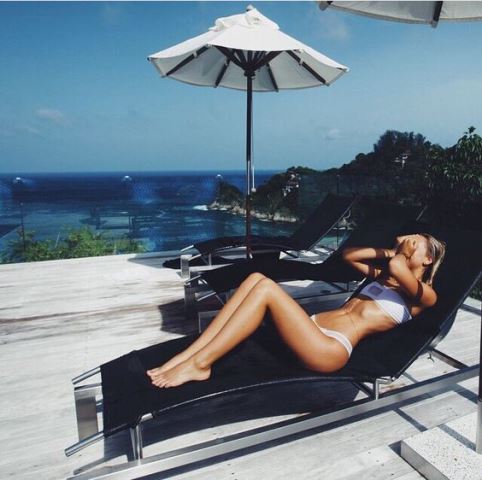 Image source: Pinterest
Do you want prematurely aging skin? Go for sunbathing! Do you want a temporary youthful glow but permanent dark spots? I recommend sunbathing. Do you want harmful ultraviolet rays of the sun to creep into your skin and break down collagen fibers? Nothing works better than a sunbath. Spending quality time in the sun will indeed give you a tan, but it will steal away the essential elements that maintain elasticity of your skin. Whenever you step out in the sun, apply ample sunscreen to protect your precious skin.
10. Messy mascara
Image source: Pinterest
Nothing irritates you more than a messy mascara. Applying mascara heavily on the eyes in lumps will not only irritate you but also make your lashes look like duck's feet! It will ruin your look and make you look like a grandma in no time. To avoid duck's feet, don't coat your mascara wand with excess liquid. If there happens to be excess of it, dab it gently on a tissue. Wiggle the wand back and forth on your lashes from roots to tips to achieve the desired length.
11. Shimmery eyes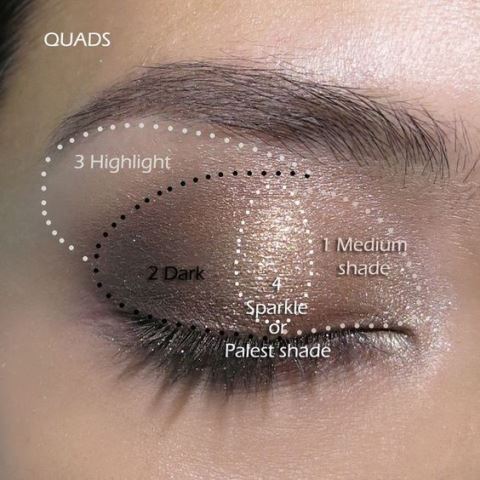 Image source: Pinterest
Shimmery eyes make you look older. They emphasize creases and fine lines around your eyes. Instead of using a shimmery eye shadow, use a matte one to cover your lids. However, if you desire to use shimmer, use just a little on the inner corner or in the center of your lid.
12. Misusing eyeliner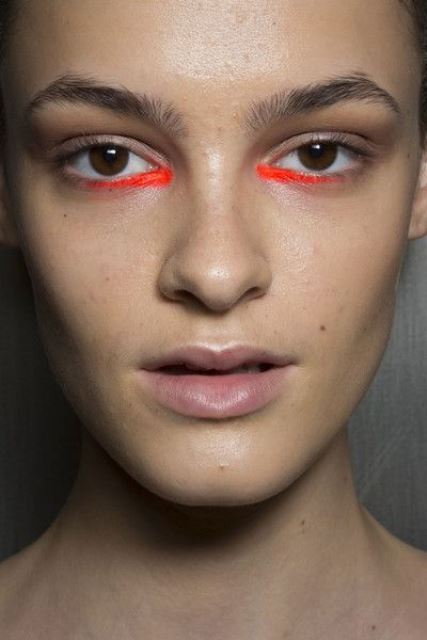 Image source: Pinterest
There is nothing wrong with the style you want to sport. But when you do it incorrectly, everything looks wrong and messy. When women line only their lower lids with eyeliner, just because it's easy, it makes their eyes look small and sunken. It also makes their face dragged down. Stay away from this beauty mistake as it looks pretty old school. Application of your eyeliner on both lids will make your eyes stand out. Apply a thin line and smudge it to lighten the look.
13. Concentrating SPF on the face
Why do we give so much importance to our face when other parts of our body are equally exposed to the sun? Won't it be logical to distribute SPF equally on all the parts of our body that comes in contact with the sun? When we neglect our hands, we are allowing wrinkles to form early on them. And wrinkled hands are a dead giveaway of your age. However young you are, the wrinkles on your hands will make you look fifty! Amp up sunscreen on your hands, neck, and chest along with your face, to avoid premature aging.
14. Blushing up like a clown
Image source: Pinterest
Some women have seriously considered the old age formula of applying blush on the apples of their cheeks. How much more cheeky can it get? A blush should look like a blush and not a clown's cheeks. The name simply suggests what you must do with the product. Rather than applying it in circles on your cheeks, dab it sparingly up along the cheekbones. Applying it way below your cheekbones will make you look unflattering. It will pull your face down. Another beauty mistake women commit is picking up the wrong color. Your lip color should not necessarily match your blush color. Choose the ones that make your skin glow. For fair women, peachy and rosy blushes are recommended, while corals and rich bronzes go perfectly with dark skin toned women.
15. Sleeping with makeup on
Getting lazy can have unimaginable effects. When makeup is left on the skin overnight, your skin finds it difficult to shed dead cells as your makeup products blocks it. This results in inflammatory acne, clogged pores, blackheads, and ultimately, ageing – prematurely so. To avoid all these on all occasions, keep your makeup remover on your bedside table or your nightstand, and remove every ounce of it before dozing off.
---
Suggested read: All you need to know about how to wear red lipstick
---
16. Abusing lip liner
Image source: Pinterest
It is difficult to fathom how or why women like to stretch their lip liners below their lip lines. You are not securing your lips, you are securing your lipstick from bleeding. You don't have to emphasize it. Stay away from this beauty mistake by using the same shade for your lipstick and lip liner. Stick to the lines of your lips, not above or below them. Use a lip liner only to border your lips, not fill them. Lipsticks were invented to take care of that job!
How many of these beauty mistakes are you guilty of committing?
Summary
Article Name
16 Beauty Mistakes That Age You And How To Avoid Them
Author
Description
Did you know you were making these beauty mistakes while applying makeup? No? Here's what they are and how to avoid them.