Weddings are usually all about the dress, the jewelry, the shoes, the cake, the food, the drinks, the décor, the lighting, the music, and what not. But what about the flower wedding table centerpieces? These are what add that extra oomph to an otherwise dull and drab table where you eat food at the reception. Wedding table centerpieces may not figure that high on your to-do list when you're planning a wedding, but they sure are important.
If you're planning to keep these centerpieces as minimalistic as possible, no matter how grand or ostentatious the ceremony you've planned is, we've got you covered. Let's take a look at some truly ethereal and stunning yet minimalist wedding table centerpieces, that are going to blow you away with their simplicity.
---
Suggested read: The ONLY wedding dress shopping glossary you need
---
1. Green foliage to the rescue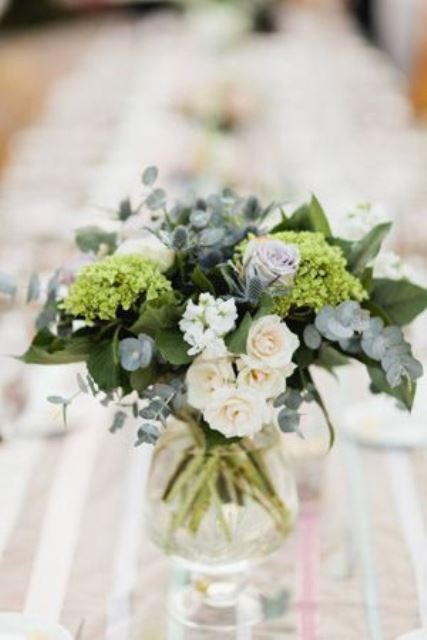 Image source: Pinterest
Some strategically placed green foliage has the potential to fluff up an otherwise dull flower arrangement. Take this centerpiece in the picture, for example. Instead of stuffing just a bunch of roses or peonies into a vase, pair one or two blossoms with some pretty ferns or eucalyptus.
2. Floating fantasy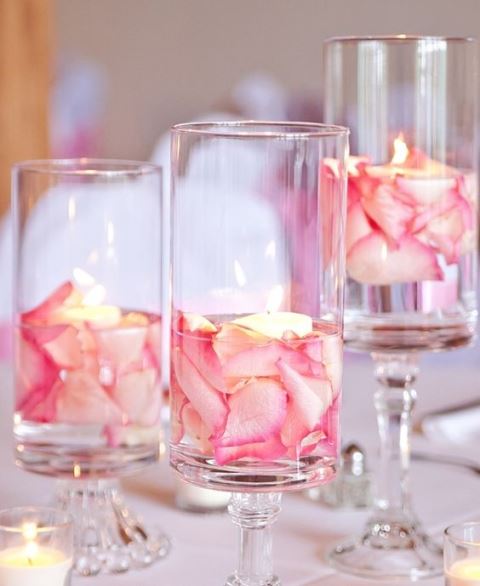 Image source: Pinterest
Glass vases half-filled with water, fresh rose petals that match the color theme of the wedding, and a floating tea light candle. These simple floral arrangements make for some ethereal centerpieces, don't you think?
3. Frilly ferns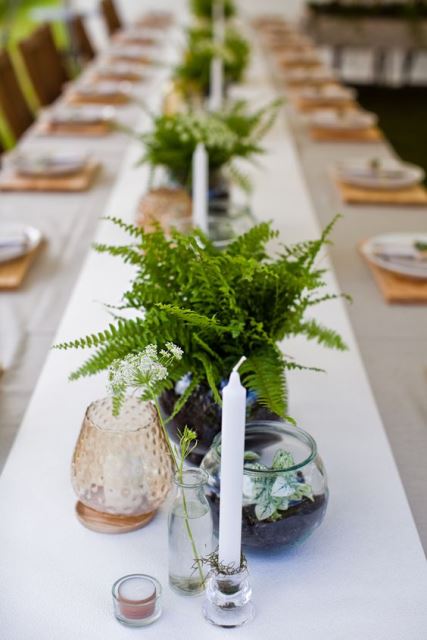 Image source: Pinterest
Round vases filled with lush green frilly ferns ought to add a dash of greenery to otherwise white wedding theme, eh? Place a single sprig of baby's breath in vase next to it, filled with some water, and a simple white candle that can be lit as the light gradually dims at the outdoor wedding.
4. White minimalism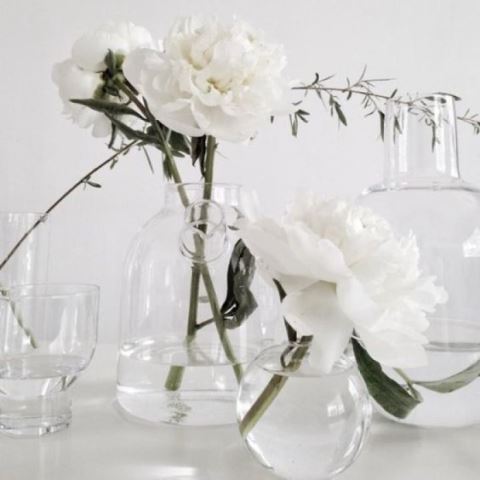 Image source: Pinterest
A single stem per vase, with delicate fronds of maidenhair fern, pure, bright white tulips, a single fig leaf, and orbs of delicate hydrangeas bunched together in a clear glass vase. Simple, elegant, and minimalistic. Mission accomplished!
5. Green table runner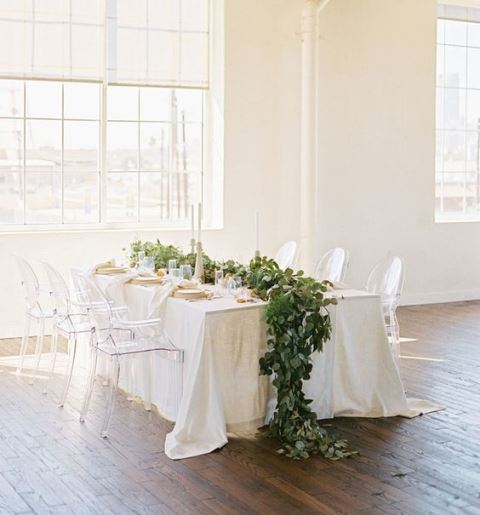 Image source: Pinterest
A lush green table runner with eucalyptus leaves makes for a rustic yet elegant centerpiece. The subtle fragrance emanating from the leaves add to the overall ambiance.
6. Twigs with candles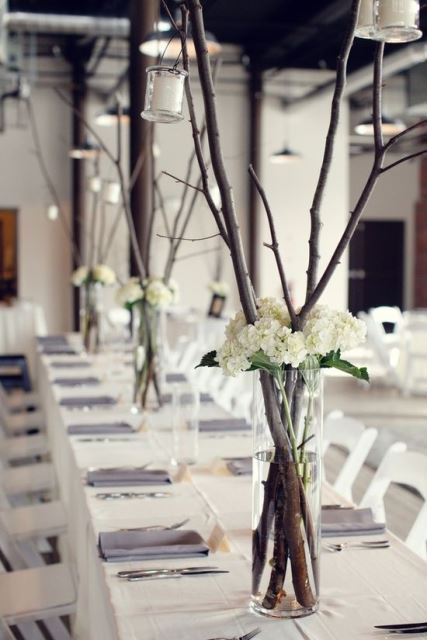 Image source: Pinterest
Tall glass vases holding strategically placed fairly sturdy twigs, bunched with white hydrangeas. Oh, and don't forget to dangle a couple of glass candle holders with tea light candles in them from the twigs. As the evening winds down, bring out your Bic and light the candles. The ethereal glow this arrangement emanates would be akin to a fairy tale coming to life! Sigh!
7. Lovely lavender
Image source: Pinterest
Fresh lavender sprigs immersed in clear wine bottles filled with water give out the most delicate of fragrances. Isn't that such a lovely way to dine with your loved ones at your wedding?
8. Ethereal candlelight
Image source: Pinterest
Simple candles placed in tall candle holders surrounded by swaths of eucalyptus leaves create minimalist magic, and we can't get enough of how stunning the pictures are!
9. Hello yellow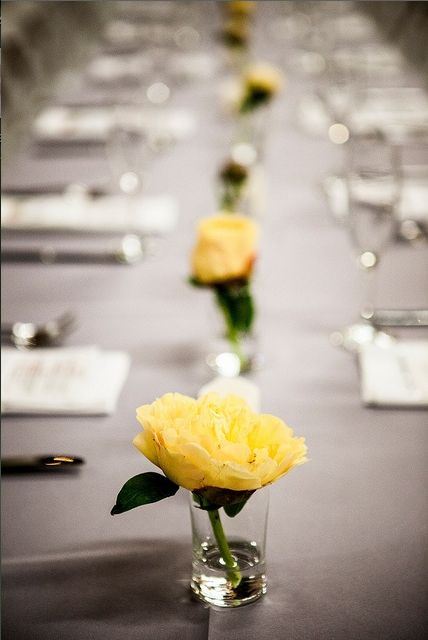 Image source: Pinterest
If you're a true fan of minimalist décor for your minimalist wedding, the fresh yellow roses placed in shot glasses could be the most amazing floral centerpiece your wedding needs. Clean, simple, and elegant, all rolled into one!
10. White on white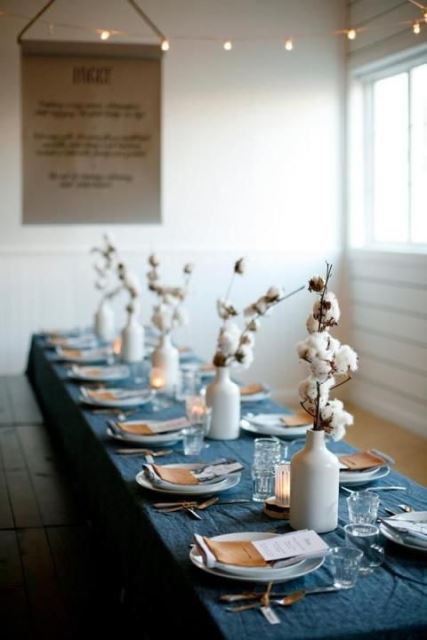 Image source: Pinterest
Old school white bottles holding a couple of cotton stems, makes for one simple yet graceful centerpiece.
11. Tulips in vases
Image source: Pinterest
Tall cylindrical clear glass vases with pebbles at the bottom, hold delicate white tulip stems of different lengths. Two or three per vase should cut it. Oh, and don't forget to immerse the pebbles in water. The water helps keep the tulips fresh.
12. Grass centerpiece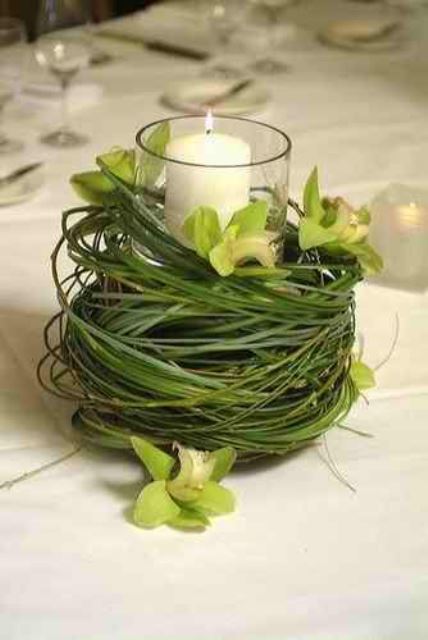 Image source: Pinterest
Round and round the thick grass goes around the glass candle holder. Such a simple, clean, minimalist, yet delicate centerpiece can be done quite easily.
13. Rustic chic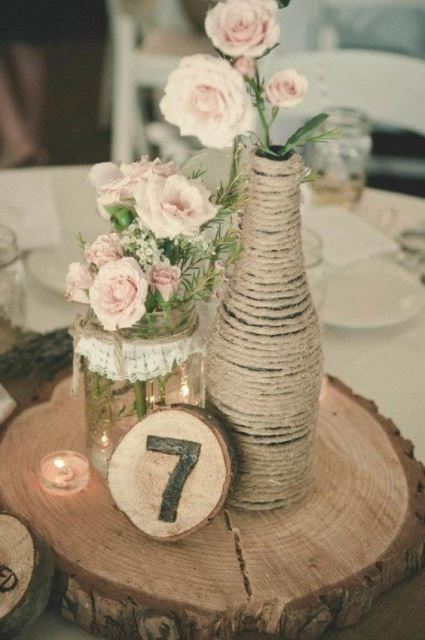 Image source: Pinterest
A lace decoration for the rim of a mason jar adds all the elegance needed for this minimalist wedding table centerpiece. A bunch of soft pink roses inside the jars to finish the look, and you're done.
14. Dark wine lily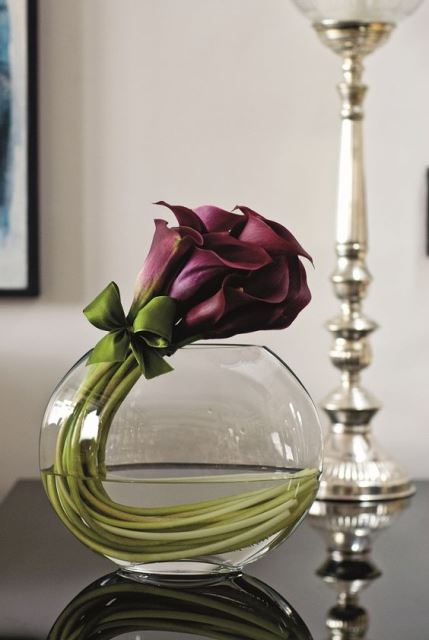 Image source: Pinterest
A bunch of dark wine-colored calla lilies placed in a clear fish bowl acts as the perfect centerpiece and adds that much-needed splash of color to a white-themed wedding.
15. Tranquil tulips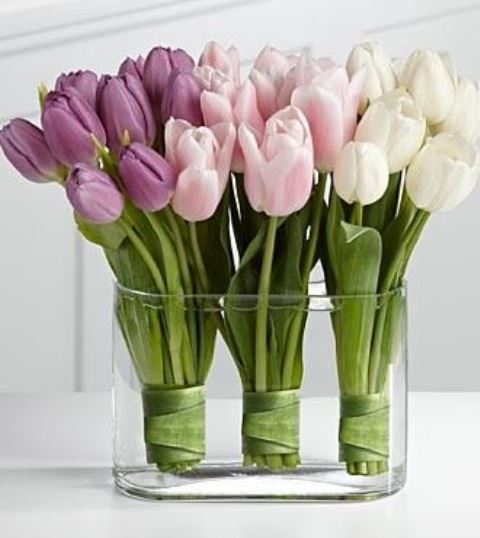 Image source: Pinterest
Bouquets of three different hues of tulips bunched together in a single vase, is nothing short of elegance personified! Try and keep the hues close together for a mesmerizing effect.
16. Sunny sunflower
Image source: Pinterest
A clear glass fish bowl filled with four or five orange calla lilies with a solitary sunflower floating amidst their stems creates a beautiful centerpiece.
17. Green and white runner
Image source: Pinterest
A runner made from eucalyptus leaves which are entwined with bright white roses in between, makes for an interesting centerpiece. While it's minimalist, it's also rustic chic. You can even place tea light candles in between the runner.
---
Suggested read: All you need to know about planning a wedding in six months
---
18. White calla lilies
Image source: Pinterest
Instead of round or cylindrical vases, choose cube vases filled with white pebbles and water that immerses them. Then placing white calla lilies inside will create a stunning centerpiece.
19. White roses in vases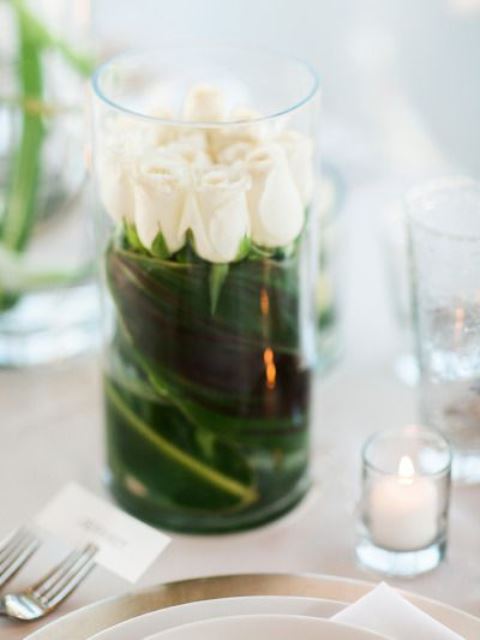 Image source: Pinterest
Roses get a bad rap for being overused and pedestrian. But when used right, they can transform even the simplest of centerpieces into things of beauty. Take this for example. A vase filled with green stems and sprigs, topped with bright white roses. Isn't that the epitome of beauty?
20. Floating candles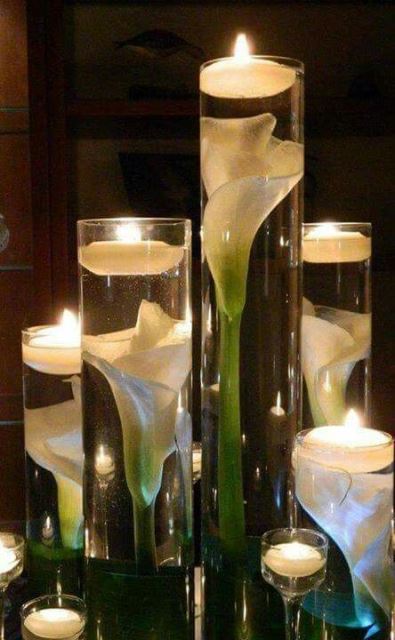 Image source: Pinterest
Floating tea light candles in clear glass vases filled to the brim, and stuffed with a solitary white calla lily, will create the most beautiful centerpiece ever.
21. Candlelight delight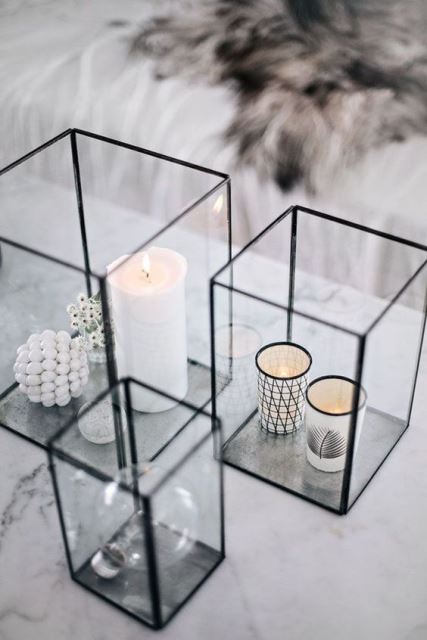 Image source: Pinterest
Tea light candles inside candle holders with leaf, fern, or flower appliqués, which are then placed in cube vases add a touch of the de-light-ful, don't you think? No need for flowers or sprigs of any kind necessary, no?
22. Luscious succulents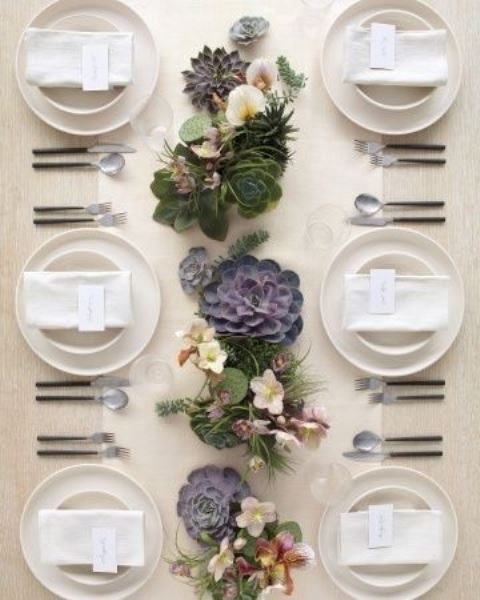 Image source: Pinterest
Add a pop of color to an otherwise monochromatic wedding color theme with choice succulents that are the epitome of minimalist and chic combined!
23. Succulents in vases
Image source: Pinterest
Placing the same succulents in glass vases and with sprigs of wild berries placed in between, makes for a fun and peppy centerpiece.
24. Lush lavender
Image source: Pinterest
Lavender sprigs tied to glass candle holders – is there a simpler floral arrangement for your reception table? No? I didn't think so! A piece of jute yarn to tie off the lavender sprigs adds a rustic charm to an otherwise chic centerpiece.
25. Cherry blossom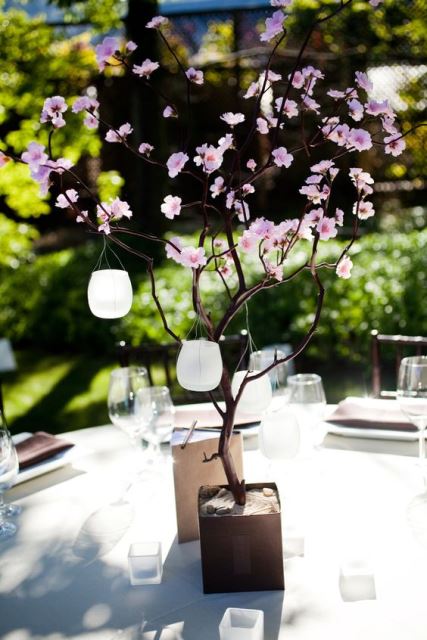 Image source: Pinterest
A cherry blossom centerpiece with hanging lanterns on its branches is one of my favorite wedding table centerpieces of all time. The subtle fragrance of the cherry blossoms, combined with the soft light given off by the tea light candles from the lanterns, creates a magical ambiance.
26. Pretty pink peonies
Image source: Pinterest
Who says you can't use peonies for your centerpieces? A bunch of pretty pink peonies in a glass vase create the most graceful yet minimalist effect. If you're feeling daring, you can make it a bunch of peonies in various hues.
27. Amazing amaryllis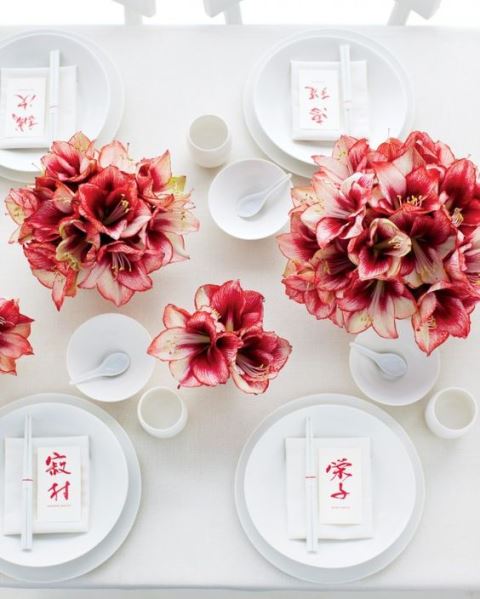 Image source: Pinterest
Cluster the stems of amaryllis together and place them in different sized vases to create a splash of color that is not too bold, yet not to be missed either. Minimalism at its best!
28. Crospedia or alien antennae (?)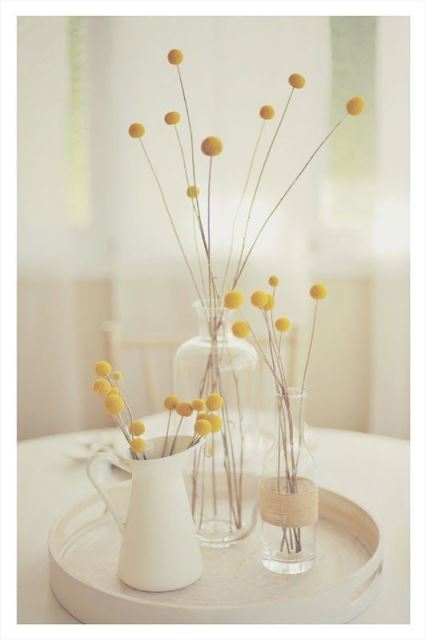 Image source: Pinterest
A cluster of crospedia stems placed in various sized glass vases gives the most minimalist feel you've been wanting all along. Look how delicate this centerpiece looks?
29. Carnation explosion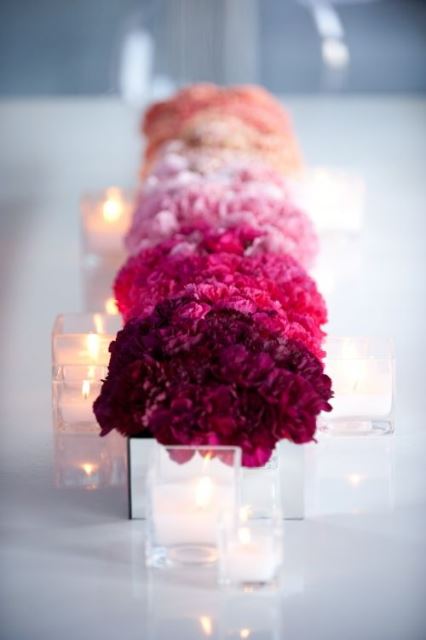 Image source: Pinterest
A rainbow of hues of carnation bouquets adds a pop of color to an otherwise sedate wedding color theme. Don't you think this centerpiece is just the right one?
30. White carnations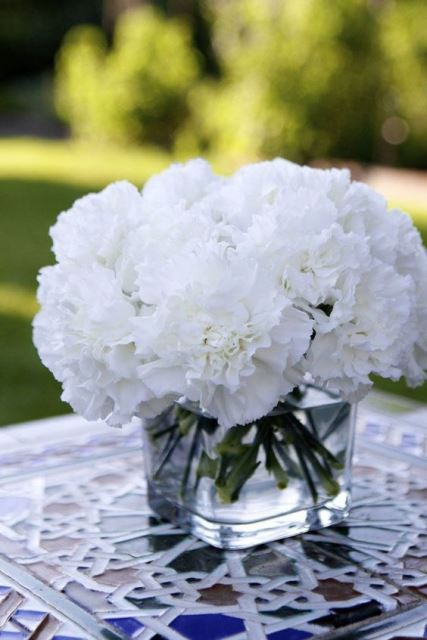 Image source: Pinterest
A cluster of bright white carnations placed in a cube vase is nothing short of simple elegance. If you're feeling bold, you can replace the white carnations for yellow, pink, or peach ones.
31. Pastel carnation creation
Image source: Pinterest
A pretty pastel cluster of carnations in white, peach, pink, and yellow together is a true wonder to behold. With this cluster placed in a glass vase, the centerpiece adds elegance in keeping with the pastel color themed wedding.
32. White cherry blossoms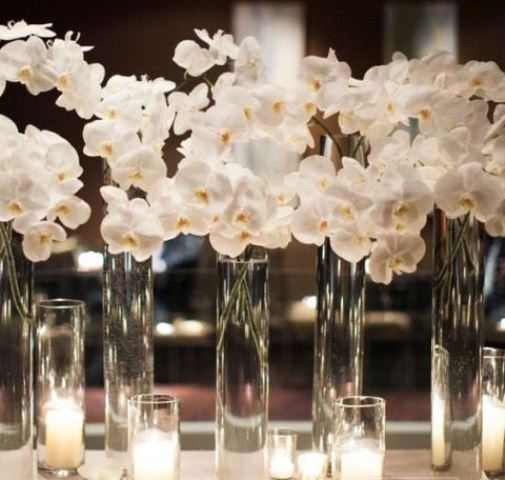 Image source: Pinterest
White cherry blossom blooms placed in tall glass vases next to tall candle holders will make for a stunning centerpiece. Just take a look at the picture!
33. Lemons and branches
Image source: Pinterest
Tall vases filled with bright yellow lemons and branches of small yellow flowers make for a perfect centerpiece at a minimalist autumn wedding.
34. Mini daisies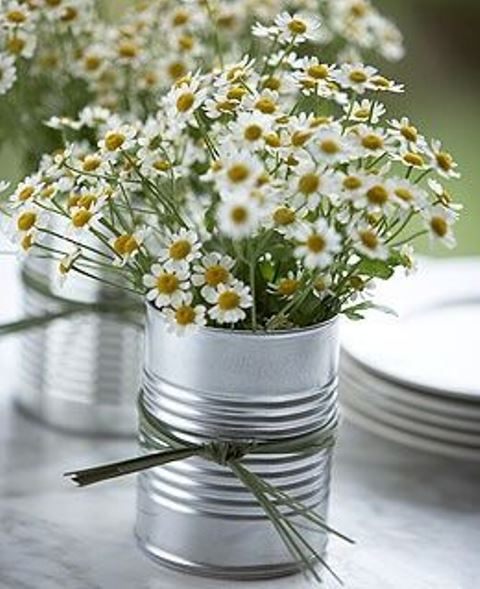 Image source: Pinterest
Clusters of mini daisies placed in tin vases and tied with a piece of twine is the perfect centerpiece for a minimalist rustic wedding.
---
Suggested read: 27 lovely garden wedding ideas that will make for an unforgettable ceremony
---
35. Baby's breath
Image source: Pinterest
Ethereal clusters of baby's breath bunched together and placed in mason jars act as the perfect wedding table decorations at a minimalist wedding. To add a nice touch to the mason jars, they can be decorated with twine threaded around them.
So these are our best choices for wedding table centerpieces for a minimalist wedding. Which ones caught your eye? Sound off in the comments below.
Summary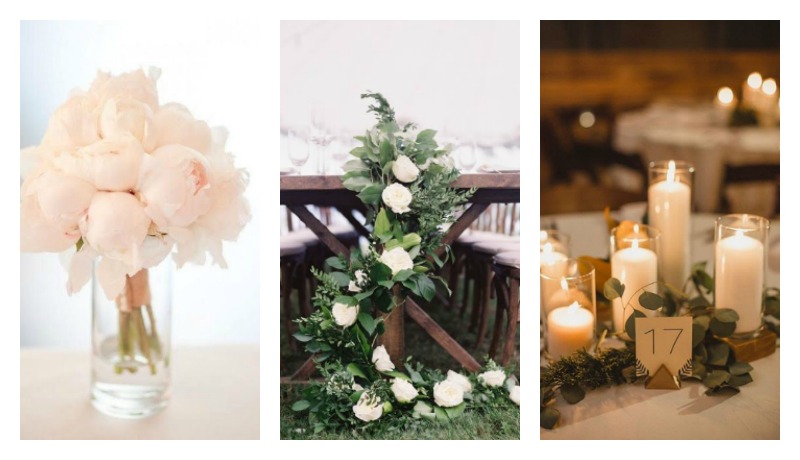 Article Name
35 On-trend Wedding Table Centerpieces Perfect For A Minimalist Reception
Author
Description
These trendy yet elegant wedding table centerpieces are just perfect for a minimalist wedding!