Ruling the fashion racks is no mean feat. However, when you try to reign based on trends and clothes alone, you could actually be making things a lot harder than otherwise. Accessorizing is the vital component that can make or break your fashion statement. How about showing some love to the best accessory that a lady could always bank upon? We are talking about the good old handbag.
When it comes to must-have bags, we look for class, style, and reliability. Of course, there is no such thing as having too many fashion accessories or handbags, is there? 😉 Then again, there is something about white that makes us want to horde more and more of white handbags. We just wish we had enough money to fund our never-diminishing fondness for the quintessential white handbag!
---
Suggested read: 10 must-have red handbags that will turn your girlfriends green with envy
---
Here's our top 19 white handbags that are drool-worthy!
1. Peppy Prada
Image source: Pinterest
The Devil Wear Prada – yes, we know that, but oh, for a slice of this brand in the form of white handbags would be heavenly! This Saffiano Cuir bag deserves an ode or two for sure!
2. Prep up with a Pulicati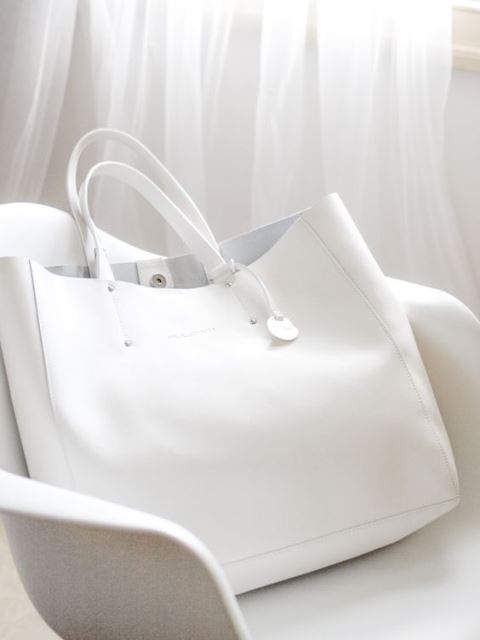 Image source: Pinterest
Naked leather is a charmer, and when you have that non-sheeny style, you know that this is elemental to the world of fashion. Having this handbag could mean you can ace the boardroom fashion as well as a shopping jaunt with ease.
3. Structured fashion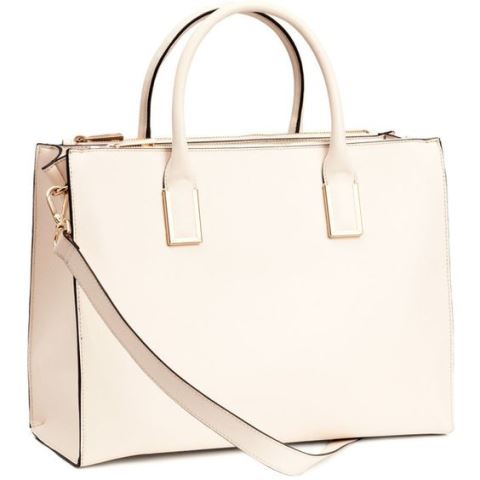 Image source: Pinterest
H&M is a darling when it comes to fashion quirks. And this fashion pick among white handbags only reminds us that the designer is way better than you thought! A wonder in terms of designs and cuts, this white handbag is a gem to buy now.
4. Michael Kors – 'nuf said!
Image source: Pinterest
No suffix or prefix is needed when it comes to complimenting an MK handbag. It is elegant, sassy, and lady-like, all at the same time. We are still swooning over the golden detailing.
5. The box bag from Chanel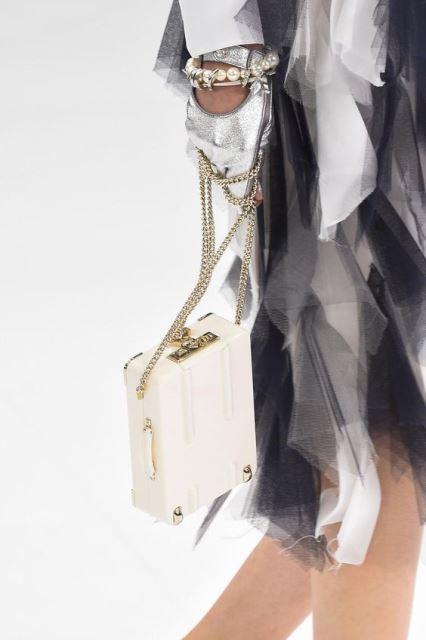 Image source: Pinterest
Shaped like a box, paired like a bag – Chanel sure gives us interesting permutations to work with. The golden embellishments and the ivory white tone set the mood for a walk in true-blue model style. A little offbeat, this Chanel creation is one of the must-have white handbags this season.
6. Chanel does it again!
Image source: Pinterest
Chanel is one name that defines fashion itself. The Coco Chanel bag here is cushiony, bubbly, and elegant at the same time. The logo makes it an investment, while the smooth feel lends it a style that is graceful to say the least.
7. A love affair in quilt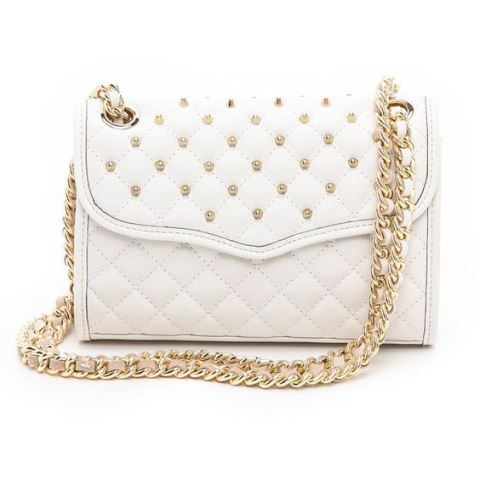 Image source: Pinterest
Quilted bags are simply wow. When you have Rebecca Minkoff as the creator, you know that you need to earn the piece. The golden studs make for some pomp while the understated white hue makes the pick an eternally relevant one.
8. Say with a Saint
Image source: Pinterest
Yves Saint Laurent is a big deal. At least we cannot stop gushing over the way the brand logo has been used to perfection in this creation. The sheeny, satiny white and the golden monogram embellishments add spunk to the very Princess-like sling bag.
9. LV never falls low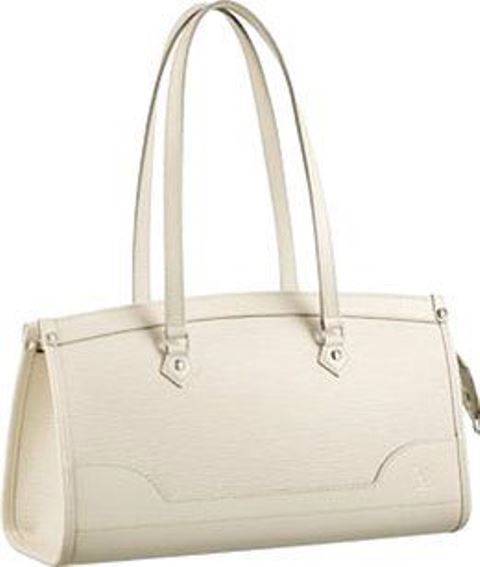 Image source: Pinterest
Printed passion on white is art, when done the French way. Louis Vuitton works miracles, but then this bag makes us believe that this brand is some sort of fashion God! Louis Vuitton never disappoints, and that is because it merges classic with cult at once!
10. Sicilian lace to impress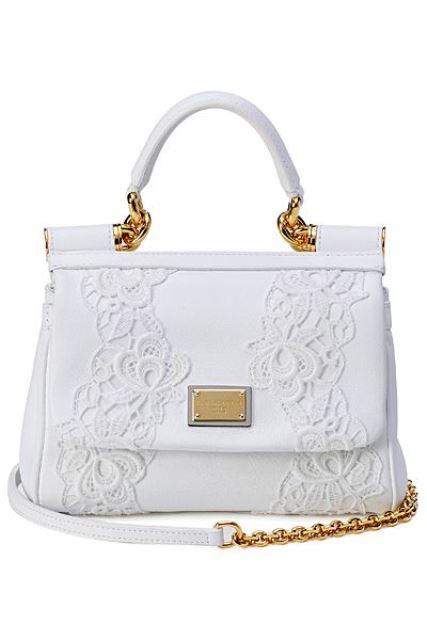 Image source: Pinterest
What do you do when you need to make a statement? Well, you choose the right bag, silly. Especially when there is a white handbag with exquisite detailing, you actually need nothing else from life. Dolce and Gabbana are the creators here, and the lace detailing the show stealer.
11. Vintage all the way

Image source: Pinterest
Gucci is amazing but when you have a vintage Gucci, the show gets more amazing. Structured, neat, and clean – that is fashion from the 60s thrown in your face via this vintage Gucci handbag.
12. Threaded cushion to comfort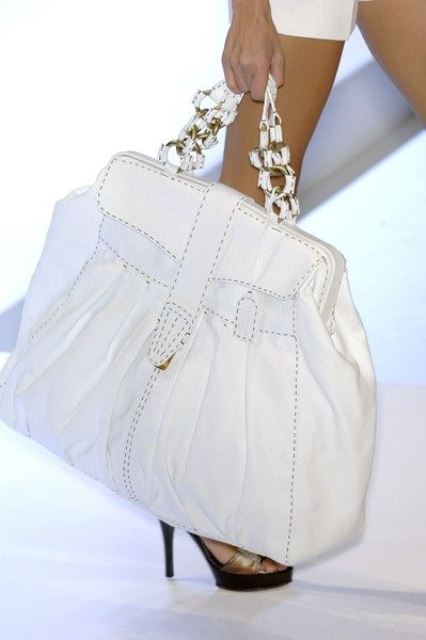 Image source: Pinterest
Add some elegance to the loudest of clothes with this Valentino creation. Clever use of threaded embellishment makes for a cushiony feel. The top-notch leather and the evergreen tote bag style make this a must-have.
13. Hand painted or machine made?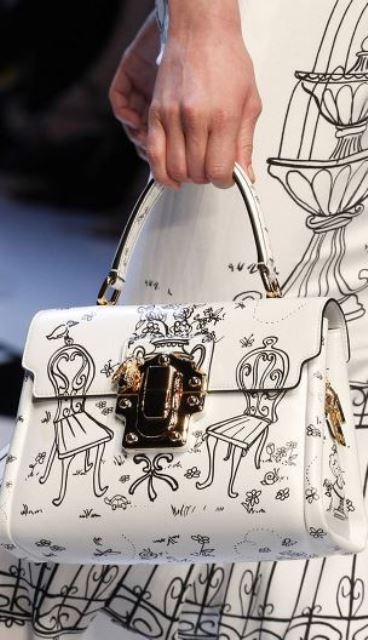 Image source: Pinterest
This is almost like the hand painted cakes that we have been seeing at weddings of late. And trust Dolce and Gabbana to pull it off perfectly! The basic monochrome combo and the stark white body make this a pick worth breaking the bank for.
14. Say it with a satchel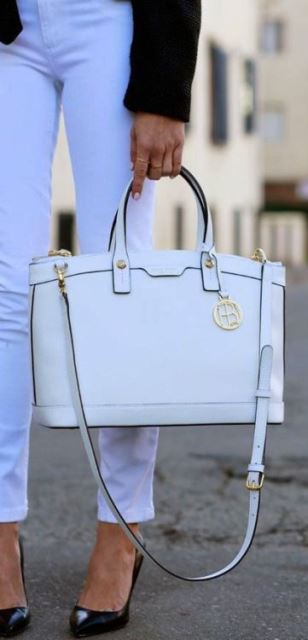 Image source: Pinterest
Trust a satchel to never let you down. Store all that you may want, but never undermine its style factor. Henri Bendel gets it right alright! Ready for a fashion onslaught?
15. Guess the name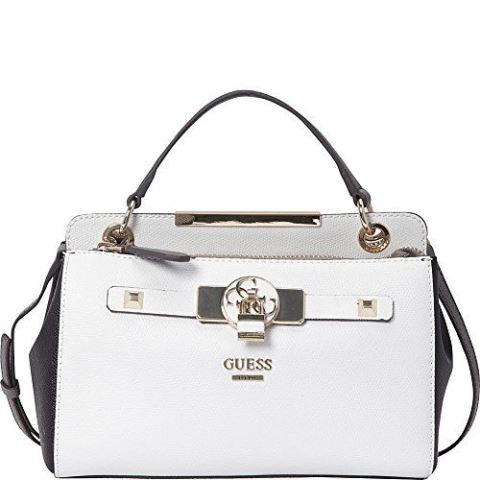 Image source: Pinterest
Guess leaves us nothing less than surprises. It has only outdone itself each time we flicked over a collection. The structured neatness and the clever embellishments on the bag prove that we will always have surprises galore.
16. A dash of lemon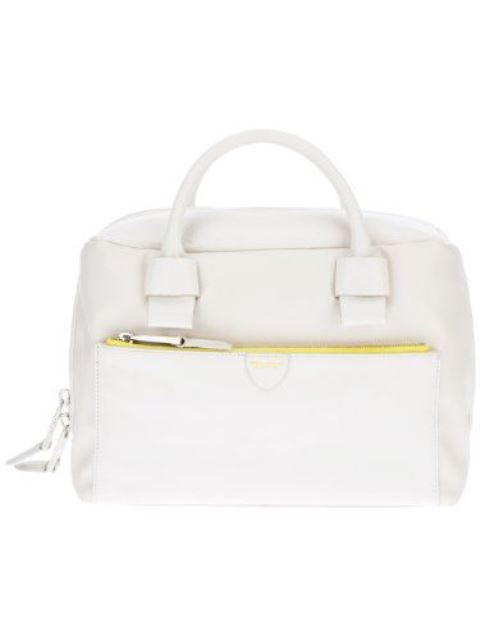 Image source: Pinterest
The lemony lime streak makes this a must-have pick among white handbags. This is a Marc Jacobs Antonia, and perhaps, needs no more elaboration!
17. Croc skin is in
Image source: Pinterest
Not the real deal here but faux croc skin is always in vogue. Thanks to the latest Spring Collection 2016 from Boss, we found another must-have handbag to rock your fashion story!
18. Eating a Choo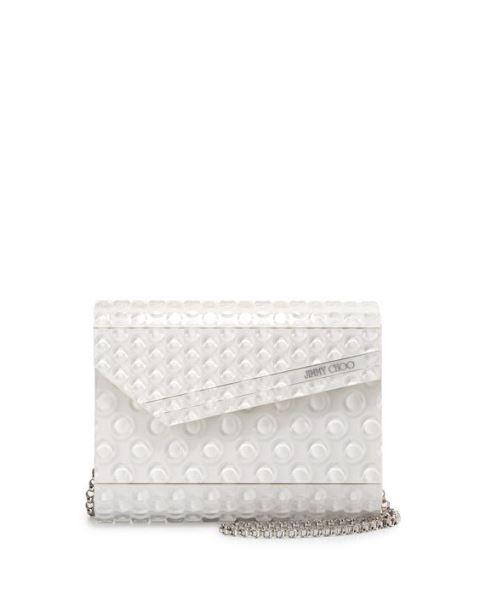 Image source: Pinterest
Jimmy Choo draws inspiration from things that are run-on-the-mill. And this time, it is time for some candy surprise!
---
Suggested read: A summer makeup handbag update: Time to swap some essentials
---
19. The empowered streak
Image source: Pinterest
This handbag by Ferragamo Salvatore is a power symbol. It is creased yet classy. It is blingy yet understated. These traits make us think how empowered women today are. Perhaps that is why this white bag is a must-have.
With so many white handbags to drool over, we sure went weak in the knees. While we are all set to dress up and go bag shopping, we wish you did too! Bring on the white bags.
Summary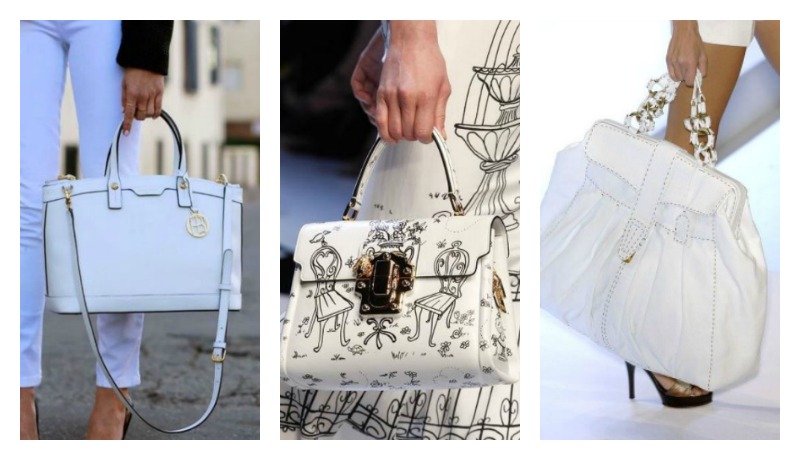 Article Name
19 Must-have White Handbags Sure To Make A Fashion Statement
Author
Description
White handbags make a statement all by themselves. Here's a list of our favorite picks!