Fashion is constantly changing. What was cool and trendy yesterday is probably not cool anymore. But with time, old trends do come back into style, and are reinvented to match the current standards of fashion and beauty. Remember how '70s fashion was SOOO on trend a decade ago? Well now it's time for the '90s to come back into the spotlight.
---
Suggested read: 21 North West Outfits That Are Fashion Goals For Most Adults
---
If you were a '90s kid, you probably saw your super cool seniors wearing clothes that you were too young to wear. And by the time you grew up, those outfits weren't fashionable anymore. But for all you '90s-aethetic obsessed hipsters, this is your time to shine, because the '90s are back! Here are some key fashion trends from the '90s which are making a comeback in the current fashion scene.
1. High-waist Denims
Gone are the days of low-rise denims that looked like they were hanging on to your butts for dear life. Now it is all about the high-waist trousers. Whether you like loose-fitting styles or want to hold on to your decade-long obsession with skinny jeans, high-waist trousers have got your back. Before I show you some of the best pairs of denims ever, let's go through all the reasons why high-waist denims are the absolute best.
For starters, they tuck in your tummy for an instant flat-tummy look (unlike all the muffin-top fiascos we've had with those unflattering low-rise jeans ugh). Plus, if you are a curvy girl with big a big booty but a small waist, you probably had a hard time keeping your regular jeans from exposing half your butt to the world. So the high-waist denims are here to save your butt (pun intended). They will shape and lift your butt and then cinch at the waist to accentuate your curves and make you look like a total BAMF. Here are some of our favourite high-waist trousers.
2. Chokers
Unless you've been living under a rock the last couple of years, you know how giant a comeback chokers have made into the fashion industry. There are a bajillion different styles of chokers, ready to match your aesthetic, whether that's soft and feminine, edgy and hipster, high-fashion, basic or even full-on glam.
Chokers give the illusion of a long slender neck, which is excellent news for people like me whose head has essentially just emerged from their shoulders and skipped the neck part completely. Here are some of our favourite chokers that will make the fashionista inside you veerryyy happy.
3. Denim Jackets
The beauty of Denim jackets is that you can pair them with just about anything and look like a total hipster. Wearing a cute dress? Throw on a denim jacket to chic it up. Want to wear a sari without looking basic? Pair it with a denim jacket for an instant hipster-chic vibe. Also, there are at least a million different styles of denim jackets that you can choose from to match your personal style.
You can go for short denim jackets, or oversized baggy ones, ripped ones, acid-wash denim jackets, embroidered ones, embellished ones, jackets with cute badges and patches, leather sleeved ones and even customised ones with studs, monograms and just about anything you can possibly imagine. Here are some of our favourite denim jackets of the season.
Summary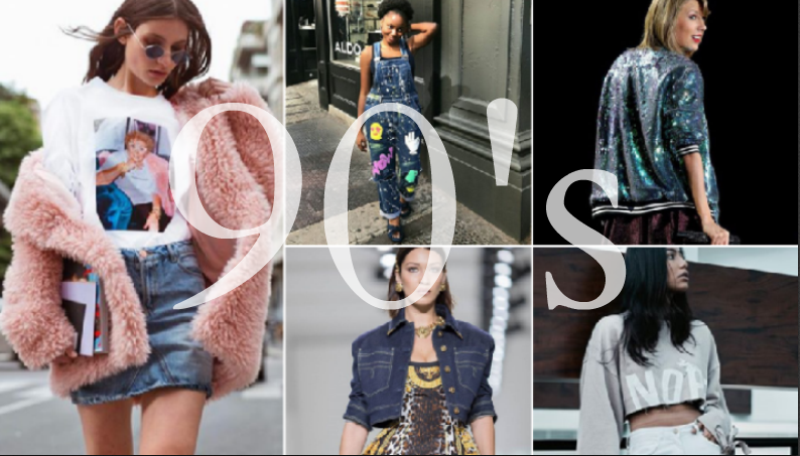 Article Name
10 Fashion Trends From The 90s That Are Back Now!
Author
Description
You never thought you'd see overalls and chokers everywhere again, did you? Here are the fashion trends from the 90s which are here to stay!
Read the rest of the article:
Next