One undeniable truth of the universe includes the fact that Michael Kors makes some of the prettiest most lust-worthy handbags that make us want to do sinful things to own them. They are also the best way to update your closet and be on trend with your handbag game, so that your bag isn't merely a container for your essentials, but also the perfect accessory to your glam outfit.
---
Suggested read: On our bucket list: The 14 bucket bags we would kill to have
---
Michael Kors handbags are available in all kinds of shapes, colors and sizes, and the usual material they use for their products is Saffiano leather. Here are some of those handbags that you could literally kill to own
1. Michael Kors in pastel pink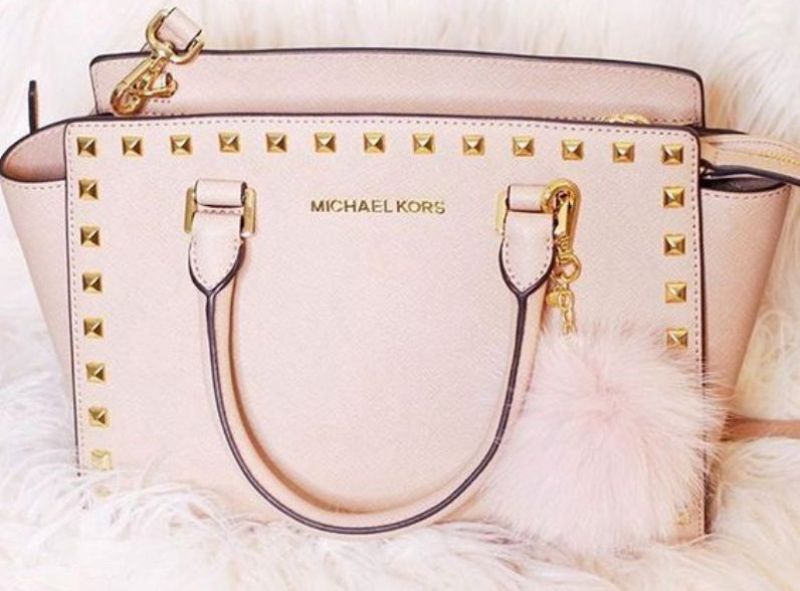 Image source: Nudevotion
This gorgeous pastel pink handbag is the perfect accessory to your beige, nude and pink clothes, which are sober, yet bright colors to sport this season. The studded gold detail has been inspired by Valentino, which means you get the look, class and elegance of both these high-end brands, at the comparatively more affordable price tag of the Michael Kors
2. Square side-purse in more pink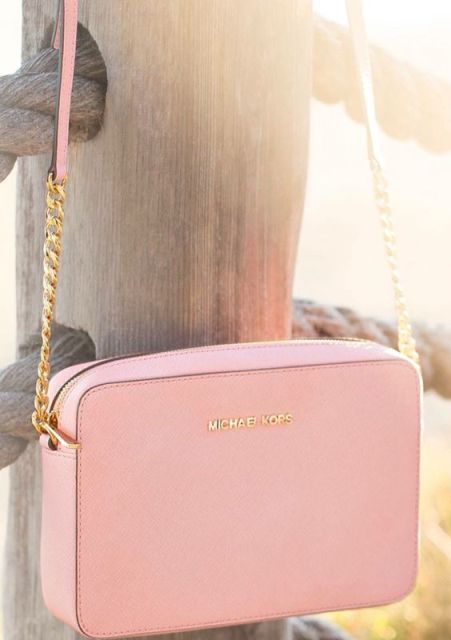 Image source: Nudevotion
This is another gorgeous pink-based side purse with a glamorous gold-woven chain that is bound to make any outfit look classy AF. Also the color, shape and design of the handbag makes it look like it came straight out of a Wes Anderson movie, and is likely to stand out amongst the masses when you step out with this beauty
3. Bright red stunner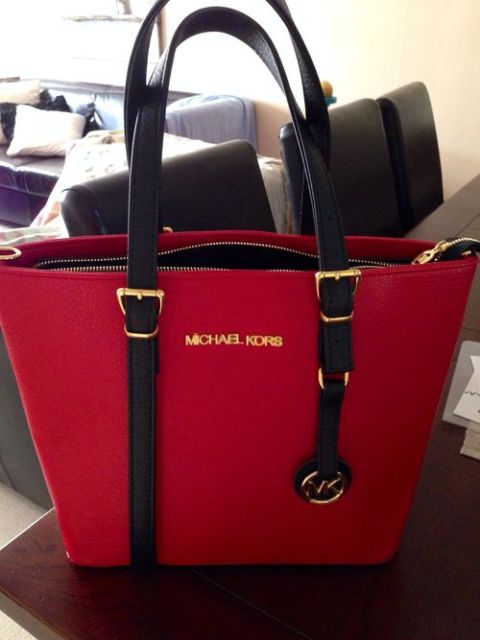 Image source: Tumblr
If you want something more intense, then you can check out this bright red, vampy Michael Kors handbag with the most gorgeous black leather suspender straps and gold details including an elusive looking chain that just brings the whole bag to life
4. Mix and match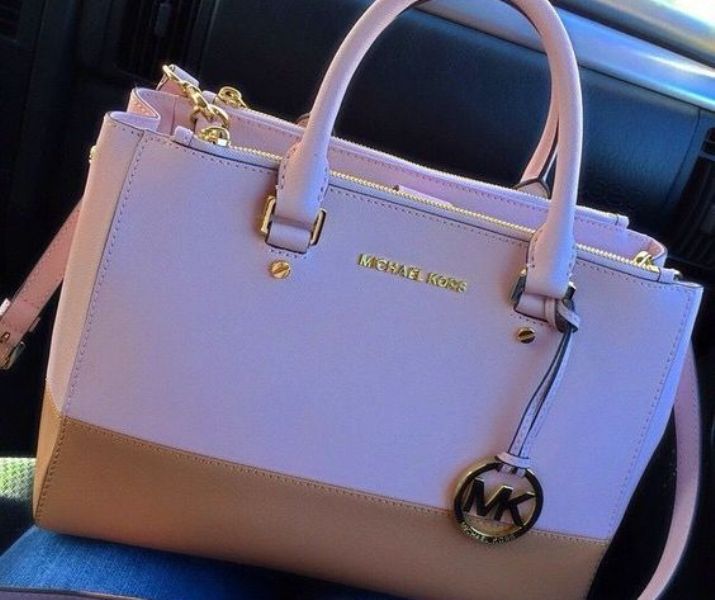 Image source: Handbagsshop
A Michael Kors handbag that you can use for your daily requirements is a dream, because Michael Kors hasn't produced one single bad-looking bad looking handbag, so your style game is bound to receive an update. This pale and beige handbag has a comfortable structure, large interiors and the signature Michael Kors gold details, making it your every day best friend
 5. Side purse with tassels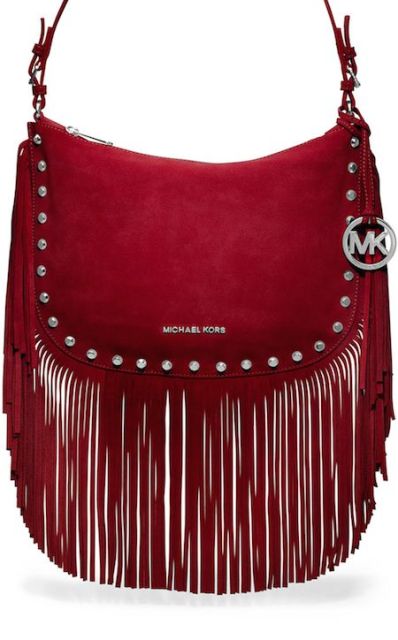 Image source: Look and love with Lolo
Here is the perfect bag you can take along with you on your night out, which would go perfectly with your outfit. The dark red shade and the studded silver details are the perfect accompaniment to the long, frayed tassels, which you can carry as a handbag, as well as a shoulder bag.
6. Michael Kors Greenwich Large Satchel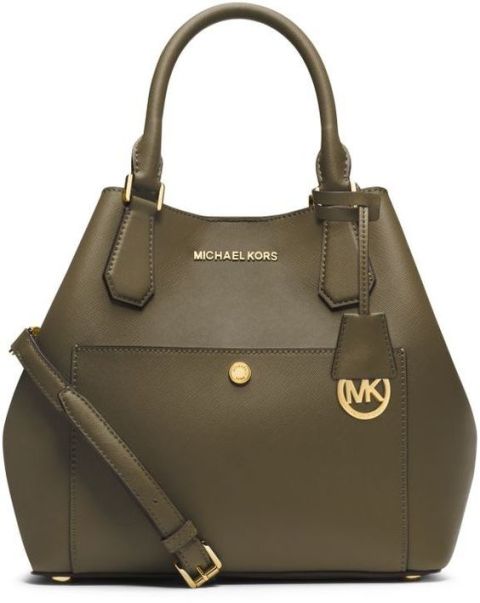 Image source: ShopStyle
This beautiful bag comes in pure Saffiano leather, which is their signature material, and comes in a smooth, military green which looks so badass with the minimalistic golden studs, and the buckle details. This bag would be so perfect for travelling, as well as for daily use.
7. Three-colored sleek Michael Kors monochrome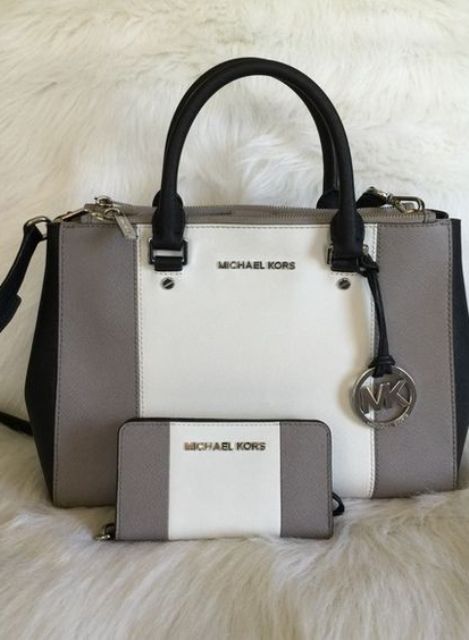 Image source: Pinterest
This stunning white and black and grey color blocked Sutton bags comes with a mini-purse for your personal belongings. The straps come in a sleek matte black material, which is perfectly complemented by the silver hardware on the bag. This would make any outfit look sleek AF.
8. Michael Kors Jet Set Tote in flaming orange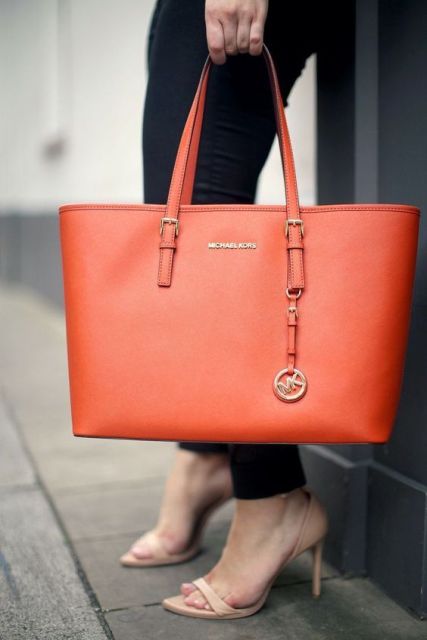 Image source: Pinterest
Michael Kors released a series of handbags that were high on fashion and style, but at the same time practical and comfortable for all the things that you need to carry on your person throughout the day. This simple, yet elegant flaming orange-red tote, with dull gold details and sewn in embroidery is one of the best specimens from this collection.
9. Signature Michael Kors travel tote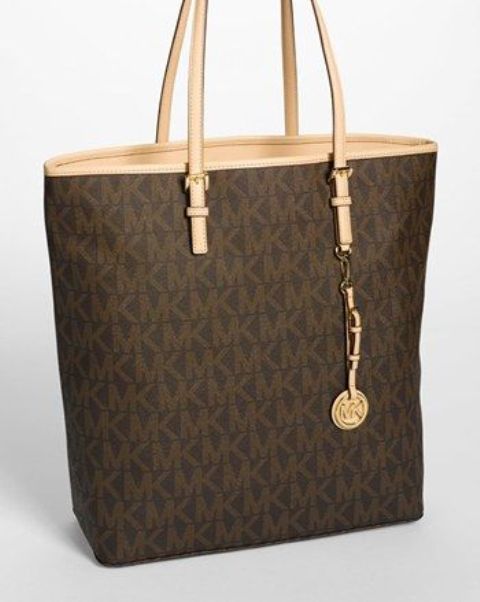 Image source: Nordstrom
This handbag is adorned with the signature MK logo and the classic design which is both fashionable and useful when it comes to buying the perfect tote bag for you needs. It is more elongated than standard handbags, with a classy beige lining and gold detailing.
10. White based signature Michael Kors bag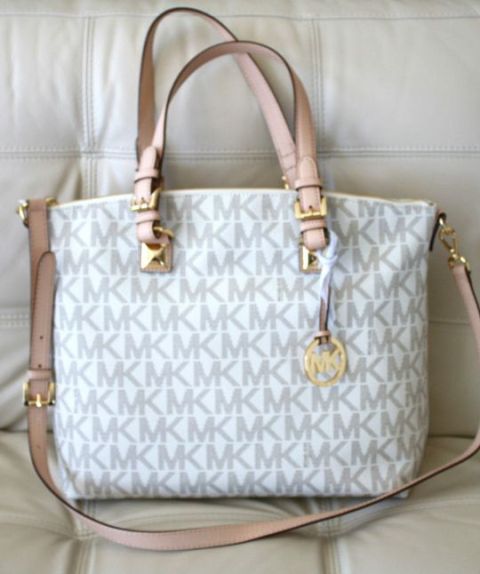 Image source: eBay
Here is another handbag with the signature Michael Kors print, on a white base. This large work tote bag is gorgeous because of the grey on white print, as well as the contrasting beige and gold strap and buckle details. It can be carried both as a handbag, or over your shoulder, or as a fancy satchel for your active days.
11. Michael Kors handbag with trendy nautical stripes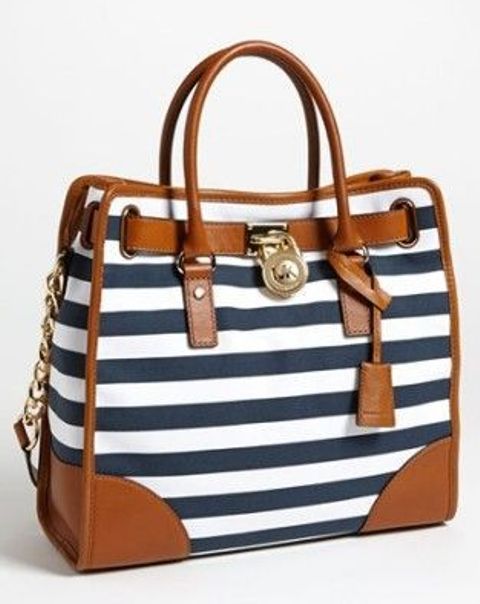 Image source: Prom dresses style
Nautical stripes will never get old, period. This gorgeous handbag comes in wide and bold nautical stripes, which goes perfectly well with dark brown leather details on the base, sides and buckles. The minimal use of metallic details makes it rustic, yet fashion forward, making it the perfect choice for a day out.
---
Suggested read: 19 must-have white handbags sure to make a fashion statement
---
12. Teal on soft leather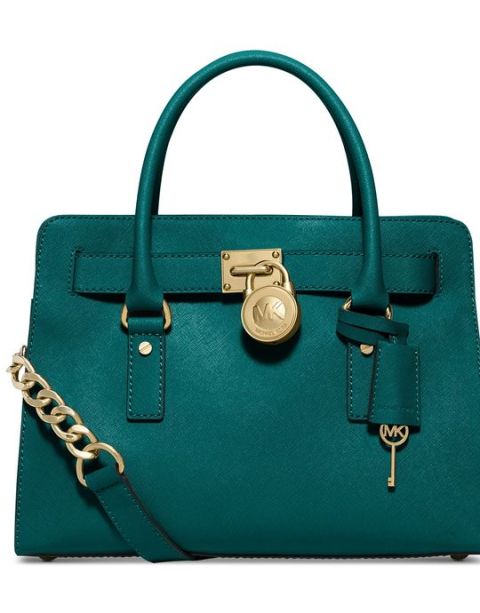 Image source: Macy's
This teal colored stunner in gorgeous soft leather is just the show stealer types accessory you need to wow literally everyone who doesn't own this bag. Instead of simple straps, the leather is replaced with bold gold chain detailing, which breaks the monotony of the teal and adds brightness to the piece.
13. Mix and match with silver and blue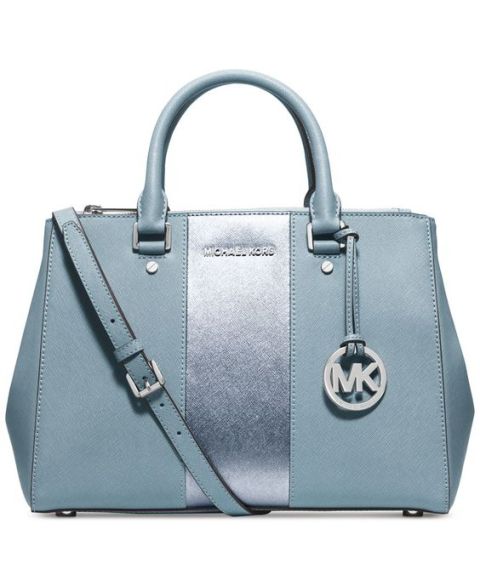 Image source: Macy's
One would think that silver and blue are unconventional colours for a handbag that women usually prefer carrying with most of their outfits. However, trust Michael Kors to choose the absolute perfect shades to make it a universally complementary masterpiece that looks like the absolute bomb. The blocked patch of muted silver intersects perfectly with the smooth blue body, and the matching straps, without looking extra.
14. Embossed satchel handbag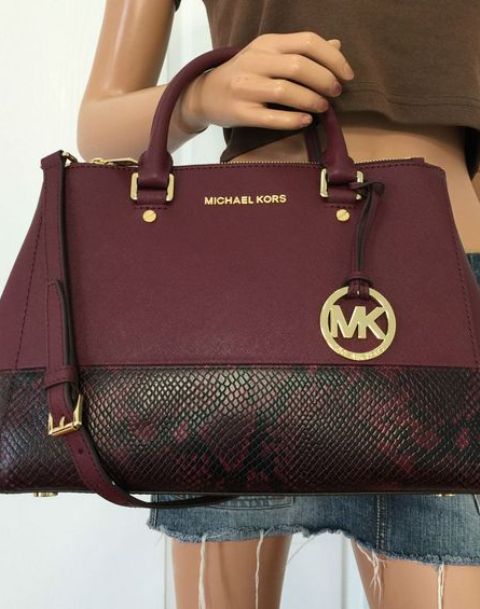 Image source: eBay
This intense purple beauty in matte leather and a base of snakeskin embossed panels is a classic Michael Kors look that you are unlikely to find in any other high end handbag labels. The bag is embellished with the classic gold MK seal and delicate gold buckles to make the look even more fashionable and appealing.
15. Intense black and gold cross body saddle bag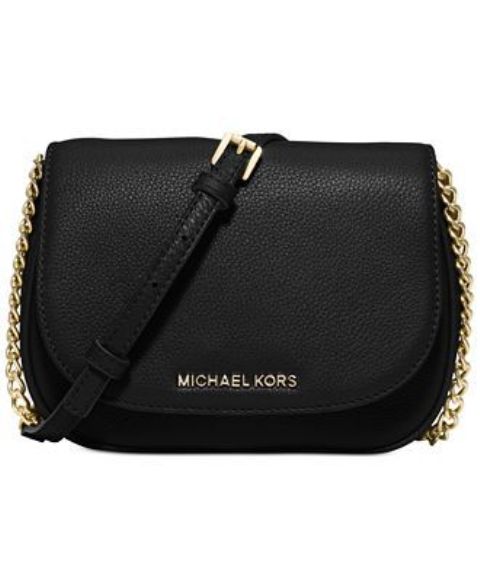 Image source: Macy's
Everyone needs a trusty black bag that is chic as hell, and useful and handy at the same time, which they can grab for any fashion emergency that they might be having at the moment. It's a plain back stunner with a white gold chain that makes it a classic, yet dependable combination. You can carry it for your daily use, or for a night out, or for a day trip, and pretty much anywhere, making it a universal favorite.
16. Cross body satchel with a flap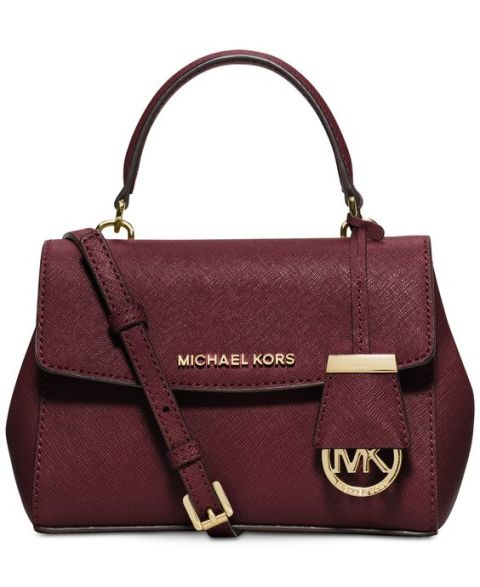 Image source: Macy's
This beautiful wine-colored side satchel is a multi-functional handbag, which can be worn both as a cross body satchel, a handbag and a slung over the shoulder utility accessory. It is more unique than other Michael Kors handbags because of the gorgeous flap over the front, which adds layers to the piece. The classic gold detailing on the buckle and brand motif, of course, slays.
17. Pastel and beige daily use handbag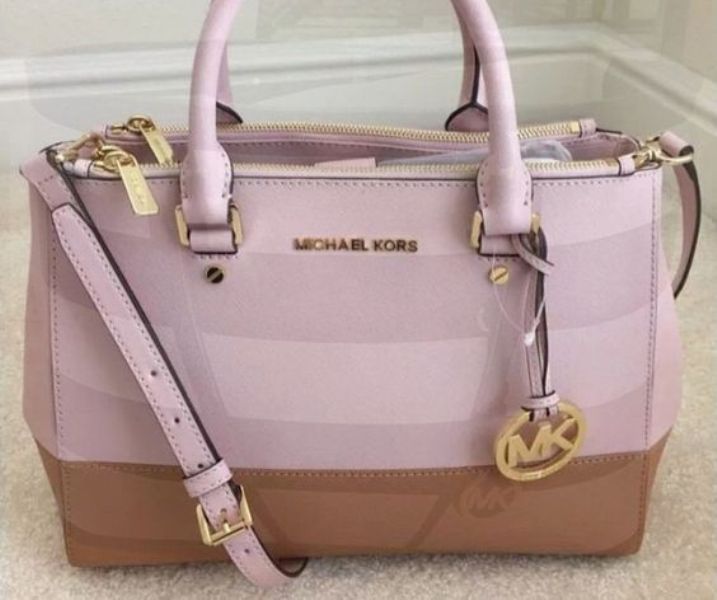 Image source: mkshop
Wouldn't it be infinitely cool if you had a high-end fashionable handbag that you could carry around every day? A bag that is uncannily like this one? This gorgeous Michael Kors handbag is detailed with three colours in light pastel pink, off-white and dark beige for a sober and classy look. It is perfect for your daily utilities without looking flashy, but retaining its elegance all the same.
18. Pink perforated beauty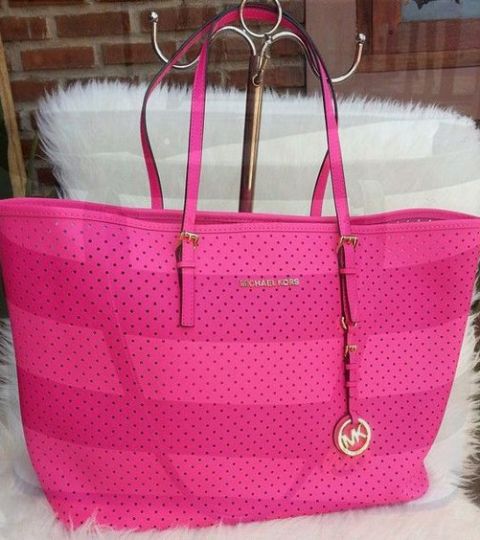 Image source: mkforyou
This pink perfection is the perfect handbag for when you need to pick the right accessory for a day out tat the beach. It is also a cute complement to your outfit for outdoor gatherings and parties. The bright pink panels are in varying shades and the perforated details add all the texture required to make it remarkable.
19. Rose gold signature metallic tote bag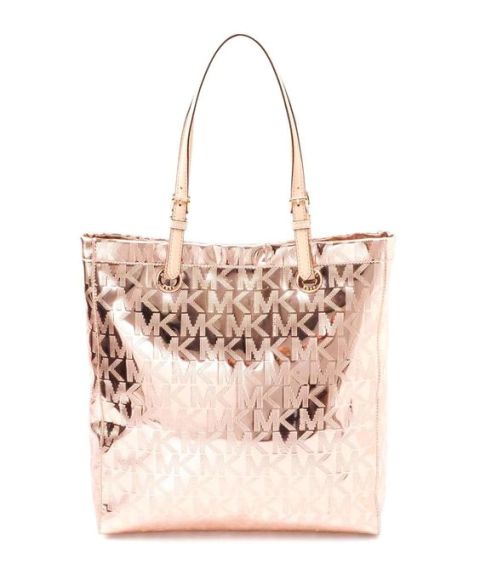 Image source: secretsales
This is truly the kind of bag you would lust after. The rose gold body is embellished with the signature MK motif and the general look of the bag is one that screams party! It is a large size tote that would make you look like a diva, no matter where you choose to wear it.
---
Suggested read: 10 must-have red handbags that will turn your girlfriends green with envy
---
20. Nautical stripes in white and citrus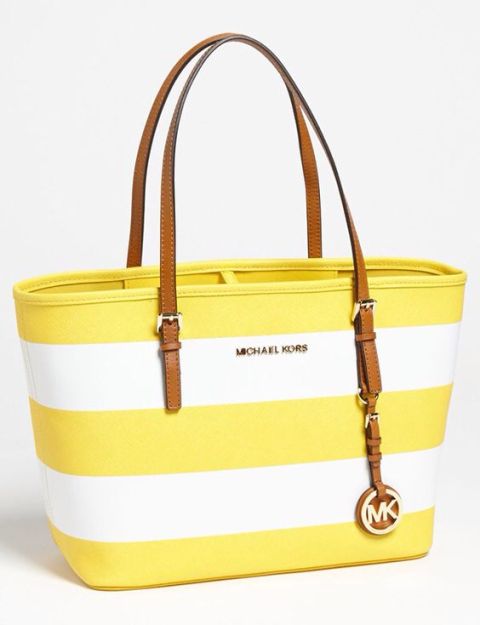 Image source: Pinterest
Nautical stripes look absolutely stunning, which is why I had to include at least two on this list. Instead of standard blue and white design, this white and citrus is bright, gorgeous and goes perfectly well with the brown leather detailing on the thin straps and the embossed MK gold motif. Would this look good with almost any outfit, no matter where you choose to sport this bag? Hell yes it would.
Michael Kors makes some of the most drool-worthy handbags, and legit all 20 of these bags are worthy of belonging to your secret materialistic wish-list.
Summary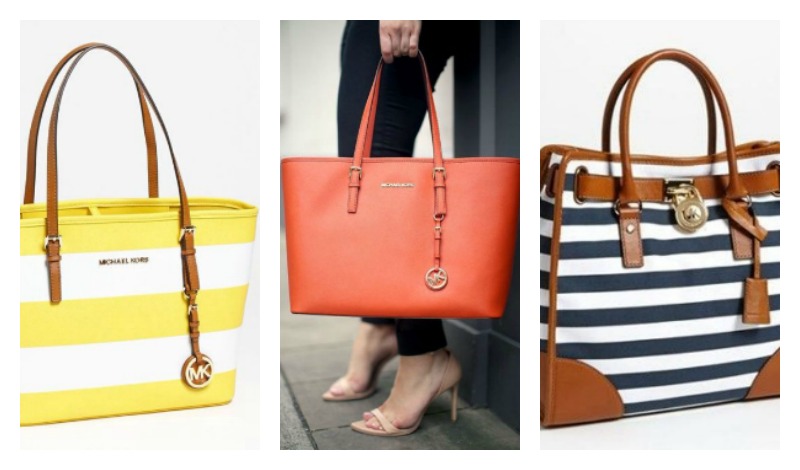 Article Name
20 Fabulous Michael Kors Handbags You Would Kill Someone To Own
Author
Description
Absolutely drop dead gorgeous Michael Kors handbags that you wish you owned, to give your closet a major upgrade.