Amazon India Fashion Week 2016 came and went. And yes, that happened with a bang. Want to know how big the fashion splash was? We bring you the best looks that we went gaga over. Sorry, still going gaga over!
1. Heavy use of metallic black/bronzed metal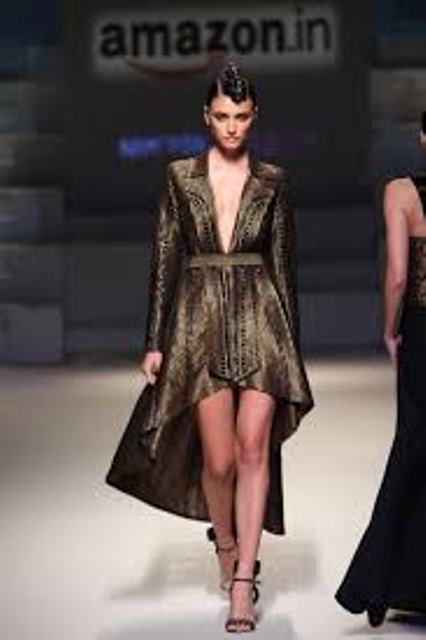 Image source: Pinterest
Amazon India Fashion Week saw interesting contrasts being paired. The metallic black Goth-like hue almost made a huge comeback. This look actually makes metallic shades so spunky that we had to open the list with the pick.
2. Sheen and shine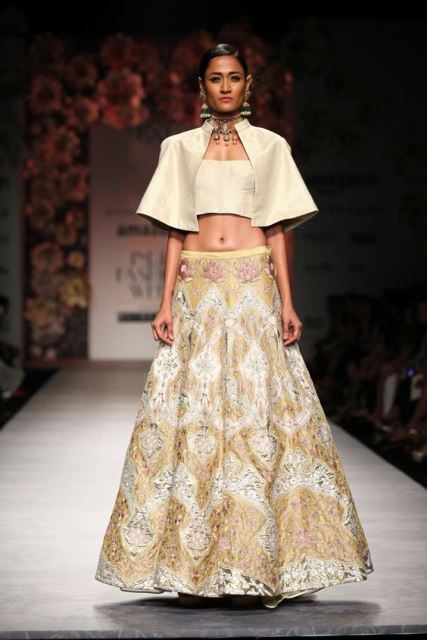 Image source: Pinterest
There has been a love for sheen and shine through khadi, silks and much more. Most fabrics that we saw at AIFW 2016 were breathable but fell in an almost free-fall pattern. This gives the shine an edge that is not too retro or disco-like!
---
Suggested read: Why FRIENDS fashion will never be dated
---
3. Baggy flowy silhouettes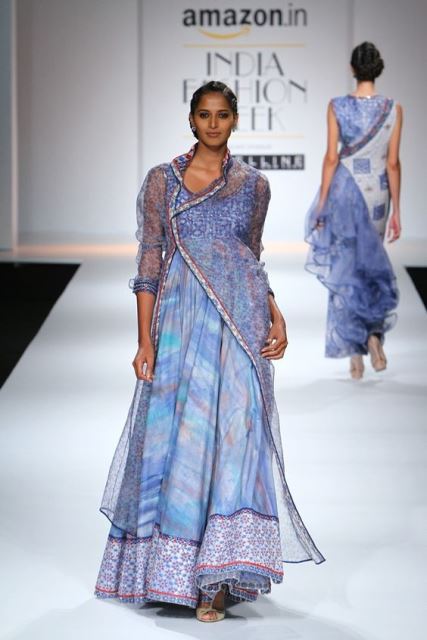 Image source: Pinterest
This silhouette has been worked to perfection across all the designer labels at the Amazon India Fashion Week 2016. From the fit and flare to total flare cuts to the palazzo-like ghera cuts, we have seen a lot to actually fall in love with the same.
4. Monochrome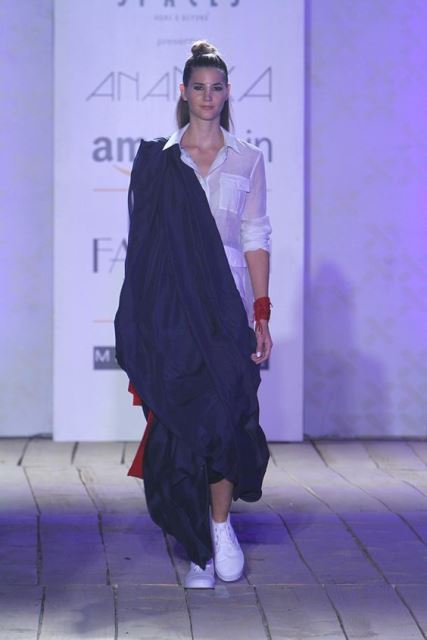 Image source: Pinterest
Anamika Khanna, the totally uber chic designer from Kolkata, has scored big time at Amazon India Fashion Week with this element. Monochrome can be seen across all the designers. From Indo-westerns to just westerns, monochrome is a trend that can never go wrong, we feel.
5. Neat colors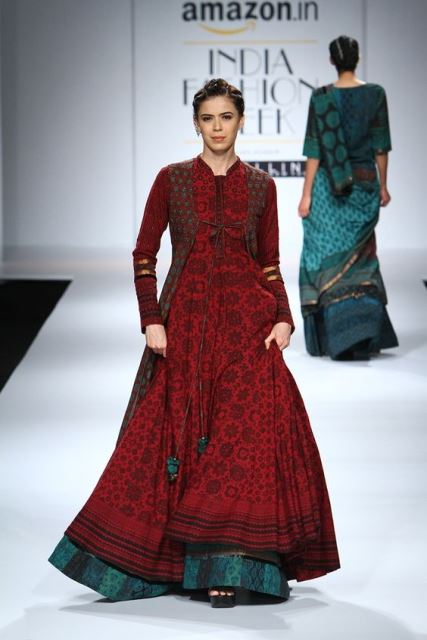 Image source: Pinterest
The colors seem to be very clear this season. No heady mixing or extremes of tones, Amazon India Fashion Week revealed that designer wear is more about crispness and finesse rather than gaudy colors. The flavor that we imbibed the maximum from the AIFW 2016 is that the colors and cuts are best kept neat. That alone creates the maximum impact.
6. Larger than life flare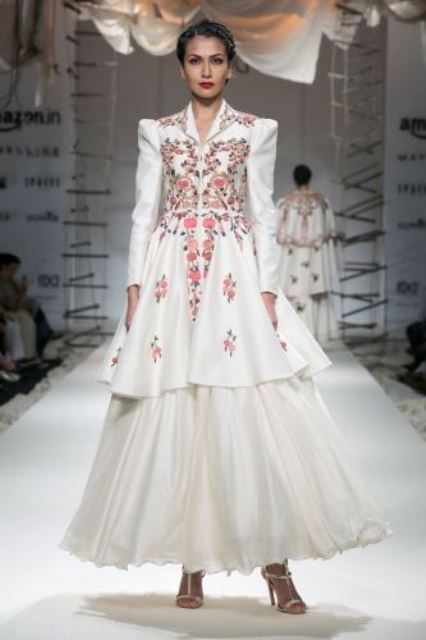 Image source: Pinterest
The flare we saw on most designer ensembles went over the top. These were not exactly Victorian large but had a very desi cut to them. The flare actually caused a lot of buzz at the Amazon India Fashion Week, and inspired us to indeed include this on the list.
7. Fluidity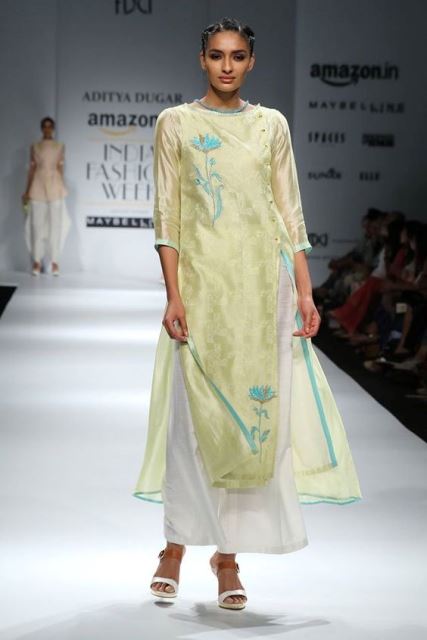 Image source: Pinterest
Yet another favorite part of the AIFW 2016, the fashion and cuts we saw had certain fluidity about them. The colors were not loud but very toned down. However, the fluidity that was part of these clothes rendered them a very classy appeal instead of making them dull.
8. Silk drapy lehengas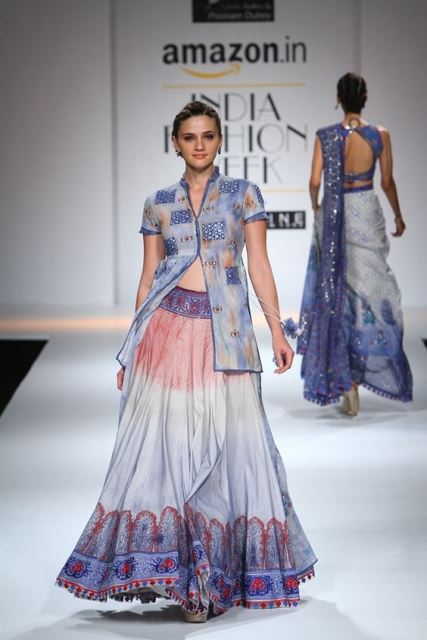 Image source: Pinterest
Most of the lehengas we saw were in silk, and had a certain drapy style about them. Styling such a pick from Amazon India Fashion Week 2016 collection could mean that you have to minimize the accessorizing since there is a certain richness about these lehengas!
9. Gold and dust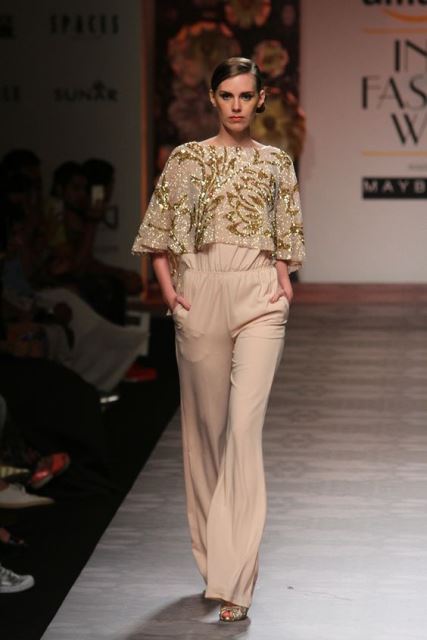 Image source: Pinterest
Not very often have we seen bling in such understated but magical a way. The gold and dust theme was seen to run through most designer styles at the AIFW. The result was magical, since ivory white offset with zari-like sequined motifs, meant a different beat on the fashion scale altogether.
10. Florals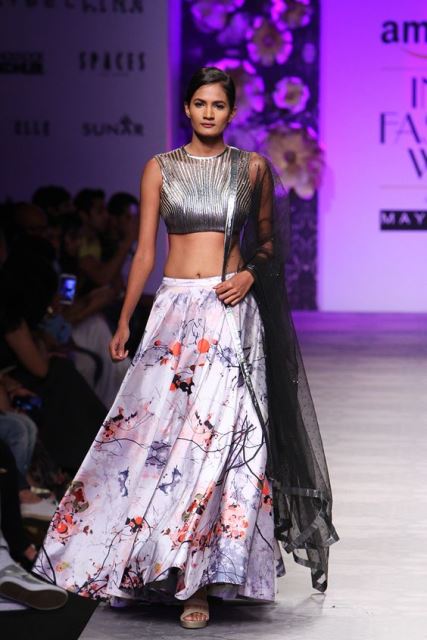 Image source: Pinterest
Florals have made clear that they can dominate big time. Across the world, all the couture weeks have seen a proper presence of florals. AIFW was no exception. The clear floral motifs were not too wild but had a certain soft echo to the way they were done. The lehenga we see here has florals only on the bottoms. The choli is minimalist.
11. 3D pleats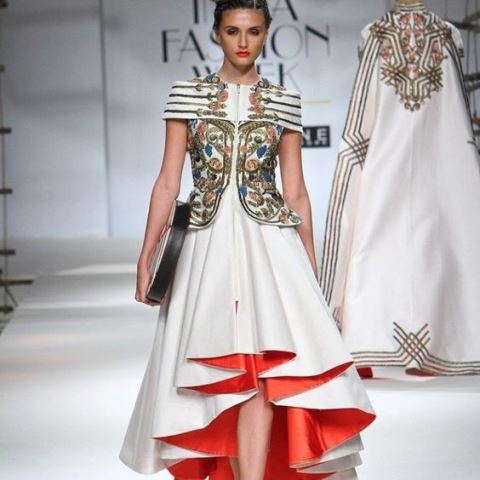 Image source: Pinterest
A very haute pick that surprised us at AIFW, the 3D pleats look like they are over the top but then again, given that they are in a very "Cashmere"-like style, these make it very much the hype!
12. Brocade and bling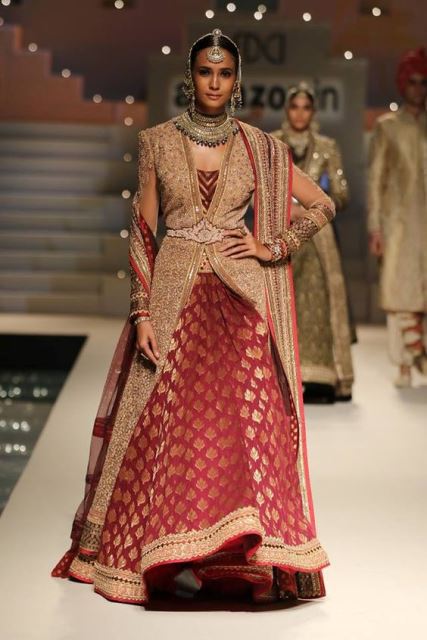 Image source: Pinterest
Bridal inspirations are never too hard to find at any fashion show. AIFW was no different. The motifs are very classic and desi, while the chanderi-like shine stands out of the lot. Deep colors, zari borders, and Mughlai-like weightage – these combined make this a fave pick of ours.
13. Layering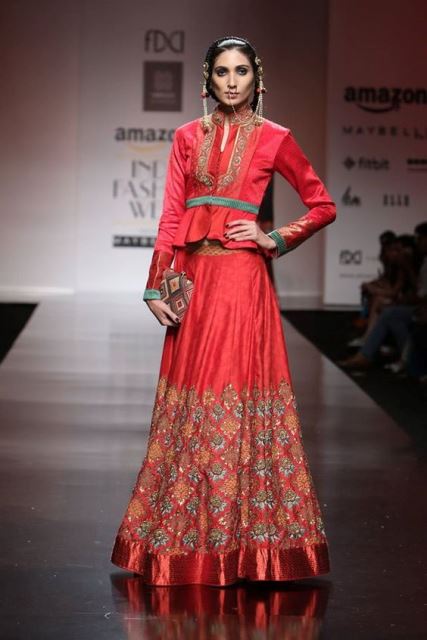 Image source: Pinterest
Layering is in vogue, and the designers know this for sure. Blue-on-blue, red-on-red – Amazon India Fashion Week actually took this layering trend to a desi-chic level.
14. Heavy maxi style dresses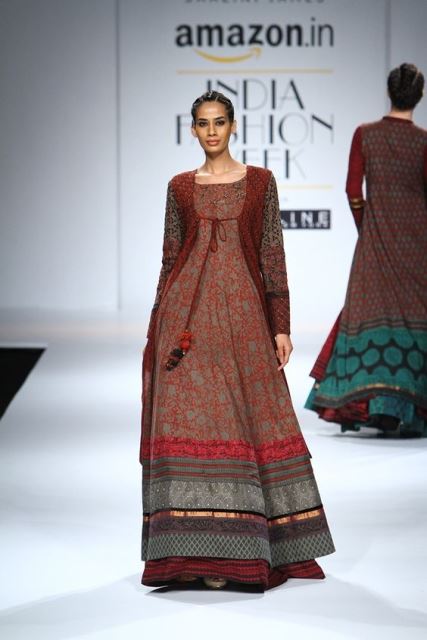 Image source: Pinterest
Shalini James is the designer we went completely gago over at the fashion week. She combined flare, weightage, and proper comfort in her silhouette, and gave an all-new meaning to maxi dresses.
15. Muted color block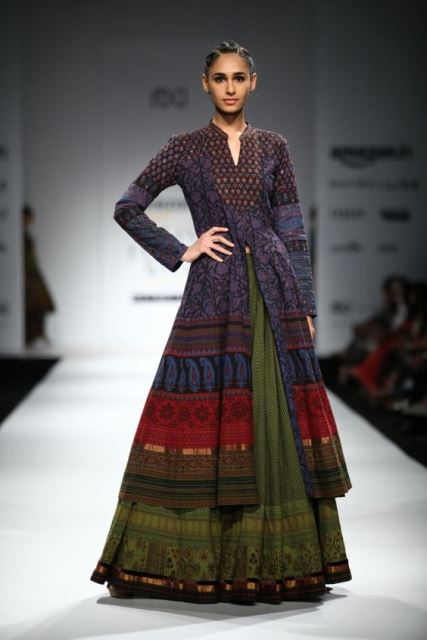 Image source: Pinterest
Color blocking finds an all-new meaning with Shalini James again. Muted colors are contrasted against each other to create the perfect blocking effect. The shades are very earthy and leave a lot to the imagination!
16. Dizzle dazzle

Image source: Pinterest
Sabyasachi makes a huge impact with such a piece at the fashion week. He has moved away from his signature weaves this time to almost replicate what we generally associate with Manish Malhotra or even Tarun Tahiliani. Netty, drapy, sequined – all these club to create a wonder at the AIFW.
17. Symmetry versus free flow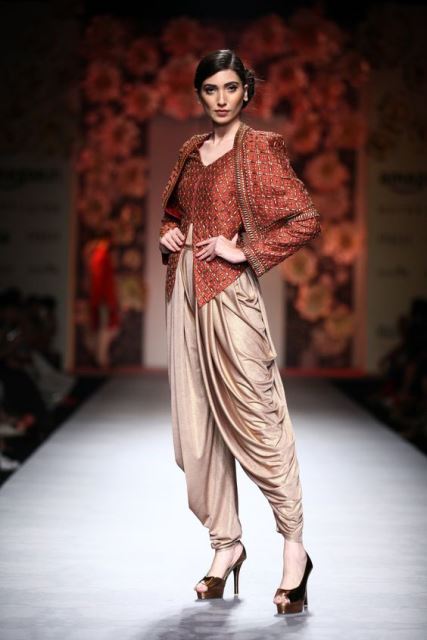 Image source: Pinterest
This style is here to stay as it contrasts opposites like we never thought. The geometric cut and the fancy flare both mean that opposite styles can be fused into one lovely piece of fusion fashion.
18. Midnight blue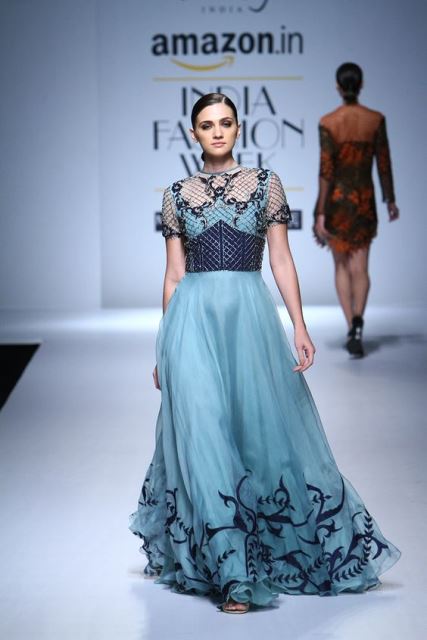 Image source: Pinterest
Forget the deep shades and say hello to deep-seated but easy on the eyes midnight blue. We saw a lot of this color across a number of designers at AIFW 2016. This ensemble is interesting in the way contrasts are carved out of the simplest of color combos.
---
Suggested read: 20 daring backless dresses that are oh so sexy!
---
19. Pink in vogue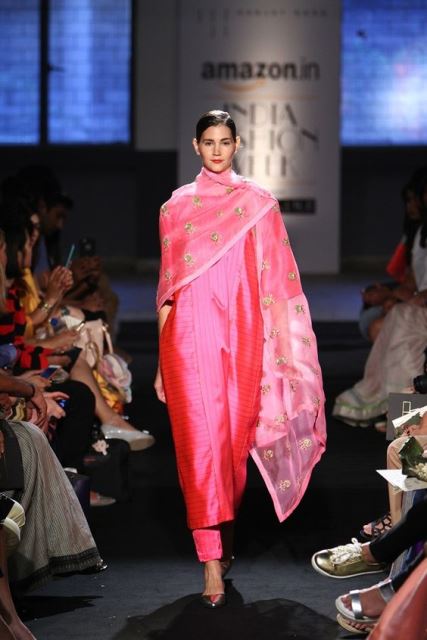 Image source: Pinterest
Pinks—not pink—that steals the show in this look.
20. Belting up the drape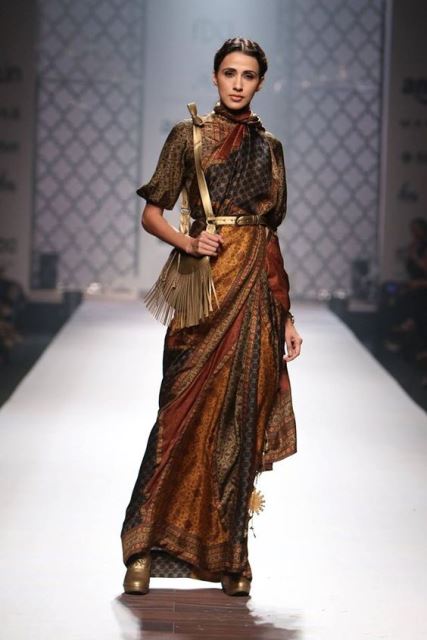 Image source: Pinterest
This is the icing on the fashion cake. We least expected to see police-like fashion in something as conformist and traditional as a saree. You just need to try the look to see why we find it ultimate!
With these amazing Amazon India Fashion Week 2016 looks that we bow down to, it is time to incorporate some of these trends into your style diary now.
Summary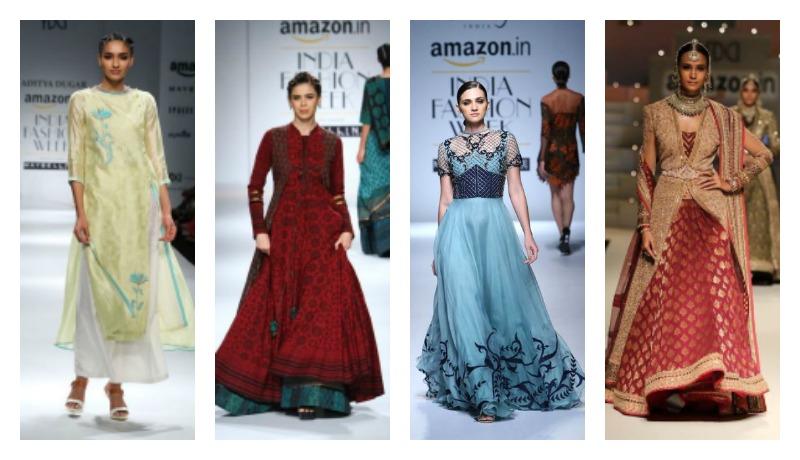 Article Name
20 Amazing Looks From Amazon India Fashion Week 2016
Author
Description
Amazon India Fashion Week 2016 brought us some really amazing looks. Here's a look at 20 of the most amazing ones.