It was Christian Dior's 2013 Spring runway collection of neon mash-ups that had people raving to dress like walking, talking glo-sticks. Now, we aren't saying that was right, unless of course, they were headed to a retro rave- in which case, we'd have loved to join in- but here we are, two (umm, three?!) years later and those dramatic colors that were once the wear-it symbol of roaring rebels are fast trickling into mainstream wardrobe choices. Yes, that's right- AGAIN!
And while we are excited AF to see these quirky shades make their comeback (coz let's admit it peeps, who does NOT love the splash of an acid yellow, an electric blue or a fuchsia pink in our staples as well as exotic choices), we are pretty sure people (despite the designers screaming the rules on and off runways) are going to be do(nn)ing neon colors all wrong! So, if the coming spring makes you itch to go, grab some of these eclectic hues, we have a ready-to-use NLT primer on how you should work neon colors into your outfits. We told you – we don't want you looking like a glo-stick, hon..we care..
First things first- a few do's and don'ts for wearing neon colors:
Do:
Keep it simple- wearing the neons in classic shapes or seasonal silhouettes gets an NLT-fashion thumbs-up
Team it up with a go-to neutral- that should dilute the intensity of a neon and strike an optimal balance
Accents- pop is the failsafe way to inject neons into your outfits
Follow the rule of two- wearing more than two acid shades can be overwhelming
Experiment with nails or even lip color- as long as the outfit isn't a solid neon
---
Suggested read: 7 fashion tips that will make you look thinner
---
Don't:
Overdo the accesorization- with neons, the 'less is more' rule holds
Channel a Teletubby or a retro animal- we'd say steer clear of your drag performer avatar too
Wear it on your face- unless you are wearing a neutral shade with accents of neon and want a tangerine or fuchsia to brighten your smile
Choose a shade that does not complement your skin tone
And now for the deep dive.
Here's the NLT-approved style guide to how you can inject neon colors into your look-book without having anyone around to throw on their shades:
1. Go for the neutral gear: It always helps to team a neon with an off-setting neutral color for striking the optimal balance in your look. Like here when a white crop top looks stunning paired with an acid yellow A-line skirt. The neat top-bun, the black bag and the white shoes add to the fine balance.

Image source: Pinterest
2. Opt for the rule of two: Pair two neons in your outfit by opting to offset one with a complementary neutral and throwing in some chic neon accessories. Look at the muted creamsicle-inspired peach bottom team with a tucked-in white top, a smart blazer- making the combination an understated neon outfit except for the leap-out-at-you acid yellow necklace and bracelet! Winning it at the rule of two, I'd say.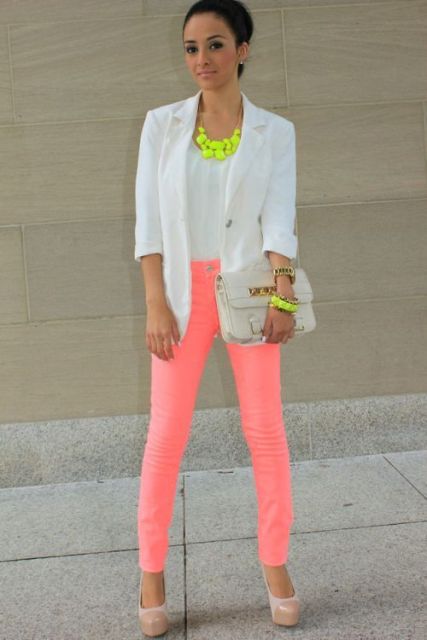 Image source: Pinterest
3.The same thing works for a sans accessory, neon-y neckline and a shorts and top combo. Like here: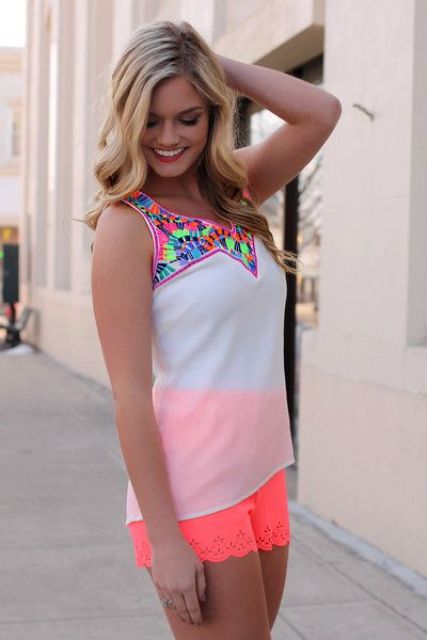 Image source: Pinterest
4. Wearing neon is the style equivalent of changing all of your article to a bold format. You gotta be ready for it. However, if a solid neon outfit is what rocks your boat, we ain't nobody to stop you. Just trash a taffeta vintage frock where it belongs and opt for an in-vogue stylish look. You can either go for the classic shapes like this hypnotic green teamed with black matched necklace, watch and beige handbag and shoes..

Image source: Pinterest
5. …or you could opt for flattering seasonal silhouettes like the li'l tangerine dynamite wrap coat here: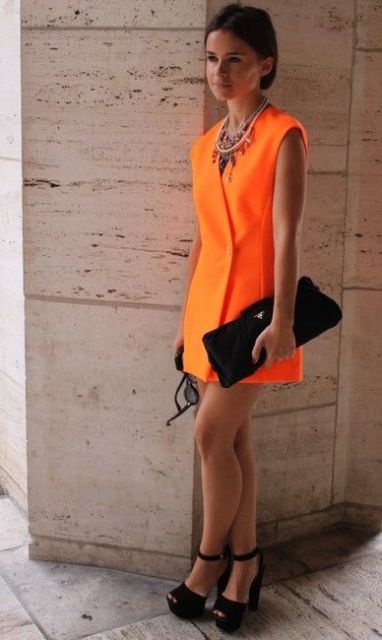 Image source: Pinterest
6. However, if you cannot imagine your office avatar keeping pace with your spirit animal, it is perfectly alright that you add just a pop of color by adding some neon co-ordinated elements to your formal look. Look at the intelligent, inspired solution here: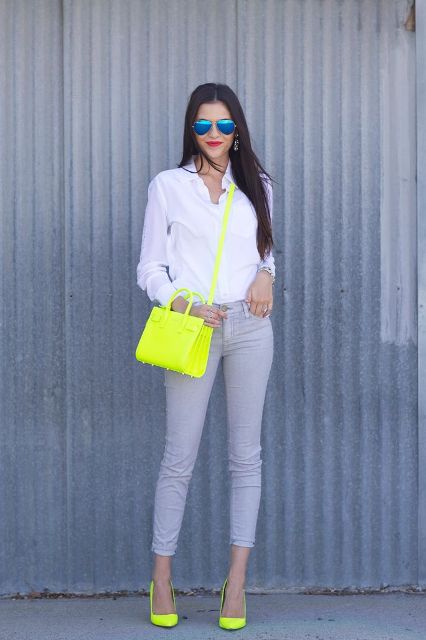 Image source: Pinterest
7. …or here:

Image source: Pinterest
8. If you aren't as ballsy as to carry off the in-your-face acid shades, don't fret, there's a shade of neon that will perk up the YOU-that-loves-quirky. Avoid the overdose look by opting for the normal color palette sprinkled with loud pastels, rich patterns..like the floral shirt paired with grey ankle-length bottoms, stunning glares and to-die-for electric blue stilettos here: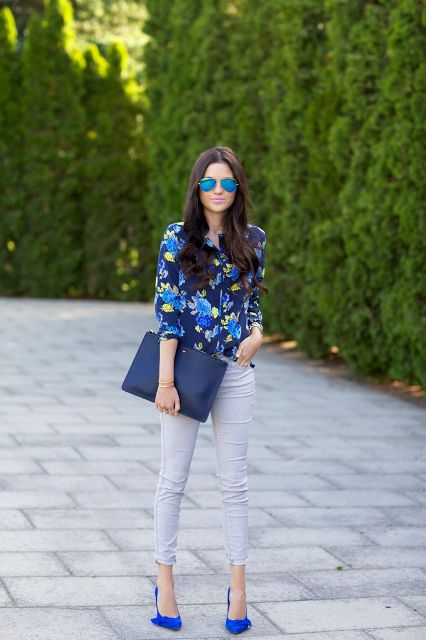 Image source: Pinterest
9. It's even easier to inject neons into your wardrobe staples in the nippy season. When the chill comes knocking, all you gotta do is dress as you do and wrap yourself in a neon-y parka..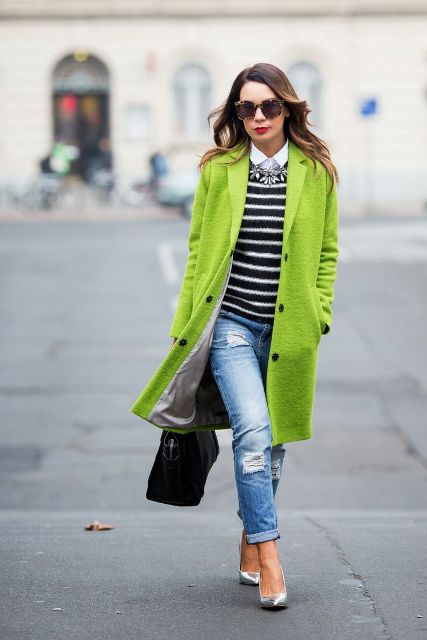 Image source: Pinterest
10. …or a simple crewneck sweater paired with a white denim…

Image source: Pinterest
11. You could even team up a relatively muted shade with trousers and a formal accessory for a semi-formal look…

Image source: Pinterest
12. Maybe a celeb-inspired rule of two isn't a long-shot either…
Image source: Pinterest
13. Adding just the one neon accent to a monochrome look (especially an all-black look) is failproof…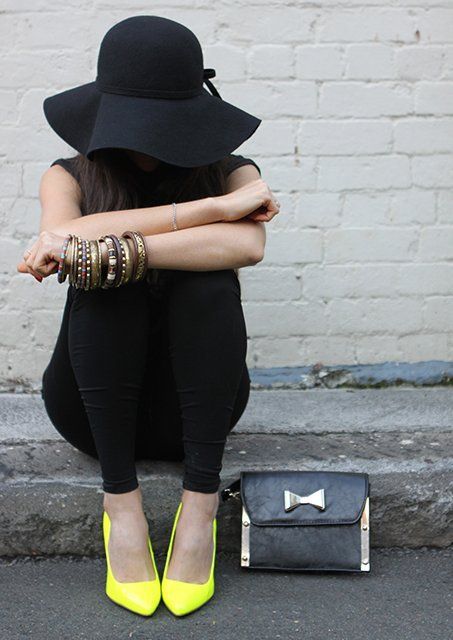 Image source: Pinterest
14. …whatever the season…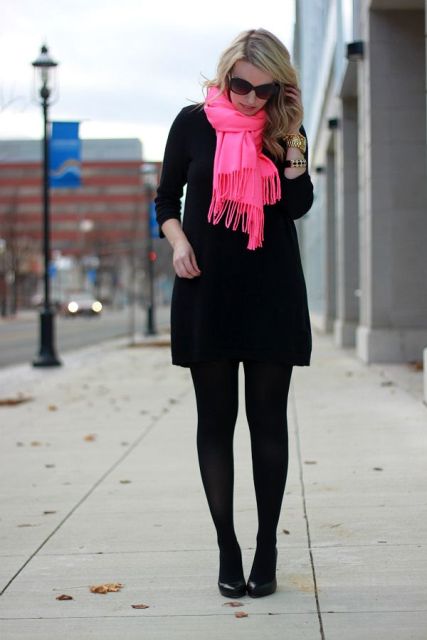 Image source: Pinterest
15. And you can carry forward the playfulness to other seasons by toying with light-colored neutrals, pastels and a just a sprinkle of neon:

Image source: Pinterest
16. Playing with neon accents or accessorization works wonders with an all-denim look too… (try it with dungarees too)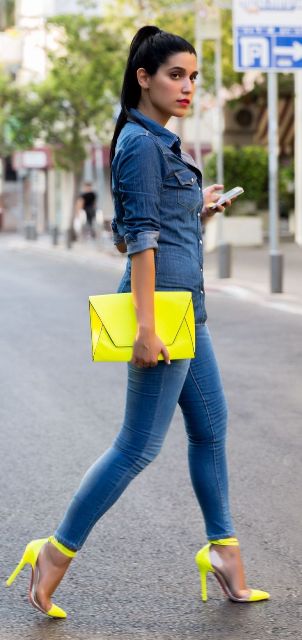 Image source: Pinterest
17. High-rise pants in neon shades are an out-and-out winner…

Image source: Pinterest
18. While we'd advise you to keep neon off your face (unless your outfit is a neutral color and all you have done is accessorize in neon shades- then, you could maybe opt for a shade like a pretty fuchsia or peppy tangerine on your lips), keeping them on your fingertips when only a section of your outfit boasts of neon is magic: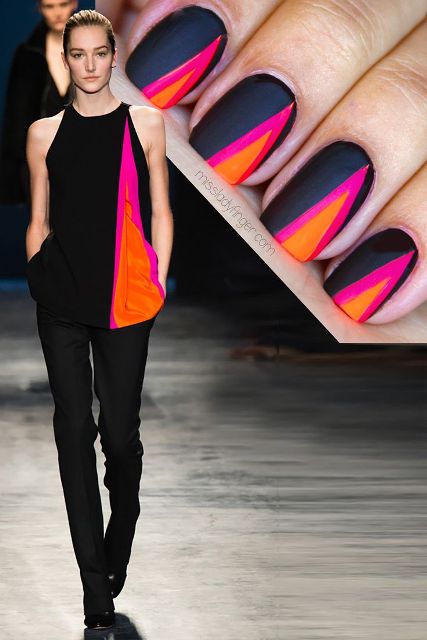 Image source: Pinterest
19. When it comes to athleisure, you can never go wrong with a neon sports bra or a peppy pair of sneakers…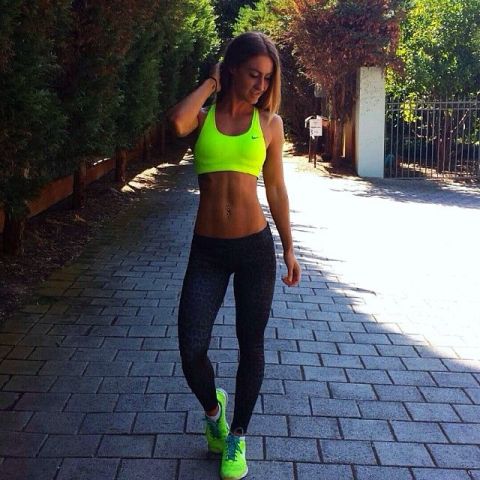 Image source: Pinterest
---
Suggested read: Winter is coming: Pick the perfect coat for the cold
---
20. Summer jackets- check…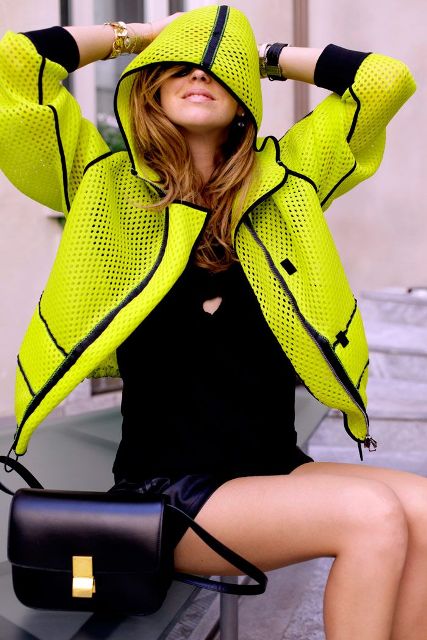 Image source: Pinterest
21. Or a sporty poncho- check…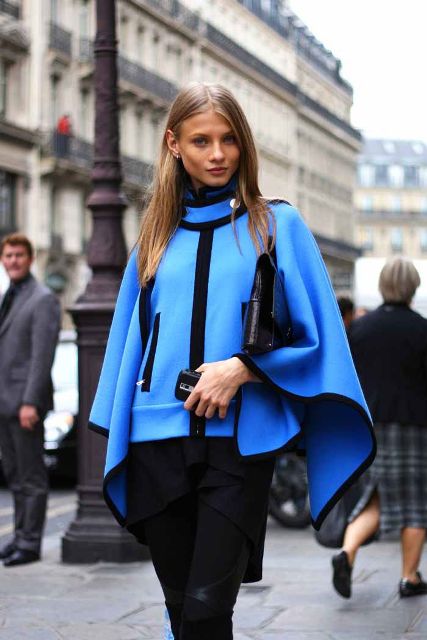 Image source: Pinterest
There is no dearth of ways in which you can play with these colors- as long as you don't goof up the basics. If yes, you will never be a lightsaber! 😉
Now, go neon-y! 😉
Summary
Article Name
Pop Of Color: 21 Color-FULL Ways To Work Neon Into Your Outfits
Author
Description