A new year and a clean style slate to start preening, prepping and even painting all over again, it is time we dole out the NLT-predictions on the trends that are going to be big on the fashion windows this year! But before you go all in and start to reinvent your wardrobes in sync with the fashion trends we know are the ooh-s and aah-s of 2016, know this- this is the year for those bold fashionistas who are unafraid of going avant garde and conventional in a breath. This year is the year of reaching out for snakeskin mules, silk bombers as well as silk slips. Think you can mix it up? Let's go….
C'mon fashion trends 2016…
1. Pencil midi skirts

Image source: Pinterest
Back in vogue with zippers, buttons and those enviable surprise slits, the pencil midi skirts are going to take the year by storm. We predict a helluva lot of experimentation in texture, fabric and styles. Whether teamed with a mock sleeveless crop or simply paired with your go-to button up tucked in, these killer pieces can make a bold and super-stylish statement with the right pair of stilettos, a striking clutch or a statement accessory.
---
Suggested read: 17 fashionable street styles of 2015
---
2. Trench vests

Image source: Pinterest
A classic staple for wardrobes, the trench vest is back with a bang in a refreshingly novel silhouette- the sleeveless pattern. The go-to layering option for that meeting you smashed your brains out for or the brunch you so needed to pour yourself in for so long, this trend is going to work wonders with that tunic dress, converse and oversized glasses just as much as with classic white button up, trousers and your go-to black pumps for a polished work look!
3. Off-shoulder necklines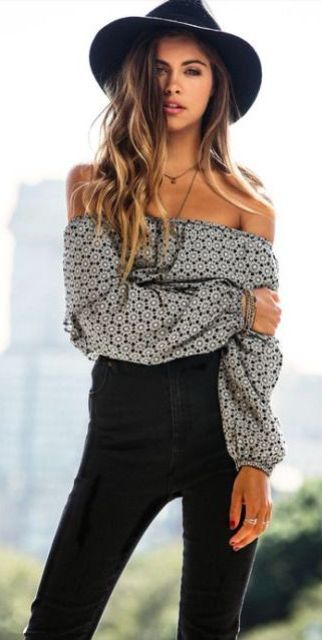 Image source: Pinterest
Baring those beautiful collarbones has never been as trendy. Expect jazzy colors and bold prints to flood the fashion scene in off-the-shoulder necklines as these are the call of the day! A prized oversized statement necklace or some equally bold bangles are going to rev the sassy quotient by leaps and bounds. Match it with a luxurious up-do and nobody will dare take their eyes off you!
4. Culottes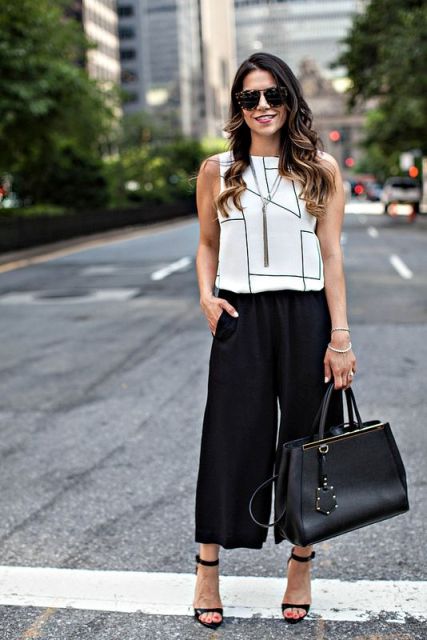 Image source: Pinterest
Don't mistake these for the gaucho pants of 2004. From runways to roads and coffee to cocktails, these stylish sizzlers are ready-to-rock. Pair it with a blouse that's long been hiding in your closet, strap on those pointy stilettos and you shall have an edge over all the other divas in no time!
5. Statement bags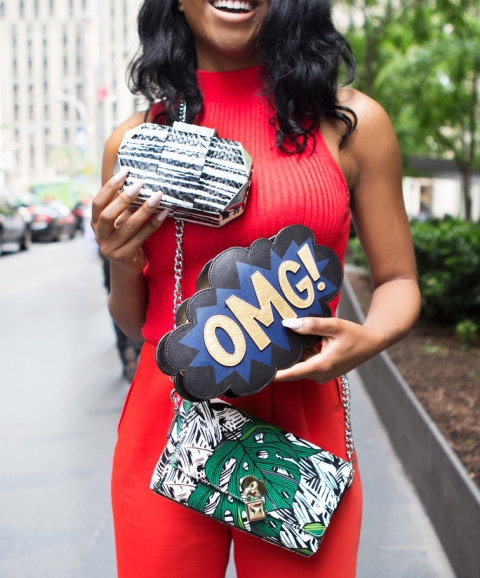 Image source: Pinterest
Whether you are picking that sparkly minaudiere or reaching out for that neon tote or furry clutch, you can go, let that li'l fashion gypsy take over your bag choices this year. The year of statement bags, this one says ditch the safe blacks, whites and neutrals and opt for crazy. The whackier, the better! Our pro-tip would be to pair a cool crazy with one of your work outfits so you aren't the boring brown bag lady at work!
6. Oversized stripes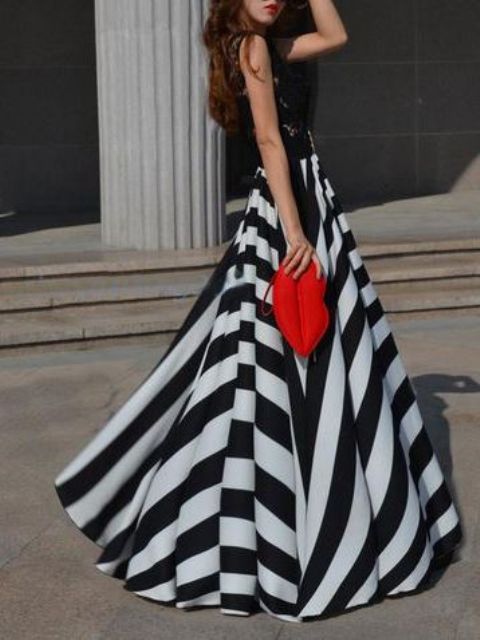 Image source: Pinterest
A fresh take on the traditional favorite, these oversized stripes are going to rule 2016. So pick the bold colors and go for daring silhouettes. You will not have to think twice! Just check out how the oversized stripe maxi in the classic color combination matches our hot favorite trend of statement bags in its vibe and spreads a fashion verve too powerful to miss! So, you were saying…….
7. Matching sets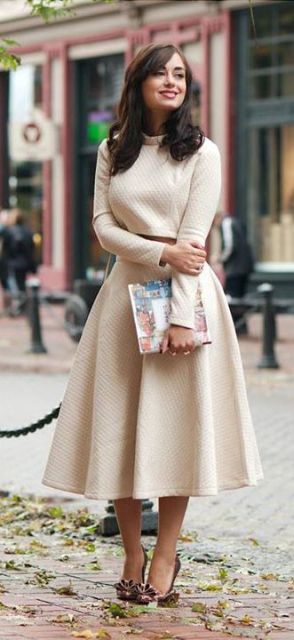 Image source: Pinterest
Nothing like the magic of a matching set when it comes to being chic, is there? We already brought you a whole list on matching outfits in our Ms. Matched article and therefore, this one should really come as no surprise! From culottes to caplets and crop sets to blazers and jumpsuits, there is no dearth of choices to pull off this sophisticated trend- so go all in and let us know how it turns out! We can't stop yapping about it- as you can see! 😉
8. Bomber jackets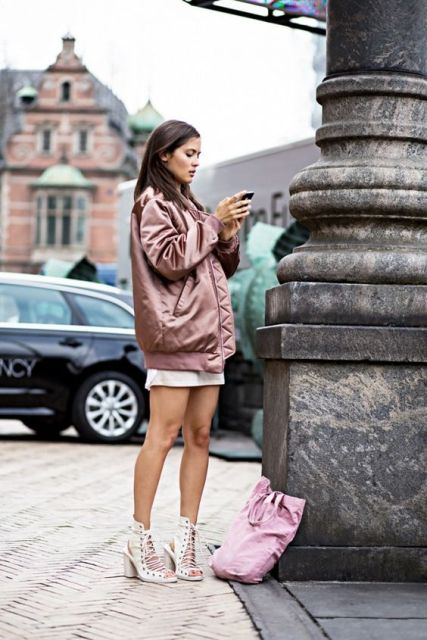 Image source: Pinterest
A recent gift to the fashion world, the trend has taken off from the runways to hit the roads and how! Whether reinventing itself in fresh colors or novel silhouettes or rewinding the route to embroidered patterns in history or simply morphing into an oversized version, the bomber jacket has proven it is here to stay! You can throw it on over a wrap dress with wedged sneakers for an unexpected sportswear look or simply team it with a classic black denim, lace-up booties, a simple blouse and a bold clutch for a super-sleek, stylish look! Effortless like that!
9. The mule

Image source: Pinterest
Because your feet deserve a break from stilettos! Try it in a heel or a flat, in snakeskin or suede, but give this trend a shot and we promise you'll love it! Pair it with your ripped jeans, your pencil skirt or your bodycon dress- this one will go with anything! Walking the miles with love!
---
Suggested read: 8 chic fashion trends we want to flaunt this season
---
10. Slip dress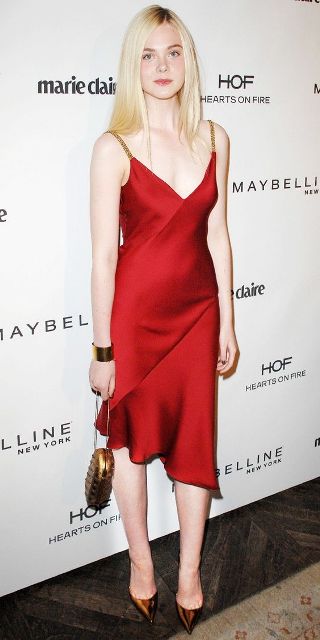 Image source: Pinterest
Yes, I can see that smirk when you raise your brows and ask what's new! Well- nothing except we see one wherever we turn our heads! From Calvin Klein to Rihanna to JLaw to Celine, everyone's slipping into this slinky silhouette and we aren't complaining. It is stylish AF, an A-line works for anybody and together with mules or crossbody bags and leather jackets, these simple dresses are turning lethal! Don't believe me- try! At your own risk! 😉
Stay tuned for more on fashion!
Summary
Article Name
10 Fashion Trends We Will See Soaring In 2016
Author
Description
These fashion trends are going to be HUGE!