Are you planning to base your wedding on a traditional rustic country theme? If you are, we applaud you for your choice. While modern weddings are no doubt appealing in their own way, they do not match the classy look that rustic wedding gives off. In a rustic wedding you feel like you have traveled back a few decades and you can almost smell the fresh and dewy grass when you close your eyes.
At the mention of a rustic wedding, the first thing that pops up in your mind is an excess of fresh flowers all around you, in every form, color, and shape. No country wedding can be complete without a wide range of flowers decorating the venue. Rustic wedding flowers can be used to add a delicate touch and fragrance to the surroundings. But your work will not be done if you just make an order of all the prettiest flowers in town and then, at the nick of time, have little or no idea on how you could use those flowers systematically to complement the wedding.
---
Suggested read: A-Z guide of symbolic meanings of wedding flowers
---
Here are some simple, implementable ways you can use wedding flowers in the best possible manner.
1. Let your flowers represent the theme of your wedding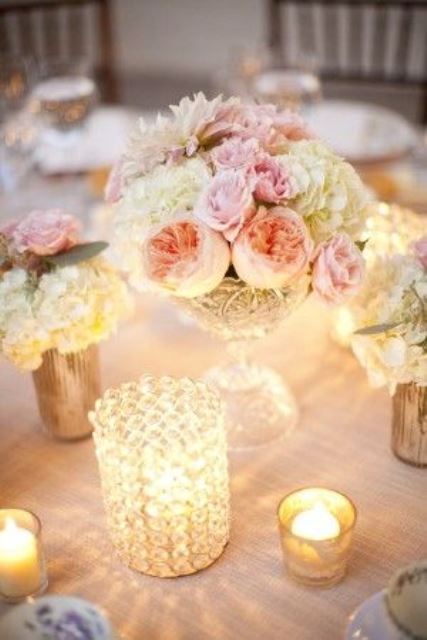 Image source: Pinterest
Floral arrangements make up an essential element of your wedding theme. We all know that dinner tables at wedding receptions are incomplete without flowers on them. So go against the traditional practices and opt for kitschy cups or champagne glasses to keep wedding flowers in, instead of large flower vases. You can also match the food items on your menu with your flowers.
2. Create a wild entrance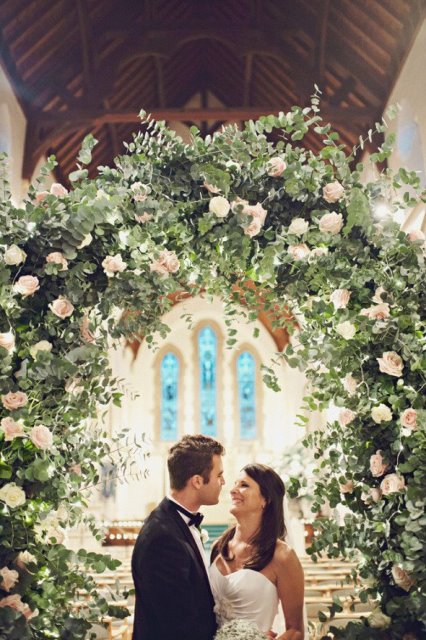 Image source: Pinterest
One thing that you can do is put a flower tree in the alcove of your wedding venue. Another idea is to put a few topiaries on the pedestals that will be framing the entrance. Both these options for wedding flower arrangements will create a fabulous entrance for your wedding. If your wedding is during the day, you can decorate the trees with fabric butterflies; meanwhile, if your wedding is an evening event, then you can wrap them with pretty fairy lights. The added benefit of these wedding flowers is that you can take these flowerpots home and also present a few to the wedding guests as a gesture of remembrance and affection. As the tree grows, not only will they remind the guests of your wedding, but also add a flowery touch to their homes.
3. Create a floral backdrop for your ceremony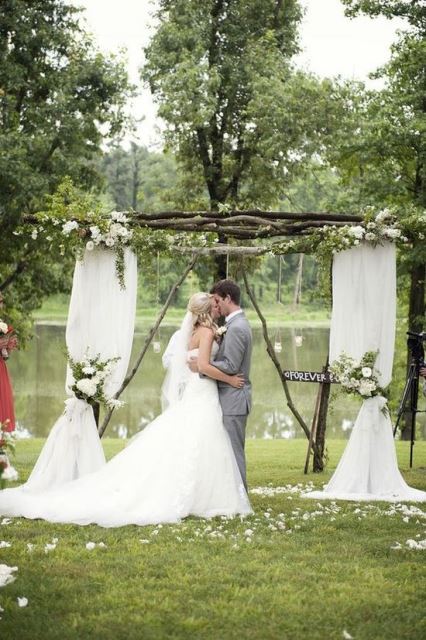 Image source: Pinterest
If you are going to have a rustic wedding, what can be a better option than to make a show of it to your guests? This will be especially relevant if you are planning to have the ceremony outdoors. You could make a backdrop like this, and have flowers surrounding the frame on all sides.
4. Make optimum use of available space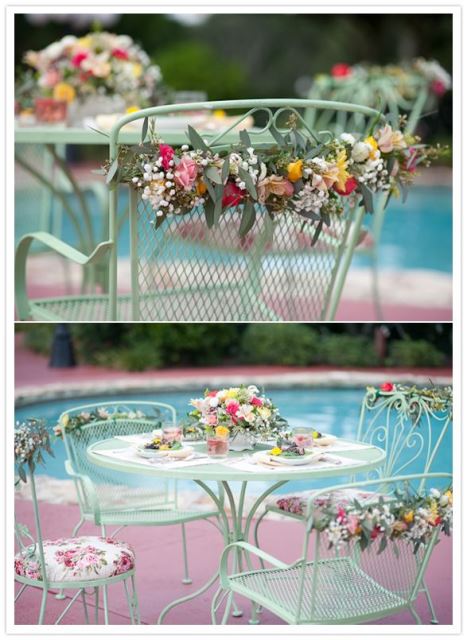 Image source: Pinterest
In order to get the most balanced and magnificent look, you should make proper use of all the space that is available in your wedding venue. For starters, you can hang small flowers from the ceilings, or if you want to get even more creative you can even hang an elegant cage filled with delicate flowers. Sprinkle petals of roses or colorful flowers on the floor or on the wedding table. Try it out and you will realize just how lively and breathtakingly gorgeous your wedding venue looks.
5. Make wreaths of those pretty flowers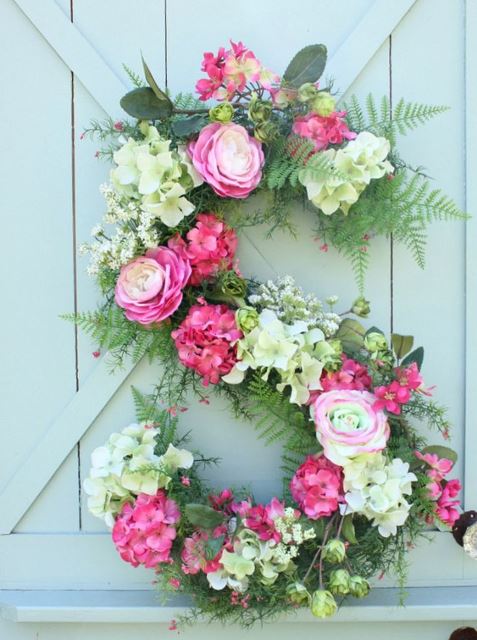 Image source: Pinterest
Rustic wedding flowers have always been used as wreaths that adorn various corners of the wedding venue. On the very day of the ceremony, you can simply decorate the church door with these wreaths. If you have the manpower to get some more work done, you can also decorate the backs of each chairs in the church with wreaths. Your guests will simply be refreshed with the excess of flowery beauty all around them. For something simpler, you can decorate the chairs with a single flower. All you have to do is tie that flower in with a soft-colored satin ribbon.
6. Have a heart-shaped flower wreath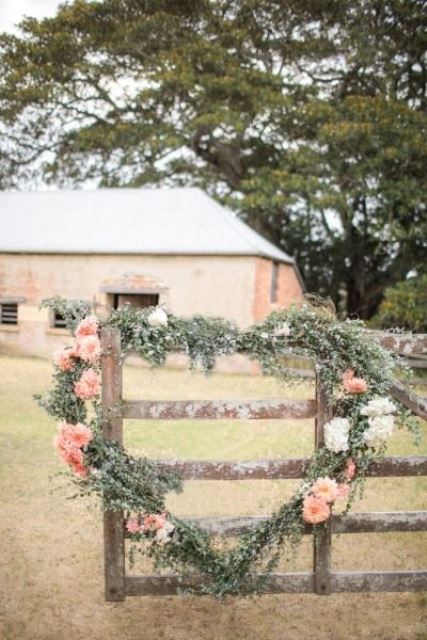 Image source: Pinterest
You can make an adorable wreath in the shape of a heart and place it anywhere you like. Preferably, you might want to keep it somewhere where the unique piece can be viewed by all your guests.
7. Make centerpieces with mixed flowers
Image source: Pinterest
Flowers alone will seem too clichéd when you can try this out instead. This rustic wedding centerpiece has a wooden slab at the bottom and also has horns standing on it. The flowers are also a mix of different wild and elegant flora.
8. Team up flowers with wedding candles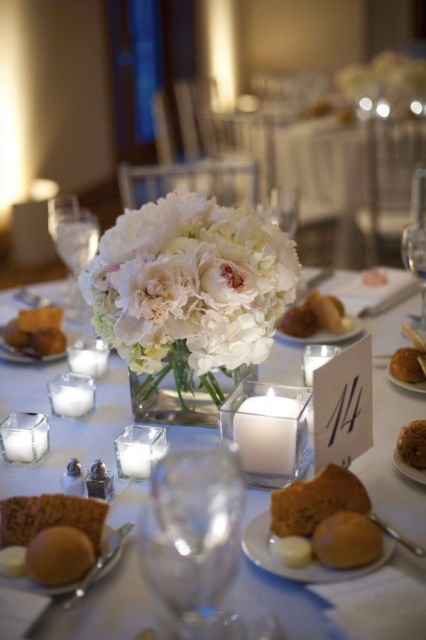 Image source: Pinterest
Did you know that flowers and candles make a heavenly team? Try this and you will know for yourself. Make thick bunches of white tulips and place them in tall vases. Surround these vases with candles, while making sure that both the blooms and the vases are of various lengths. The height contrasts will give your rustic wedding centerpieces a fuller and more sophisticated look. For a variation, you can also put together daffodils of various colors and add gypsophila in your floral arrangements.
9. Put flowers in traditional barrels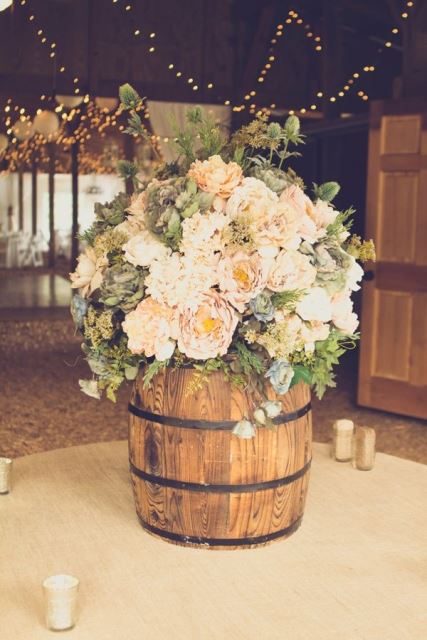 Image source: Pinterest
Flowers look good everywhere and can even make the dullest object look good. If you are having a rustic wedding, try and put a few empty barrels here and there in your venue as they will give your wedding a complete country look. Then decorate them with an assortment of colorful flowers.
---
Suggested read: 20 elegant ways to use red roses in your wedding
---
10. Rustic wedding flowers on the cake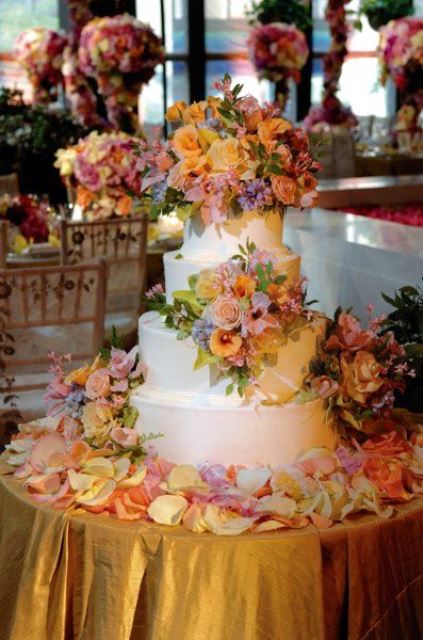 Image source: Pinterest
Do something unique by combining the two central themes of weddings – flowers and cake! You will be very impressed with just how gorgeous this will make your cake look. Moreover, if you are health conscious, then flowers should be a great preference as they are much better than having sugary toppers on your wedding cake.
11. Have a unique rustic wedding bouquet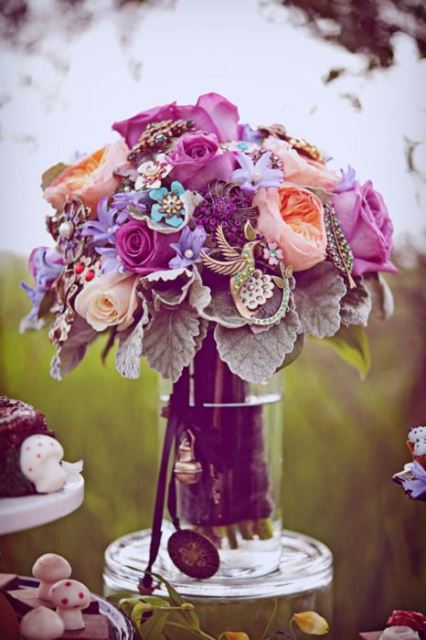 Image source: Pinterest
It goes without saying that the center of attraction in any wedding will be the bride, who will walk down the aisle in her pearly white gown, looking as pretty and fresh as a flower herself. You have to make sure that the wedding bouquet that she will be holding will be one of a kind and will catch the attention of every single person. Feel free to add a little glamour and sparkle to your wedding bouquet – for example, add a family heirloom at the center of the bouquet to make it look more important than it already is.
12. Wrap the bridal bouquet in silk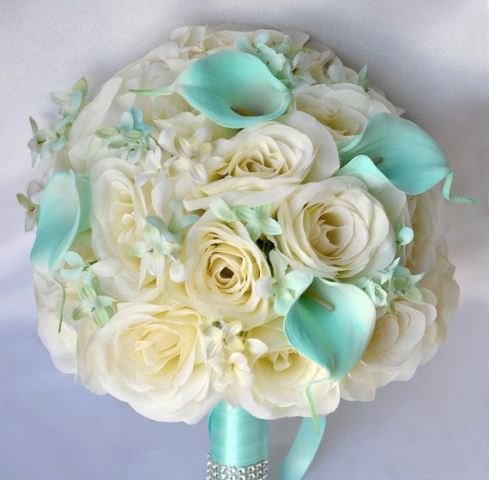 Image source: Pinterest
This one is a little expensive, but if you are willing to spend on a very elegant bouquet, then this is perfect for you. To complement the material, use flowers of different shades like cream, white, and pink.
13. Sunflowers for flower lovers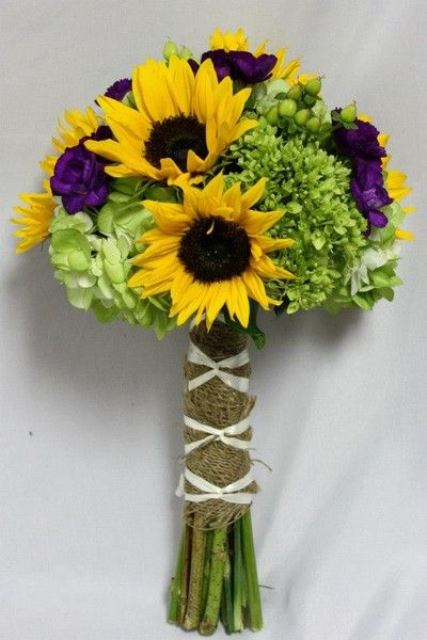 Image source: Pinterest
If you are one of those flower lovers who totally love sunflowers, then you must have this bouquet in your wedding, especially if it is being held in the summer. This bouquet has bright sunflowers and purple daisies in them. The handle is wrapped beautifully with white lace and burlap, with purple ribbons crisscrossed over it.
14. Have a hydrangea bouquet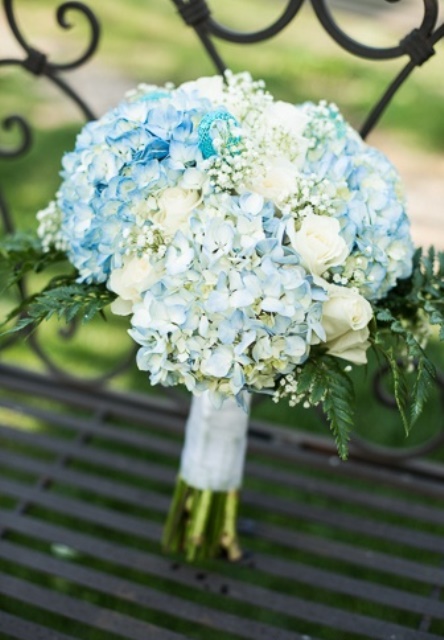 Image source: Pinterest
This gorgeous bouquet is a cool synthesis of real and artificial flowers. While the roses in this rustic wedding bouquet are real, the hydrangea is artificial. In the handle, there are shiny little pearl pins and pearl and rhinestone accents.
15. Create a pine cone bouquet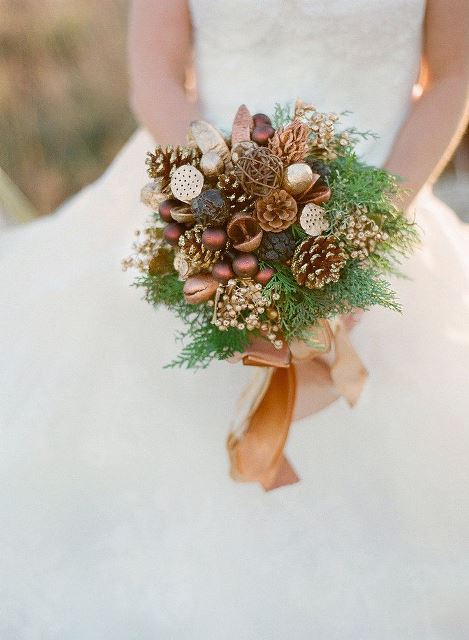 Image source: Pinterest
If your wedding is being held in the winter, use this bouquet to symbolize the season. This is a lovely pine cone bouquet, carefully handmade with pine cones of different species, acorns, and other forestry elements.
16. Make a weeping wedding bouquet
Image source: Pinterest
Making this kind of bouquet may seem harder than it actually is. But if you know how, it's really pretty easy. You will love this bouquet as it includes a variety of small and large blossoms. Goes without saying that this would be one large flowery affair.
17. …or a keepsake bouquet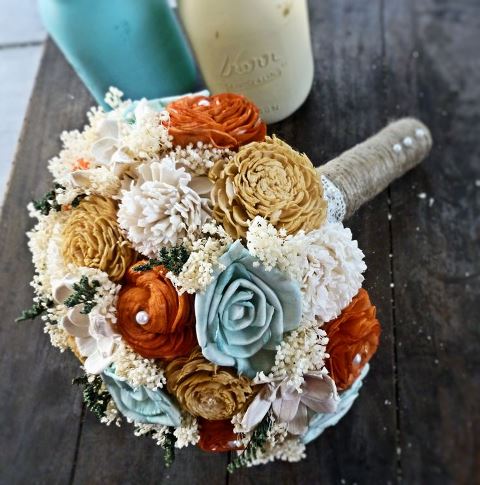 Image source: Pinterest
Here's a bouquet for all those who want to keep it as a memory of their special day. This floral bouquet has a variety of three different sola flowers in it, painted pale yellow, as well as pearls. The bouquet will be wrapped in ribbon made of ivory satin.
18. Use artificial hyacinth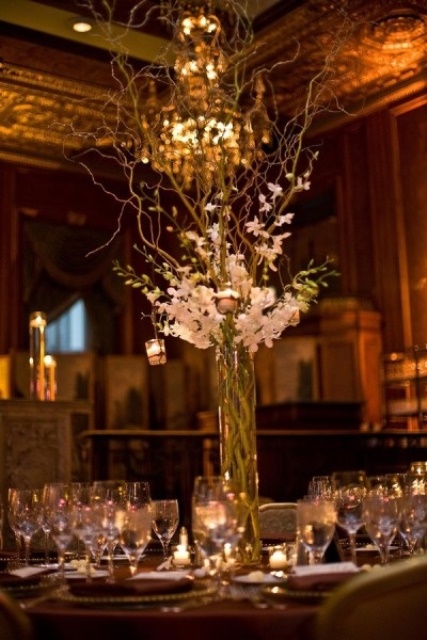 Image source: Pinterest
Do you want to give your wedding a flowery look but don't want to go through all the trouble of arranging real flowers? Here's an idea. For your rustic wedding centerpieces, get the artificial hyacinth that can't be easily spotted to be fake. They are made of latex and are easily affordable.
19. Sunflowers everywhere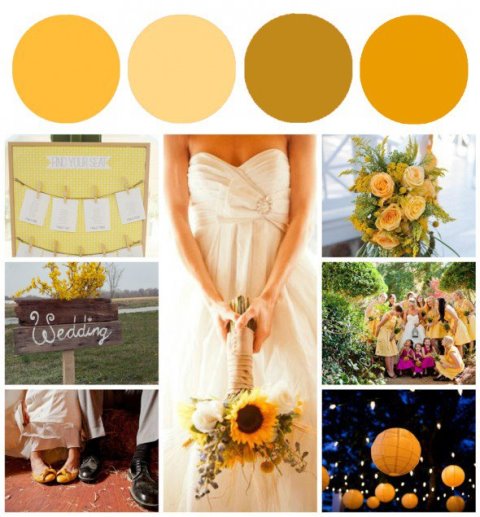 Image source: Pinterest
For a wedding that would stand out from the rest, you could just use sunflowers for all your wedding decorations. After all, the timeless beauty and the brightness of sunflowers is difficult to deny. Pair sunflowers up with other bright colored flowers. For an added effect, you could have your bridesmaids dresses be in yellow as well.
---
Suggested read: 10 creative floral hairstyles for a spring bride
---
20. Minty flowers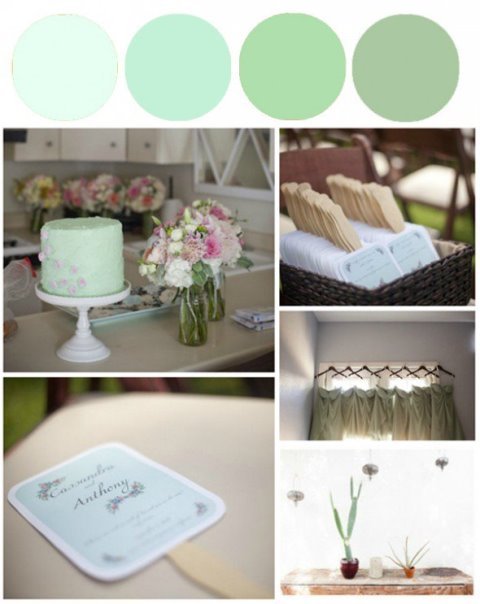 Image source: Pinterest
The color mint is very soothing and will look great in your wedding if you choose it to be the central color of your wedding decorations. Chose flowers of a minty shade in order to match your theme color, such as dyed roses and orchids.
Here's to hoping that you have a fabulous flowery wedding and may the excess of fresh flora make the occasion extra memorable for everyone. Our ideas here are not too complex to incorporate in a wedding, just as long you have all the flowers you would need!
Featured image source: Pixabay, under Creative Commons License
Summary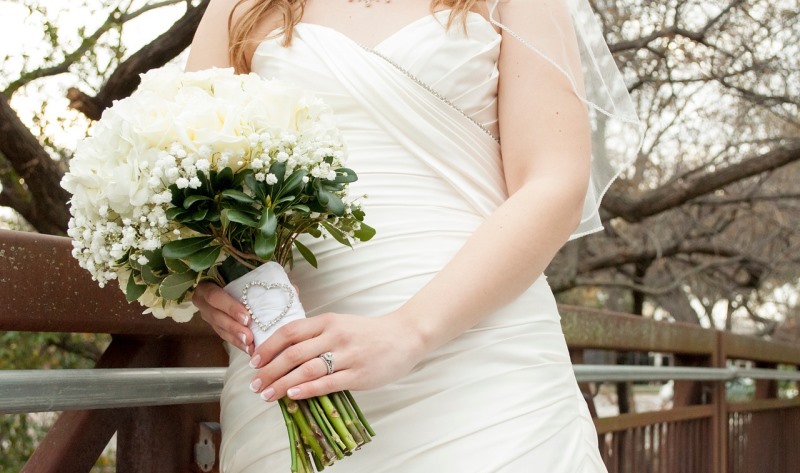 Article Name
20 Rustic Wedding Flowers To Add Charm To Your Ceremony
Author
Description
There's a certain charm about a rustic wedding theme. And to make the most of it, you need to have a complementary set of rustic wedding flowers.