Famous motivational speaker Zig Ziglar said, "Many people spend more time in planning the wedding than they do in planning the marriage." If you look closer, you'll find that many people also spend more money on a wedding than in their first year of marriage! While we agree that weddings must be elegant affairs, there's no need to break the bank for it – all you need is some creativity in knowing how to plan a wedding on a budget!
Image source: Pixabay, under Creative Commons License
As of 2014, the average cost of an American wedding has been found to be a whopping 31,000$. Yes, that much. And when you consider how expensive other things like homes, college and cars are, this does seem like a rather large amount to spend on a single day's event – even if it's the most important day of your life! The fact is that many aspects of the wedding aren't remembered anyway, like the flowers, the centerpieces or the color of the napkin rings, so it only makes sense to cut away at unnecessary expenses.
So are you ready to learn how to plan a wedding on a budget? Then read on for our ultimate guide of wedding ideas on a budget!
The ultimate guide on how to plan a wedding on a budget
Venue
The wedding venue is a very important consideration for your wedding, and is usually the first thing you plan! But keep in mind that glitzy hotels and popular clubs can prove very heavy on the pocket!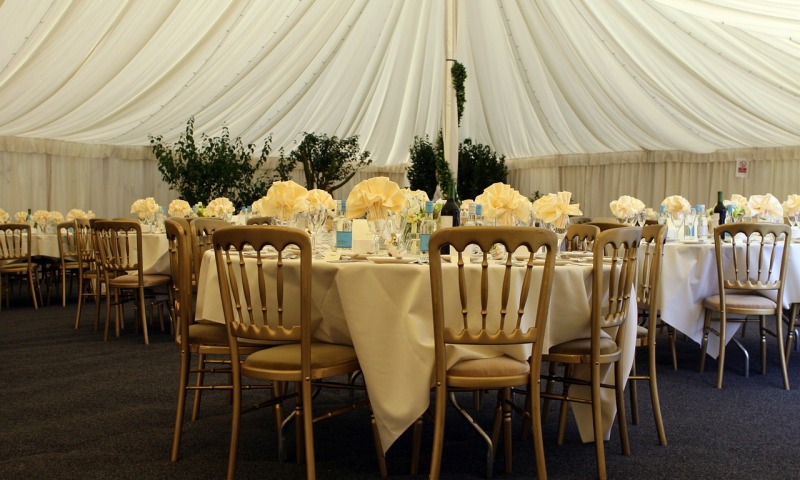 Image source: Pixabay, under Creative Commons License
1. Opt for common spaces like a park or field in a village, where you have ample space and endless options to decorate. If the weather's not ideal for such grounds, find a non-conventional spot, like a barn or an old library.
2. Go back to your roots and find out where your parents or grandparents were married. If it was in the backyard of their old home and the place is still available, then there's nothing like it!
3. If you are opting for a conventional wedding venue, be wary of their packages. Find out exactly what is included in the package price and how much it all comes to after tax. Is alcohol included? What about flowers?
4. This is probably not your idea of 'something borrowed' but if an uncle or cousin has a large home with a huge private garden, why not asking if you can have your wedding there?
5. A great tip is to get married on a week day and in the off-season. Weekends usually end up much costlier and your guests will be glad of a mid-week celebration!
---
Suggested read: 12 questions you MUST ask at a potential wedding venue
---
Decor
Skipping out on decorations altogether isn't a good idea – a drab wedding is no fun! However, hiring a decorator and letting him handle everything isn't a good idea. Of course, you won't have to lift a finger, but the bill will make you wish you had!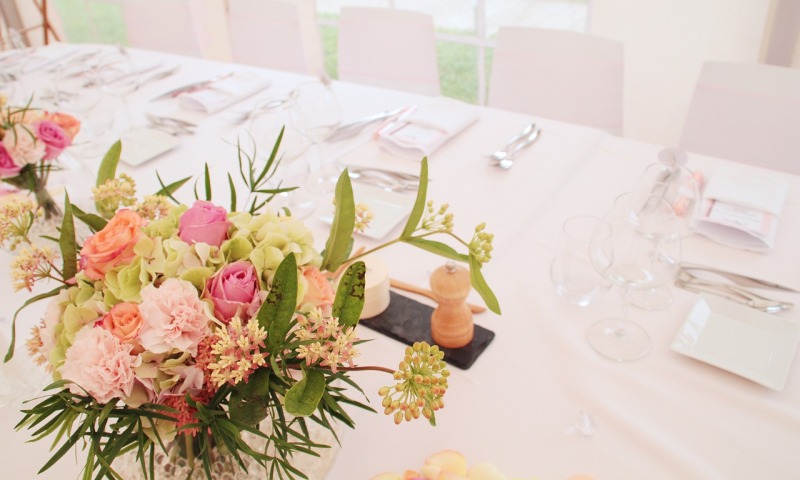 Image source: Pixabay, under Creative Commons License
1. The best way to save on buying wedding decorations? Don't buy them! Yes, get your bridesmaids together and make your own. With just a little extra effort and lots of fabric scraps, there are many things that are actually a waste to buy – ring pillow, wedding banner, wooden signs etc.
2. Now if you're not that crafty, there's an easy solution for you – free printables! The internet is full of free printables that you can use everywhere – place cards, invitations, decorations, Thank you cards – anywhere! All you need is a printer and good quality paper and you're all set!
3. If you look around your home (and your parents' home), you'll find many things that can be upcycled into wedding decor. Some spray paint can transform an old buffet table into a smart dessert stand. You can also find mason jars, candle stands and other things that can be used to make centerpieces.
4. A place many brides miss out on is the dollar store – yes, you read that right! The dollar store can be a treasure trove of pretty things that aren't required to last more than a day. And the best part? They only cost a dollar!
5. When choosing flowers, choose whatever are in season. One advantage is that they'll be abundant, fresh and cost-effective. Or else, you can also use other natural elements like moss, twigs, greens or acorns, depending upon your theme.
Dresses
For many brides, their wedding dress is one thing they've been dreaming of since they were kids, and they want it to be perfect! While you certainly deserve to look dazzling on your special day, a designer dress can set you back by a lot of money!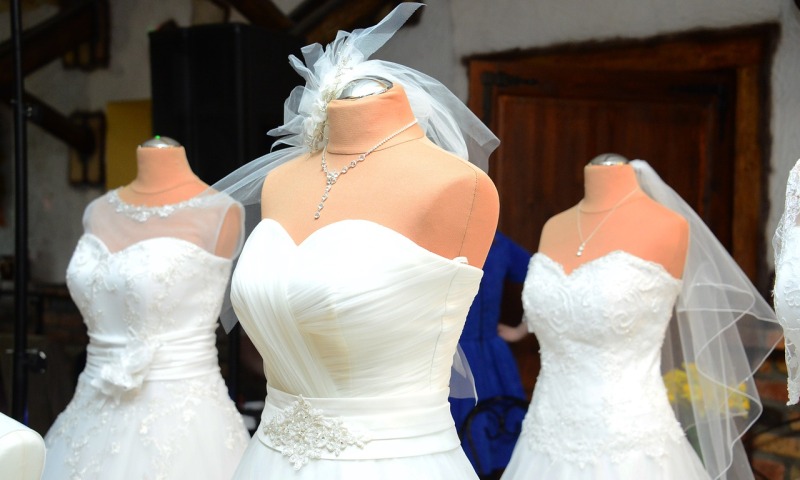 Image source: Pixabay, under Creative Commons License
1. As soon as you've set the date, check out all the upcoming sales on brands you like. You might just score a super deal and get a great dress at the fraction of a price! And yes, you can always rent a designer wedding dress!
2. If there's an heirloom wedding dress in your family, consider it even if it looks really aged. A skilled seamstress might be able to transform it into your dream dress, which means you'll be wearing a one-of-a-kind dress on your wedding day – without spending a bomb!
3. Don't forget to check out online stores for good deals and a huge variety of designs. You can also try out a local bespoke business in your area – you'll be supporting small businesses, while getting a custom dress within your budget.
4. As for the bridesmaid dresses, don't torture them by forcing everyone to wear a style that probably doesn't look good on any of them! Get dresses that are of different patterns, but in the same color; or go for the same style in different shades of the same color – much more interesting than having everyone stuffed in something they hate wearing!
5. Unless your wedding dress is a short style, no one's going to notice the shoes! So, forget the high end, high heel variety and go for more comfortable choices in your regular style.
Food & drink
Food forms a major portion of the wedding budget, and it's certainly not something that can be left out! However, bringing in a lot of delicacies and champagne can easily take your buffet budget way beyond what you planned!
Image source: Pixabay, under Creative Commons License
1. For starters, you can avoid the expense of a full sit-down dinner and instead opt for an afternoon brunch, a cocktail party or even a dessert party for the reception. Your costs will go down dramatically, and your guests won't mind as long as they've been informed in advance.
2. Choose a limited variety of dishes but go for quality over quantity. To get the most bang for your buck and to ensure maximum flavor, get whatever is in season and grown locally. This goes for everything – fruit, vegetables, seafood etc. Buying ingredients that are not in season can prove heavy on the pocket and the food won't taste as good.
3. Studies show that when people self serve their food at buffets, they often take 40% more than required. Hire waiters (or request friends) to hand serve guests, especially when it comes to expensive dishes like seafood. Who knew portion control could save money too!
4. We eat with our eyes first, so make sure the food presentation is top notch. It doesn't require expensive proper, just some clever garnishing and plating can greatly improve the appearance of your food table and make the food look more expensive than it really is!
5. If you're going to follow just one tip to cut your food budget, it's this – skip the alcohol. If that's unthinkable, have a cash-only bar. At the very least, remove expensive options like champagne and close the bar early. Instead, have many fun non-alcoholic drinks and mocktails at the ready, followed by coffee towards the end of the party.
Cake
The cake is certainly a highlight of any wedding, and the kinds of designs available these days are breathtaking! But generally the more detailed the cake, the more it costs and the cake decorator's bill may not be as sweet!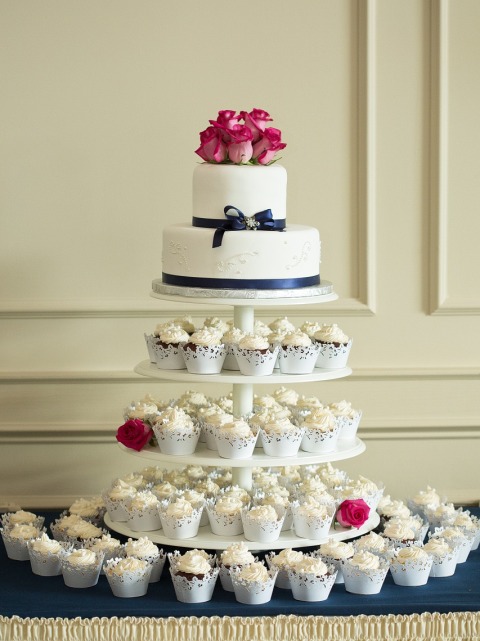 Image source: Pixabay, under Creative Commons License
1. It's quite likely that someone you know is a good baker and cake decorator – there's a huge amount of talent out there! If you can find someone like that, get your cake done by them, along with a friends and family discount!
2. A large, multi tiered cake can prove costly. Instead, get a small, cute cake just for the cutting ceremony and another large sheet cake or several cupcakes for the guests. The sheet cake and cupcake don't need to be decorated as much and will be a lot cheaper than one big cake.
3. If your wedding is indoors, then you can do away with the expensive fondant and stick to plain buttercream. And before you ask, yes; even buttercream cakes can be made to look very pretty and perfect for a wedding!
4. If you still want to cut costs, a great way is to decorate with flowers. Even the plainest cake can look very stylish with a good arrangement of fresh flowers. Just let your cake artist know in advance so she can arrange things accordingly.
5. As we've mentioned, we're all for supporting small businesses, and that extends to local bakeries as well. Show them a picture of the cake you'd like and it's very likely that they can reproduce the same for you, at a fraction of the cost!
---
Suggested read: How to choose the perfect wedding cake for your reception
---
More ideas for planning a wedding on a budget
Oftentimes, it's the little things that eventually add up and cause you to wonder why they weren't included in your budget plan! For weddings on a budget, it is important to start cutting out the minor things, so you can save a pretty penny but still have your dream wedding.
Image source: Pixabay, under Creative Commons License
1. Be your own wedding planner. This is a no-brainer; how else are you going to keep a close watch on all your expenses? That said, don't do it all by yourself or you'll go mad. Have one or two trusted confidants – bridesmaids, sisters or maybe Mom!
2. If you don't want to spend on a celebrity wedding photographer, it's okay. Wedding photography apps have made life a lot easier where you can get guests to click pictures and upload them.
3. This is the time to call in favors. Have a closer look at your friends' list – maybe there's someone who's an amateur photographer, or someone who is great at flower arrangements. If someone offers help, say yes!
4. Forget a DJ who'll play the tired old tunes or a band that can blow a hole straight through your budget. Get your and your fiance's favorite tunes on a USB stick or DVD and let it play all night.
5. There are many people around who have lovely voices and a sense of tune but don't sing professionally. If one of your bridesmaids or friends is like that, then go ahead and request a performance!
6. When setting your wedding theme, try not to make it way too specific. When your theme is more general, it's easier to DIY and improvise in all areas; else you'll have to spend a bomb on custom-made stuff.
7. If you have the option to do so, ask your guests for monetary gifts instead of yet another toaster. There are websites that help you do this, so sign up and let everyone know in advance.
8. When getting the wedding invites done, get them in standard sizes on paper that's not too heavy. Else you'll be spending valuable money on postage that could be directed towards something more useful.
9. Skip the wedding favors. Most people don't use them much anyway, so your guests won't really miss them. On the other hand, you can save quite a bit of money on that.
10. The best way to have a budget wedding? Trim the guest list. Make it as small as you possibly can, even if it feels difficult at first. Invite only the people who really matter to the two of you, making it an intimate and loving ceremony.
---
Suggested read: 10 ways to make your wedding ceremony more memorable
---
While it's important to know how to plan a wedding on a budget, it's also important not to lose sight of the actual occasion – you're getting married! Don't get so absorbed in creating a wedding budget checklist that you can't enjoy the process. If there's any aspect of your wedding that you've really wanted to do a certain way – a dress, a band or favors- then by all means, go ahead! Just make sure you cut costs in other areas, so that your budget doesn't suffer. So now you know that you don't need mountains of money for an elegant wedding; all you need are our tips and lots of creativity!
Featured image source: Pixabay, under Creative Commons License
Summary
Article Name
The Ultimate Guide On How To Plan A Wedding On A Budget
Author
Description
Weddings can be expensive affairs! You can save money and still have an elegant ceremony with our tips on how to plan a wedding on a budget.