Trench coats are some of the most versatile articles of clothing you could horde up in your closet, because they are practically the lovechild of a jacket and cape, and essentially make you look awesome no matter how you style your outfit with them. Trench coat fashion has seen some extremely trendy trench coats that you can pair with practically anything.
---
Suggested read:  20 Bold Style Tips On How To Rock Denim Jackets With Any Outfit
---
However, trench coats can be tricky, unless you mix and match your outfit correctly, even though they go with formal, semi-formal and casual clothing, while making you look equally diva-like each time. Once you know how to style a trench coat, you can step out and look like you're about to attend Paris Fashion Week, just by styling your trench coat right. Here are some outfit ideas for inspiration, so that you can make any trench coat look like a million bucks.
1. Match your trench coat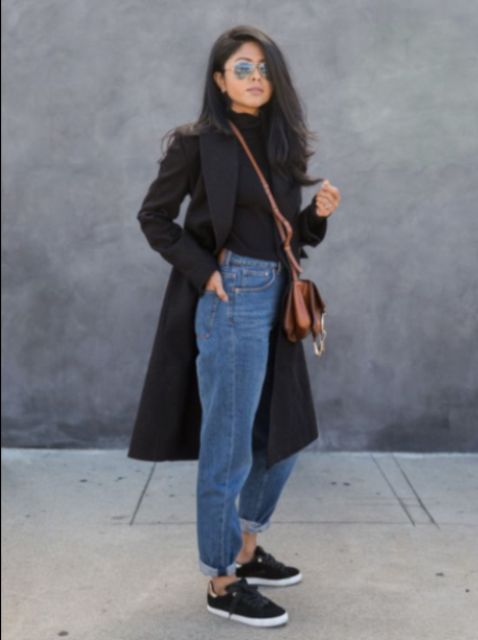 Image source: Walk In Wonderland
If you have a trench coat in a primary or monochrome colour, and you are wondering how to style a trench coat, grab a well-fitting black top and a pair of comfortable jeans, and throw on your trench coat to create a drop-dead gorgeous casual style. You can accessorize with matching shoes and a cross-body satchel, but you can also go elegant chic with a pair of stilettos and a tote bag.
2. Wear it over a dress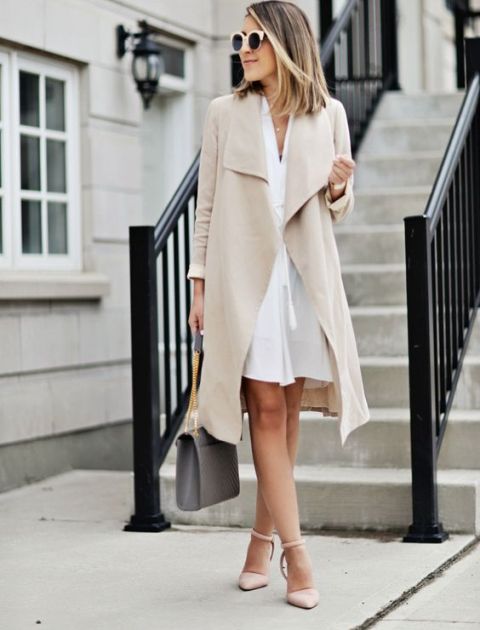 Image source: Shop Style
Trench coats and dresses are some of the most elegant combinations, but unfortunately, not enough people are bold enough to try this. If you have a dress whose length is shorter than your trench coat, then there is no reason why you shouldn't wear them together. However, make sure that the colours are not contrasting each other, and instead, use them to complement each other, by choosing from the same colour family (in this case, white and nude).
3. Sleeveless trench coats
Image source: Missguided
For a gorgeous, casual look, pair a sleeveless trench coat with a body con shirt, with any length sleeves and high waist jeans or trousers. You can even pair it with short skirts and midis, because a sleeveless trench coat is a show stopper, irrespective if season or fashion trends.
4.Trench coat clinched at the waist and layered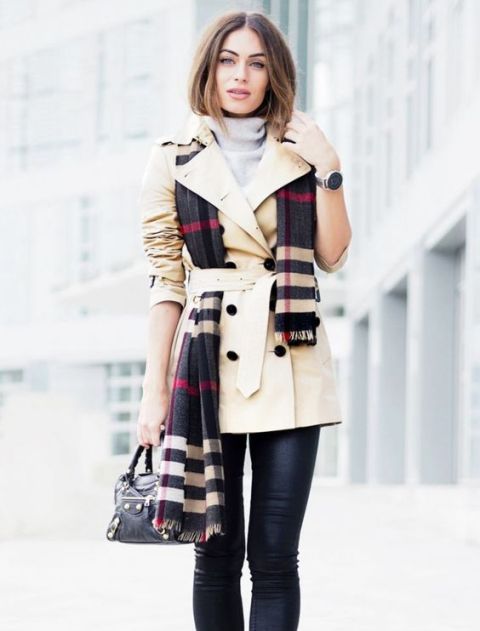 Image source: OMG Outfit Ideas
Layers make everything better, a rule that is not exempt of trench coats either. For extra chilly days, pair your trench coat with a pair of jeans and tie the belt around your waist to create a structured look. Increase the diva quotient by adding a scarf around your neck and tucking it into the belt completely or partially for a look that is street-smart and casual.
5.Pair your trench coat with shorts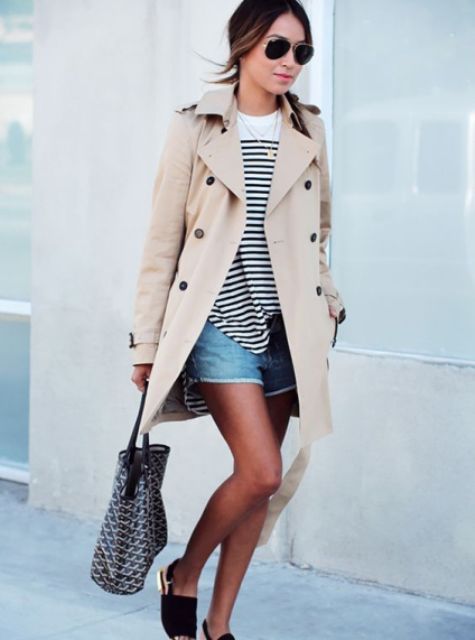 Image source: WhoWhatWear
Who would have thought that a trench coat and a pair of casual mini shorts would look this cool? The longer the trench coat, the better your look will be. The length of the trench coats contrasts beautifully with the length of your shorts, and you can either wear the former tied up or left loose.
6. Avant garde monochrome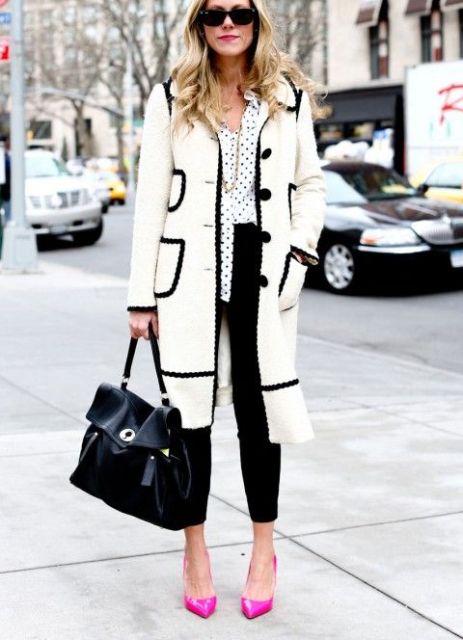 Image source: Marie Claire UK
Few combinations are as classic and timeless as monochrome combinations, which is why you can use that funky trench coat to spice up any outfit that you might have, especially if it comes in black and white and grey. The bold embroidery on the trench coat goes surprisingly well with the polka dotted shirt and the high waist trousers and I am in love with the pop of pink on the stilettos.
7. Old school styling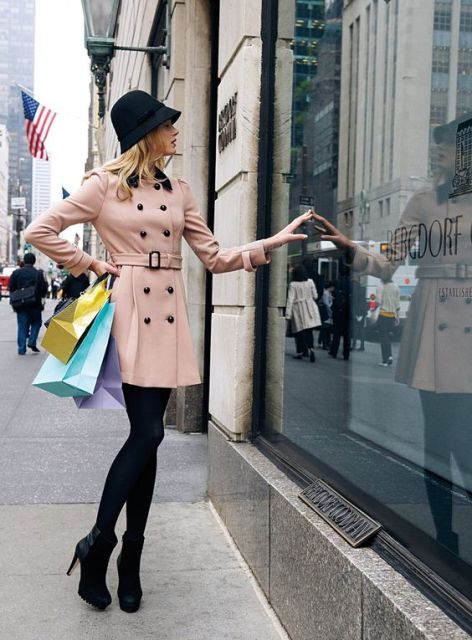 Image source: Blogspot
If you are confused about how to style a trench coat, go old school without a doubt in your head because it will always look amazing. Pair your trench coat with a pair of leggings, and if you are feeling extra adventurous, throw on a cute little hat that matches with your outfit to radiate those Audrey Hepburn vibes.
Oversized is awesome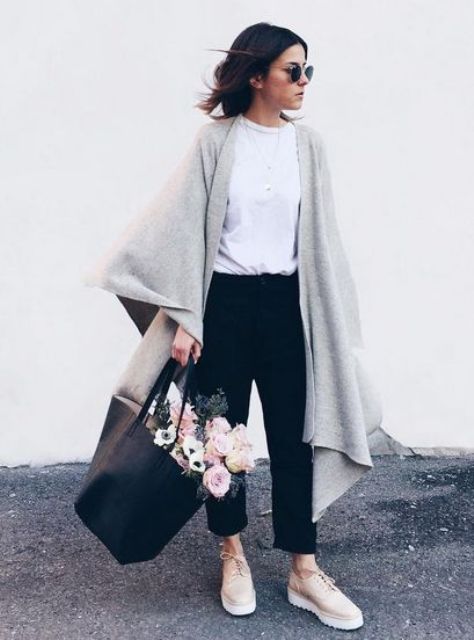 Image source: The Fashion Medley
Contrary to popular belief, oversized clothes can be made to look fashionable as hell. Pair your oversized trench coat with a plain black and white ensemble. You can make your loose trench coat look controlled if the rest of your outfit fits well and is shapely, so tucking your shirt in helps.
---
Suggested read:  Winter Is Coming: Pick The Perfect Coat For The Cold
---
9. More oversized trench coats = more awesomeness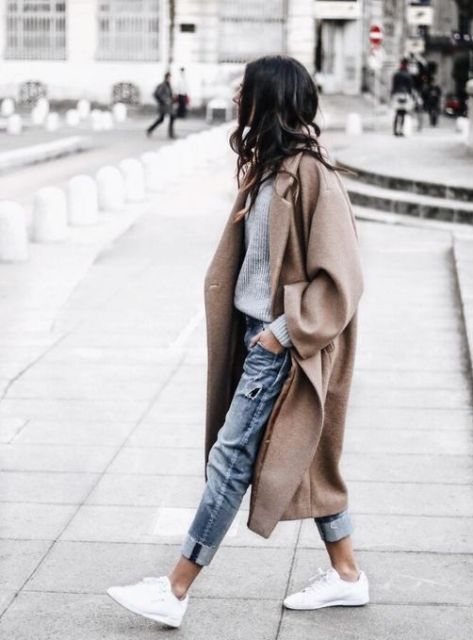 Image source: Shop Style
Here is another, more causal out and about way to style your trench coats. You can wear it with a casual, knitted sweater and pair it with your favorite ripped jeans, or even leggings and you have yourself a fashionable, yet breathable and super comfy outfit.
10. Rock your formals with a trench coat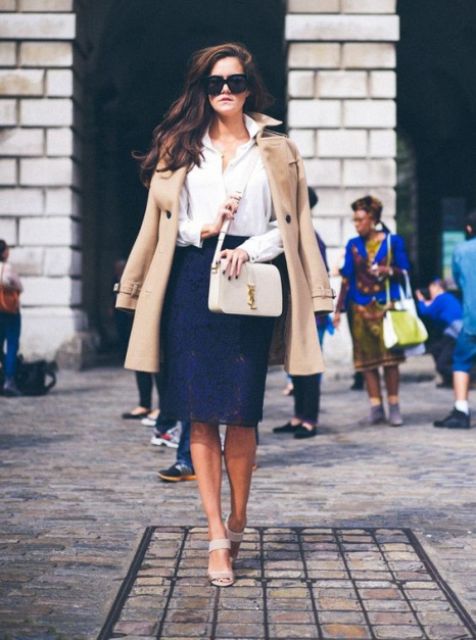 Image source: StyleCaster
If you have a fancy formal party to attend, then you wouldn't think of your trench coat instinctively. However, this is the best way to stand out and look chic AF. Pair your trench coat with a formal shirt and a super pretty lace midi. For an extra fancy look, keep your trench coat slung over your shoulders instead of actually wearing it.
11. Trench coats with a choker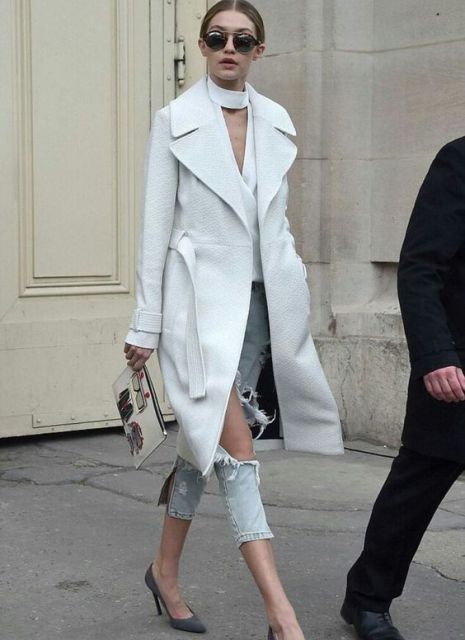 Image source: Tumblr
Take a leaf out of the fashion diaries of Gigi Hadid, aka the queen of everything and pair your trench coat with a chic choker, distressed jeans and a couple of minimalistic accessories that make you look like a total goddess, not unlike Gigi here.
12. Style your trench coat with a fedora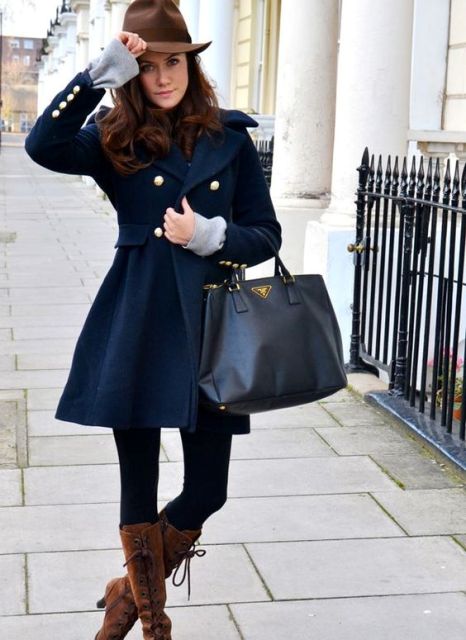 Image source: The Londoner
Any old trench coat can be made to look fancy and high-end when you pair it with the right accessories, in this case, a suave little fedora. At the risk of looking dangerously British, you can pair your trench coat with a pair of leggings and a fedora, for that semi-formal, cold-season ready look.
13. Leather with your trench coat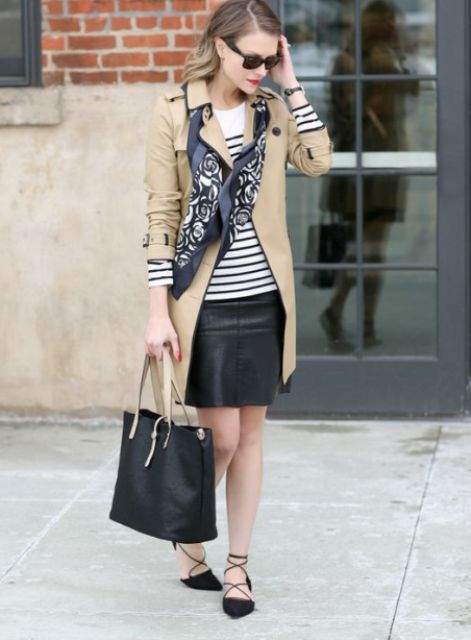 Image source: PPF Girl
A great way to make your trench coat look fancy, is when you mix and match it with unconventional material like leather. This look is even more appealing because of the mini skirt, which contrasts the hemline of the trench coat and makes it look like the bomb.
14. Metallic trench coats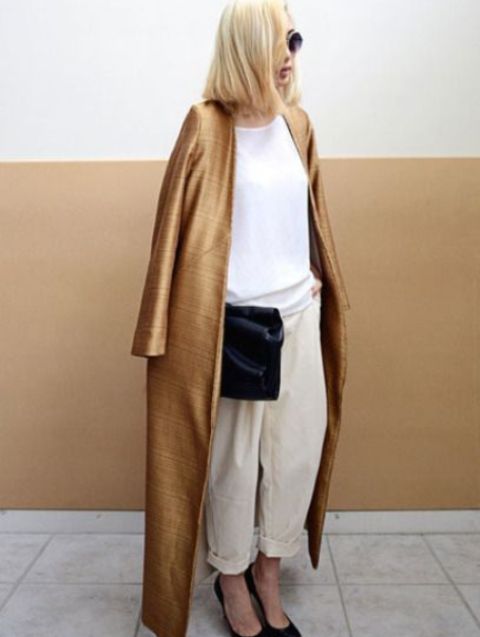 Image source: The Cut
Anything metallic is amazing because metallic apparel is so on trend right now. There is no need to pull out your creative faculties for your outfit, when you have a trench coat that was stitched to steal the show. This golden creation was paired with a simple white ensemble, to create a de-structured, futuristic yet fashionable look. 15. Minimalistic chic trench coat look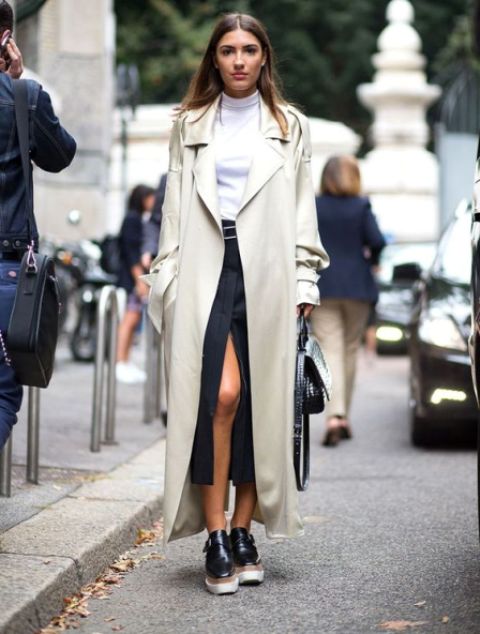 Image source: Mode de ville
There is something super chic about matching styles like this one, where the open trench coat makes the slit on the wrap around black skirt look so appealing and chic. Pair that with a basic, simple white turtleneck and you have yourself a look fit for the front row.
16. Sporty trench coat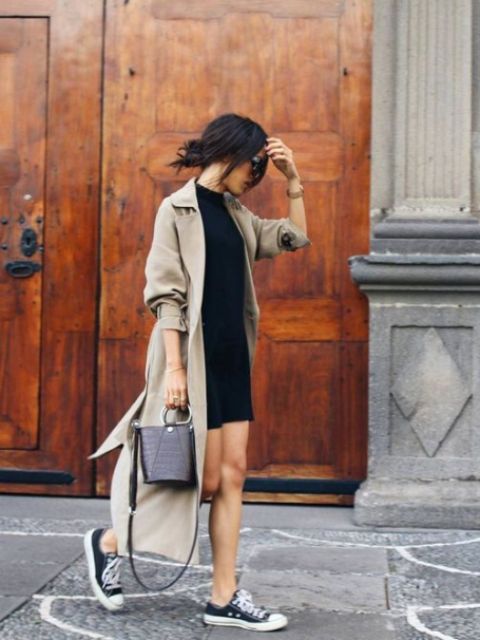 Image source: Bloglovin'
If you are going for casual chic with a sporty feel to it, then pair your trench coat with a shift dress, or a skater dress, and accessorize either with your favorite backpack or with a small tote or satchel and wear your favourite converse shoes with these.
Semi-tied trench coat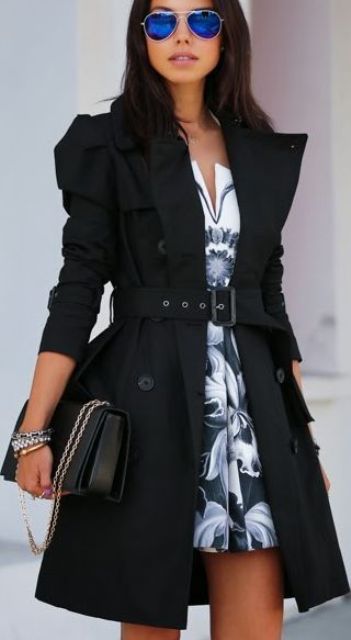 Image source: Lolobu
To get that ill-at-ease yet on top of the fashion game look, then you can try loosely tying your trench coat, instead of tying it all the way around for that sexy, laid back look. Pair it with a cute dress, or formal or semi formal separates whose waistline aligns with the belt of the trench coat.
---
Suggested read: 20 Bold Style Tips On How To Rock Denim Jackets With Any Outfit
---
18. Trench coat with your party separates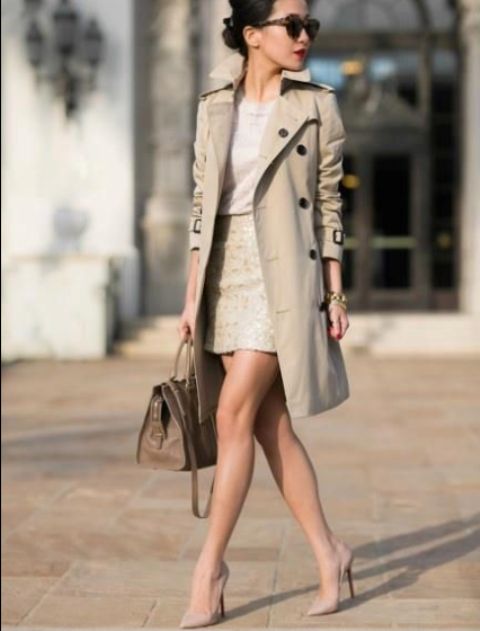 Image source: Wendy's Lookbook
When you have gorgeous party formals in the form of a sheer cotton top and a sequinned high waist skirt, and you need to travel in them without looking too drab or too exposed, then the best way to amp your look up is by adding a beige or nude trench coat to offset the entire look. It is the perfect accessory for your travel needs.
19. Gorgeous florals on your trench coat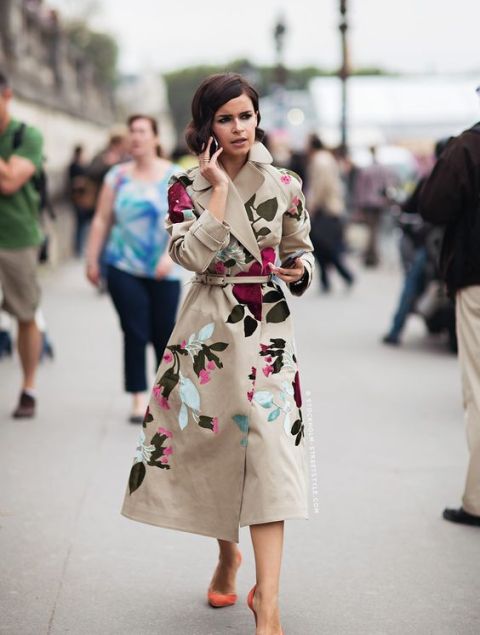 Image source: Practically Fashion
When you are confused about what to wear, but you are determined to be the showstopper no matter where you are headed, go straight for that statement trench coat that you don't have the courage to wear everywhere, and make it your own. All you need to make the look shine, is a stunning pair of dependable heels, and you are ready to morph into the diva that you truly are.
Trench coats, no matter what people say, are some of the trendiest, most adaptable pieces of clothing you can add to your wardrobe. Experimenting with trench coats can make you look like an absolute fashion diva without making you feel too loud or garish.
Summary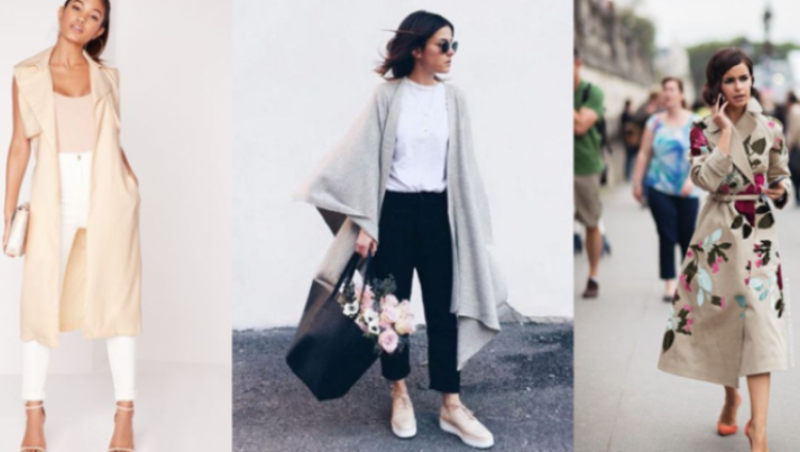 Article Name
19 Tips On How To Style A Trench Coat To Look Like A Total Diva
Author
Description
The ultimate compilation of some of the most gorgeous outfit ideas, so that you know how to style a trench coat and look like an absolute diva this year.