I know- a dedicated workout regimen and a healthy diet are your failproof access cards to the weight-loss kingdom, but it is THAT time of the year when the first four leaves of a new 365-page diary inked with #FitnessGoals is screaming of ache and burden. To be honest, you know that you shall soon get too busy to count calories when you are at the table and even grow out of the cool 'gym selfies' you keep flooding your Instagram with. We've all slacked in the department- more times than we care to admit, and because we've 'been there, done that' too, we've got just the coolest hacks and fashion tips that you can use to look as slim as if you'd been doing all the hard work. Ready?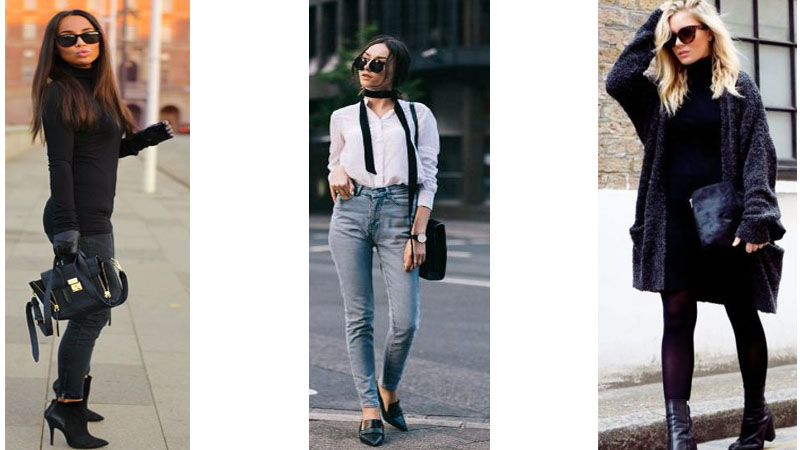 Here's how you can look thinner using just the clothes in your wardrobe:
---
Suggested read: 12 ways you can wear a slip dress without looking underdressed
---
1. Shapewear are investment pieces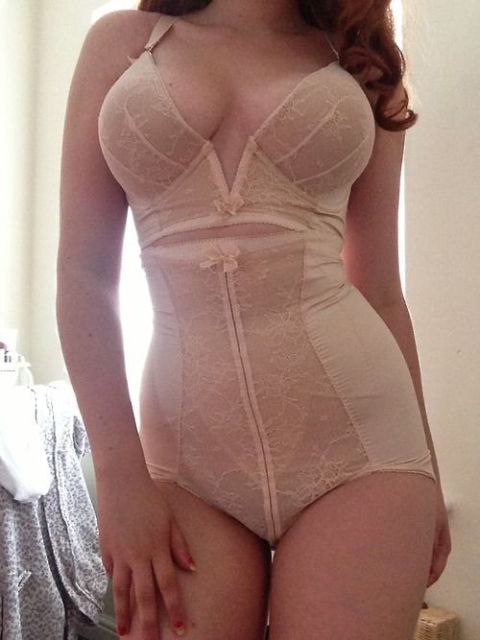 Image source: Pinterest
You've probably heard of these a million times, maybe even considered giving them a chance to shave off those pesky pounds and then, for some reason unknown not hit on the 'order' button. But here's the thing- they really work. The right piece of shapewear does help in distributing your flab, smoothening you out and holding you in. It pays to have a seamless pair of slenderizing briefs, boy shorts, camis or full-body piece with reinforced panels to suck in your tummy fat, slim your thighs, boost your derriere and even add definition to your waist, especially when your chosen outfit is a bodycon dress, clingy skirt, tight pants or an evening gown.
2. Go for monochromes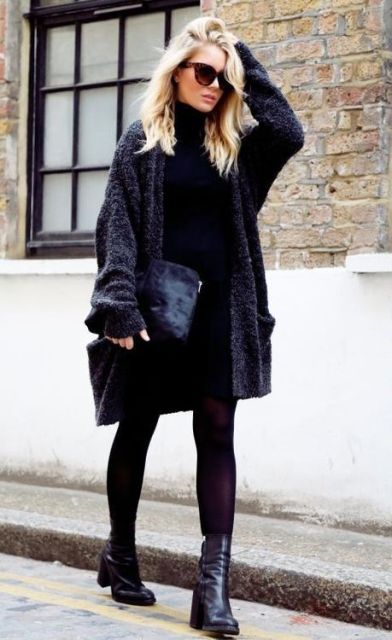 Image source: Pinterest
Possibly the oldest trick in the book for looking slimmer, it is always advisable to use a singular color to project the 'slender' illusion. Black is the most favored hue in the category but other darker shades like oxblood, navy blue and green work just as well. The monochrome helps project a single vertical line illusion that, in turn, makes your silhouette appear crisp, straight and slim. Stay away from the lighter shades- they won't work!
3. Say hello to vertical stripes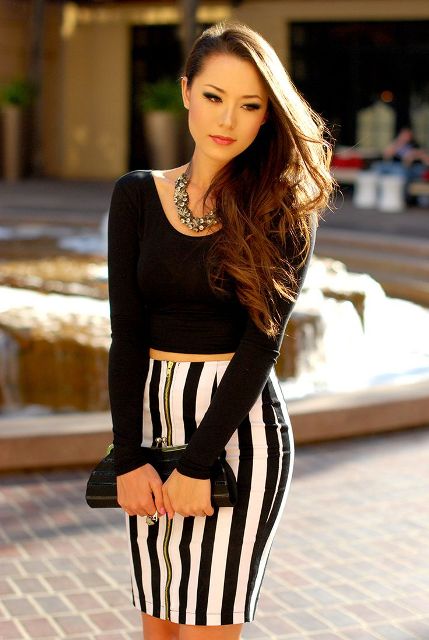 Image source: Pinterest
The second oldest trick is to use vertical stripes in your outfit- so long lines create the illusion of a tall, slender form. So go, all out with vertical stripes- choose a trouser that boasts of the pattern or a bodycon dress and you can't go wrong.
4. Take some fit-spiration-from-fashion lessons

Image source: Pinterest
This is where most people go wrong. In order to appear slim, one has to make sure one does not falter in the length and fit category. While capris, pleated khakis, baggy shorts or shapeless calf length skirts are a strict no-no, straight ankle-length jeans, fitted trousers with no upper pleating and a tapered leg work to elongate your form and make you appear thin. For skirts, a knee-length pencil skirt, a fitted A-line skirt and even a well-cut maxi skirt does the job. The jeans and trousers work well when opted for in dark hues and paired with heels, ankle boots or pointy flats. Same holds for the skirts. As for the tops, opt for longer shirts, blazers or sweaters that aren't bloating or oversized. Ensuring that each of the items in your closet is a perfect fit is necessary for optimal slimming illusion results. For the blazers and sweaters, it is a must that the seam sits perfectly on your shoulders and the sleeves reach your wrist.
5. Choose your heels wisely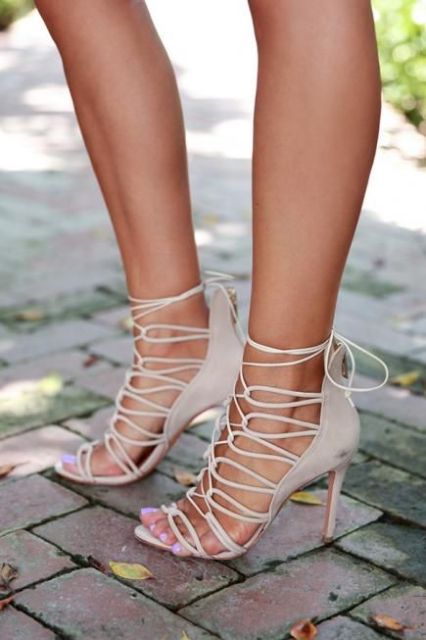 Image source: Pinterest
Shoe-shopping is as important to you as air, right? How about if it came with slimming benefits? Excited, yeah? The trick is to chose footwear with a low-cut vamp that immediately serves to elongate your form, slenderize your legs and give your silhouette a thinner appearance- no matter whether you are wearing shorts, pants, skirts or dresses. Vamp is the portion of your shoe that cuts across your foot at the front. Also a relatively higher heel- say two and a half inches or more serves to give your body a slender appearance. The secret is to opt for footwear that match your skin tone or have slightly pointed toes or thinner heels. Steer clear of square-toes, super-chunky styles or thick ankle straps, all of which can give the appearance of a shorter, stockier leg.
6. Maxis can be your bffs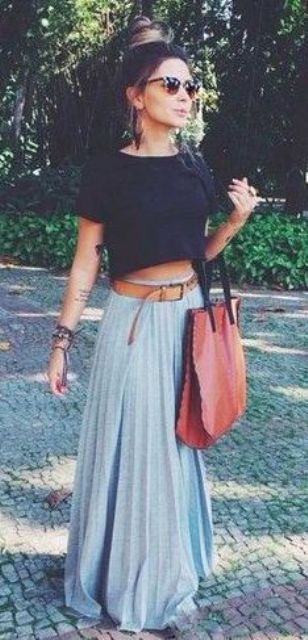 Image source: Pinterest
We already told you that maxi skirts can work like a charm. It is a common myth that curvy women should give the maxi a miss. In fact, a well-defined maxi skirt which does not have pleats, bulky pockets or too many layers can help give your body a taller, slender and graceful appearance. The hemline should be as long as you can go without tripping over it and you should pair it with a fitted top, a tucked-in tee or a well-cut blouse. Throwing in a stylish pair of wedges heels will complete the look. No flats please!
---
Suggested read: Top 17 fashionable street styles of 2015
---
7. Choose jeans with a higher rise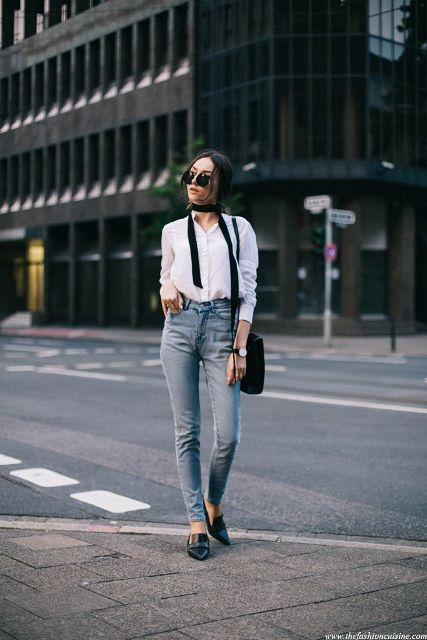 Image source: Pinterest
High-waist bottoms are a rad way to appear leaner by seemingly elongating your lower body. The most slenderizing item here would be a high-rise slim-fit ankle-length jeans with some stretch for movement. Make sure the elevated waist is visible by pairing it with a crop top, a tucked in tee or tailored blouse. Do not choose a very high-rise pair nor one with a button-down or elastic waistband. Go for ones that start directly below your belly button and have a zipper fly.
Also, just so you know- it's all about loving yourself, fashion-able-y! Lots of love… :*
Summary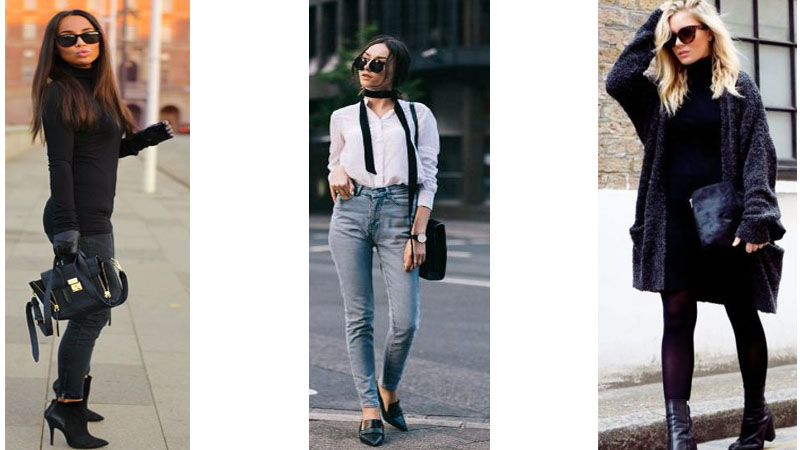 Article Name
7 Fashion Tips To Look Thinner Using Just Your Clothes
Author
Description
Fashion can help you look thin... just follow these fashion tips and you're set!