Literature Nobel for a songwriter? Well, may be the times, they are a-changin'! 😉
Bob Dylan, apart from (or because of?) being a singer and a songwriter, is one of the most influential people in the world. Recently, he was awarded the Nobel Prize in Literature, for, to quote the Swedish Academy,
"having created new poetic expressions within the great American tradition."  
---
Suggested read: 20 of the saddest quotes on love that will make your eyes wet
---
Dylan's work does not fit the literary canons of novels or poems or short stories, which the academy is known to traditionally recognize. So, naturally, his win took some people by surprise (who are these people?!!!).
After novelist, Toni Morrison, who won the Prize in 1993, Dylan is the first American to be honored with the prestigious award. Many argue that Dylan jumped the line, which already had a number of far more deserving candidates waiting. They would say that the award is controversial since it fails logic.
So, why did he win then?
I will let Rob Sheffield answer that. Writing on why Dylan deserves his Nobel, Rob says,
"It's not poetry, not even sung poetry. It's songwriting, it's storytelling, it's electric noise, it's a bard exploiting the new-media inventions of his time (amplifiers, microphones, recording studios, radio) for literary performance the way playwrights or screenwriters once did. It's love, it's theft, it's the fire he built on Main Street and shot full of holes. He didn't win for Chronicles, the finest rock & roll memoir ever. He didn't win for Tarantula, his famously indecipherable blown-off novel. He didn't win for his lyric sheets, which remain full of errors he's never bothered to fix. (No, it's not "don't try No-Doz." It's "don't tie no bows.") He didn't win for making it through all of F. Scott Fitzgerald's books or inventing the word "if'n." Or his liner notes ("if you do not know where the Insanity Factory is located, you should hereby take two steps to the right, paint your teeth & go to sleep") or his jokes ("I ordered some suzette, I said could you please make that crepe"). He won for inventing ways to make songs do what they hadn't done before."
Now since we are clear on that (?), let's relive some of Dylan's greatness through the magic of his spoken and sung words. Here are 21 most powerful Bob Dylan quotes of all time. Remember, this list isn't exhaustive (how's that even possible, right?!), and you can add your favorites in the comment section below.
1. "You better start swimming or sink like a stone, cause the times they are a-changing." – Bob Dylan, The Times They Are A-Changin'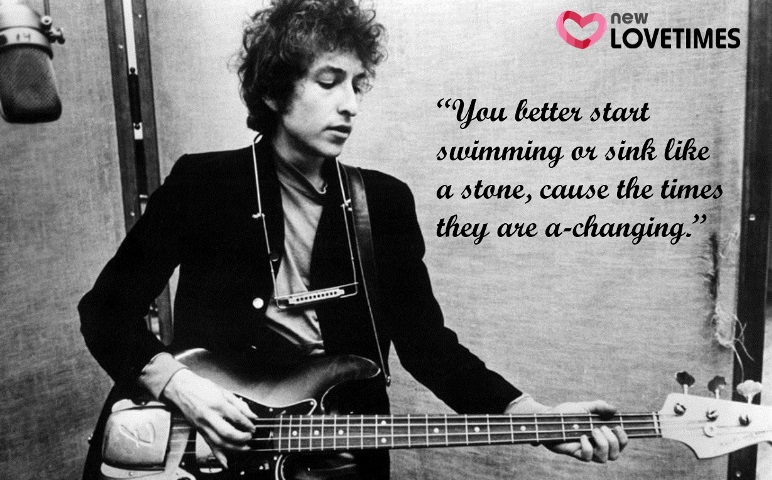 Age old wisdom, this one, but the way Dylan croons it, is what makes you go, "ahhhhh!"
2. "How many ears must one man have before he can hear people cry? Yes, and how many deaths will it take 'til he knows that too many people have died?" -Bob Dylan, Blowin' In The Wind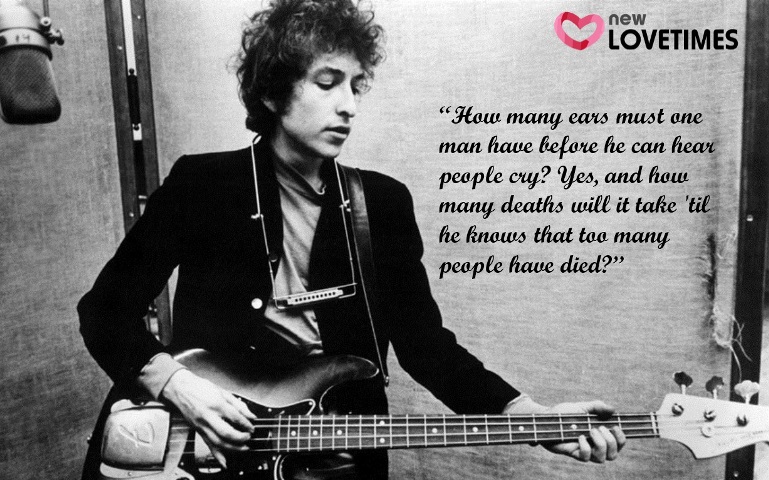 These lyrics are timeless, and that is sad, in a way, since it means there is never going to be a world that is equal and just, and these lyric are going to resonate with the voices of those who have suffered, until the end of time.
3. "All the money you make will never buy back your soul."  – Bob Dylan, Masters Of War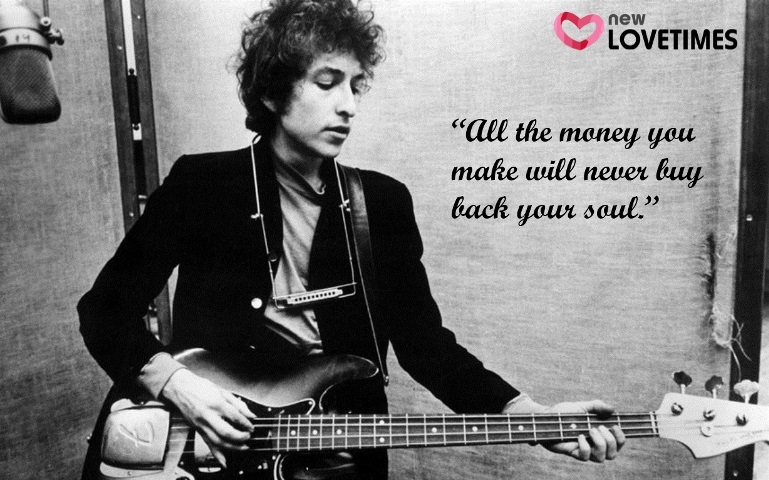 Dylan has had a lot to say about money, through the years, and most of those lines could have made it to this list of 21 powerful Bob Dylan quotes. But Master of War, and I know you guys will agree, is a class apart. The words are horrific and terrific, all at the same time, since it reflects and makes you reflect on how people gain from other people's loss, sufferings and deaths.
4. "Charity is supposed to cover up for a multitude of sins."  – Bob Dylan, Something's Burning Baby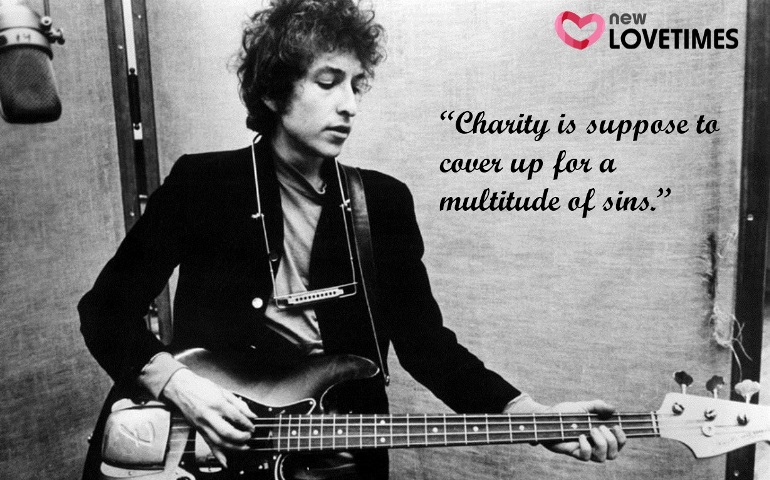 Would love to have a debate on this, man! "What's your position?" 😉
5. "Every pleasures got an edge of pain, pay for your ticket and don't complain."  – Bob Dylan, Silvio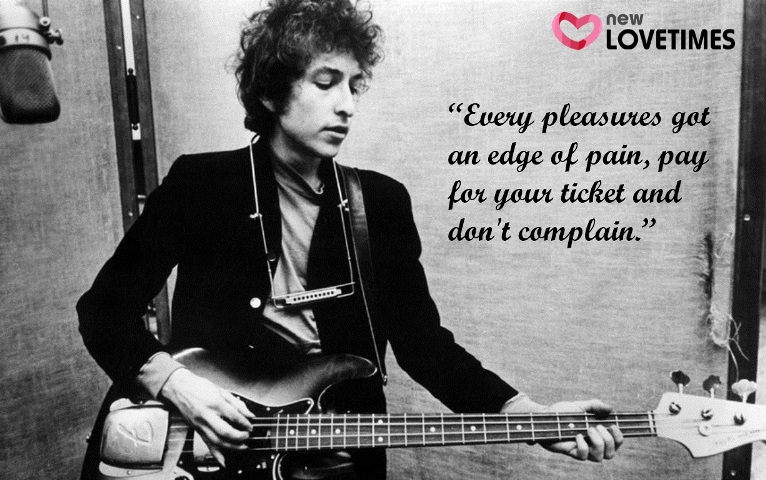 That's life, beautifully explained in one line, and you say, he isn't a poet in disguise?!
6. "If you need somebody you can trust, trust yourself."  – Bob Dylan, Trust Yourself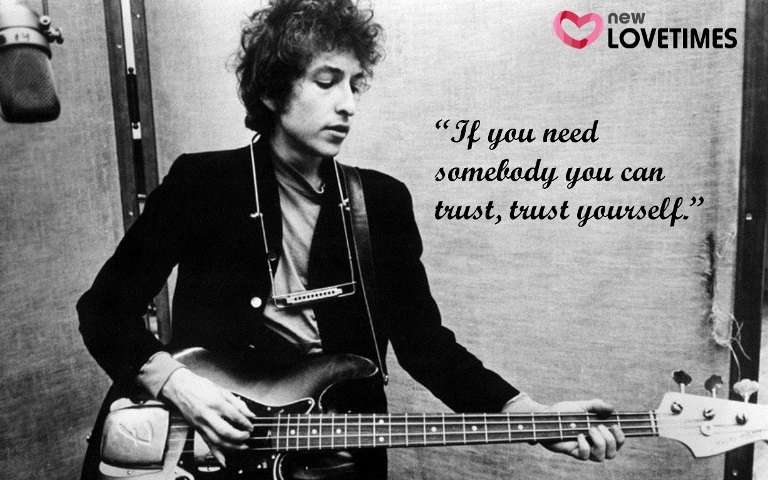 Because you are all you have got!
7. "When you got nothing, you got nothing to lose." – Bob Dylan, Like A Rolling Stone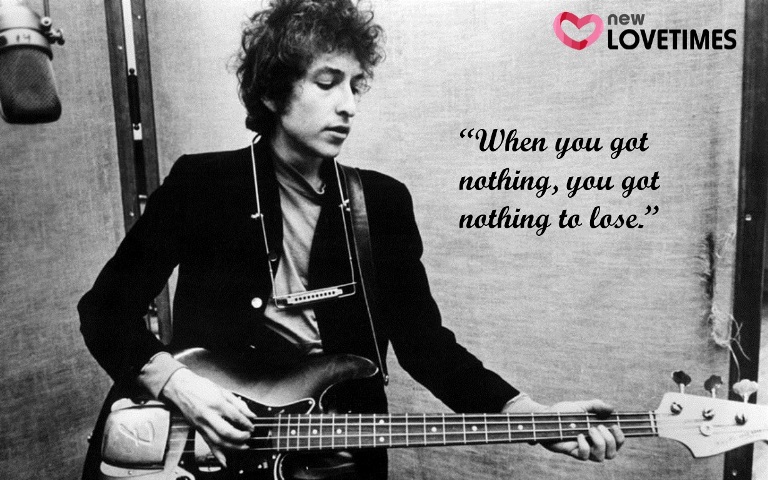 Living like a rolling stone!
8. "What looks large from a distance, close up ain't never that big." -Bob Dylan, Tight Connection To My Heart (Has Anybody Seen My Love)
In Tight Connection To My Heart, Bob Dylan is crooning about the final moments of a dead man. However, you can always transfer an idea to a concept that you think the song's about. That's the beauty of his songs!
Perhaps, through this haunting melody, Dylan is saying that everything (it could be glorious or even dangerous) looks grand or daunting from a far. It is all in the mind!
9. "Behind every beautiful thing, there's been some kind of pain." -Bob Dylan, Not Dark Yet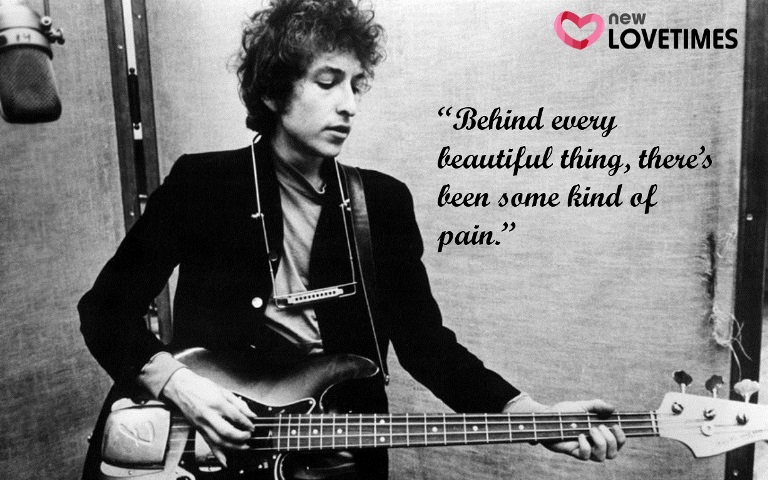 This! This is a truth, all of us know too well, but to put it out, into the universe, that too so beautifully… Now that is a gift!
10. "You'll never be greater than yourself." – Bob Dylan, High Water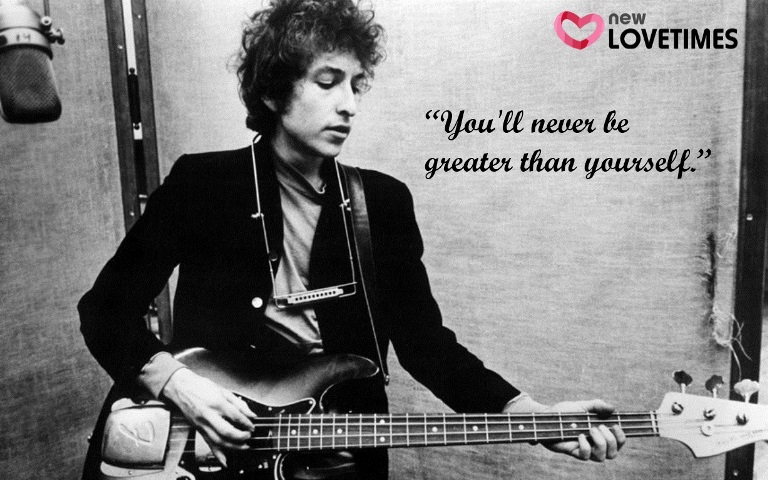 And this reminds me of what Dylan once wrote, elsewhere, "God knows you ain't gonna be taking nothing with you when you go".
---
Suggested read: 25 most inspiring quotes about loving yourself that will make you fall in love with yourself
---
11. "Take care of all your memories … for you cannot relive them."
-Bob Dylan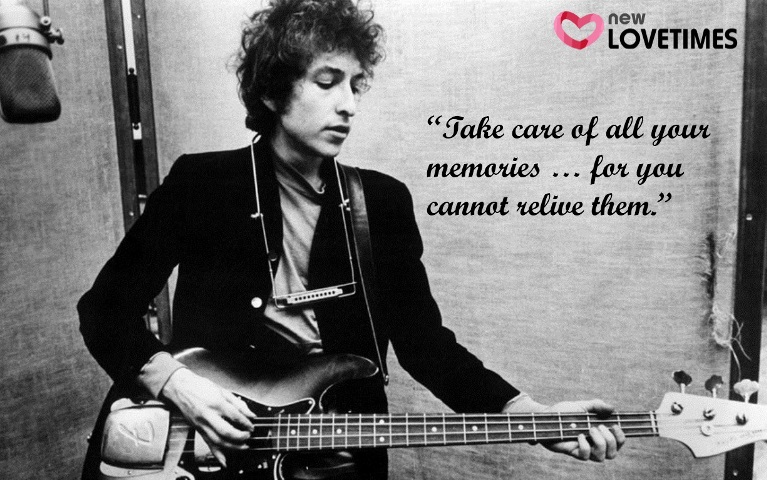 And Dylan is not saying this out of anger or spite, but because it is true! Open the door, and let the pearls of wisdom flow.
12. "It is not he or she or them or it that you belong to." -Bob Dylan, It's Alright, Ma (I'm Only Bleeding)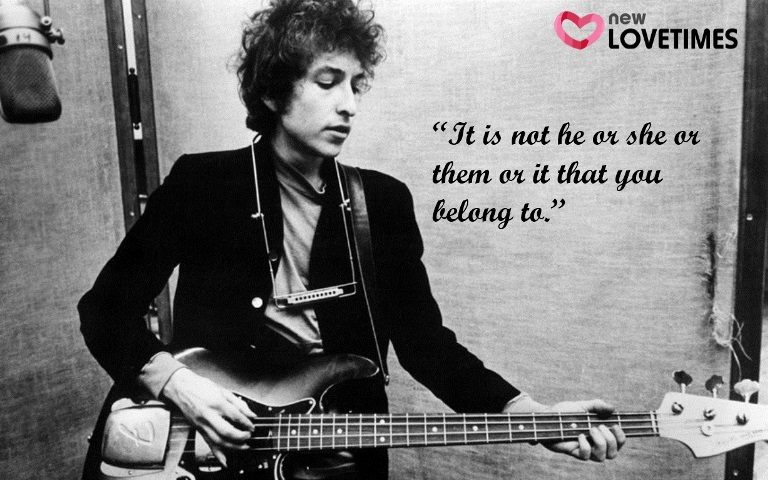 This 7-minute masterpiece has a number of lines that could have made it to this list, like, "Money doesn't talk, it swears", or "He not busy being born is busy dying." But this quote is what gets to your heart, when a scornful Dylan drops his vinegar gripe on the falseness, on which, modern society is built. And in a certain way, though Dylan may not have intended that, it speaks of self-love, don't you think?
13. "Every man's conscience is vile and depraved / You cannot depend on it to be your guide when it's you who must keep it satisfied." -Bob Dylan, Man In The Long Black Coat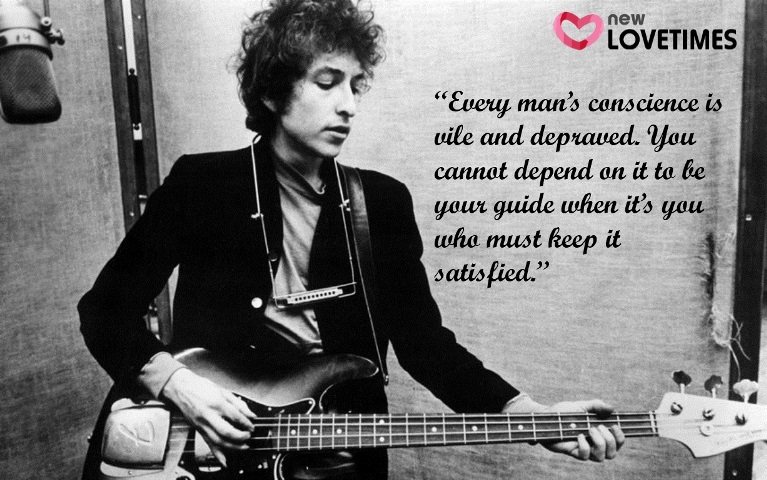 This mysterious and murky, if I may, number was inspired by Johnny Cash's "I Walk The Line". Agony aunts, books on life, and old people who call them wise, will usually advice you to listen to your gut, do what your conscience says… But if your conscience is actually the one that listens to you, what sense does the advice make? I won't lie to you, this is a dark, dark song!
14. "Don't go mistaking paradise for that home across the road." -Bob Dylan, The Ballad Of Frankie Lee And Judas Priest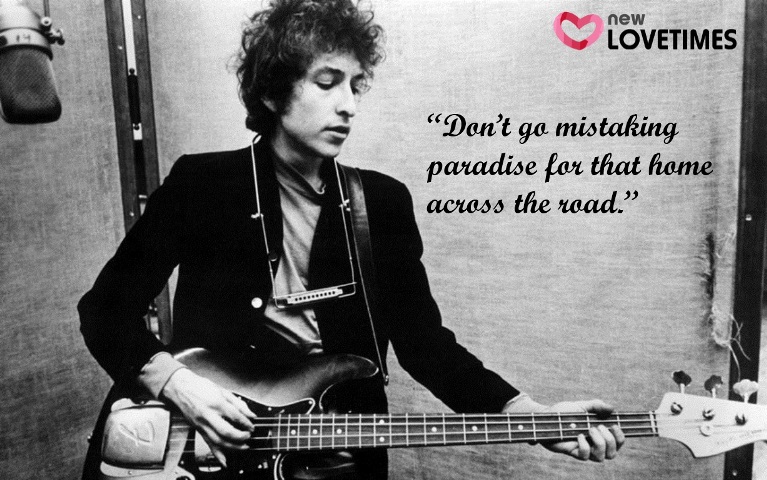 This one is a rambling country ballad, spelling out moral through the tale of two characters, one of whom takes the other into the house of infamousness, which eventually leads to his demise. Through this song, Dylan was speaking of the fleeting value of materialistic pleasures. Yes, he was preaching!
15. "You can always come back, but you can't come back all the way." -Bob Dylan, Mississippi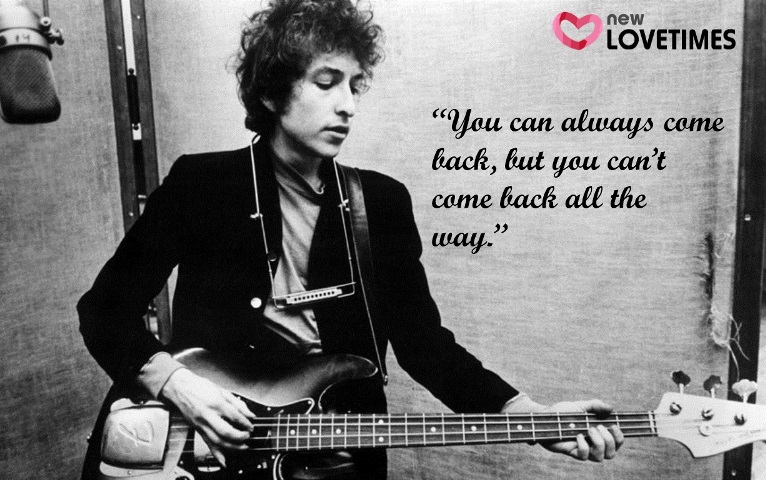 Mississippi is Dylan's greatest song, according to me, and may be you already know it, it has been interpreted by many as an allegory for his entire career. No one has had more comebacks than Dylan, right? Being disowned by folkies, then being put out of commission for his bike accident, set aside as a relic of the 60s, disregarded as a religious preacher and a writer who had lost his old charm… No one understands the song better than Dylan himself!
16. "She knows there's no success like failure and that failure's no success at all." -Bob Dylan, Love Minus Zero/ No Limit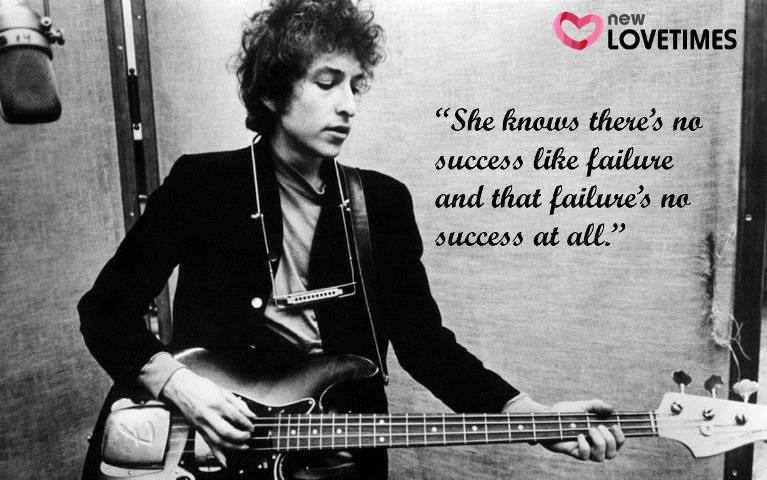 I will let you figure that out for yourself! 😉
17. "Don't criticize what you can't understand." -Bob Dylan, The Times They Are A-Changin'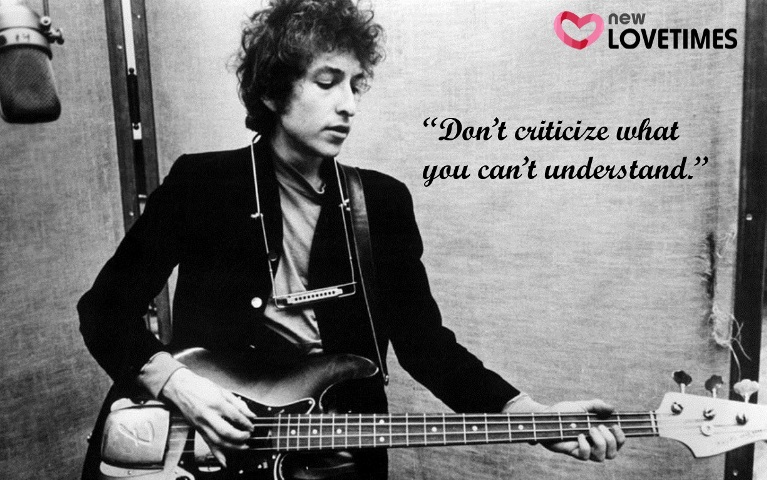 This song is about the generation gap in the 1960s, which had widened like never before. In here, Dylan's pleading to the old guys to either lend a hand or simply, get out of the way. But you don't need to limit the song to just that. This applies everywhere, in all instances, willy-nilly of the times. Judging is a very awful habit, and keeping an open mind, however difficult, should not be given up for anything else, methinks!
P.S.: Those who are cribbing about how Dylan can get the Nobel, this one is for you, my lovelies!
18. "People don't do what they believe in, they just do what's most convenient, then they repent." -Bob Dylan, Brownsville Girl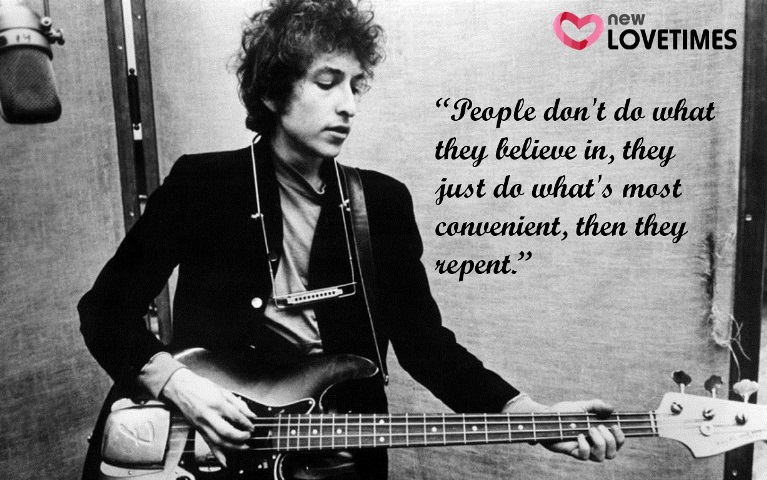 Because what is convenient does not bring out the best in you. And so, start believing in yourself.
19. "Strange how people who suffer together have stronger connections than people who are most content." -Bob Dylan, Brownsville Girl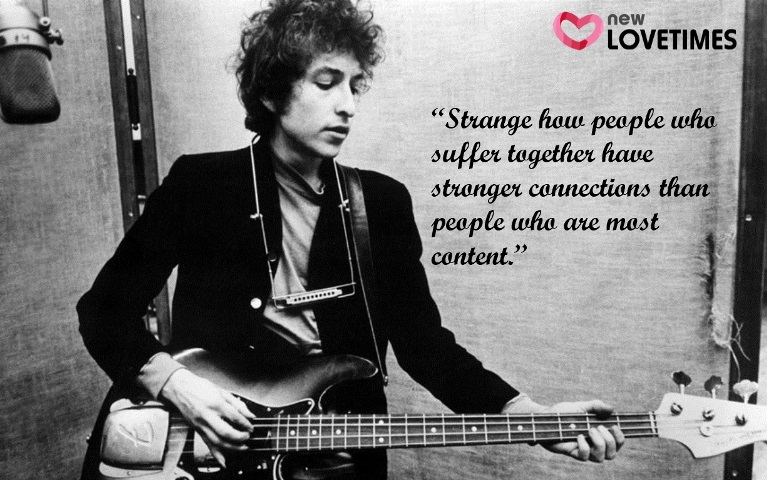 Isn't that a definition of love?
20. "The naked truth is still taboo." -Bob Dylan, Dirge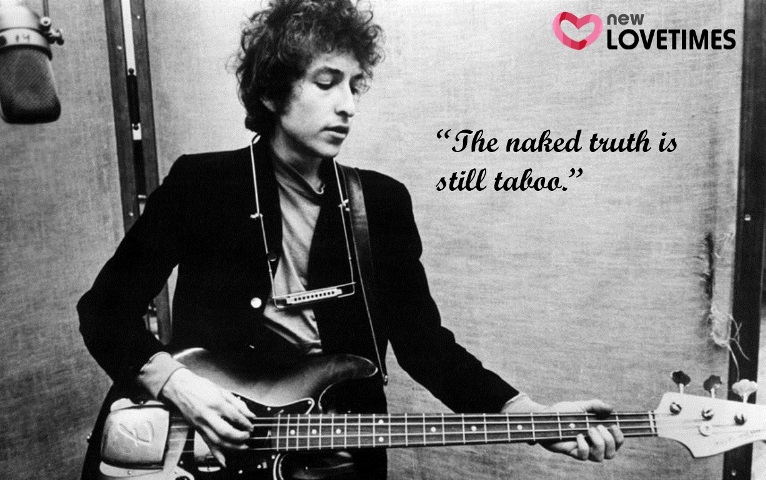 And to quote from 1984,
"The further a society drifts from truth the more it will hate those who speak it."
---
Suggested read: 18 of the best Nicholas Sparks quotes that will drown you in love
---
21. "The swift don't win the race. It goes to the worthy, who can divide the word of truth."  -Bob Dylan, I and I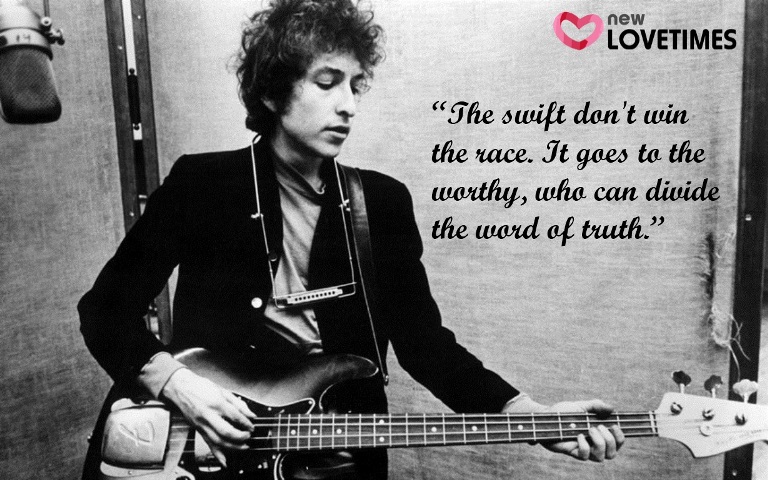 I had to end the list of powerful Bob Dylan quotes with this one! And haters, you can suck it up, since the worthy divided the word of truth, through his songs, and won, among other things, a million hearts!
That's a wrap from us. For more quotes by legends, dreamers and lovers, sign up for our daily newsletter today! Adios!
Summary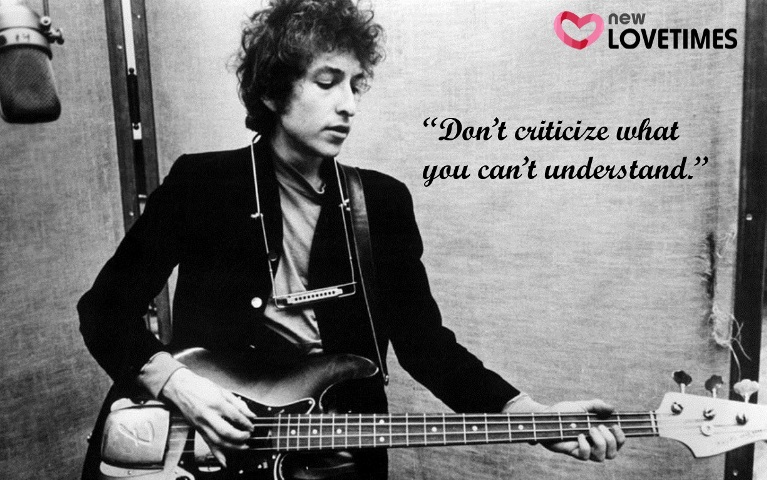 Article Name
21 Powerful Bob Dylan Quotes For Those Who Just Can't Get Enough Of His Wisdom!
Author
Description
Here's congratulating Bob Dylan for his Nobel Prize. Come join us as we celebrate the magic of his words with 21 most powerful Bob Dylan quotes!