Our handbags are more than mere places to stash away our cash but morph into our li'l home away from home, especially when we are travelling. We carry almost everything we think we need to get on with our day in our handbags- which, then, simply means that a vacation calls for Hermoine's extension charm to load up on a lot more. All the more so when we know that the beauty essentials that we carry on a daily basis are a light year removed from the travel beauty essentials.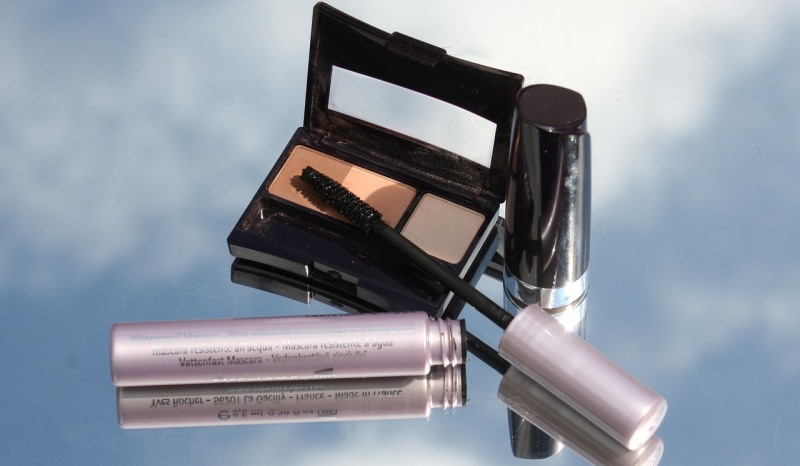 Image source: Google, copyright-free image under Creative Commons License
---
Suggested read: 12 essential beauty secrets from Victoria's Secret Angels
---
So, then which of your can't-live-without items make it into your beautiful Caprese bag? How do you decide what to throw into that bag- so your skin shall keep glowing and your hair tressed to impress- no matter where your travel takes you? Well, we are here to help. With our NLT-list of absolute must-have travel beauty essentials (which, FYI, are well within carry-on liquid limits), you shall never have to worry about it again! So bring out those notepads and pens, ladies (we know you have it in your bag 😉 ) or better yet, just type away on your cellphones coz we will give you a list that shall never, ever, ever again make you fret over which travel beauty essentials need to be packed…..coz seriously, we know that time is better used choosing the outfits and shoes you need to stuff the suitcase with! 😉
Shampoo bars: That's right, no shampoo leaks, no hassle and clean, lustrous hair! What more could you possibly ask for? These shampoo bars are a Godsend and last way longer than a bottle- so rope one in.
Facial mist: Traveling can make your skin breathe out all its moisture- so, keep an option to keep it hydrated handy! These facial mist sprays will help you keep your skin miles away from dryness and you shall arrive at your destination looking as fresh as ever!
Multiple stick: This one is a cult favorite. Whether you have chapped lips, dry cheeks or puffy eyelids, just fish for this magic multi-purpose stick and swipe it on. You have the perfect flush of color you needed!
Dry shampoo: Yep, I know I am repeating shampoo- but dry shampoo is just too good to miss out. For those lazy bums who do not have the time and would possibly choose 15 minutes of sleep over getting up early and shampooing, you'd do well to stack up on these purse-size magical items! After all, you are travelling for that office conference and you have to look stellar!
Cleansing towelettes: Yes, these are our go-to items for cleaning makeup, dirt, sweat or anything else! So grab them on the go and toss'em into your handbag- you cannot travel WITHOUT THESE!
Sanitizer: Coz duh uh! You NEED this. Period.
BB cream: Coz who wants to load up on the whole pancake-y makeup routine while on vacation right? So no foundation- just light yet effective BB creams. Yay- says the skin!
No frizz kit: Packing decisions are made a helluva lot easier by throwing in a travel-sized frizz-free kit that shall keep your tresses always tressed to impress!
Nail filer: Coz only we know what happens when our precious nail bumps against something and decides to die!
Comb: Do I need to say anything?
Mirror: Coz not every place might give you a 'mirror, mirror on the wall' treatment!
Instant nail polish remover: If all you needed to do when you chipped a nail or simply needed to get rid of that glitter nailpaint you thought'd be a good idea was to stick your nail into a sponge and..voila- it's off- life'd be so easy, right? And easy it is! Get hold of an instant nail polish remover.
Sunscreen: Coz you don't mess with the sun- never, ever, ever, ever! NEVER!
Deodorant wipes: When you are out and about, you need to stay fresh on the go and that's when these li'l tokens of fragrance come in handy! So stash'em in your purse and never have second thoughts after a whiff, whiff!
Foaming cleanser: This one is a beauty lesson. One should never skip one's cleansing ritual- even when one is travelling! So…
Solid perfume: Getting your perfume fix without worrying about breaking those beautiful and not to mention expensive Nina Ricci bottles is now possible! Just grab a solid scent and you are good to go!
Concealer stick: No liquid mess, no sponge-y hassle- just a stick you can dab on whenever you have a qualm about a spot! Ahh, life's GOOD!
Lipstick: Coz we can never do without that one favorite shade we think goes with everything, right?
Hair bands: Although our list warrants not a single bad-hair day, just in case you do have one, you'd need these to do a quick-fix ponytail!
Waterproof mascara: For that deep, intense look- coz the eyes speak volumes, don't they? 😉
Kohl pencil: Skipping this one is a crime in my beauty book, really! Never ever let your eyes go bare when out and about!
Compact: Because we all need a li'l bit of evening out our skin tone- the last finishing touch makes a masterpiece what it is, right?
Single-use face masks: These are made for travelling. Get that on-the-go glow whenever you want- by choosing from a slew of options- avocado, pomegranate, red wine and more!
Cool eye stick: Coz tired traveler eyes are the last thing one wants to wear and yet, it can happen. These adorable sticks revitalize the puffy eyes and become the day-saver for your peepers! Whoever said a young someone couldn't give anyone a pick-me-up hadn't met these tiny creatures of delight!
Yep, that's right- you have to carry all of that! What- the extension charm's not working, eh- get a bigger bag! 😛
Featured Image source: Pixabay, under Creative Commons License
Summary
Article Name
24 Travel Beauty Essentials You Cannot NOT Pack!
Author
Description
Going for a vacation? Have you ticked off all of these travel beauty essentials off your checklist?