As soon as you think of makeup for dark skin, you are immediately redirected to colors that will add depth and definition to your eyes, cheeks and your lips. As such, you should go for vibrant berry tones or, metallic colors like burnt copper or bronze. But when it comes to picking the right foundation for you, stay in touch with colors, for a makeup that is spot on!
Since dark skin requires hues that complement the skin tone, pale beige and rich browns are great shades that you can go for. It may veer more in the direction of deep brown and pale ivory, but you don't have to worry about that, and that's the best part of having a rich brown complexion!
---
Suggested read: A complete guide on how to apply makeup for pale skin
---
Now, let's go over the details of makeup for brown skin, looking at one element at a time, shall we?
1. Moisturizer
Every skin tone needs to be cleansed well and moisturized, but when it comes to dark skin, there is a greater need for both. The surface of your skin will dry up faster, since the skin cells, which are ready to flake will show up faster. So, you need to moisturize your skin really heavily, to protect it from natural elements that eat up moisture from your skin.  However, if there is extra oil, then you can control it with a combination skin treatment.
2. Sunscreen
Even if dark skin is exposed to the sun for a longer period of time, it will not get tanned or burnt as easily as fair skin. This is because of the melanin present in the skin. Melanin is a dark pigment that lends color to our skin. It screens out the sun's burning rays.
So, more the melanin in your skin cells (also, it has to be uniformly distributed), the darker will be your skin tone, and it will be less prone to burning. Also, here is an interesting fact: Dark skin ages slower than fair skin!
Nonetheless, even if you have a rich brown skin tone, you need to protect it from harmful UV rays of the sun. You need a sunscreen with the right SPF to also prevent discoloration and scarring of the skin.
3. Foundation
When it comes to foundation, always opt for a liquid one that complements your skin. A dark foundation will create an illusion of oiliness because light reflects on it giving your face a greasy appearance. To get rid of this sheen, use a foundation that is water-based. If you don't find one in the right shade, go for a shade that is darker by a notch. Never choose a foundation that is a shade lighter than your natural tone.
Foundation is the base of your makeup. And so, you need to be really finicky while picking your shade. You can try going for two shades instead of one: a lighter shade for the center of your face, and a shade that exactly matches your skin tone, for the rest of your face and neck. The dual shade will give your face a bright glow and will even out discolorations, if any. Try and ditch transparent powder foundation since that might give your skin an undesirable gray tinge.
4. Concealer
According to Dior celebrity makeup artist, Ricky Wilson, you need to understand your undertone well. He says,
"Find something that can, not only work underneath your eyes, but on your entire face. Don't go too bright, especially for photo purposes, because it will show up in the image brighter. You have to understand your undertone. Most women of color undertones are yellow and orange. If you're yellow, you should go for something more golden, and if you're red, you should go for something more orange-based. The easiest way to figure this out is by looking at your inner wrist and testing the concealer to see if the yellow, or red blends in with your skin. Whichever sticks out more and looks weird is the opposite."
When buying a concealer only go for one particular shade that suits you best, instead of blending two or more. Also layer your concealer over your eye cream, and not the other way round. The other thumb rule, when it comes to concealers is, FOUNDATION FIRST, THEN CONCEALER.
When applying a concealer never rub. Try tapping it and blend it with your skin to give it a smooth finish. If you have puffy eyes, go for a darker shade.
---
Suggested read: 12 makeup must-haves every woman in her 20s should invest in
---
5. Highlighter
Strobing has, undoubtedly, taken over contouring in the last one year. But the popular pearl shades or champagne tones don't go too well with brown skin, since they give your face a very chalky appearance. So when choosing a highlighter for dark skin tone, makeup artist Nick Barose says,
"You want to pick a highlighter almost the same way that you would pick a foundation — it should look like a part of your skin, as opposed to, like, a disco ball. If you're darker, then I would go for a bronzy gold, and if you're deep-dark, like Lupita [Nyong'o], for example, I would go for a copper shade. That way it adds a highlight, but it doesn't add too much of a contrast, because it's similar to your skin tone."
If you want to accentuate your cheekbones, go for a highlighter that is shimmery. However, as Bracose says,
 "Avoid anything that has detectable signs of shimmer because, on darker skin, it will show up more. So you want ones that look luminous. Sparkly is okay as an eye shadow, but on the skin it gets tricky."
6. Bronzer
Navigating the bronzer options can be really tricky if you have dark skin tone. While some make you look all chalky, the others result in an orange-ish finish, by not blending in with the skin. Both are not results that we want, right?
Deborah Padilla, makeup artist based in NYC says that classic powders with a matte finish is what women with dark skin tones need:
"They look more realistic and help to even out skin tones."
These bronzers also tend to photograph well. So if you are popular in social media and have a hobby of sharing your pics, go for the classic powder. Also, once you cross paths with your ideal bronzer, how you apply it, becomes key. Go for a medium-sized brush that is fluffy, since a thick brush will pick up too much powder, and that will make it difficult to blend.
7. Eye makeup
For those who are blessed with a deep chocolate complexion, there is just one downside: Picking the right palette for eye makeup for brown skin. Let's admit it guys, the palette is seriously limited. Especially, when it comes to eye shadows, you will notice that no matter how many coats you apply, the color just doesn't show!
Lucky Smyler, or should I say, Makeup Maestro, Lucky Smyler, has a tip to share with you all: Always avoid whites, pale blues, pale greens and pale cerulean. These can make your skin look all ashy. To test eye shadows, always apply the colors on your hands first. If the tint melts into your skin, right away, it is your shade. But if it looks dried out, let it go!
8. Lipsticks
Finding the right lippie for your skin tone can be challenging. The lip color depends totally on whether you have a warm or a cool undertone. One of the quickest ways to determine your undertone is to peek into your wrist and see if you have green or blue veins. If your veins are green, your undertones are warm, and if you have blue veins, your undertone is cool.
For those with cool undertones, the best lippies are those in bright reds with a bluish cast. Orange and coral shades work best for women with warm undertones.
---
Suggested read: The best fall makeup looks, and how to get them
---
9. Blush
To give your dark skin a perfect glow, cherry-pick deep terra-cotta blush. As makeup artist, Ciucci puts it,
"It's important to stay warm when you're working with dark skin because if you go too cool it's going to look ashy. So brick is like a redder version of a raisin. It tends to pack a little bit more punch."
Brick serves as a great option. Use the fish-face method to find your cheekbones, and then pat a cream formula under your cheekbones, blending in the color gently.
Ciucci also speaks highly of the orange hue, when she says,
"Bright orange blush looks so intimidating, but on dark skin it's subtle and pretty. A bright blush winds up looking surprisingly neutral."
Makeup for brown skin is incomplete if you don't experiment with colors that are every bit 'hue'. Go all in for bold and audacious colors. Rock that red lippie and that blue neon eye shadow… just make sure you don't wear them both at the same time! 😉
That's a wrap from us. Was this guide helpful? Sound off in the comment section below.
For more on makeup tricks and tutorials, sign up for our daily newsletter today. Bye until next time!
Featured image source: Pinterest 
Summary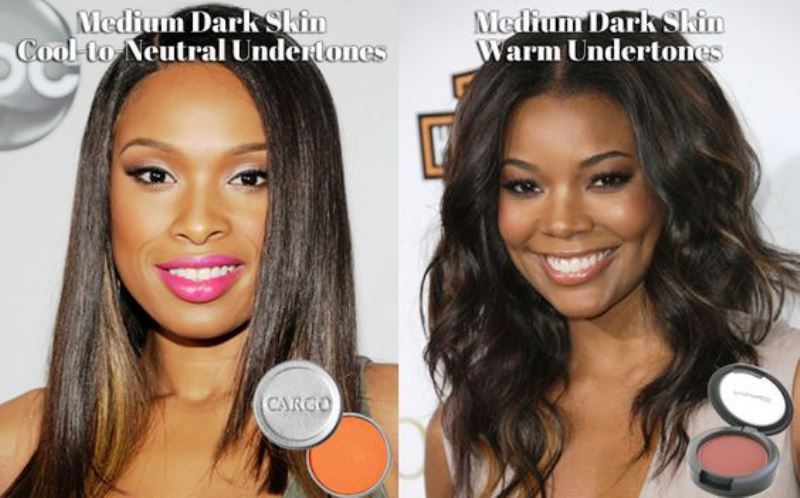 Article Name
#BrownIsBeautiful Best Makeup For Brown Skin
Author
Description
Here's a guide on makeup for brown skin with what products to use & easy video tutorials on how to use them.