Nothing is better than finding out what makes these Victoria's Secret models look as smashing as they do. Only the most beautiful women in the world are chosen to undergo these beauty rituals. We struck gold while doing some research for this article when we came across some top-notch celebrity beauty secrets straight from the Victoria's Secret Angels themselves.
No amount of YouTube tutorials can fully explain how these models look so ravishing! It's not just about a flawless figure, it's the entire package: the hairstyles, the gorgeous eyes, the perfect pout, and those cheek bones – oh my!
Image source: Google, copyright-free image under Creative Commons License
If there's one thing we know about beauty, it's that makeup alone doesn't do it. You have to invest in yourself by taking care of your body, your hair, and your skin. You have to be extremely particular about what products you use on yourself. Don't believe everything you see in advertisements or read in magazine articles. Not all products are well-suited to your hair or skin type.
Don't forget to consult your dermatologist if you have sensitive skin and make sure you check which products you should be using.
---
Suggested read: 20 ways you risk unhealthy skin in your 20s
---
A lot of effort goes into looking exceptionally good and if you want to sport that look, you will have to pamper yourself correctly!
Here are some celebrity beauty secrets from the gorgeous Victoria's Secret models themselves.
1. Drink lots of water
Image source: Victoria's Secret
You've heard about how important it is to "drink lots of water" throughout the day as it helps flush out your toxins. Well, water helps you look better too. Here's what Martha Hunt has to say, "I'm trying to drink a lot more water. I think it makes a big difference. It really makes you feel good." Drinking around 2 to 3 liters of water per day keeps you hydrated and makes your skin look fresh and lively. If you've got acne, drinking water throughout the day will help a lot. And you thought there wasn't merit in celebrity beauty secrets?!
2. Take your makeup off before bed
Image source: Google, copyright-free image under Creative Commons License
You skin needs to breathe, and having makeup on throughout the day doesn't let that happen, so avoid wearing too much of it. It can be tempting to fall into bed after a long day without washing your face, but leaving your makeup on through the night is not good for your skin. VS Angels like Doutzen Kroes stress how important it is to always take makeup off before bed. It's important to give your skin a break, especially the delicate skin around your eyes. Kroes uses oil to take her makeup off if she doesn't have an oil-based cleanser available.
3. Fake big eyelashes
Image source: Google, copyright-free image under Creative Commons License
Jourdan Dunn has the best tip for faking long eyelashes. Here's what she has to say: "To make the illusion that you have fake lashes, someone taught me that you get a card — like cardboard — place it behind your eyelashes and then you use your mascara and push it against it, it makes it look like you've got a false lash." We can't wait to try this one. Who doesn't want longer looking eyelashes!
4. Use steam to open up your pores
We can't stress enough how important it is to take extra care of your skin. Healthy skin is definitely one of the simplest ways to achieve a naturally great looking face. Barbara Fialho loves steaming after a workout and she thinks it changes the way her skin looks. Aim to steam your skin once a week by standing under some hot water for 5 minutes. Then, wash your entire body properly and don't forget to complete this process with some cold water towards the end. It helps close your pores and makes sure that dust and pollution don't enter your pores.
5. Curl your lashes
Image source: Victoria's Secret
Eye makeup is very important. Instead of going for heavy eye makeup, you could just follow what Jessica Hart does. "I love an eyelash curler. It's just a little thing that really opens up your eye, even if you're not wearing makeup or mascara, sometimes it even looks better without mascara." Use an eyelash curler, which is available at any cosmetic store near you, and put on some mascara to bring out your eyes.
6. Sleep well and enough
Image source: Google, copyright-free image under Creative Commons License
A good night's sleep makes your face look fresh and alive. You'll notice how dull your face appears when you haven't slept well – your eyes will be puffy and will develop under-eye circles. Get a good night's sleep and have your routine in order if you want healthy skin. Erin Heatherton herself believes that getting enough sleep each night makes a huge difference in her appearance. So, try sleeping at the same time every day and clear your mind before going to bed, because sleeping with negative thoughts in your head definitely won't help. Think of something happy if you can't seem to calm down and then pass out. The key to having healthy skin is peaceful sleep.
---
Suggested read: 10 essential tips for daily skin care routine before and after your workout
---
7. Run ice over your face
Image source: Google, copyright-free image under Creative Commons License
"I learned to ice my face right before going to bed from my mom's dermatologist a long time ago, and I've done it ever since. You take an ice cube and run it all over your face until it melts away and it leaves your pores really tight and your face really firm," claims Jasmine Tookes. Cold water helps in shutting your pores, which is why people finish their shower with cold water. Wash your face well, and pat it dry, then try running ice on your face and see if it works for you!
8. Highlight your cheekbones
Image source: Google, copyright-free image under Creative Commons License
Hilary Rhoda always likes to watch what makeup artists do when they're busy working on her face in order to learn a thing or two from them. She's learned to contour and highlight her cheekbones and her eye sockets with a little bronzer. She thinks that this little trick makes her look more refined and awake. She does this every day and it takes very little time. Watch a couple of YouTube tutorials on how to contour your face to get this right. You can do this daily, once you get the hang of it.
9. Put your liner in the right places
Image source: Twitter
Most of us are of the belief that going dark on the eyes is what makes us look spectacular. You actually don't need to overdo your eye makeup in order to make your eyes stand out. It can be done in no time and very effortlessly by following what Jacquelyn Jablonski has to say. "I've learned not to be so heavy handed when it comes to doing your eyes. I used to line all around and go really dark, but someone taught me to put liner in just the corners sort of, it looks a lot fresher."
10. Use creamy concealers
Image source: Google, copyright-free image under Creative Commons License
Candice Swanepoel likes to use creamy concealers because you can apply them with your fingers and they blend in with your skin so much better. Unlike powdered concealers, creamy concealers give your face a smoother finish and don't leave patches on your skin. Don't go overboard with the concealer though, use it just enough to hide your acne and cover your marks. Don't make a thick paste and spread it over your skin; you want your skin to feel light and fresh. Overusing concealers takes the freshness away from your face, leaving you looking dull as ever. If you have clear skin, you can skip this step entirely.
11. Cleanse, moisturize, and apply sunblock
Image source: Victoria's Secret
Behati Prinsloo emphasizes following a proper skin care routine. She believes in cleansing, moisturizing, and applying sunblock at all times. You don't want sun damage and it's best to apply sunblock daily. That way, you are saving your skin from getting tanned as well. Keep your skin moisturized throughout the day by applying moisturizer right after washing your face. Especially if you have dry skin, this should be the first thing on your to-do list. Rub moisturizer on your skin until your skin absorbs all of it. If you have oily skin, use an oil-free moisturizer.
---
Suggested read: 10 MUST-know winter skin care tips to keep your skin glowing
---
12. Always wear lip balm
Image source: Google, copyright-free image under Creative Commons License
Follow this one step every day for luscious lips. Put on your lip balm before you go to bed and whenever you can, during the day. Chapped lips aren't the way to go. The key is to keep your lips moisturized throughout the day to avoid dryness. Any lip color will look fabulous on you if your lips are properly moisturized. Apply lip balm before you start with your makeup, wipe it off gently when you're done with everything else and you're left with just some lip color to finish your look. Removing the excess moisturizer from your lips helps your lip color last longer. Karlie Kloss likes to carry lip balm at all times as her lips tend to get very dry.
Follow these celebrity beauty tips the next time you're heading out for a date or a girls' night out. The key is to keep practicing your skills until you master them! If you're a newbie, you can always watch makeup tutorials to get a hang of how it's done!
Featured image source: Google, copyright-free image under Creative Commons License
Summary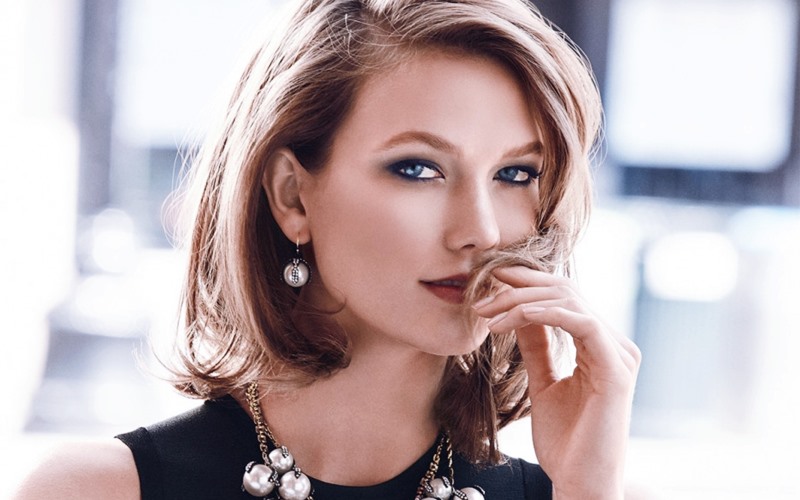 Article Name
12 Celebrity Beauty Secrets From Victoria's Secret Angels
Author
Description
Victoria's Secret Angels have flawless skin and are obviously beautiful. And we have just discovered some helpful celebrity beauty secrets from these Angels!