As King Khan turns 50, a golden list to celebrate the king's sass becomes a must-do. For years he has been challenging interviewers with his witty quips, and claimed a million hearts with that irresistibly charming humor. And here are just the top 50 (yep, that's right..happy 50, King Khan!) that prove just how deserving he is of that sass-crown too:  
---
Suggested read: 9 actresses who would look amazing with Shahrukh Khan
---
1. When Karan Johar asked him whether he would pose nude for a million dollars,
Shahrukh said: "For much less!"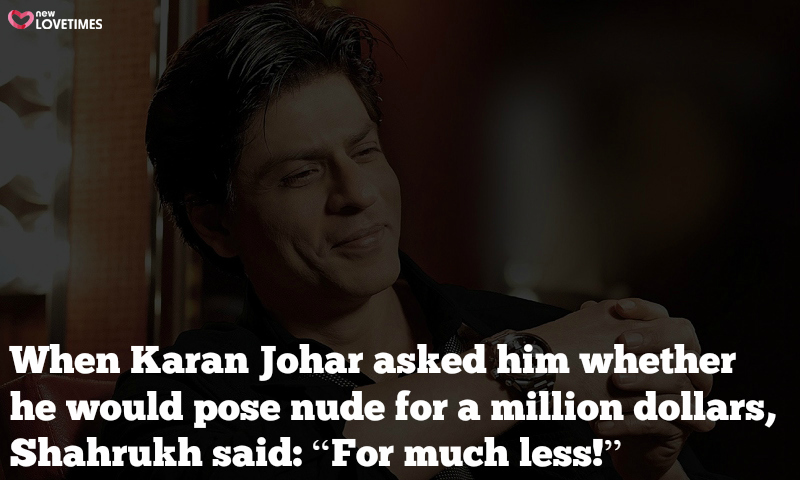 2. Interviewer: "When will you start making different movies? Better movies?"
Shahrukh Khan: "When will you start asking different questions? Better questions?"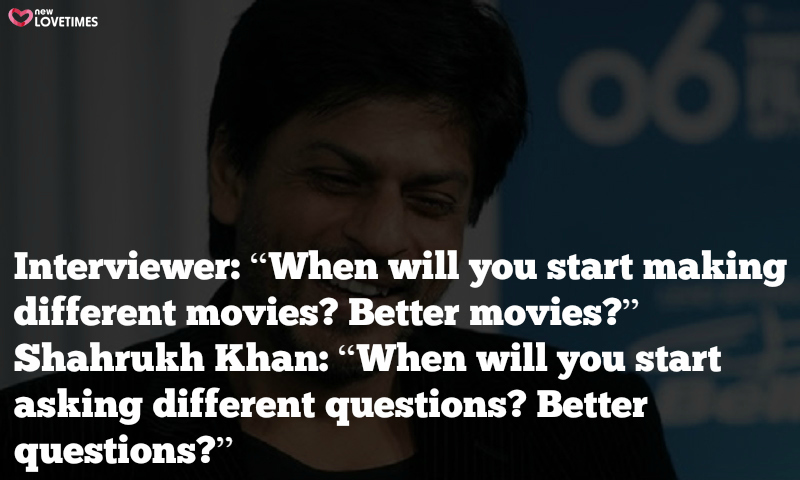 3. When asked about his rumored bisexuality, he said, "I am not bisexual, I am Tri-sexual, I try everything!"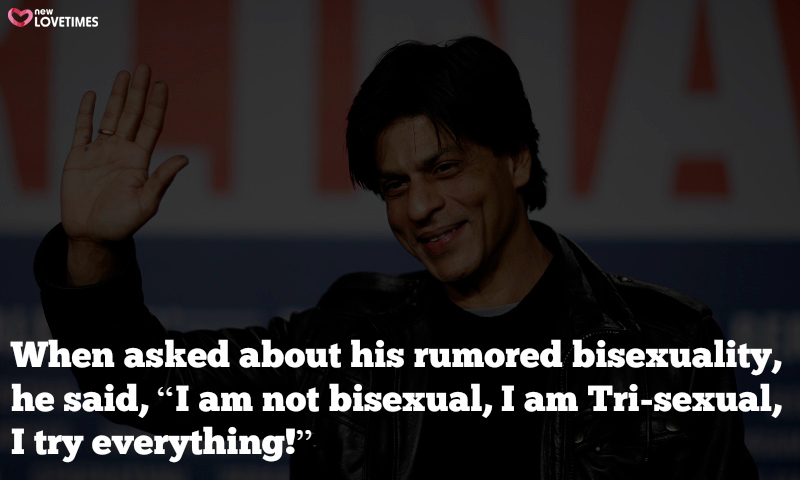 4. "I'm like a Rolls Royce. I can run without an engine, purely on reputation."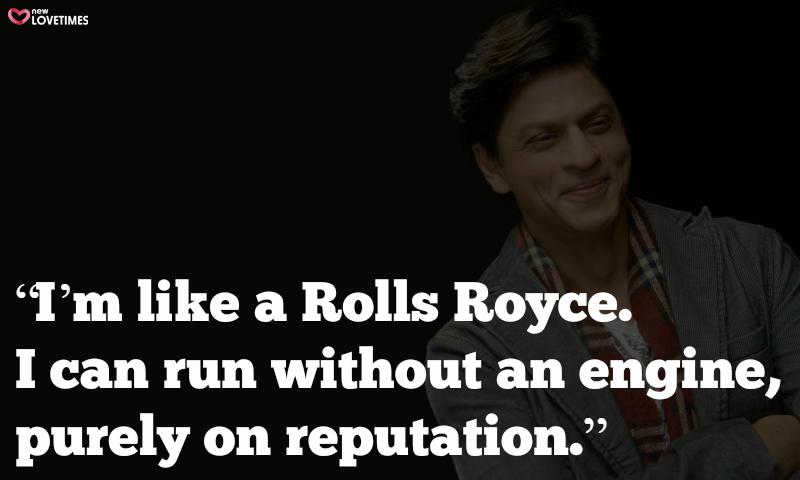 5. Mandira Bedi: "Do you think having Shilpa Shetty (Rajasthan Royals) and Preity Zinta (Kings XI Punjab) as rival team owners will sour their relations with you?"
Shahrukh Khan: "Well Mandira, I hope not. I started both their careers. As far as I can remember, I started yours too."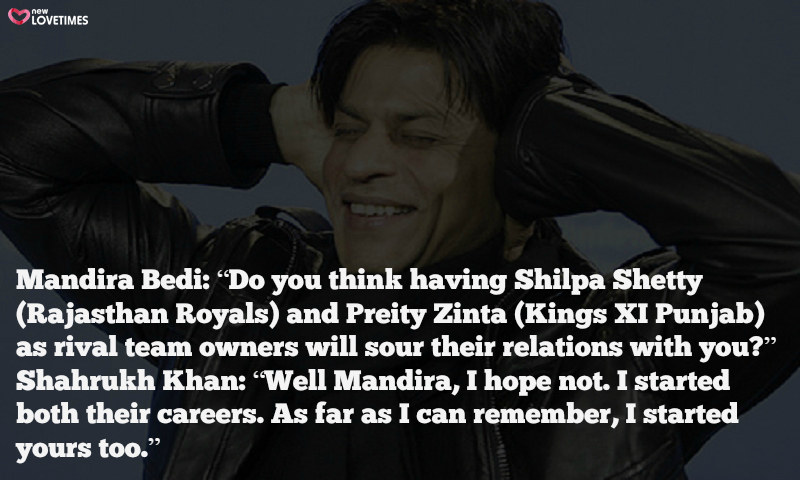 6. "Whenever I start feeling too arrogant, I take a trip to the US. The immigration guys kick the star out of my stardom."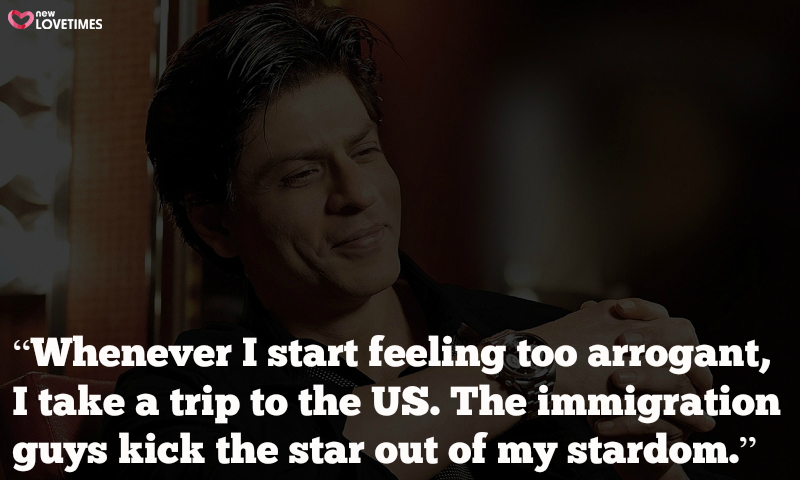 7. Karan Johar: "If you woke up one morning and found out that you have turned into Aamir, you would…?"
SRK : "I would tell the world that Shahrukh is the better actor."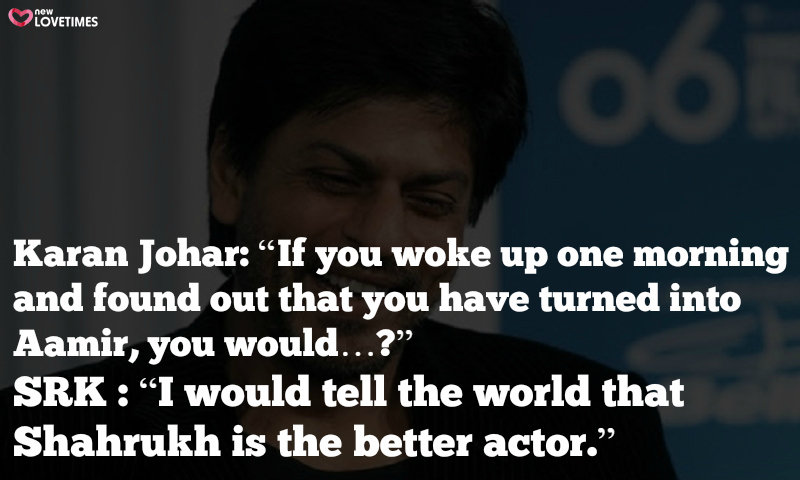 8. "Awards that ignore me are losers."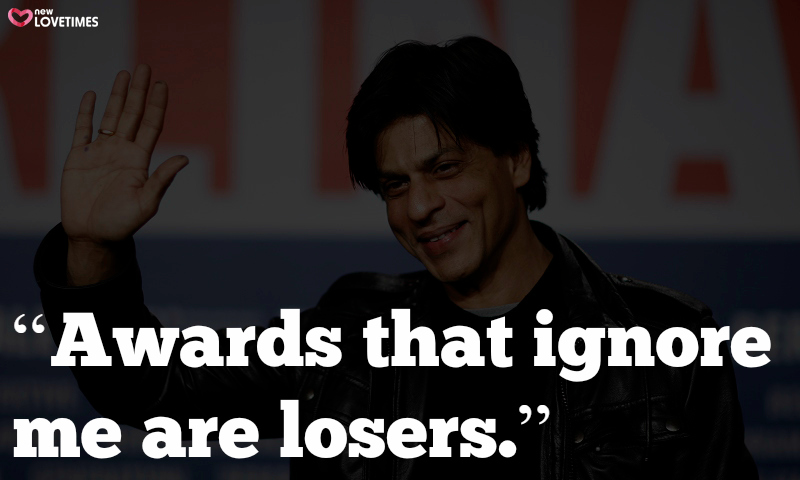 9. "I don't see why anyone would focus on my back, unless they like my a**!"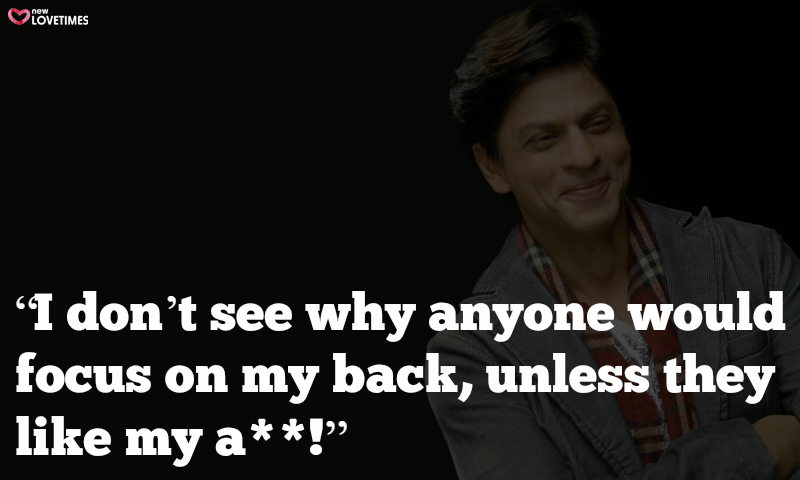 10. When asked about the relationship between him and Salman Khan (which had turned sour) Shahrukh said: "Yes, it's going very well. We are planning to have a baby together."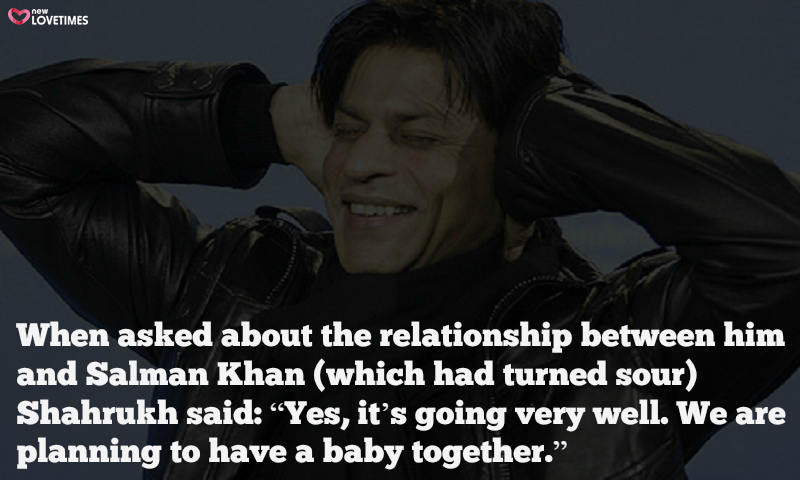 11. "Alas, even though I am fantastic looking, I am still quite intelligent."
12. A journalist: "We heard you are getting paid quite a lot for KBC-3 but you have been tight-lipped about it. Could you let us know how much they are paying you?"
Shahrukh said: "If you ask me that question again ma'am, I will have to ask your age."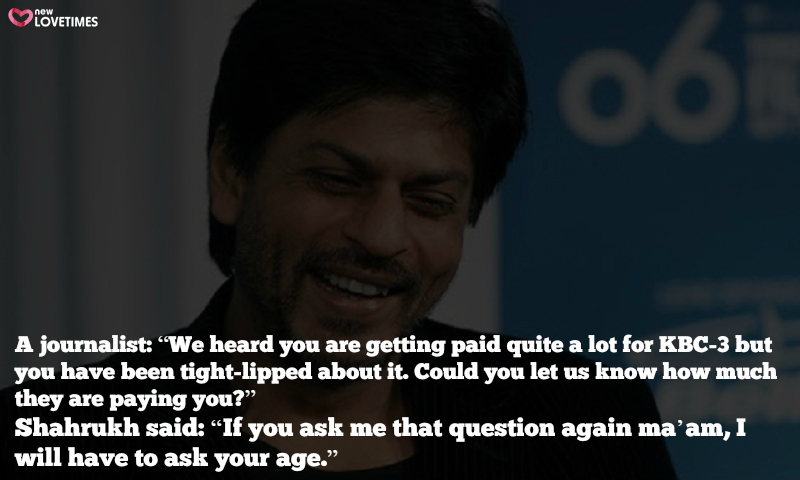 13. Reporter: "Has fatherhood affected your acting skills?"
Shahrukh: (Laughs loudly) "Yeah, I treat all my heroines like children now. I pick them up, I cuddle them, I call them 'baby'."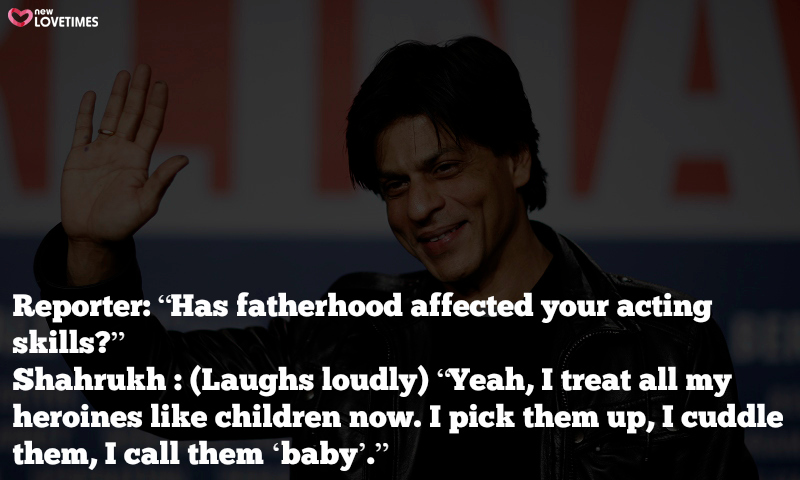 14. "And please don't think that because you've done an interview with me, you're getting an in-depth analysis of Shahrukh Khan. C'mon, I'm an actor; I can't stop acting. I will let you see only what I want you to see. Don't imagine that you've got some great insight, seen some deep, repressed part of me – and in one meeting of two hours! That's stupid!"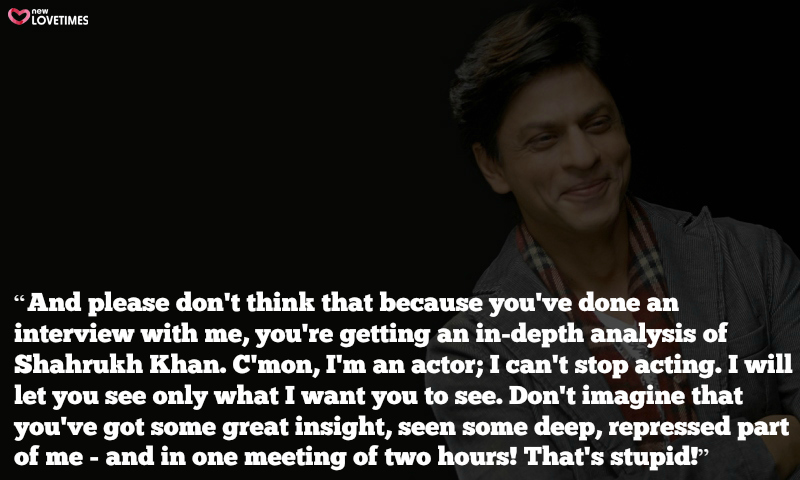 15. "I am very shy. If I am flying British Airways and the air hostess asks me two questions, and I don't understand her accent – I will go hungry for the entire flight."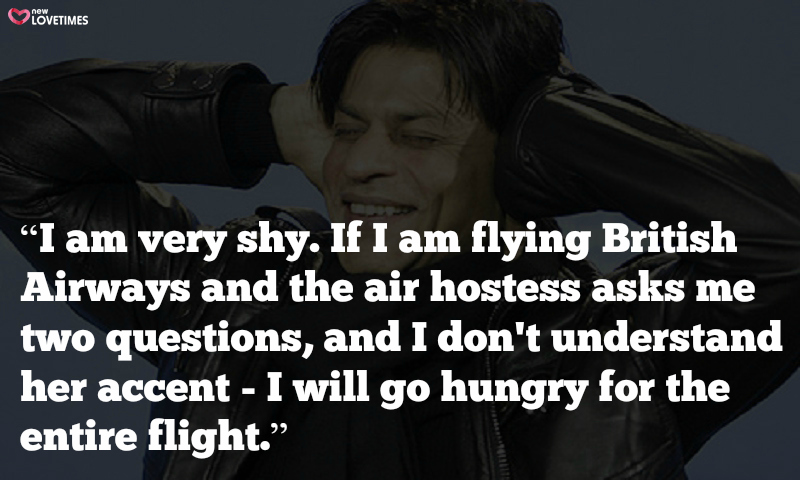 16. "Sports teaches you how to lose and not be a loser."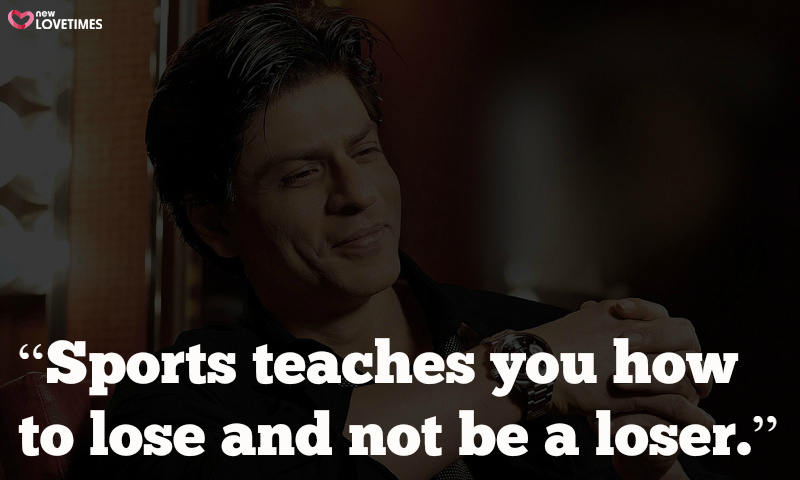 17. "Whenever I fail as a father or husband… a toy and a diamond always work."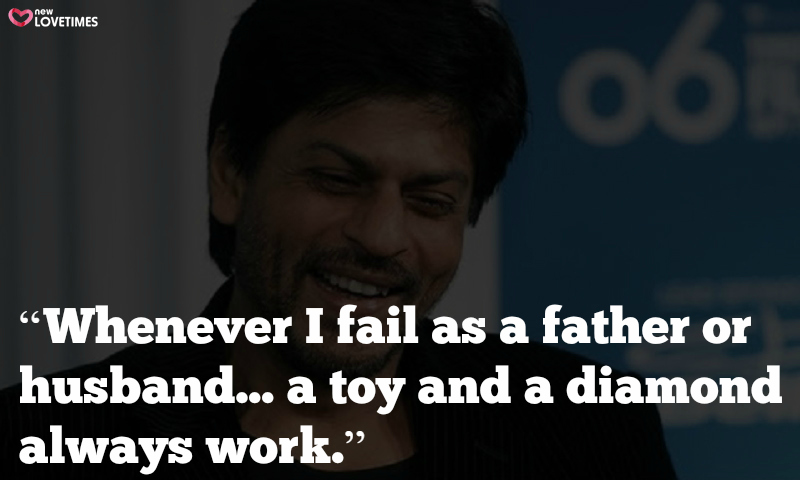 18. "I don't like wearing dark glasses. I'm happy with the fact that people know me. I want people to scream and shout at me, I want people to trouble me when I'm having lunch, I like six bodyguards around me. I love being a star."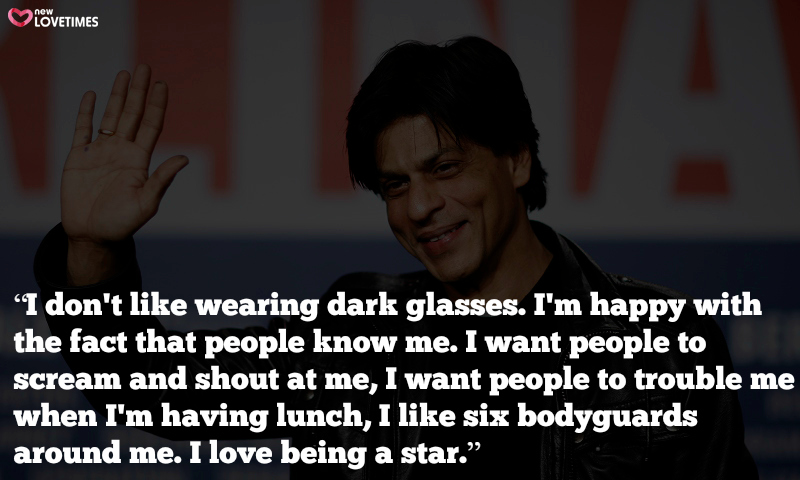 19. Reporter: "Are you gay?"
SRK: "Spend an evening with me."
20. Karan Johar: "What would it be like to wake up as Karan Johar one day?"
SRK's answer: "As per the grapevine, it's more likely that I will wake up 'with' Karan Johar rather than 'as' Karan Johar."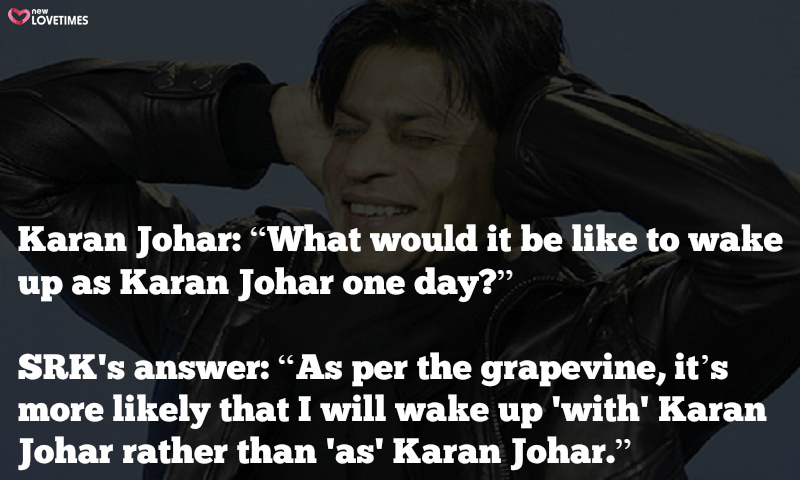 21. Karan Johar: "If you had to tell Amitabh Bachchan only one thing, what would it be?"
To this SRK replied: "Rishtey mein to hum tumhare baap lagte hai."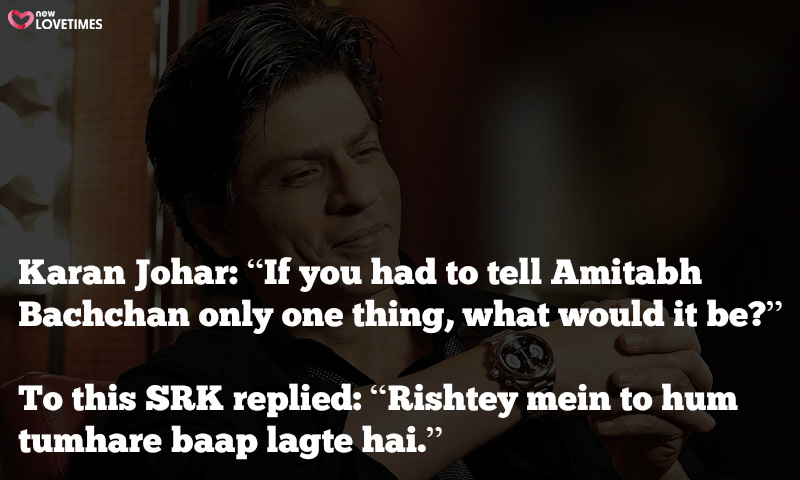 22. Karan Johar: "Hrithik or Aamir, who's a better actor?"
SRK: "Better than who, Karan?"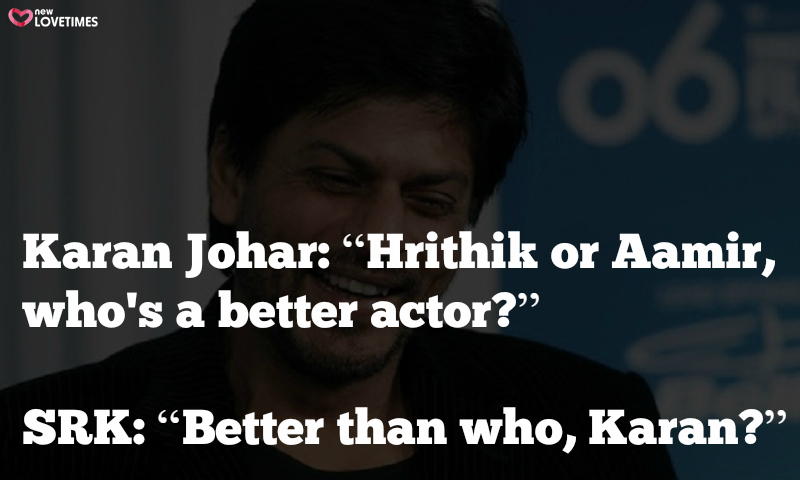 23. Female Reporter: "What sorts of women turn you on?"
Shahrukh Khan : "You."
Reporter: "I need a yardstick to describe your kind of woman for our readers."
Shahrukh: "So put a picture of yourself in the interview."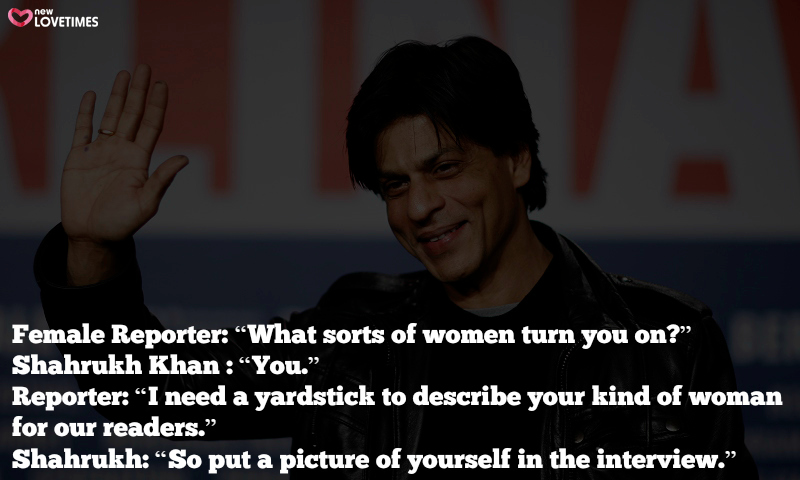 24. "Who according to you is more beautiful – Aishwarya Rai or Madhuri Dixit ?"
Shahrukh: "Aishwarya is an eternal beauty while Madhuri is a timeless beauty, both of which means the same, and hence, I'm safe."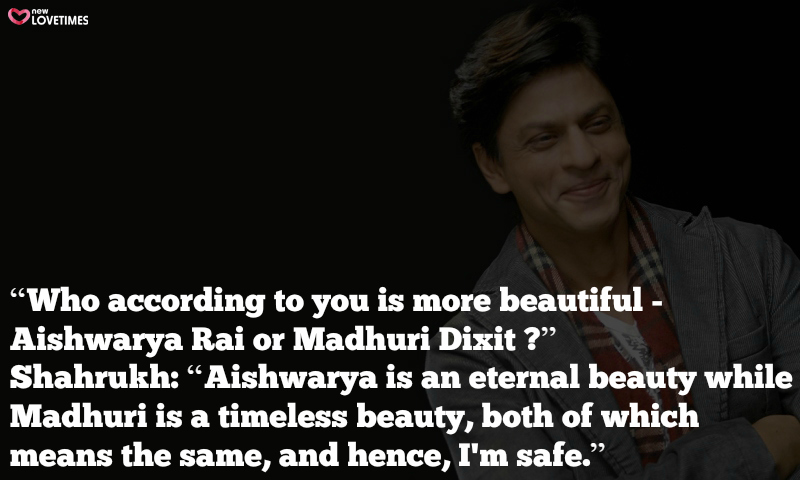 ---
Suggested read: 10 funny Shahrukh Khan dialogues that will tickle you pink!
---
25. Karan Johar: "If Rakhi Sawant claimed that you forcefully kissed her, what would your response be?"
Sharukh: "If I were to kiss her, it would be forcefully!"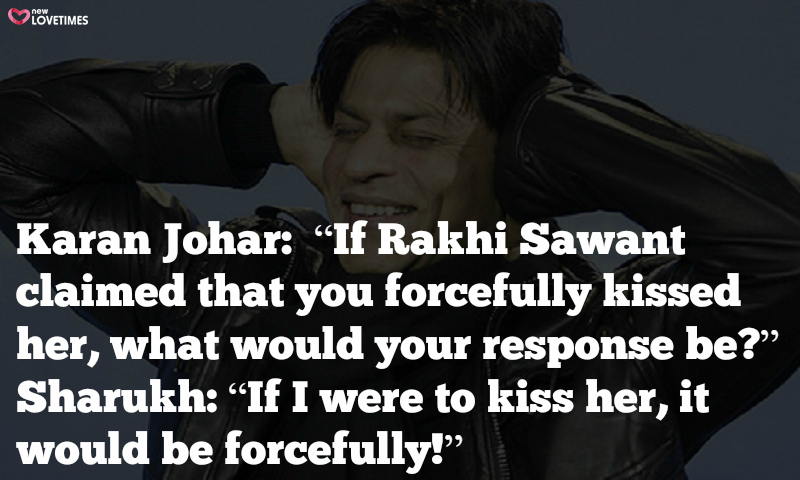 26. Karan Johar: "Is SRK the best actor in the country?"
SRK: "In the world."
Karan Johar: "Is Kajol the best actress in the country?"
SRK: "In the universe."
Karan Johar: "If so, then what would you tell Juhi, Madhuri, Aishwarya and Sushmita?"
SRK: "That there are many more galaxies."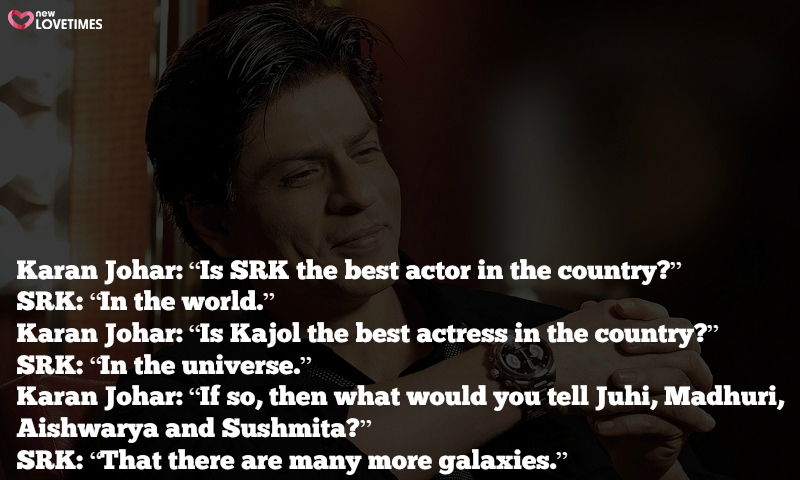 27. Reporter: "How much are you getting paid for the next project?"
Shahrukh: "Enough to buy the new PlayStation."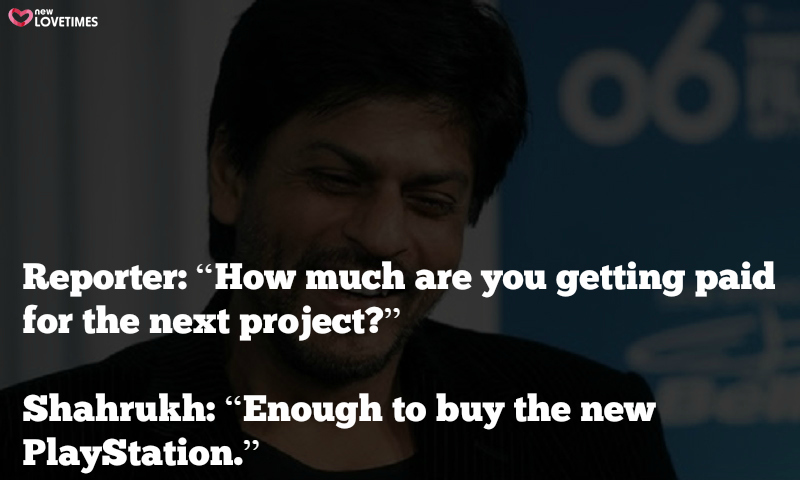 28. A fan on Twitter to SRK: "What's up?"
SRK replied: "My hair in the morning and chin the rest of the day!"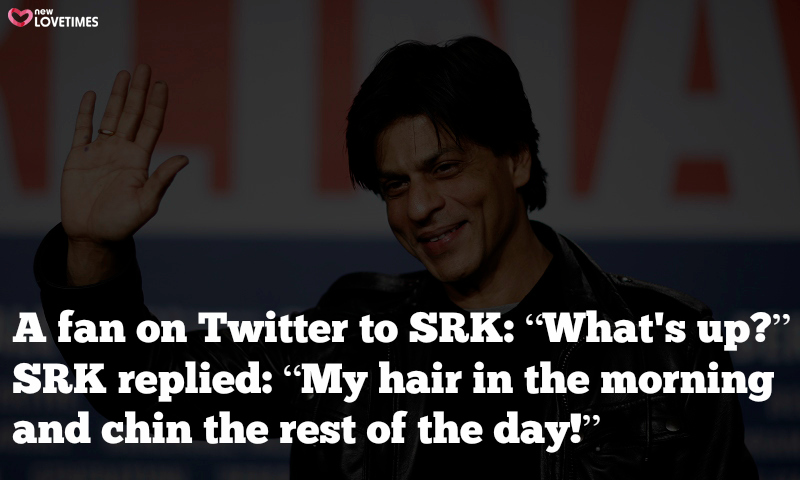 29. A reporter asked him: "Akshay featured Snoop Dogg in his recent movie Singh is King. Is it because of this that you have signed Akon?"
Shahrukh Khan: "Yes, darling, that's true. I have never done anything original in my life."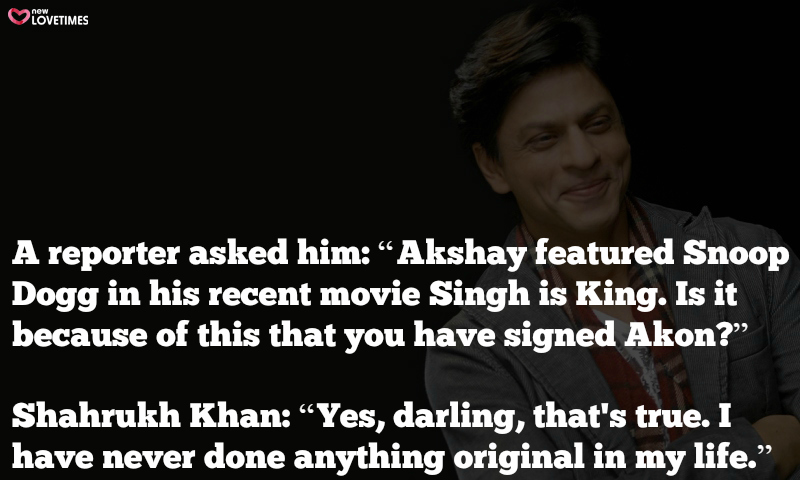 30. Referring to his van: "No actress likes to sleep with me in this expensive (luxurious) van. Because ultimately it's not the van who makes the man, but it's the man who makes the van."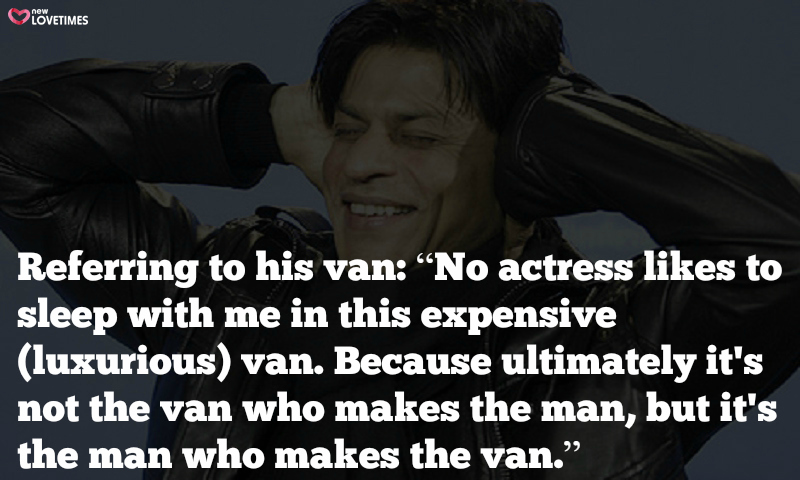 31. "You don't win a silver. You lose a gold." – While talking about KKR losing in the IPL.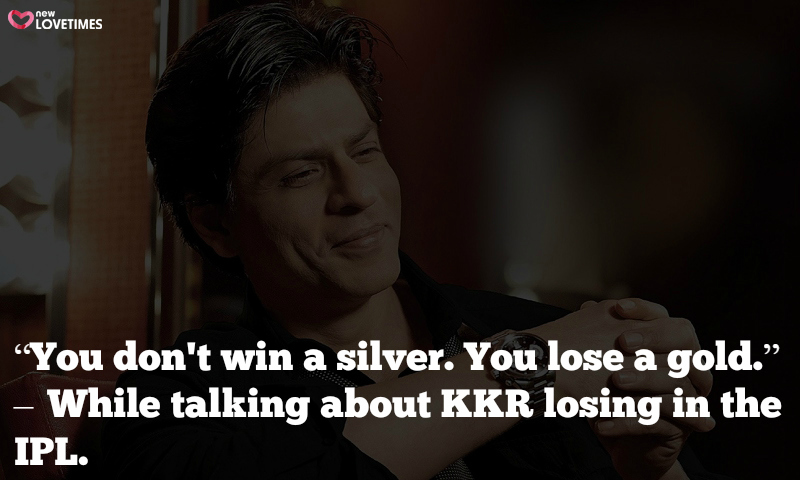 32. When a female choreographer started crying, on seeing him on set: "This is my problem. Girls don't smile or laugh on seeing me, they cry!"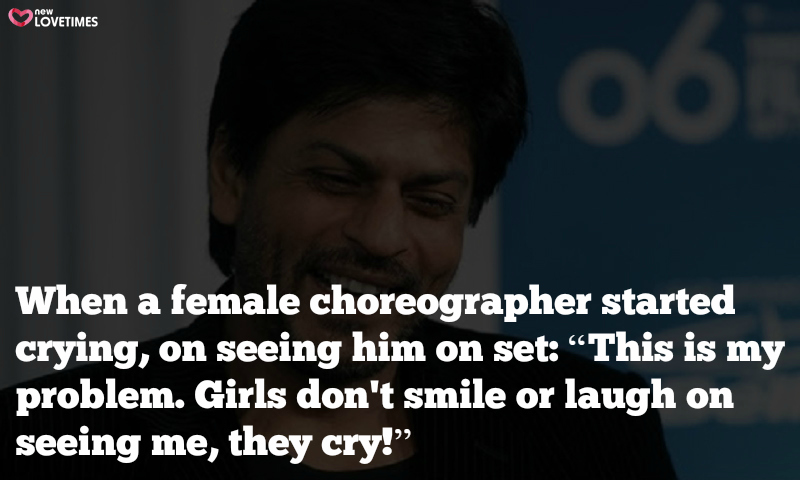 33. Reporter : "You are so good looking, do you wake up like this?"
SRK: "No, I have to go through a plastic surgery every morning."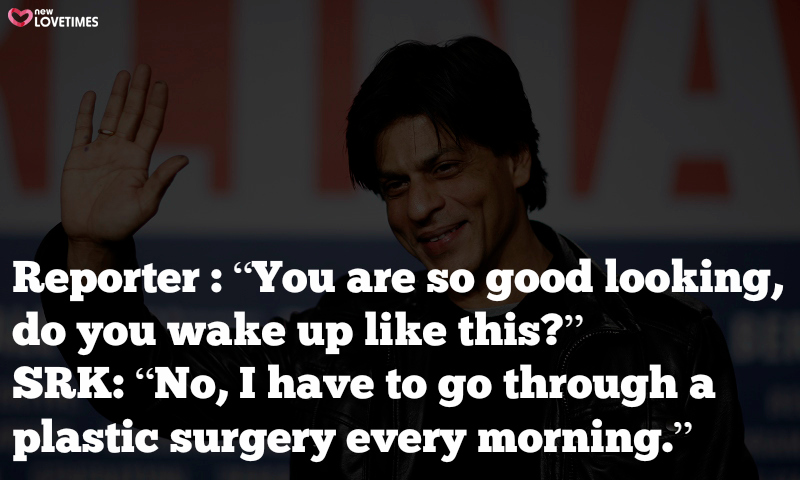 34. "I don't write cheques anymore because I end up signing them, 'With Love, Shahrukh.'"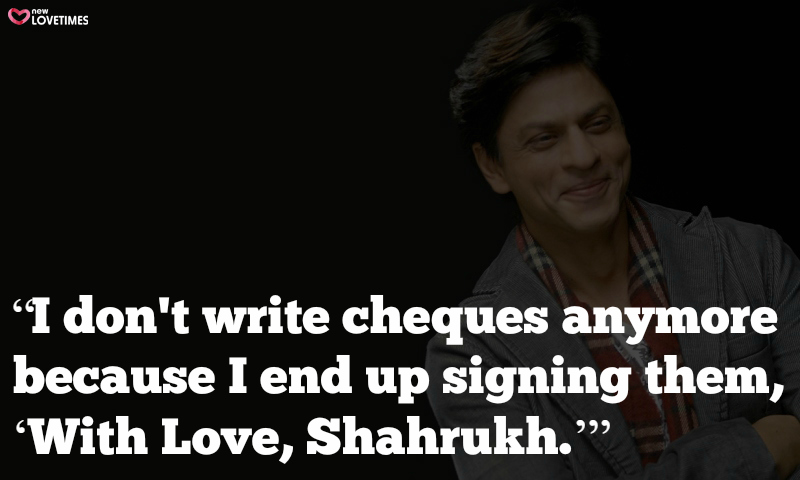 35. "I trust two people, myself and the other is not you, it's God."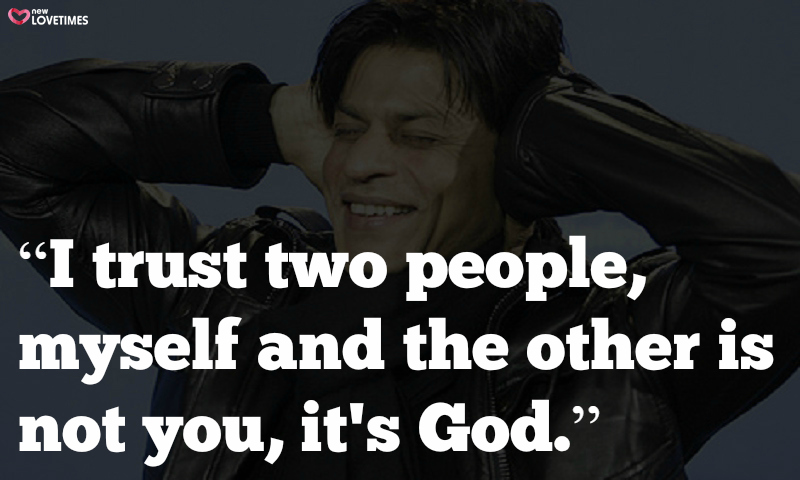 36. "If you like me, raise your hand. If you don't, raise your standards."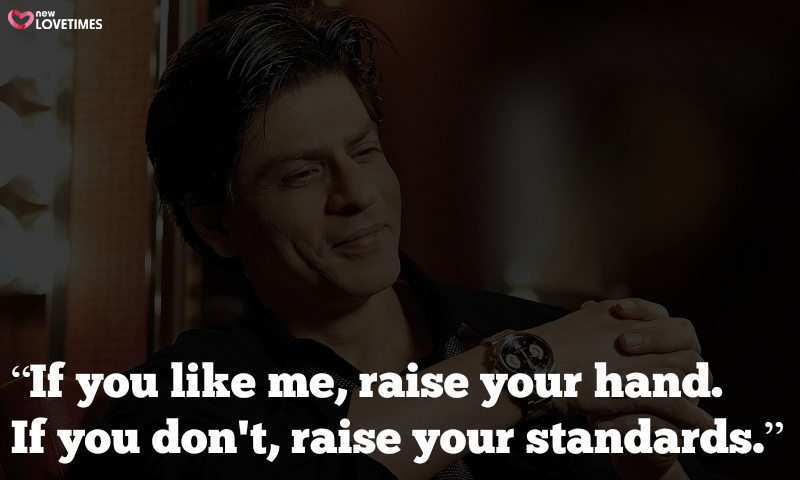 37. "I'm running in a race and people are on the other track, I'm running with myself."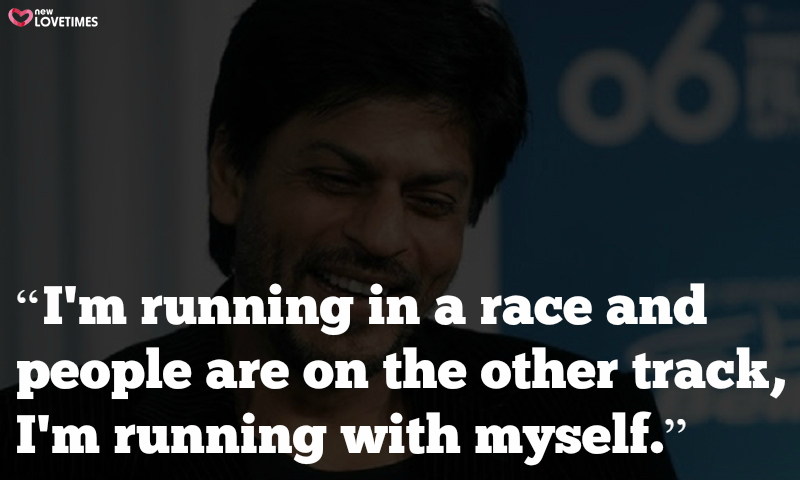 38. Reporter: "How does your wife react to reports of you being gay?"
SRK: "We find it very funny. We had a lady who used to work for us. One day she sat me down and said, 'saab, karanji aur madam ka affair chal raha hai." I said, 'Oh my God! Karan [Johar] is two-timing both of us!'"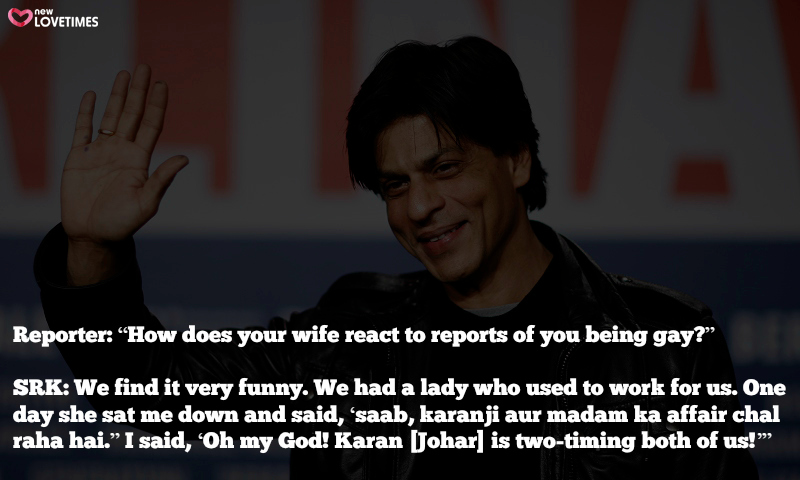 39. At an event, he gave a starstruck fan who had come on stage a dress with a full-length picture of himself on it. "On lonely nights you can wear it inside out," he said cheekily.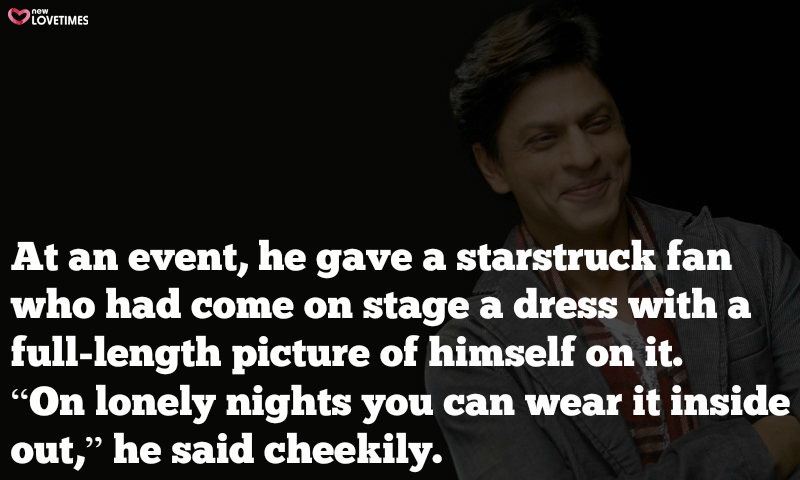 40. "I won't promote condoms. I preach only what I practice."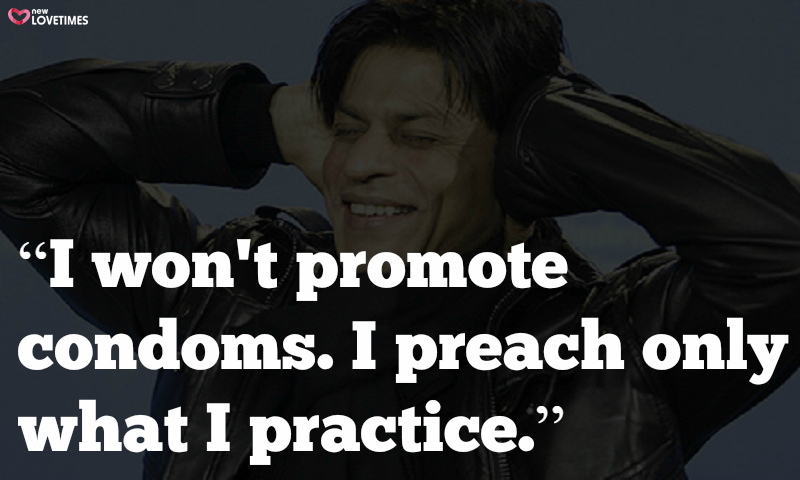 41. "I just use the press to practice my acting!"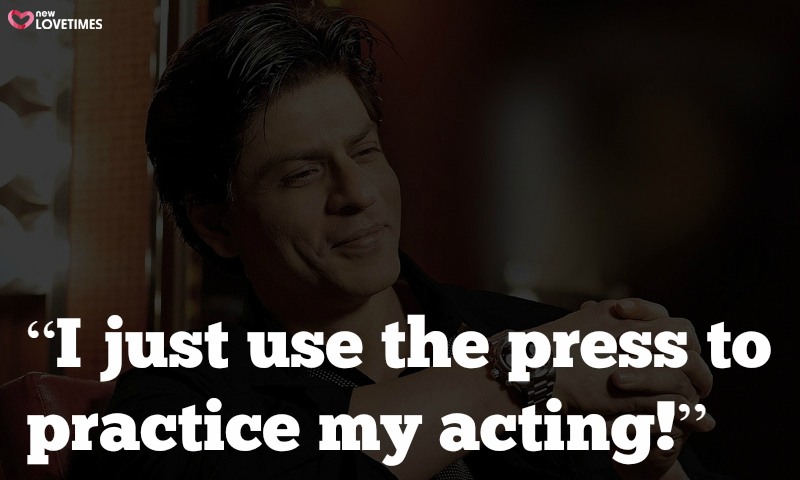 42. "People say I am repetitive. But what if I repeat myself, so does history!"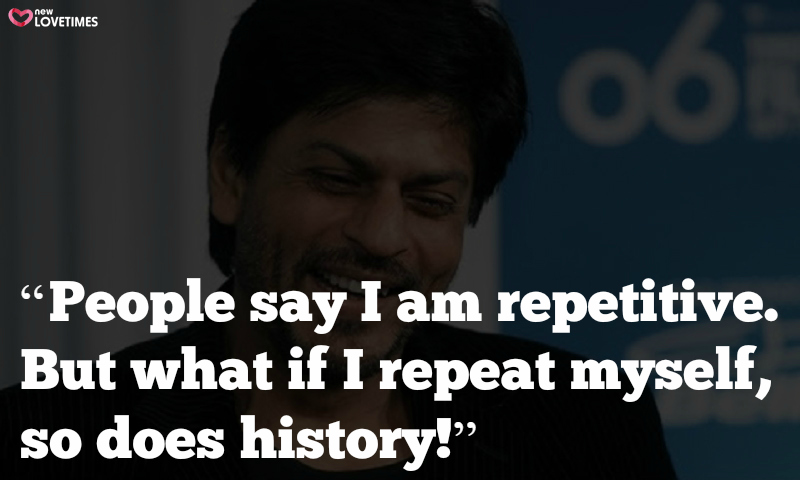 43. "Gauri and I have one thing in common. I like me and she likes me."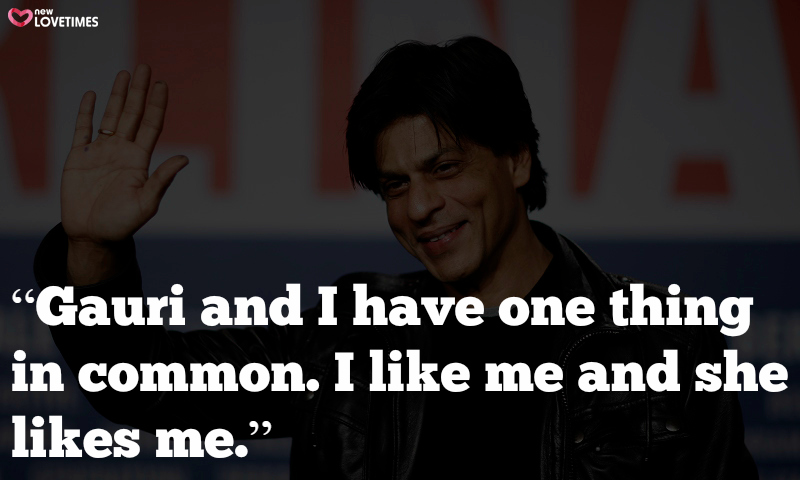 44. "It's not that I wear fantastic clothes, it's just that clothes look fantastic on me."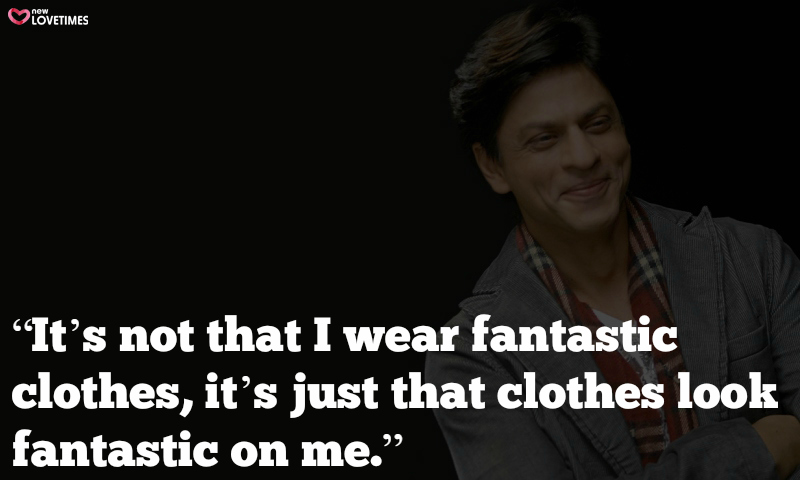 45. A fan: "You're looking younger, what's your secret?"
Shahrukh: "I'm eating a lot of Vi*gra now."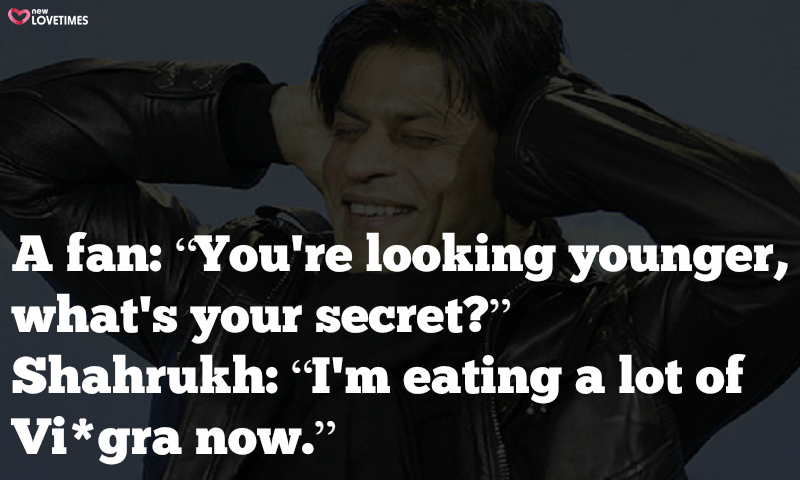 46. "The children look like Gauri, but Thank God they have my brains!"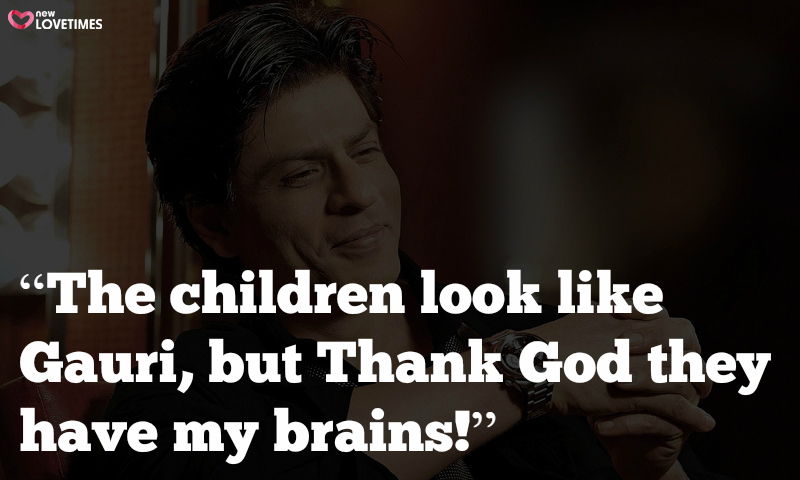 47. "I'm not conceited, because conceit is an imperfection, and I'm perfect."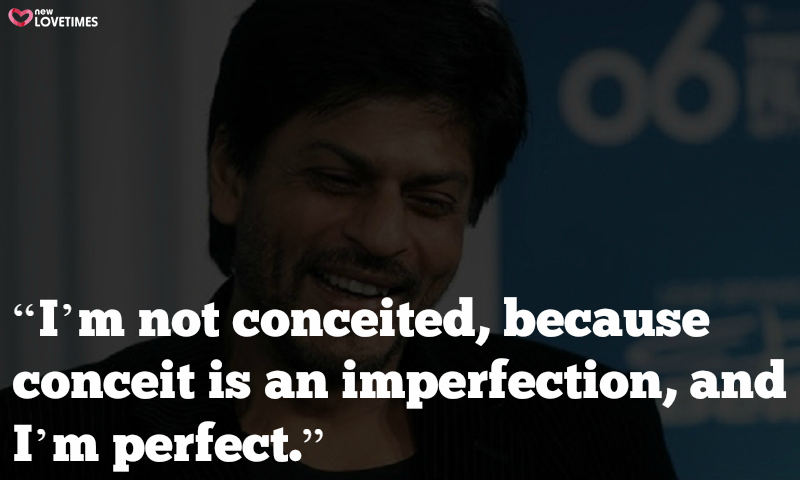 48. "This is King Khan. I'm the Ronaldinho of acting."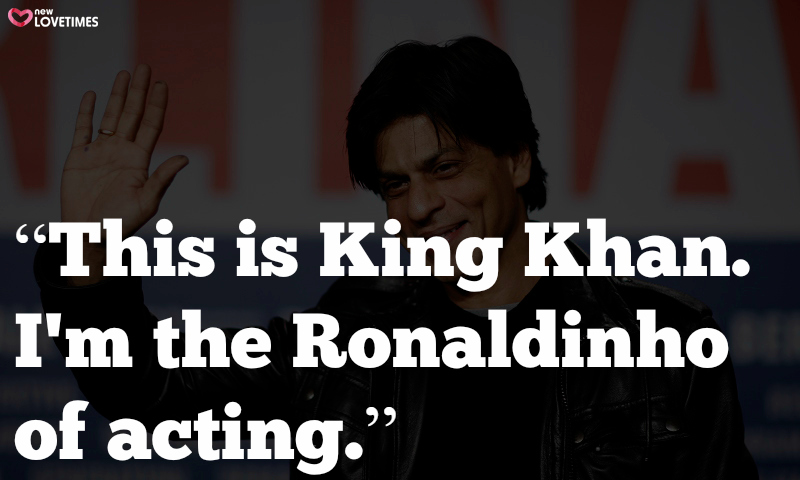 ---
Suggested read: 9 reasons why girls want to take Shahrukh Khan home
---
49. "I give myself 2.5/10 for acting. So you can imagine what I give to the other actors!"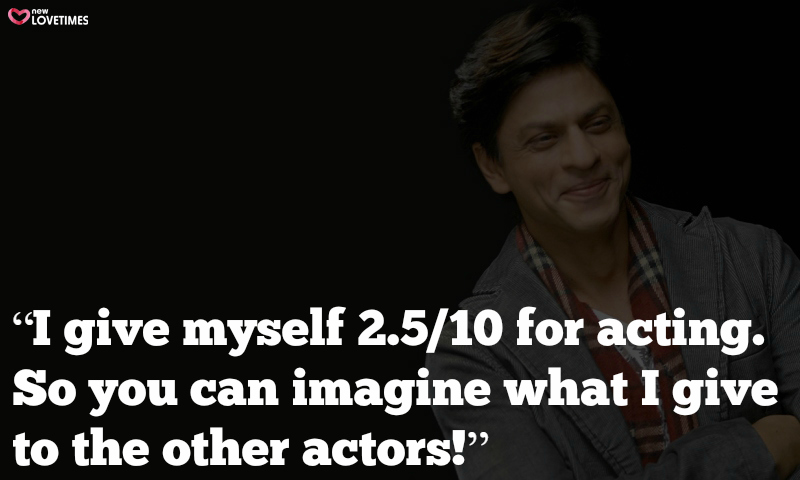 50. "My day begins when Gauri opens her eyes and ends when she closes them."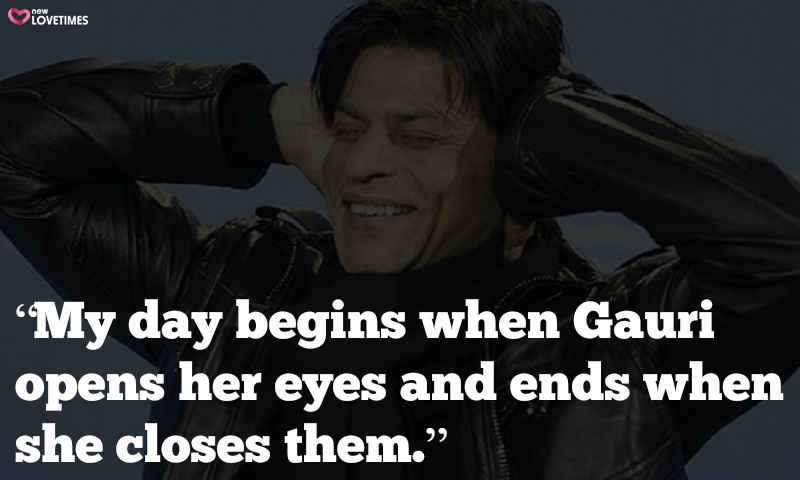 Isn't he just the BEST?
Summary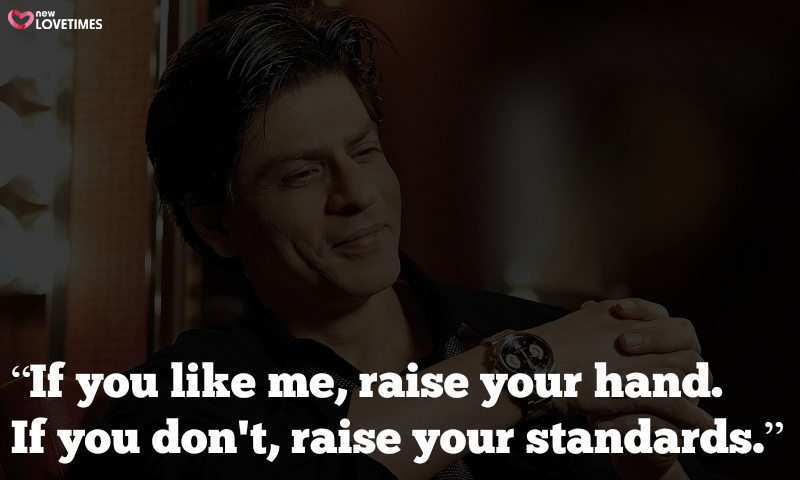 Article Name
50 Witty Quips Of Shahrukh Khan
Author
Description
Because when it comes to Shahrukh Khan, it has to be the BEST!