There are very few onscreen couples in Bollywood who have managed to cast an everlasting spell on the viewers of Indian cinema. These handful of Bolly-couples are those that people never really tire of watching in movies, irrespective of the double digits that hold their screen appearances together or the single hit they may have to their credit. The names that instantly pop to mind when one thinks of the yesteryears are Raj Kapoor-Nargis, Amitabh Bachchan-Jaya Bhaduri, and Neetu Singh-Rishi Kapoor, all of whom captivated the audience with their realistically romantic rapport.
However when one thinks of contemporary Indian cinema, the very first onscreen 'jodi' that wins it by leaps and bounds is that of Shahrukh Khan and Kajol. There is hardly a soul on the face of the earth who can deny the easy, natural, and yet, fantastically magical allure of a Shahrukh-Kajol movie. Fans of Kajol and Shahrukh Khan are rightfully obsessed with them and their excitement usually reaches its peak every time the media is abuzz with news about a forthcoming project that will cast the magical pair together. Having grown up watching Shahrukh Khan and Kajol movies, they find their romance an addiction they'd carry lifelong and claim to be in possession of all the details about their movies – from the minutiae to the significant facts. However there might be some unknown behind-the-scenes trivia about Shahrukh Khan and Kajol movies that might take their claims about 'knowledge' of this magical 'jodi' for a ride.
---
Suggested read: 10 love lessons 90s movies of Bollywood taught us
---
Check out if you know these:
1. The real and the reel
Image source: Google, copyright-free image under Creative Commons License
Surprisingly enough, Kajol has claimed that as a person, she is least like Simran, the lively girl in Dilwale Dulhaniya Le Jayenge. In spite of her naturalistic acting in the movie, she has maintained that she is as far removed from the character of Simran in reality as can be. She avers that while she plays the role of an obedient good girl onscreen, her offscreen avatar isn't even close. She is, self-admittedly, 'nothing like the shy, docile Simran of DDLJ.' Guess we gotta give it to Kajol for her fabulous acting skills!
2. Breaking the tradition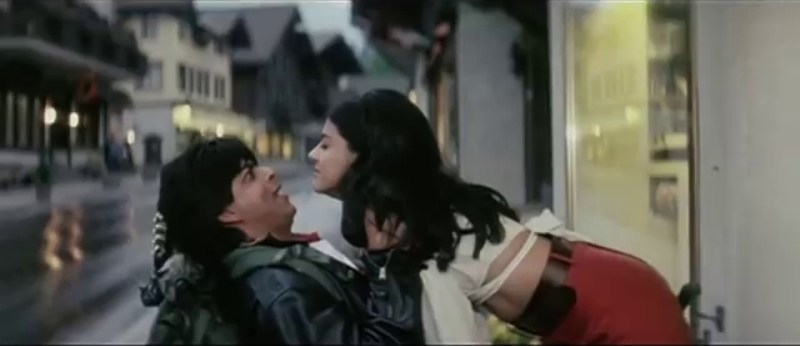 Image source: Youtube
All fans remember the peppy song 'Zara Sa Jhoom Lu Mein' where Kajol is seen downing a bottle too many, right? While such a scene may have hardly heard a peep from the filmmakers or the audience today, it wasn't as commonplace at the time to have the actress enjoying her liquor like that. Hence, there was a bit of a tiff between father Yash Chopra and son Aditya Chopra about whether they should keep the scene in the movie. Finally, Aditya Chopra's persistence prevailed and we are glad – for the song is a favorite of millions!
3. The title that no one could decide upon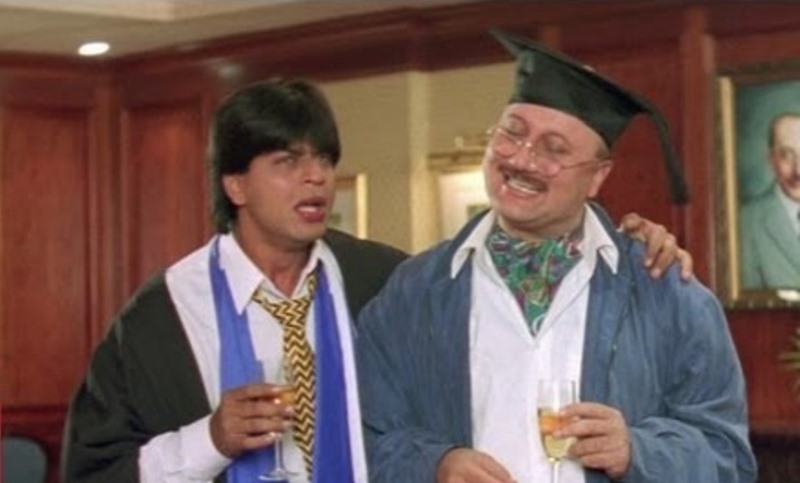 Image source: Youtube
It will come as a surprise to many DDLJ lovers that the title of the movie was chosen by a lady who was not a member of the DDLJ cast. It was Kirron Kher, whose husband, Anupam Kher played Shahrukh's dad in the movie, who had come up with the movie's title. Kajol had expressed her own reservations about the suggestion stating that it sounded too common and frivolous, not to mention, too long. However, the title stuck, and how!!
---
Suggested read: 6 reasons why Salman Khan has the biggest heart in Bollywood
---
4. Funny fact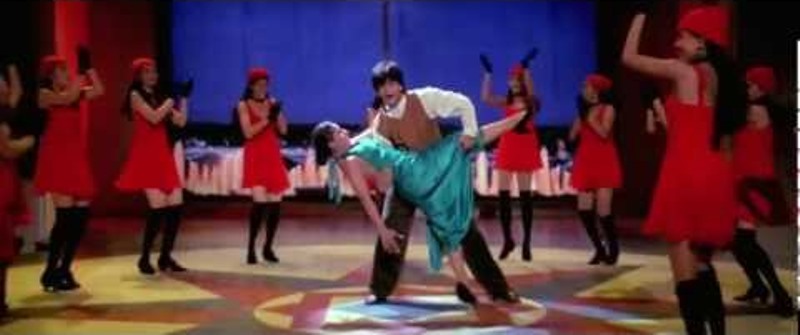 Image source: Youtube
There is a scene at the end of the song 'Ruk Jaa O Dil Deewane' that Kajol and Shahrukh Khan fans have etched on their heart-scape – yep, where SRK drops Kajol. And for those who are replaying it in their heads now, note Kajol's expression is PRICELESS. It was to capture this natural expression that the director, Aditya Chopra, had not intimated Kajol about her impending 'fall.' Humpty Dumpty had a great fall, eh? 😛
5. The unprecedented accident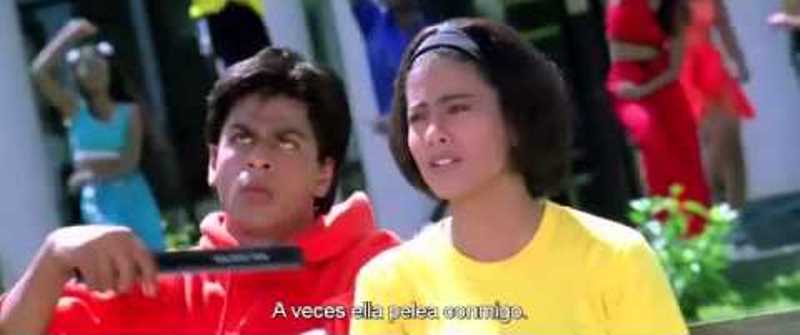 Image source: Youtube
Accidents on the sets aren't unheard of. In Kuch Kuch Hota Hai, Kajol too, met with such a minor accident during a song sequence. She was riding a bike, lost control of it, and ended up with a knee injury.
6. A glimpse of the future celebrities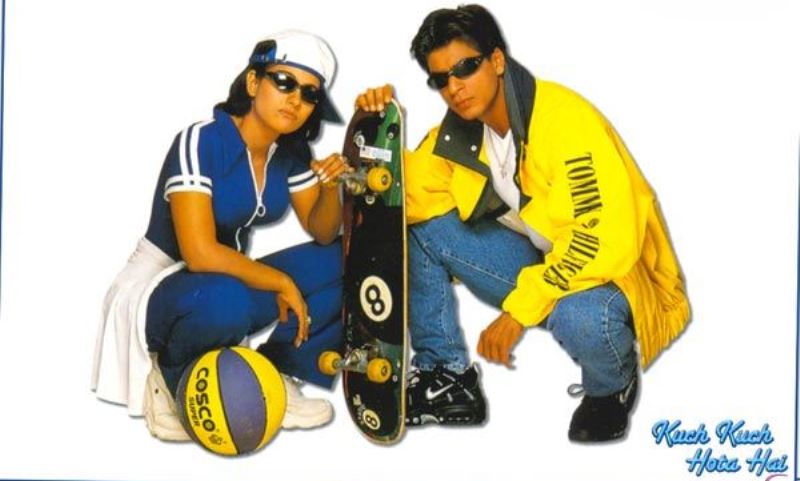 Image source: Pinterest
In Kuch Kuch Hota Hai, there is a sequence which occurs during Neelam's show where a young boy tells his girlfriend that she should leave him as he had fallen for another girl. This boy was none other than Nikhil Advani who would later direct SRK in his film Kal Ho Na Ho. The girl who was his newfound lover in the movie was none other than Farah Khan, who would also later cast SRK in mega-hits such as Main Hoon Na, Om Shanti Om, and Happy New Year.
7. The later husband-to-be recommends the actress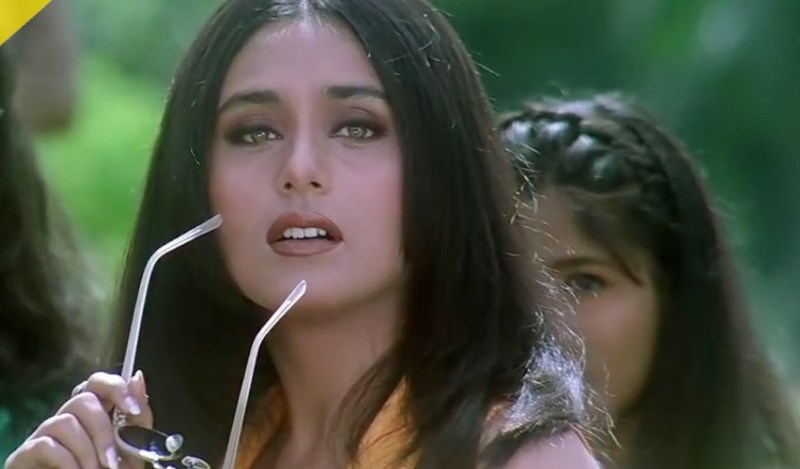 Image source: Youtube
Karan Johar had written the role of Tina of Kuch Kuch Hota Hai with Twinkle Khanna in mind. However, Twinkle Khanna followed by prominent actresses like Karisma Kapoor, Raveena Tandon, Urmila Matondkar, Shilpa Shetty, and Aishwarya Rai refused to play Tina. Subsequently, Aditya Chopra suggested Rani Mukerjee for the part and his choice was accepted by K Jo. Seems like Aditya had fallen for the Bong beauty a long time ago!
8. The Indian Archie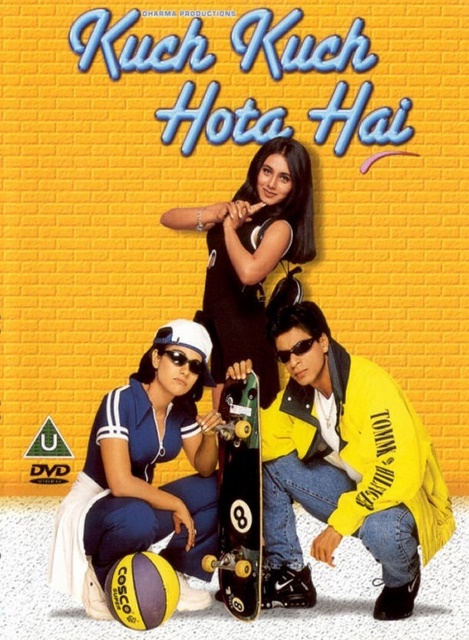 Image source: Pinterest
We bet nobody knew that the characters in Kuch Kuch Hota Hai were based on those in Archie comics. Shahrukh Khan's character in the movie was based on Archie, Rani Mukerjee's on the wealthy heartthrob Veronica, and the sweet, lovable, and kind Betty was played by Kajol. To top it all, Anupam Kher's role was based on the principal in Archie comics, Mr. Weatherbee.
9. Some things just happen for the best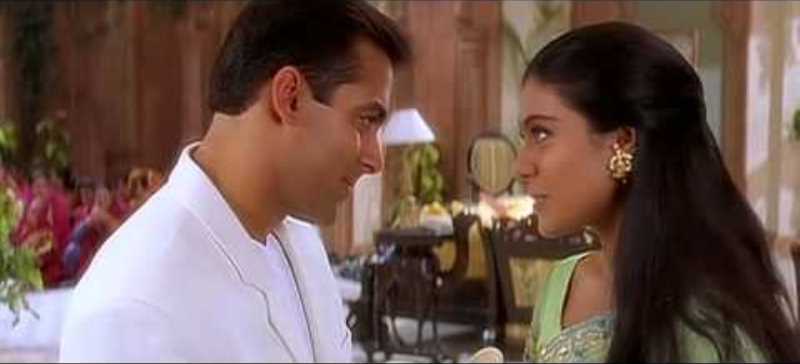 Image source: Youtube
In Kuch Kuch Hota Hai, originally, Saif Ali Khan had been offered the role of Aman, but he turned it down. We do not know how the young nawab would have played the part, but we certainly fell in love with Salman Khan as Aman. Not only did he steal innumerable hearts, but the role also helped him win the award for best supporting actor.
10. Baazigar's origin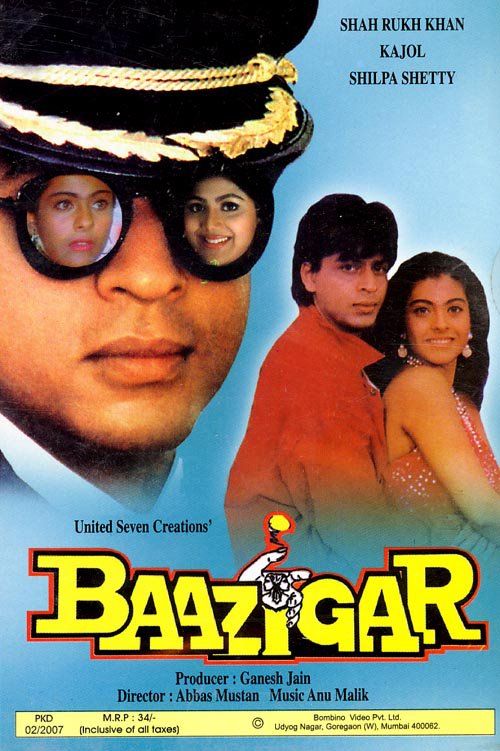 Image source: Pinterest
If any of you would like to watch the movie that inspired the making of the legendary Shahrukh and Kajol movie, Baazigar, where the magical duo is seen romancing for the first time ever, the movie you are seeking is 'A Kiss Before Dying.' It is the English movie from which the movie has been adapted.
---
Suggested read: 10 most romantic couples in Bollywood
---
11. Doing the different
Image source: Pinterest
By agreeing to act in Baazigar, both Shahrukh and Kajol made a bold move in their careers. It was the first movie in Bollywood where the hero kills one of the heroines and has a dark shade to his character, while the actress isn't confined to her usual fate of a 'happily-ever-after.'
There isn't an iota of doubt that the mere mention of SRK and Kajol teaming up for another movie is enough to drive the throngs into a frenzy and get the horde to flock to the nearest cinema, which is why Dilwale is being awaited by millions, with bated breath!
Featured image source: Pinterest
Summary
Article Name
11 Unknown Stories From Shahrukh Khan And Kajol Movies
Author
Description
Shahrukh Khan and Kajol might just be the best onscreen couple who weave magic with an undeniable chemistry. Look at some unknown stories from their movies.