Reciting a poem offers you an experience like nothing else ever can. As poet Maya Angelou once put it, "Words mean more than what is set down on paper. It takes the human voice to imbue them with shades of deeper meaning." While reciting a poem you pay closer attention to a poem than while reading it. Here is a list of some of the best English poems for recitation. So if you are planning to read out a poem any time soon, here are some jewels to choose from.
---
Suggested read: 10 Best Poems By John Donne That Every Poetry Lover Must Read
---
Best English Poems For Recitation
1. Be Glad Your Nose Is On Your Face by Jack Prelutsky
Be glad your nose is on your face,
not pasted on some other place,
for if it were where it is not,
you might dislike your nose a lot.
Imagine if your precious nose
were sandwiched in between your toes,
that clearly would not be a treat,
for you'd be forced to smell your feet.
Your nose would be a source of dread
were it attached atop your head,
it soon would drive you to despair,
forever tickled by your hair.
Within your ear, your nose would be
an absolute catastrophe,
for when you were obliged to sneeze,
your brain would rattle from the breeze.
Your nose, instead, through thick and thin,
remains between your eyes and chin,
not pasted on some other place–
be glad your nose is on your face!
2. I Cannot Live With You by Emily Dickinson
I cannot live with you,
It would be life,
And life is over there
Behind the shelf
The sexton keeps the key to,
Putting up
Our life, his porcelain,
Like a cup
Discarded of the housewife,
Quaint or broken;
A newer Sevres pleases,
Old ones crack.
I could not die with you,
For one must wait
To shut the other's gaze down,
You could not.
And I, could I stand by
And see you freeze,
Without my right of frost,
Death's privilege?
Nor could I rise with you,
Because your face
Would put out Jesus'.
That new grace
Glow plain and foreign
On my homesick eye,
Except that you, than he
Shone closer by.
3. No Second Troy by William Butler Yeats
Why should I blame her that she filled my days
With misery, or that she would of late
Have taught to ignorant men most violent ways,
Or hurled the little streets upon the great.
Had they but courage equal to desire?
What could have made her peaceful with a mind
That nobleness made simple as a fire,
With beauty like a tightened bow, a kind
That is not natural in an age like this,
Being high and solitary and most stern?
Why, what could she have done, being what she is?
Was there another Troy for her to burn?
---
 Suggested read: The King Of Romantic Poetry, P.B. Shelley, And His Creations
---
4. I Wandered Lonely As A Cloud by William Wordsworth
I wandered lonely as a cloud
That floats on high o'er vales and hills,
When all at once I saw a crowd,
A host, of golden daffodils;
Beside the lake, beneath the trees,
Fluttering and dancing in the breeze.
Continuous as the stars that shine
And twinkle on the milky way,
They stretched in never-ending line
Along the margin of a bay:
Ten thousand saw I at a glance,
Tossing their heads in sprightly dance.
The waves beside them danced, but they
Out-did the sparkling leaves in glee;
A poet could not be but gay,
In such a jocund company!
I gazed—and gazed—but little thought
What wealth the show to me had brought:
For oft, when on my couch I lie
In vacant or in pensive mood,
They flash upon that inward eye
Which is the bliss of solitude;
And then my heart with pleasure fills,
And dances with the daffodils.
5. The Poor Ghost by Christina Rossetti
"Oh whence do you come, my dear friend, to me,
With your golden hair all fallen below your knee,
And your face as white as snowdrops on the lea,
And your voice as hollow as the hollow sea?"
"From the other world I come back to you,
My locks are uncurled with dripping drenching dew.
You know the old, whilst I know the new:
But tomorrow you shall know this too."
"Oh not tomorrow into the dark, I pray;
Oh not tomorrow, too soon to go away:
Here I feel warm and well-content and gay:
Give me another year, another day."
"Am I so changed in a day and a night
That mine own only love shrinks from me with fright,
Is fain to turn away to left or right
And cover up his eyes from the sight?"
"Indeed I loved you, my chosen friend,
I loved you for life, but life has an end;
Thro' sickness I was ready to tend:
But death mars all, which we cannot mend.
"Indeed I loved you; I love you yet
If you will stay where your bed is set,
Where I have planted a violet
Which the wind waves, which the dew makes wet."
"Life is gone, then love too is gone,
It was a reed that I leant upon:
Never doubt 1 will leave you alone
And not wake you rattling bone with bone.
"I go home alone to my bed,
Dug deep at the foot and deep at the head,
Roofed in with a load of lead,
Warm enough for the forgotten dead.
"But why did your tears soak thro' the clay,
And why did your sobs wake me where I lay?
I was away, far enough away:
Let me sleep now till the Judgment Day."
6. I'm Not Yours by Sara Teasdale
I am not yours, not lost in you,
Not lost, although I long to be
Lost as a candle lit at noon,
Lost as a snowflake in the sea.
You love me, and I find you still
A spirit beautiful and bright,
Yet I am I, who long to be
Lost as a light is lost in light.
Oh plunge me deep in love — put out
My senses, leave me deaf and blind,
Swept by the tempest of your love,
A taper in a rushing wind.
7. I Have Loved Flowers That Fade by Robert Bridges
I have loved flowers that fade,
Within whose magic tents
Rich hues have marriage made
With sweet unmemoried scents:
A honeymoon delight,
A joy of love at sight,
That ages in an hour
My song be like a flower!.
I have loved airs that die
Before their charm is writ
Along a liquid sky
Trembling to welcome it.
Notes, that with pulse of fire
Proclaim the spirit's desire,
Then die, and are nowhere
My song be like an air!.
Die, song, die like a breath,
And wither as a bloom;
Fear not a flowery death,
Dread not an airy tomb!
Fly with delight, fly hence!
'Twas thine love's tender sense
To feast; now on thy bier
Beauty shall shed a tear.
8. The Charge of the Light Brigade by Lord Alfred Tennyson
Half a league, half a league,
Half a league onward,
All in the valley of Death
Rode the six hundred.
"Forward, the Light Brigade!
Charge for the guns!" he said:
Into the valley of Death
Rode the six hundred.
"Forward, the Light Brigade!"
Was there a man dismayed?
Not though the soldier knew
Some one had blundered:
Their's not to make reply,
Their's not to reason why,
Their's but to do and die:
Into the valley of Death
Rode the six hundred.
Cannon to right of them,
Cannon to left of them,
Cannon in front of them
Volleyed and thundered;
Stormed at with shot and shell,
Boldly they rode and well,
Into the jaws of Death,
Into the mouth of Hell
Rode the six hundred.
Flashed all their sabres bare,
Flashed as they turned in air
Sabring the gunners there,
Charging an army, while
All the world wondered:
Plunged in the battery-smoke
Right through the line they broke;
Cossack and Russian
Reeled from the sabre-stroke
Shattered and sundered.
Then they rode back, but not,
Not the six hundred.
Cannon to right of them,
Cannon to left of them,
Cannon behind them
Volleyed and thundered;
Stormed at with shot and shell,
While horse and hero fell,
They that had fought so well
Came through the jaws of Death
Back from the mouth of Hell,
All that was left of them,
Left of six hundred.
When can their glory fade?
O the wild charge they made!
All the world wondered.
Honour the charge they made!
Honour the Light Brigade,
Noble six hundred!
---
Suggested read: A Conqueror Of All Things Misogynistic, Here's Why Blythe Baird's Poetry Matters
---
That is all we have on today's post on the best English poems for recitation. Did you like what you just read? Let us know in the comment section below.
Keep your eyes on this space if you love books and tales they carry in them. If you want to contribute an article, then please feel free to do so.
See you again next time.
Featured image source: Google, copyright-free image under Creative Commons License
Summary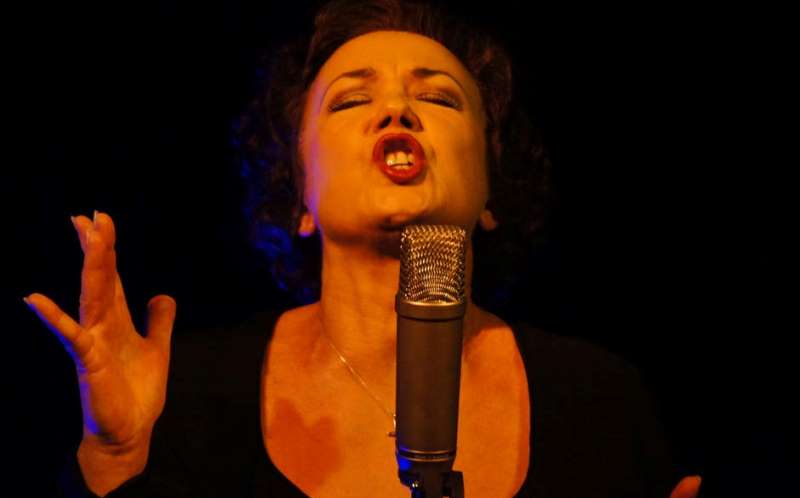 Article Name
Author
8 Best English Poems For Recitation That You Need To Memorize Right Now!
Description
If you are planning to read out a poem any time soon, then this post on the best English poems for recitation has some jewels to choose from.