Fashion is forever evolving and is subject to change due to impacts, it's hard to keep track of every single one of them. Whatever may be responsible for the changing face of fashion, you need to know that this change is actually healthy. Do you still want to be caught in some bubble of fashion where new trends simply fail to pop up? Evolving fashion means tasteful fashion, and thus, let us delve into the top fashion trends that we so want to adopt right now.
1. Pop makeup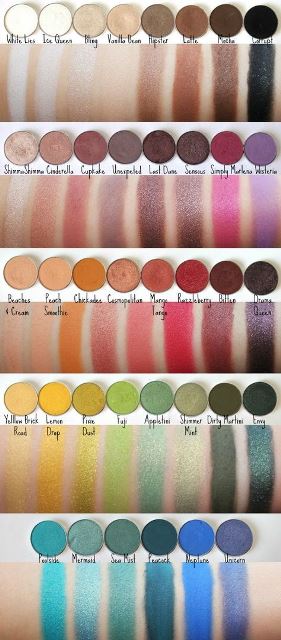 Image source: Pinterest
When it comes to fashion again, makeup trends sit at the top. This season, flaunt daring makeup. Move over seductive tones and haute colors; this is the age of pop makeup. From pop eyes to pop nails, there is nothing trendier than going bright. Smudge your lips with pop stains such as fuchsia and orange rust. For the eyes, go the purple or mauve route. From smudgy lips to pastel eye shadows, there is immense variety to explore in the world of pop makeup.
---
Suggested read: Top 10 female fashion trends of 2015
---
2. Layer player
Image source: Pinterest
Be a layer player this season. Forget the winter layers. We even believe that layering will remain a big trend this Spring and even in the Summer to come. With multi layering, try using bright colors. This will create another effect of color blocking too. Make sure you do not wear layers that are not uncoordinated. In addition, when layering, try and use accents and defined accessories. Something as simple as a sleek belt could do the trick. You may also try to accentuate your curves by layering sheer over pastel opaque. Think of a sheer shirt and a bright-hued tank top with a pair of black leggings.
3. Vintage trends
Image source: Pinterest
Vintage fashion has a bright future. From retro trends such as baubles to polka dots to the pussy cat bow shirts and yellow pants; there is a lot of variety to explore here. Vintage trends call for flaunting muted tones, careless cuts, and structured dressing. Think for instance, yellow skirt with polka dotted skirt that is tucked in neatly. Vintage fashion trends form the most popular among latest fashion trends. These are elegant, very chic, and definitely corporate in style! Rest assured that once you start flaunting vintage fashion trends, your office wear will need no extra investment.
4. Metal rage
Image source: Pinterest
Metallics are back with a bang. While these metallic fashion trends this year are not the disco light styles of the yesteryears, these are definitely all about sheen and shine. The silver metallic dresses are hot this season. Halter tops and dresses too, rock in the department of latest fashion trends in metallics. Among the best ways to flaunt the metallic trend is to keep focus on the main dress and accessorize with nude shoes. It is advised that you avoid heavy accessorizing since these cut away the impact of metallics.
5. Nude shades
Image source: Pinterest
Yes, going the nude shade way is one of the best fashion trends that we have seen of late. From the best pumps that come in nude to the best bodycon dresses in nude, we adore almost everything in this category. Some years back, nude shades were overlooked for bolder colors that had more impact. However, with changing fashion tastes, the palette of latest fashion trends too has evolved how, and wow! If we had to pick one nude trend that rocks and will rock in the years to come, it has to be nude accessories – shoes, bags, belts – anything you feel accessorizes your ensemble!
6. Sheer styles
Image source: Pinterest
Sheer is big and we have a reason for it. It is one of those fashion trends that can suit anyone when flaunted carefully. If you are petite, then this trend could add more dimension to your look. In case you are on the plus-sized end of the spectrum, you can use the sheer style to minimize your curves on the eyes. Sheer helps you color block and brings out the pastel tones to their best. In addition, sheer styles also allow you to accessorize heavily without the need to think if the impact will be a bit too much.
7. Floor-length silhouettes
Image source: Pinterest
Not just the ethnic anarkalis and suits, floor length silhouettes are a rage this season in everything. From maxis to skirts to even gowns, everybody from style divas to the college gal, are grabbing long length outfits that actually help them flaunt their curves. What is better is that those not blessed with the tall gene can adjust using stilettos, while those with naturally great height can easily score a sixer without much ado.
---
Suggested read: Top 15 bizarre fashion trends of 2015
---
8. Fringe binge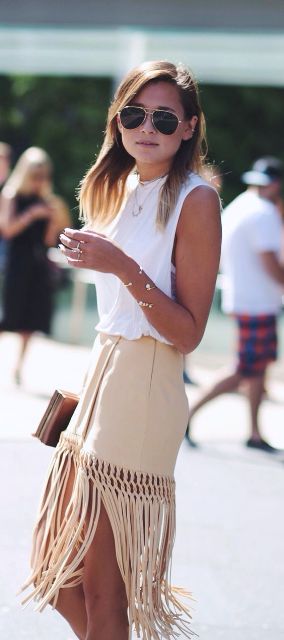 Image source: Pinterest
Fringe is big this season. Perhaps, the best of the fashion trends for now, you can flaunt fringe on everything, from jackets to bags to bikinis to skirts. It cuts down volume and lends an elegant seductress look that is tough to replicate otherwise!
We are impressed! What about you?
Summary
Article Name
8 Fashion Trends We Want To Flaunt This Season
Author
Description
Fashion trends change so quickly that you can barely keep track of them. However, this season, we're all geared up to follow these trends to the T :)