"So many books, so little time." – Frank Zappa
Books are the closest we'll ever get to heaven. In a world that's racing against the clock, and a century that's selling disillusionment to all of us, books are our pocket-sized home. Your reading spot is akin to the gateway to Narnia. It is meant to transport you to some place far away from all bad memories, and reality in general.
---
Suggested read: "Books Promote Empathy, To Put Yourself In Someone Else's Shoes": #NLTTalks With Aisha Arif Esbhani
---
Let's look into some basic things one needs to build some great reading spots:
1. It should be a quiet place
This is A-list priority for me. I absolutely cannot function in too much noise. I lose track of the words if there is too much commotion around me. White noise doesn't bother me too much, but it does affect a lot of people. So, it's imperative that you find a spot which your family members do not frequent.
If you live in a small apartment, with no space that can be deserted by all but you, then there are some improvised methods to block noise out. You could pop in some noise cancellation headphones. If they aren't of the highest quality (because money is a thing), then you could play some soothing instrumental music at a very low volume. This will block out the remnant noise.
Your local supermarket should have ear plugs too. These are foam pieces shaped as corks, which you can thrust into your ears to physically block noise out. This works on the same philosophy as when you put your fingers into your ears. Depending on the quality (and price) of these ear plugs, the material will be better adjusted to your ears. I should warn you that if you resort to really cheap ones, then they could be of a very hard material, causing your ears to start paining after a short while. Some of these varieties are use-and-throw, while some can be used multiple times, and are washable too.
If you can't find these in your local market, then you can always order them online. Make sure you read the reviews before you press 'Add to cart'.
2. Pick your choice of bedding
The first thing you must do, after choosing the spot, is find what you're going to sit on. Let me remind you that you're going to spend a very long time here, so don't drag in something make-shift, like a stool. 30 minutes into it, your back will start killing you, and the moment you're too engrossed, you might even topple over. Save your spine, and find yourself something comfortable to cozy up in.
A lot of people use mattresses for their reading corner, coupled with a blanket. This is the most comfortable setting, according to me. It allows you to read in any position you like. I sometimes read like a snail, with half my body up in the air, and the mattress seems like the best (and only) option for me. Station this against a wall, so that you have enough backrest.
In case you prefer a chair, opt for a comfortable one. An arm-chair will provide more support to your body. A rocking chair would be a splendid idea, especially because of its shape. It will complement your lower back much better than other arrangements. If you are using a standard chair, then you should use pillows and blankets to make sure it adjusts to the curve of your back.
3. Stock up on pillows 
You want your reading nook to be comfortable. As a bibliophile, you will be spending long periods of time nestled up in your reading corner. There is a wide array of pillow-types for you to choose from. Personally, I think Feather and Down pillows are an absolute must. They're soft, fluffy, and very inviting. These pillows are tailor-made for the comfort of the user. If you're using an arm-chair, then you might want a Neck pillow in order to avoid cramps. For people with cervical spondylitis, or anybody whose muscles cramp up really fast, I'd suggest Microbead pillows for your neck. They're made of tiny beads called unexpanded polystyrene (EPS), and give your neck the support it requires. People generally use them as travel-pillows.
Similarly, Lumbar pillows are made to give support to your lower back. Prop these against your hip when you sit down to read, and you won't have to complain about lower-back pain. If you're using some sort of bedding for your reading spot, then I'd suggest you keep Memory-foam pillows handy. These adjust to the shape of your body, and so, bring you the optimum amount of comfort you deserve.
None of these are mandatory, of course. You could use just one or two random pillows to make yourself comfortable.
4. Be closer to nature
This isn't just about Instagram aesthetics, I promise. (Or maybe it is. You will never know.)
Being close to nature brings about a supremely calming effect. If your house has a garden, then try making your reading corner on the porch, or in the room that overlooks the garden. If you live in an apartment with only concrete surrounding you, then you can still achieve this! Mr. Kate, in her bedroom decor videos, often does minimalist paintings of plants, to hang around the headboard. You could press some leaves into a frame, or get yourself a plant. If, like me, you absolutely suck at taking care of living things, then you could even buy a fake plant. They look just as real, but minus the effort. If you like minimalism, then you can opt for a bonsai plant, but they need to be watered thrice a day. So, beware of the responsibility you're undertaking.
If all of these seem too much, then just google some soothing music of a running river, birds chirping, or rain and thunder. Play them softly in the background for a calming ambiance.
---
Suggested read: 20 Touching Wedding Readings From Literature To Make Your Day Incredibly Special
---
5. Don't miss out on food
Food and books are the two biggest cravings of my life. They compliment each other very well. However, I don't like eating solid food which get my hands dirty, while I'm reading. You wouldn't want to leave grease on the pages of your books. Instead, I mostly cozy up with a nice cup of coffee. It's filling, it's warm (or cold, depending on the climate), and it's minimal labor. Keep food nearby, when you go into your reading zone. Nobody wants to be disturbed for meals while they're finding out who the killer is.
6. Find proper lighting
It's important that the spot you've chosen has a lot of light. If you have huge windows in your house, then make use of them and cozy up nearby. Natural light is the absolute best for everything.
But what about night-time, Meghalee?
I've got that sorted too. You could use a strong watt-ed bulb to light the reading area (that is, the divan, chair, bed, or wherever you sit). In case your reading nook is close to the bedroom, you would want to avoid the light spilling into dark quarters and disrupting somebody else's sleep. In order to avoid this, you could use a small study lamp stationed right beside you. My favorite go-to for minimal lighting are the clip-on book lights. You can order them online. Amazon has a wide range of them available. These 'book lights' are small, portable, and battery-operated. They light up just enough to cover the surface area of the book. There are also USB lights which you can plug into your laptop, or charger, and voila! You'll have enough light for a page at a time.
Make sure you avoid reading in dim lighting. If your immune system is anything like mine, then you will suffer from massive headaches. Give your eyes the rest it deserves, and invest in lights so that you can have an uninterrupted reading experience.
7. Surround yourself with a lot of books
This goes without saying. Seeing books makes me very happy. Ideally, the reading corner is located closest to your personal library. If you've run out of space, then you can stack more books around your bedding. Having a reading spot means that the books no longer have to be on the shelf.
If you read while surrounded by piles of books, then you feel more welcome and homely. Also, once you finish a book, you can immediately reach for the next one instead of brooding over the one that's over.
8. Do some DIY décor
This completes the spot. I won't lie when I say, this is 100% for the aesthetics. It serves no practical purpose, apart from the fact that pretty things can uplift your mood much better than drab surroundings.
Your reading nook is going to be your own space, so you might as well personalize it. Mad Stuff With Rob has a brilliant DIY video on a Game of Thrones phone-stand. You could hang fairy lights from the cabinets, but make sure you keep them far away from your bed. You do not want to burn yourself. YouTube has great tutorials on DIY poster-making. You could replicate some of your favorite quotes and hang them on the wall. In fact, hang a board close to the ground and keep a Post-It pad handy. Whenever you come across an interesting line, scribble it on a colorful post-it, and stick it to the board.
---
Suggested read: 12 Reading Resolutions For A Feminist By A Feminist
---
This is all I know about taking one step closer to heaven. I hope you get to create the reading corner of your dreams, and never have to step out of it. Make sure you have markers and bookmarks handy. Nobody wants to risk losing track of life-changing passages.
May you, through all your life, keep your books close, and tissues, closer.
Featured image source: Riya Roy
Summary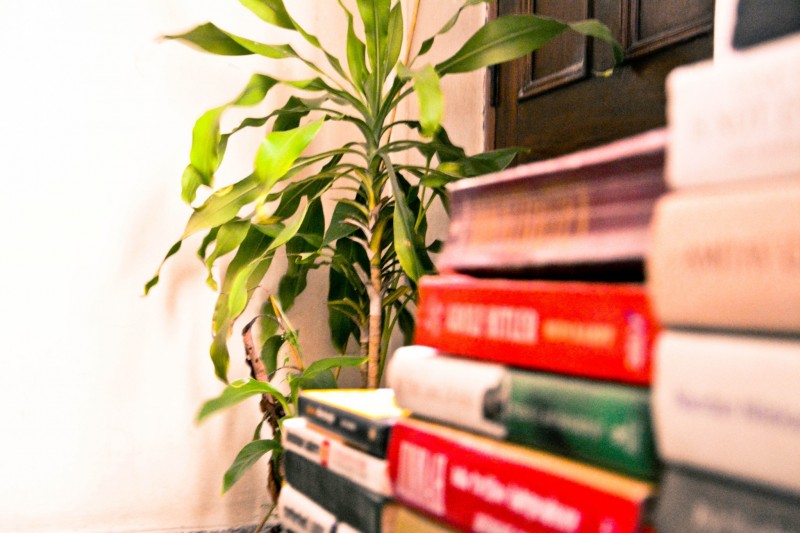 Article Name
8 Ideas To Create The Perfect Reading Spot
Author
Description
Let's look into some basic things one needs in order to build a cozy and nice reading spot, shall we?