The usual soaps aren't for us, are they? Most millennials detest the unrealistic drama that Indian television has been selling to us for ages. In this digital era, we spend most of our lives glued to the smartphone. I know I probably sound like most parents out there, but we secretly agree to this addiction. I spend 90% of the little me-time I have, surfing on YouTube. While it has led me to very strange nyan cat videos, I have also chanced upon absolute gems in the name of entertainment.
---
Suggested read: 10 TV Series You Cannot Afford To Miss In 2017
---
Web series are the new form of digital entertainment that has taken our generation by storm. Digital media platforms like Amazon, Hotstar, and especially YouTube are hosting these storylines that are a crossover between movies and serials. Usually, these series have 5-10 episodes per season (if there happens to be a sequel at all). The length is usually something around 20 minutes per episode, but there are several exceptions. Just like TV serials are released periodically, with a new segment releasing on specific days of the week, web series follow a certain pattern too. Often it happens to be one episode per week. The wait is long and excruciating, but in some cases absolutely worth it.
I've watched several web series over time, and picked some that are particularly dear to me. Here is a lovingly assembled list of the best indian web series you simply should not miss:
1. What The Folks
A Dice Media production, this is everything a millennial would want from a household drama. Gone are the days of Ekta Kapoor, of women smothered in sindoor crying over thrice-dead husbands, or women changing into snakes for the sake of love. This web series gives you something to look forward to post-marriage.
First things first, Veer Rajwant Singh is a man made of dreams. If you turned a cute, fluffy, rainbow-bunny into a human being, it would be him. His character, Nikhil is living with his in-laws for a few weeks, while his wife works in Delhi. Their daily quips and funny interactions with brighten up your day. From fighting over Yogurt, to prejudice against cartoon-boxers, What The Folks keeps you entertained through out. You will find yourself rooting for all the members of the family turn by turn, at different points in the story.
I won't lie. It isn't always smooth sailing. That is perhaps why it is all the more realistic. By the time you're done watching all the episodes, you would sell your soul to Satan if he gave you a ticket to join this family.
2. Behti Naak
I have a feeling that if I ever have a child, this is how I'd want her to turn out. Antisocial, savage, with a sense of humor that would give you a run for your money.
'Behti Naak' is web series conceptualized by Sumukhi Suresh. Set in monochrome, it shows snippets of the days of an 10-year-old Behti played by Suresh herself.
The theme track goes: "Duniya jo bhi kehti hai, uski naaki behti hai." This speaks of how this little ball of savagery is brutally honest about how society is, and how things are. At the end of every video, there's an awkward silence as everybody registers what the young girl has just said. Speaking of divorce, or homosexuality has always been treated like the name of Voldemort in Hogwarts. In a satirical comedy, Suresh has efficiently tried to change that perception.
Fun fact: The title track has been sung by Kanan Gill. The comedy circuit really is multi-talented up to an insane level.
The episodes have been directed by known names in the community, such as Kanan Gill, Naveen Richard, Sonal Batra, etc. Behti's best friend Shikhar is played by Utsav Chakraborty who happens to be an A+ actor. Whatever role this man touches, turns to gold.
Every episode ends with Behti wiping her nose and saying: "Maine to pehle hi kaha tha…"
Moral: Always listen to Behti and do not push her over the edge if you want you do not want your sense of reality to be disrupted.
3. Girl In The City
Mithila Palkar has taken the web-world by storm. A Bindass production, this web series will be dear to anybody who has left home in pursuit of their dreams. Leaving our parents, our comfort zone, behind is the hardest thing one has to do. Sometimes, even our comfort zone has a hard time letting go of us. The journey of Meera Sehgal is far from smooth. It has blissful rises and soul-crushing falls. But the one thing that remains consistent through out the story is Meera's strength. It is inspirational. Be it dealing with a shopping-addict of a roommate, office politics, or the discomfort of shifting to a new city, Meera chases her dreams through it all. I learned so much about life, tackling selfish co-workers, standing your ground, and much more, through the course of this story. It is a must-watch for the soft-hearted ones who are trying to conquer the world.
Mithila Palkar's wardrobe in this series is every fashionista's dream. Meera happens to be a fashion designer herself. Every clothing-combination is straight out of a dream. This series will either make you find ways to use everything in your wardrobe, or send you shopping for more!
Girl In The City has two volumes because of the massive reception it received. Honestly, I cannot wait for the third.
4. Starboyz
This is one of the best Indian web series for several reasons. The three main characters are played by Kenneth Sebastian, Naveen Richard, and Mani Prasad. Star cast? Oh you have to watch this laughter-packed crazy comedy series to find out.
The theme track goes: "Starboyz. We have a spaceship. Starboyz. All others is wasteship. Starboyz. Overspeeding but not fast. Starboyz. We are the best at heart."
The show begins with Naveen narrating the background of their expedition: "…Their mission, pretty much nothing really…"
It's just three boys from the Southern Quadrant having fun in space. Robo Rakesh, their robotic pet, will win your heart 10 times over.
Their adventures include encountering alien life forms to battling the Raj Kachori. This series is uniquely hilarious. They named their spaceship SS Yemma Watson. Do you need any further convincing to binge-watch this mad drama.
It was launched as a part of the Laughter Games, and we hope and pray they make a sequel. Good things like these should never end.
---
Suggested read: Why #ProjectWomanKIND Is THE Web Series You NEED To Watch TODAY!
---
5. Little Things
If you need something to warm up your heart, this is it. This web series revolves around a young couple in a live-in relationship. The characters are played by Dhruv Sehgal (Dhruv) and Mihila Palkar (Kavya).
Little Things is far from your average romance. What makes this series all the more special is the strong bond of friendship that they share. I remember an incident from an early part of the story that made me smile really wide. Dhruv and Kavya had fought, possibly over bathroom-time, and Kavya left for office in an explosive temper. Dhruv, being the sweetheart that he is, sent her biryani to cheer her up. That's right. Biryani! To her office! I would cancel anger sessions for an entire month if somebody sent me food as an apology. (Yes, I'm that ridiculously easy to win over.)
The theme song is equally beautiful. "It's not for us to say, what will be. And at the end of the day, we'll see."
Little Things gives you more than a story. It gives you a kind of love that pulls you in, a story that keeps you begging for more, and two friends for life. When they dropped the last episode, I genuinely wished time would stand still.
Well, God listens sometimes. Little Things Part 2 is going to be released pretty soon. Go binge-watch the first series in order to catch up!
6. Better Life Foundation
This web series has been my best discovery so far. I do not know why more people hadn't heard of it before AIB re-released it. A Them Boxer Shorts production, this is the story of a documentary crew filming an NGO team whose main motive is to make the world a better place. Things however go absolutely haywire in the process.
For example, Naveen Richard can never get his own signature right, and is almost as phobic of signing cheques as I am of spiders. Some major cheques therefore bounce. In one episode, he sets up an entire hand-puppet routine because he thought that The Childrens' Welfare Fund representatives would obviously be children.
Utsav Chakraborty was thrown into the limelight owing to his brilliant skills as an actor. Kanan Gill plays the part of a convict who has to complete a certain number of 'community hours' before he will be let off. He is reluctant, apathetic, and heavily annoyed with the haphazard workplace.
Better Life Foundation is so given to the hullabaloo that they ended up making their logo look like a sad smiley. Watch the series if you want to de-stress your mind. It will leave you in splits!
---
Suggested read: Yes, We Use The F-word: 10 Moments From Y-Films' Series 'Man's World' That Got It Just Right
---
These are some of the best Indian web series I have had the fortune of stumbling upon. Honestly, my eyes have never thanked me more. From laughter to love, pain to party, and fights to friendship, these stories have it all. Delve right in!
Featured image source: Instagram 
Summary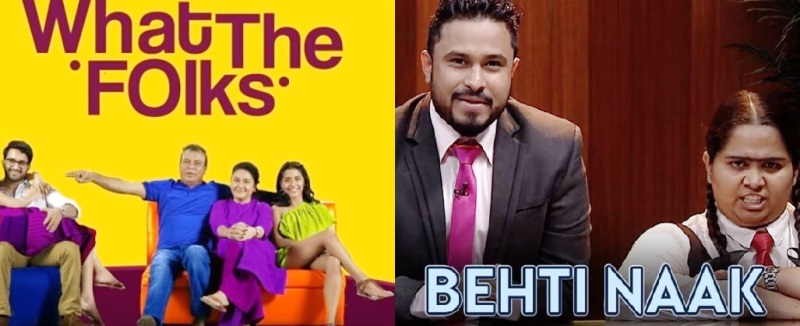 Article Name
6 Best Indian Web Series That You Need To Watch Right Now!
Author
Description
I've picked some web series that are particularly dear to me. You simply should not give these best Indian web series a miss.