Have a wedding coming up? Want to look so perfect that it will knock your husband-to-be's socks off and make him look at you like you are the best thing to have happened to him? Sigh! I know that almost every girl is a diehard romantic at heart, and when it comes to your dream wedding, your eyes must have seen some really big dreams. Amidst the plethora of things to prepare in the wedding craziness, one important thing you have to do is look out for the best bridal lehengas.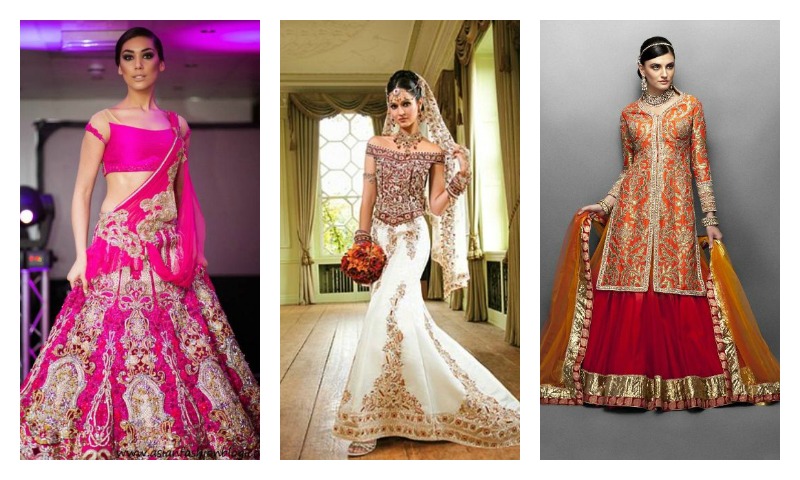 They say that women can spend an eternity picking the finest bridal lehenga choli which will make every guest go awww. If you are a bride-to-be and you are stressing upon how to spot that perfect bridal lehenga which will make your day complete, don't fret anymore. I am here to walk you through the ultimate guide which will help you look so beautiful that people won't be able to take their eyes off you.
---
Suggested read: 11 floral lehengas for the experimental bride
---
So, take a deep breath, tie that hair in a big messy bun, and let's go with the flow to hunt the perfect bridal lehengas for the glowing bride-to-be.
1. Brides with the hourglass figure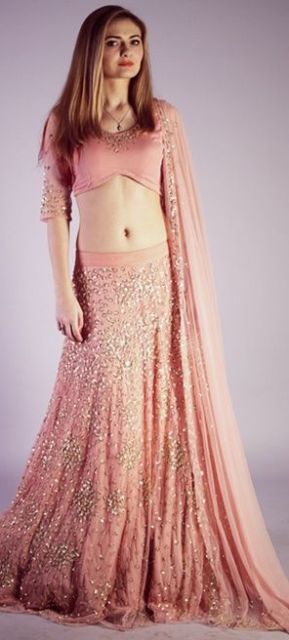 Image source: Pinterest
So many girls die to have that perfect hourglass figure.  Choosing an A-line lehenga seems to be a great choice for you. Choose a flowy fabric which will wrap around your perfect hourglass body. You can top it with a short choli or even a net patterned one such that your beautiful figure will be further accentuated.
2. Thin brides who just can't put on weight
Image source: Pinterest
If you are one of those who can eat buckets of ice cream and still not put on weight, I envy you. You might be stressed as to how you look too frail in whatever you wear, but trust me, when it comes to bridal lehengas, you will be spoilt for choices. It is easy to pick a lehenga which will add to your curves and give you that extra curve which you have always coveted. Go for a bridal lehenga that come with a lot of flare and volume. Choosing one with a stiff fabric is a good option as it will stand erect and will hide your skinny frame with élan.
3. Brides with a bit of bulkiness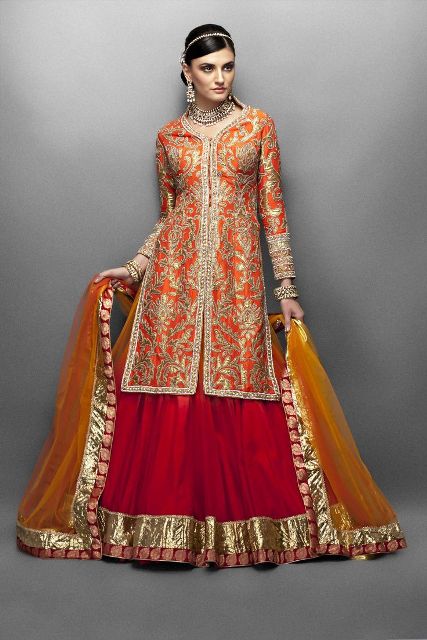 Image source: Pinterest
Obsessed with that extra bit of fat that you can't seem to get rid of? You don't need to cry over it because with the best designer bridal lehengas, you can conceal that bulging bit of fat without trying too hard. If you have a heavier upper body, you can opt for a lehenga that comes with a jacket. These jackets work wonders in hiding that flab. The trick is to have a wide neckline as it can make you look petite and perfect. Of course, you don't need to hide the bulkiness, but sometimes, we want that perfect wedding picture which can help us have our fairy tale
4. Brides who are blessed with curves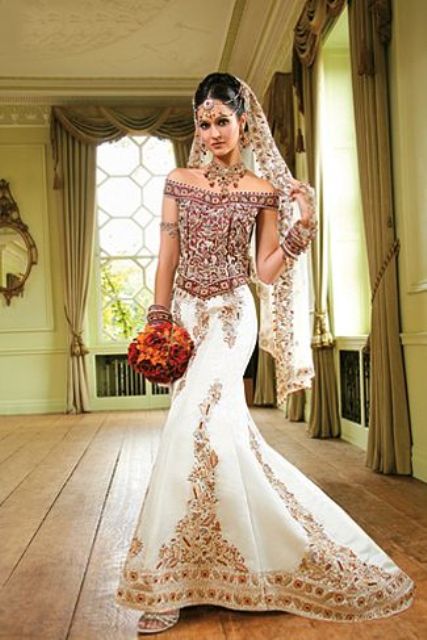 Image source: Pinterest
Do you have a lot of curves? Don't even think of going on a crash diet just before your wedding. Too much dieting will end up robbing that perfect charm from your face. Why stress and cut the calories when you can hide the extra curves with the best lehengas and look so stunning that people will fall in love with your definition of beauty? Go for a sharara or, even cut lehengas. The fish-cut lehenga is very trendy and if your hips aren't particularly wide as compared to the rest of your body, it is going to give you the true flawless look which will make you fall in love with yourself – all over again! The fluid fabric will suit the best; avoid too stiff a fabric as it ends up adding to the curves rather than concealing it.
5. Brides who are dusky beauties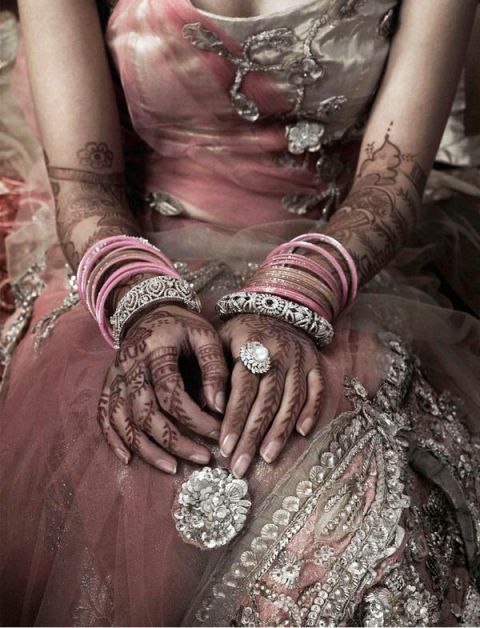 Image source: Pinterest
If you are a gorgeous dusky beauty, take pride in who you are. Opting for a maroon base color will accentuate your skin tone and bring out your inherent charm in you. These days, wedding lehengas have diversified a lot and the stereotypes of red, pink and maroon have long been shattered. You can see brides trying out different colors, and even tones of black and grey are not uncommon. So, if you too want to try out something different for your big event, you can also choose to go for a subtle grey bridal lehenga as it will add to your charming personality. Trending color styles include mauve and olive as well.
---
Suggested read: 12 swoon-worthy wedding mandap designs
---
6. Brides who glow bright and white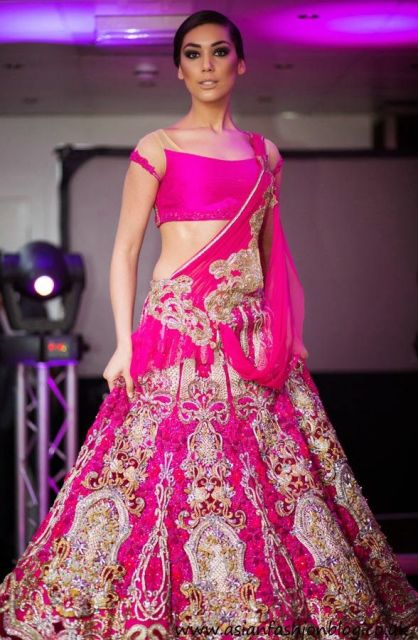 Image source: Pinterest
If you are on the hunt for the best wedding lehenga, go for bright red ones and even hot pink lehengas. These days, bright, vibrant, and fluorescent shades are in, and with a bright and fair skin, you are sure to rock in the perfect lehenga. Be all set to sizzle in your own wedding party and steal your guests' breath away.
7. Brides with average skin tone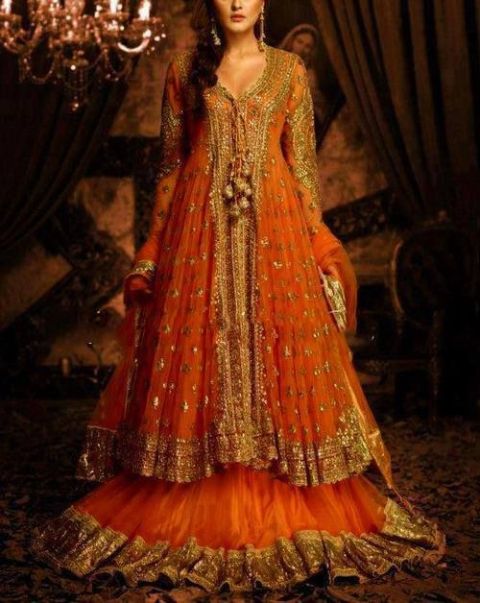 Image source: Pinterest
Do you fall between neither too fair nor too dark skin? Well, it can be a blessing to have the tone as you can enjoy both the dark and the bright shades. Ideally, no matter what you pick, your skin tone will blend with it and you will love the perfect blend of clothes and skin. As you are on the lookout for the best bridal lehengas, you can settle for the trending red lehengas. With the perfect red color, you will surely rock your own wedding. Of course, if you are looking for a bit of experimentation, you can also go with a royal blue lehenga as blue seems to be the color of the season. Yet another trending color choice is orange because it represents happiness and is also very photogenic as well.
8. Brides who are tall
Image source: Pinterest
Tall women have always managed to put their personality across.  If you are tall and you are looking for the finest bridal lehengas, go for the ones that come with a long choli and keep the length of the lehenga apt enough to cover your heels but not longer than that. Don't go for floor-grazing lehengas because you are already tall enough to get that extra height. Also, go easy on the heels by settling for stylish slippers with little elevation. This will help you look graceful and won't accentuate your height even further.
9. Brides who are short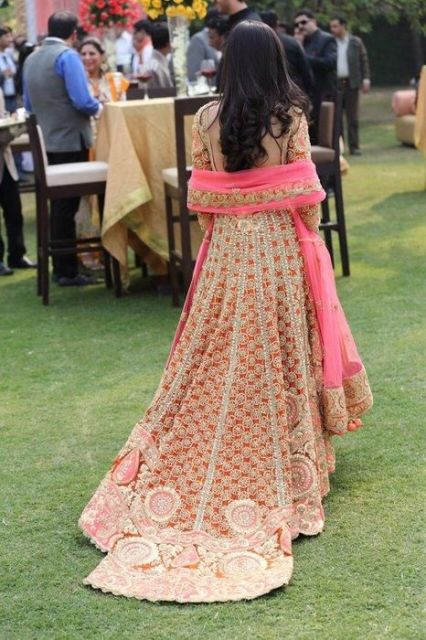 Image source: Pinterest
If you are one of those short brides who just gulped a glass of water dreading the height of the heels you will have to wear to look tall, you don't need to worry. Go for a really long lehenga which can graze the floor but the choli doesn't need to be too long. The combination of a relatively short choli with a long lehenga adds up putting in a little height on you. Of course, your heels can be your best partner and they can easily add an extra 4 to 5 inches. You would look to be the perfect doll which your husband-to-be can't stop adoring.
---
Suggested read: 10 simple yet gorgeous looks for the Indian bride who dares to wear white
---
These are nine of the tips we have to help you pick the perfect bridal lehenga. Weddings are usually a once-in-a-lifetime affairs, so, you deserve all the pampering and care that you want. Make it a point to keep these tips in mind and then go on a shopping spree.
Don't rush when you pick your lehenga because this is one day you are going to remember for the rest of your life.
Do you have any wedding stories to share? Are you the crazy bride that changes her mind every other second? I would love to hear your shopping overhaul stories and how you ended up with the perfect bridal lehenga. Open your heart and share the love! And here's to you having the best life ahead packed with a lot of love, mushy romance, and picture perfect clicks!
Summary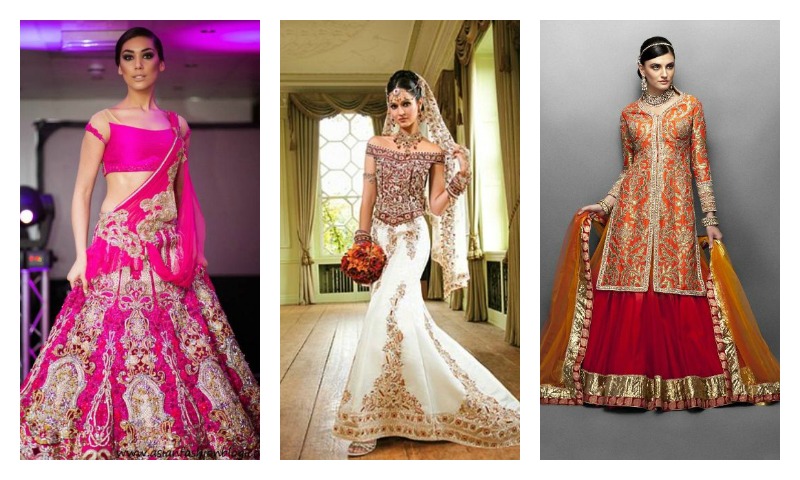 Article Name
9 Tips On How To Choose The Perfect Bridal Lehengas
Author
Description
You bridal lehengas are one of the important elements you need to consider while planning your wedding. Here are a few tips on how to choose the perfect one.