When you think of a wedding, the first thing that comes to your mind is the bride's traditional, startling-white wedding dress, made popular by Queen Victoria after her wedding in 1840. Since then, however, white wedding dresses have been taken to mean the epitome of traditionalism when it comes to dressing the bride for her big day. But times are a changin' and brides have decided to experiment with non-traditional wedding dresses which are gorgeous and no less appropriate for a wedding day.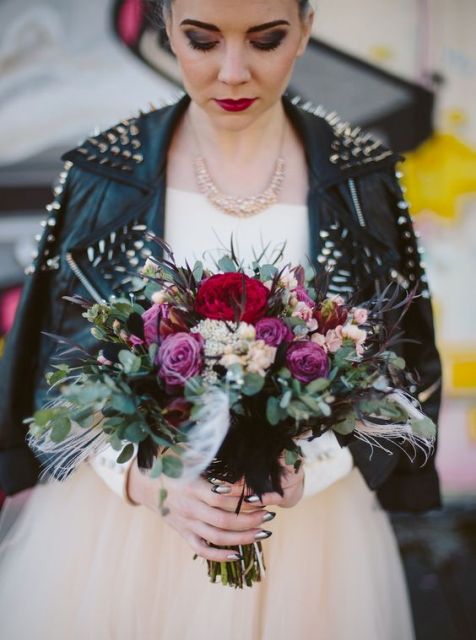 Image source: Pinterest
Non-traditional wedding dresses might not completely replace the fascination that brides have with traditional, a.k.a. white wedding, conventionally structured and created wedding dresses, but the trend of choosing alternative fashion for your wedding day is soon gaining fire, which is why urban, modern, and fashion forward brides now have the option of choosing from a number of such bridal attire from some of the leading names in the industry.
---
Suggested read: 20 gorgeous yet modest wedding dresses for a Church wedding
---
Here are some non-traditional wedding dresses that are bound to convince you that traditional is not the way to go for your big day.
1. Casual chic pale and pink wedding dress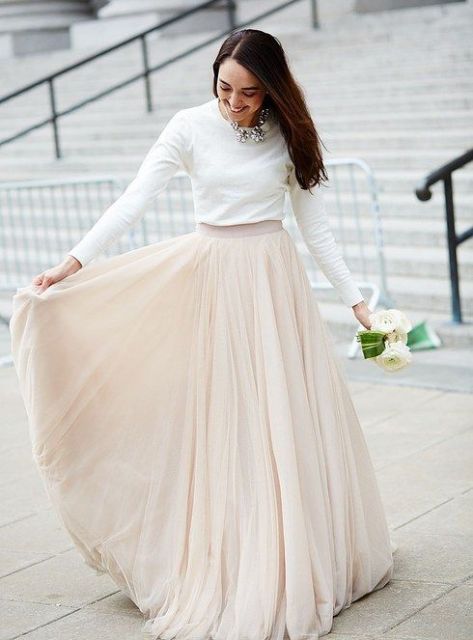 Image source: Pinterest
Whoever thought that you could wear comfortable clothes on your wedding day and still look like the resplendent bride? This wedding dress is composed of a long-sleeved white t-shirt which has been tucked into an A-line tulle skirt in pale pink and accessorized with a statement necklace, making it a stunning wedding dress, without the traditional all-white, or waist band.
2. Structured short dress with bold panelling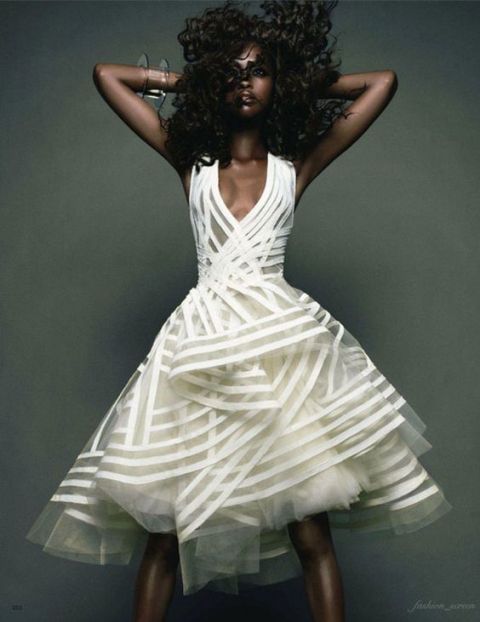 Image source: Pinterest
Even if you want to go all-white, there is always a unique way of doing it. Short wedding dresses are non-traditional in themselves. When you pair it with super contemporary fabric panelling on top of traditional tulle, you get a wedding dress so stunning and so breath-taking, that you can't help but short-list it for your own big day. *Pins to wedding board*
3. Pleated fit and flare silver wedding dress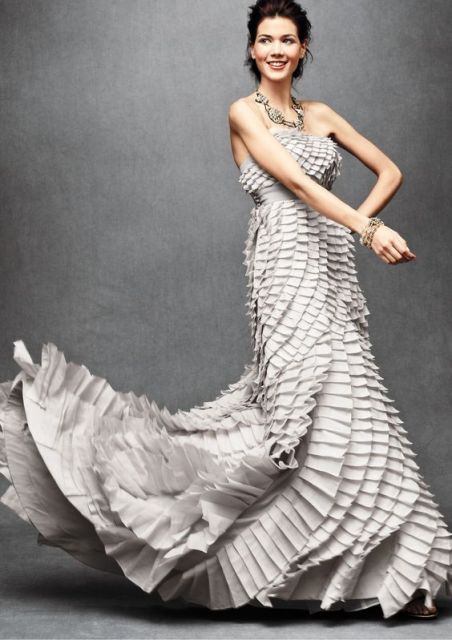 Image source: Pinterest
Mermaid style wedding dresses have long been considered a traditional option for brides. However, a dress which actually makes you look like a mermaid with its silver full body pleats and minimalistic waist-band is definitely non-traditional, as this BHLDN wedding number.
4. Krikor Jabotian 2014 Spring Collection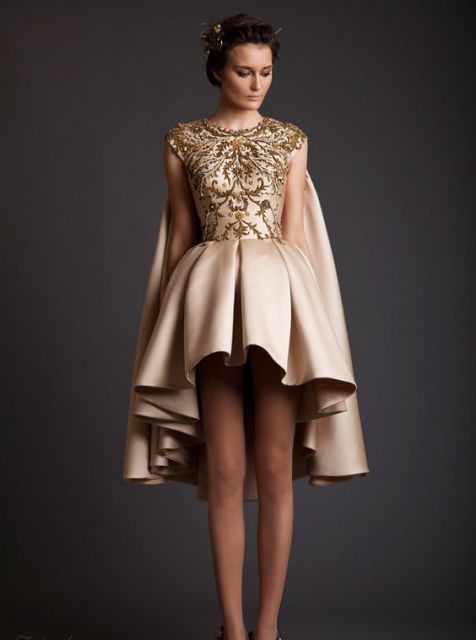 Image source: Pinterest
Krikor Jabotian is a master of non-traditional wedding dresses, and this one looks like it was made out of molten gold. Everything about this dress is unique and modern, including the high-low hemline, the cape/veil addition, and the gold detail down the front. Yet, this wedding dress still makes you look like a Greek Goddess. This is as miraculous as it gets.
5. Stunning fall florals on your wedding dress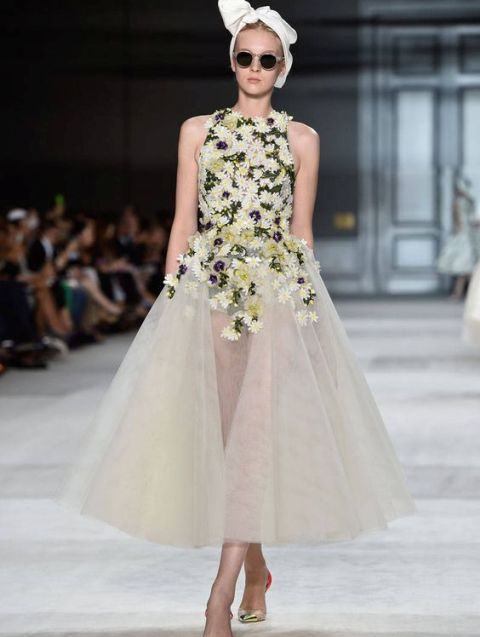 Image source: Pinterest
A traditional wedding dress has floral details and other embellishments, but none that are like this. This stunning tulle creation by Giambattista Valli is one of a kind because of the colorful floral appliqués that have been applied to the torso, while the tulle on the midi skirt is allowed to remain sheer, making a vision out of any contemporary bride.
6. Sculpted white trouser-cape wedding 'dress'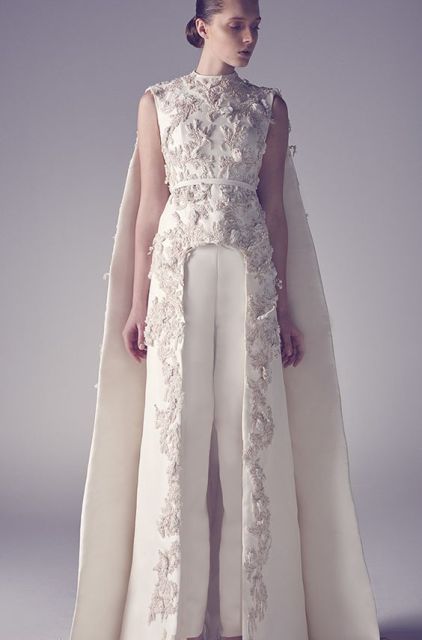 Image source: Pinterest
Ashi Studio is known to create the most amazing and unique wedding dresses, but this one takes the cake, because of its silhouettes, cuts, sculpted white detail, and the fact that your traditional flowy princess-like dress has been replaced with an edgy white cut trousers and an embellished cape.
7. Tulle and leather jacket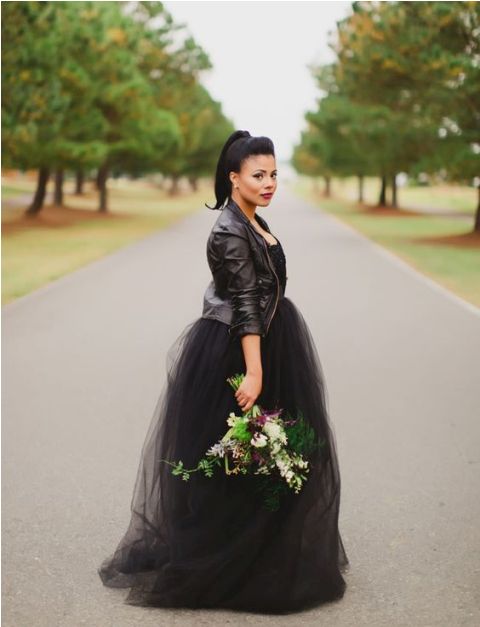 Image source: Pinterest
What could possibly be more non-traditional than a black tulle wedding dress that has been accessorized with a leather jacket? This wedding dress screams to belong to a rock-star bride who is not afraid to break the rules.
8. 'Revealing' wedding dress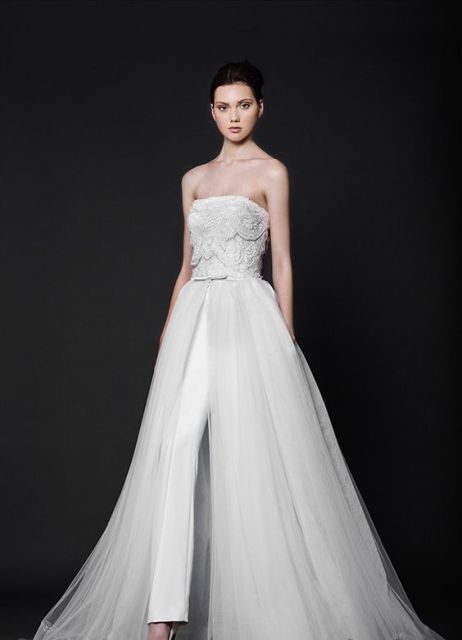 Image source: Pinterest
Tony Ward has created a dress like this purely for effect. When you stand still, this looks like any other white, traditional wedding dress. However, the moment you start to walk down the aisle, a pair of pure white tailored pants is revealed through the waist-high parting in your ethereal skirt, which is bound to attract a number of gasps and exclamations throughout your wedding day.
9. Ethereal gold wedding dress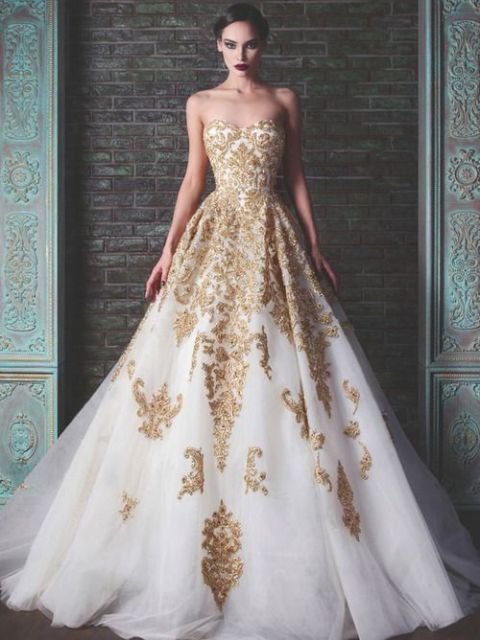 Image source: Pinterest
A wedding dress can be non-traditional based on the colors that are incorporated in the dress as well. This gold embellished number looks like it was created for a fairy tale, because although the structure is conventionally traditional, it is the gold detailing in the top and the skirt, which makes takes it to a notch above the rest.
---
Suggested read: 15 stunning pink wedding dresses for the unconventional bride
---
10. Pink and coral ombré masterpiece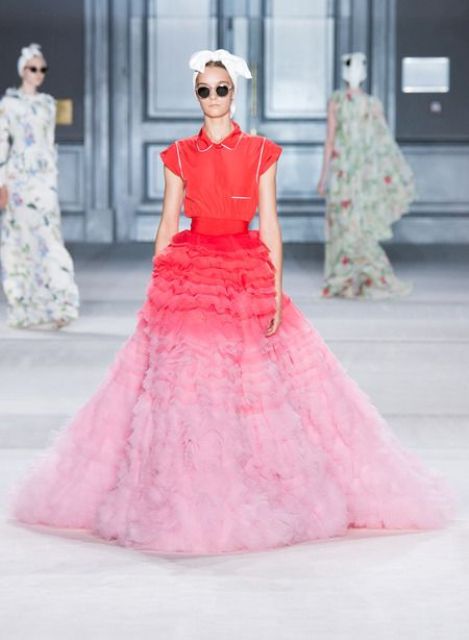 Image source: Pinterest
This wedding dress is again from the house of Italian fashion designer, Giambattista Valli. The striking coral button down top gives way to layers and layers of fading coral and pink feathery material which creates the skirt, making this nothing short of a masterpiece in wedding attire.
11. Black and white monochrome dress from Krikor Jabotian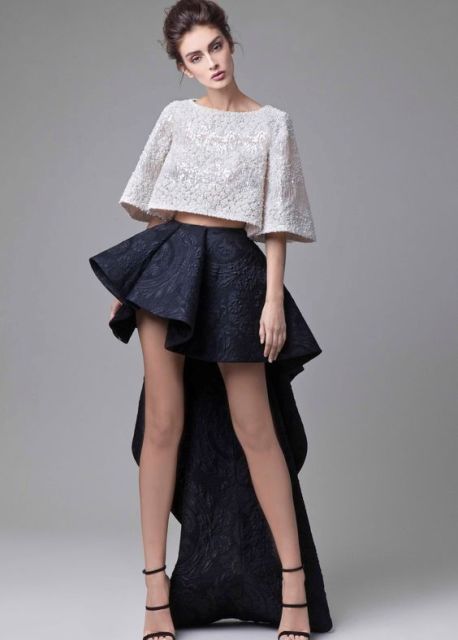 Image source: Pinterest
This is another miraculous creation from Krikor Jabotian, which basically defines, or rather, re-defines what non-traditional means for urban-chic brides. Everything, starting from the violently asymmetrical hemline to the crop top style white top, and of course, the rich black embroidered skirt, makes it the poster-dress for non-traditional weddings.
12. All covered for your 'Something Blue'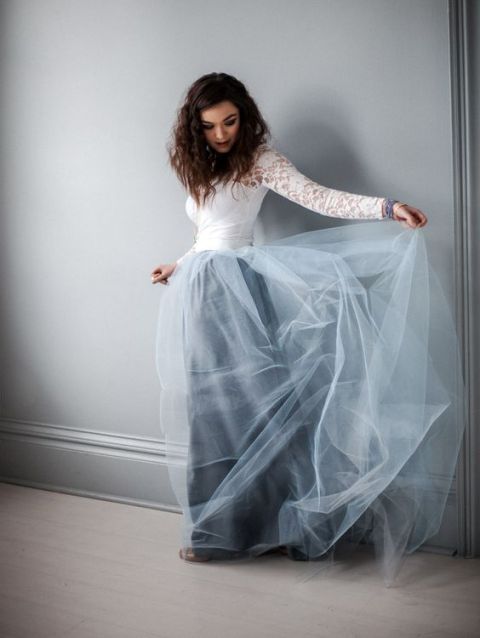 Image source: Pinterest
If you are looking for something that subtly breaks the rules of a traditional wedding, there is nothing more perfect than this lace and tulle stunner. The top is a simple white lace wrapped piece, while the skirt is made of oodles of scrumptious blue-grey tulle, which solves your problem of getting hold of 'something blue' for your wedding.
13. Middle-eastern vibes with your traditional tulle fit dress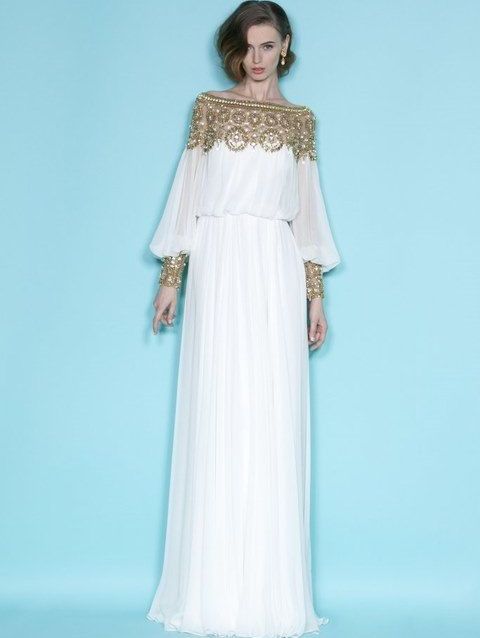 Image source: Pinterest
A traditional wedding dress would look somewhat like this, without the straight neckline and the gold embellishments near the neck and the sleeves. These are the two factors which take your dress from looking completely ordinary, to completely extraordinary.
14. Incredibly structured wedding separates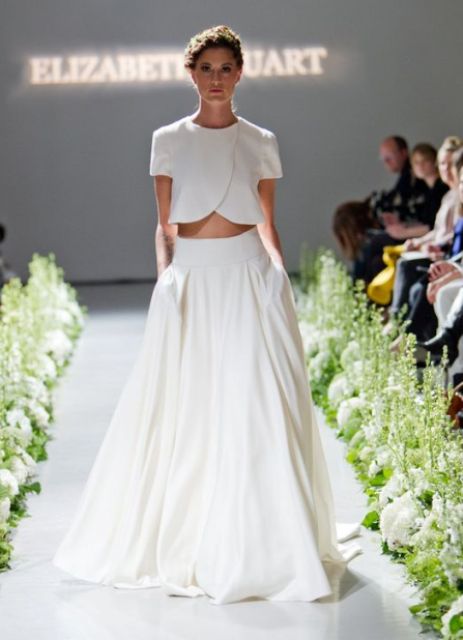 Image source: Pinterest
Non-traditionalism lies not only in the color, but also in the structure and the silhouette. A bunch of plain white fabric is made to look stunning as hell with the right cuts in the right places. The A-line skirt and its plain waist band are highlighted because of the folded over crop top, which adds all the uniqueness the dress needs.
15. Another two-piece wonder
Image source: Pinterest
Wedding separates are in themselves, non-traditional. Now, you can choose how much you want to pimp your dress to make it look the most unique and the most beautiful. Unlike the previous one, this one combines a load of frayed lace on the top to make it the ultimate dress for a Boho chic dream wedding.
16. Flower power on your wedding dress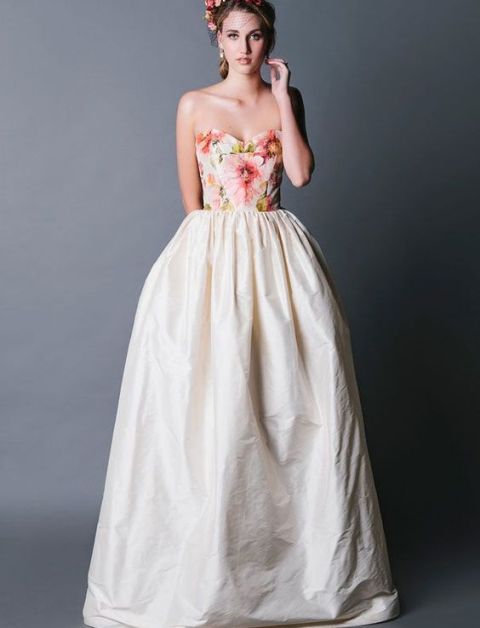 Image source: Pinterest
Floral wedding dresses are all the rage now, and they are the easiest way to pull off a non-traditional wedding. This one, however, is a little special, because the floral section is restricted to the torso, leaving the skirt to be a plain expanse of crumpled fabric, adding character to the dress.
17. Wear your mood on your wedding day
Image source: Pinterest
Sequins are also a favorite accessory on wedding dresses. However, you can make them the most exciting feature about your dress, making it remarkable and far from traditional. Although the dress is cut in a plain A-line, the white and gold sequins distributed throughout the dress make it the perfect attire for a day of union and celebration.
18. White jumpsuit with a cape for your wedding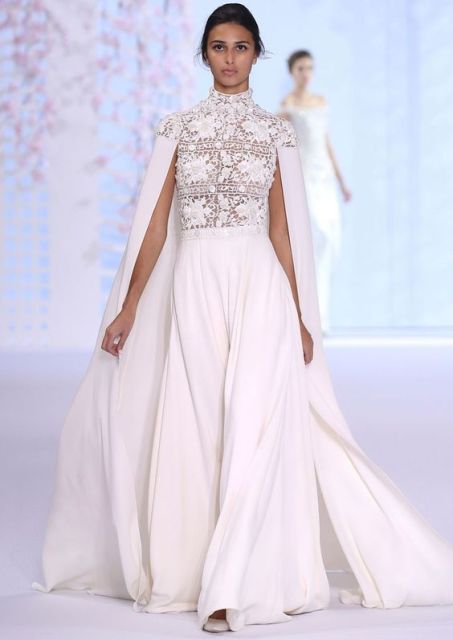 Image source: Pinterest
Honestly, though, how awesome would you look if you wore this to your wedding? This Ralph and Russo creation consists of a bust with intricate lace detail, which leads to a pair of flowy palazzos, which makes up the jumpsuit, but the awesomeness doesn't end there. There is a cape to add to the overall effect of this piece of art.
19. Feathery wedding dress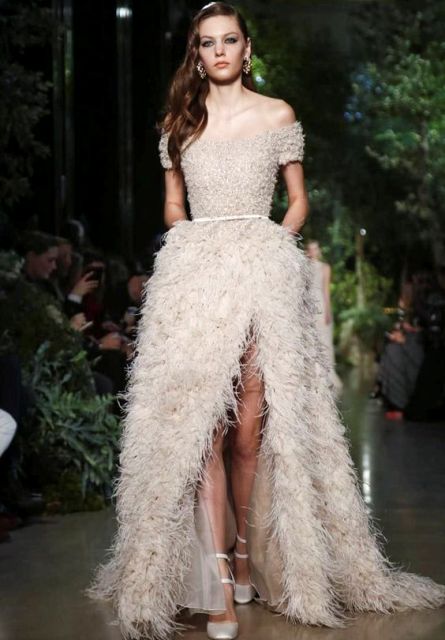 Image source: Pinterest
A lot of people have put a lot of things on wedding dresses to make them pretty, but Elie Saab has mastered the art of incorporating feathers into this ceremonial attire, thereby making it gorgeous, yet non-traditional and unique. While the top remains replete with sequins, the skirt is a beautiful feathery flare, with an incredibly sexy thigh-high slit.
---
Suggested read: 20 stunningly sexy sheer wedding dresses that will make you swoon
---
20. Irish crochet on your wedding dress
Image source: Pinterest
You can make your wedding dress non-traditional by choosing a non-traditional material as well, and that has been beautifully demonstrated by this beautiful crochet wedding dress, which makes you look like a forest nymph to be honest.
After a list of some of the most stunning non-traditional wedding dresses, you might be thinking what traditional wedding dresses look like, and why brides for generations and generations have chosen to go with the same boring options when they have a whole world of interesting, unique and ridiculously good-looking wedding dresses to choose from. No?
Summary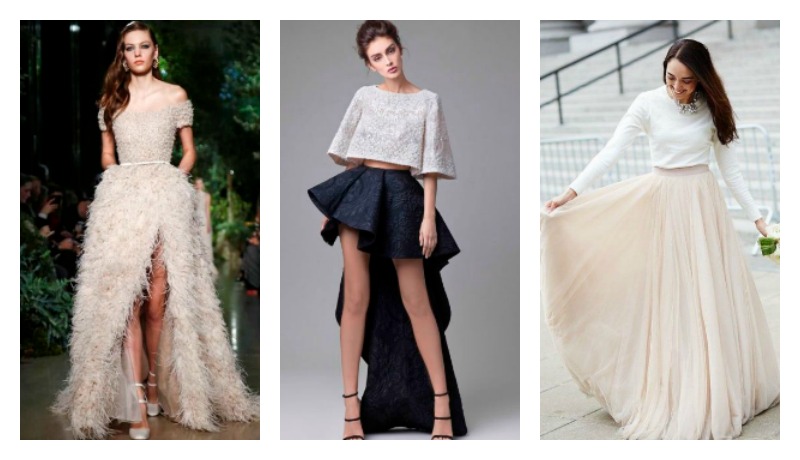 Article Name
20 Non-traditional Wedding Dresses For An Unconventional Wedding Day
Author
Description
Chuck traditional white wedding dresses and check out these absolutely stunning non-traditional wedding dresses that will leave you speechless!