In the past decade, Indian fashion has grown by leaps and bounds, progressing from Bollywood's chiffon saris and heavily embroidered lehengas, to incredibly chic, couture pieces that will make your hipster heart weep with sheer joy.
Had you asked me to make you a list of gorgeous wedding dress designers, half a decade ago, the list would probably have just contained a billion pictures of wedding dresses by Sabyasachi Mukherjee and Manish Malhotra because, let's admit it, they are bridal-wear gods. But recently, the Indian fashion scene has seen (pun not intended) an influx of incredibly talented alternative Indian fashion designers who have elevated the industry to a whole other level.
---
Suggested read: 22 Breathtaking Wedding Lehengas By Sabyasachi To Inspire Your Wedding Fashion Game!
---
Here are 10 less known Indian fashion designers you'll fall in love with if you're a hipster bride.
1. Sanjay Garg
Sanjay Garg, founder of Raw Mango, hails from a small village in Rajasthan. His fashion philosophy transcends fashion trends and fashion shows, as he pays more attention on creating classic but contemporary pieces of art that will remain "in fashion" forever. Raw Mango plays with traditional styles of weaving and contemporary silhouettes. Let's just cut the chit chat and look at some of his wedding dresses (and cry over how perfect they all are).
This yellow and gold silk gherao lehenga is making me feel things I did not know I could feel.
So…*sobs*… beautiful
BRB, crying.
Damn.
Sanjay Garg has mastered the art of creating pieces that are both sober and incredibly colorful. Most of Sanjay Garg's pieces include a lot of beautiful, intricate handiwork (usually Zari) on gorgeous, shiny silk. Most of his saris are color-blocked silk saris that range from crude raw silk, to beautifully woven Chanderi silk, with intricate golden, silver and brass Zari qould done on the borders and on the pallu.
His lehengas tend to be pretty big and structured (as opposed to the Manish Malhotra flowy lehengas we've all grown used to). He chooses the most beautifully pigmented versions of most colors (like a deep "Rani Pink", "Peacock Blue", "Royal Purple", "Sunshine Yellow", etc) which boast an almost jewel-like finish on the impeccably woven silk cloth. If you're a bride who wants to shine with the light of a thousand stars on her wedding day, without having to bear the load of a ton of jewelry/crystals/semi-precious stones stitched on to their wedding dress, then Sanjay Garg is the person you want to hit up for the most beautiful wedding dress ever.
2. Anavila Misra
Anavila Misra is a designer from Haryana, who uses organic materials to create some incredibly chic saris and indo-western outfits. While Sanjay Garg's designs had an almost royal feel to it, Anavila goes for understated prints, sober colors and comfortable silhouettes. She tends to favor soft, comfortable and manageable cloths like cotton, "sooti" and linen, which look like they probably feel hella fluffy clouds against your skin. Here are some of her beautiful, BEAUTIFUL pieces.
Can you imagine wearing this linen sari for your Haldi ceremony? Cuz I totally can and I am not even getting married.
Brick Red and Olive Green Linen Sari with a gorgeous golden border, giving us life.
This Gold-on-Gold Linen Sari looks like something a queen might wear.
Anavila's understated linen and sooti saris have made all our hipster dreams come true.
3. Payal Khandwala
Payal Khandwala started her eponymous bran Payal Khandwala in 2012. Her muse is the "non-conformist woman" who refuses to compromise on luxury or on exclusivity. Her pieces included lots of beautiful, separate layers that all come together to create some beautifully architecture clothing. Payal Khandwala's designs are fun, bright, and nothing like anything you have ever seen before. Here are some of our absolute favorite picks for hipster brides.
Lehengas can be pretty heavy and uncomfortable, especially if you're the kind of bride who wants to have the time of her life at her wedding, instead of just sitting on a chair and greeting guests. So we give you, the Little Sari. Payal Khandwala's Little Saris are essentially jus pantsuit saris. So you get the beauty of the sari, with the comfort of pants! YAAAASSSS.
I think I have actual tears.
This is fashion of the future right here.
This masterpiece is why she is part of this highly coveted list.
Pair this blood-red one-shoulder silk lehenga dress with some bold, gold jewelry to take it from "red carpet worthy" to "bridal-wear of the CENTURY".
4. Rahul Mishra
Rahul Mishra is a Delhi-based designer with a flair for reinventing traditional Indian weaving and stitching techniques in a modern and youthful way. He won the International Woolmark Prize in 2014 at Milan Fashion Week, becoming the first Indian designer to win the award. His pieces are intricate and truly one of a kind. He usually opts for classic feminine silhouettes but turns them into pieces of art that even the most unconventional bride will fall in love with. Here are some of our favorite pieces from Rahul Mishra.
---
Suggested read: 16 Manish Malhotra Wedding Dresses Which Are Drop Dead Gorgeous
---
5. Rashi Kapoor
Rashi Kapoor is a Kolkata-based designer with a flair for quirky and youthful bridal-wear that will make you want to get married tomorrow. (We can sort out the less important details like the bride-groom etc, later.) She plays with colors traditionally associated with weddings (like red, silver, gold) but uses them in an innovative and hipster way. Here are some of our favorite pieces by Rashi Kapoor.
Summary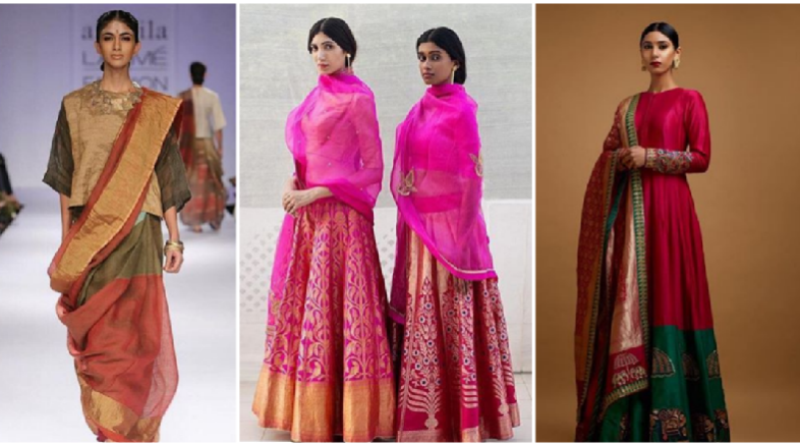 Article Name
10 Amazing Indian Fashion Designers For The Hipster Bride
Author
Description
If you are a hipster bride, looking for unconventional wedding wear, check out these alternative Indian fashion designers, who will make you swoon.
Read the rest of the article:
Next