Tanned skin has been in vogue ever since we saw Coco Chanel catching some rays in 1923! More recently, however, people have learnt that excessive sun exposure can have harmful side-effects. Today, you are considered more fashionable if you flaunt your natural skin tone, in the same way that it is trendy to embrace your naturally thick eyebrows. If only I could go back in time, and give a boost to my pale, hairy younger self telling her, "Baby, your time is about to come!"
Women with pale skin are having a moment in the sun (figuratively, dude!), thanks to celebs like the gorgeous Dita on Teese, Emma Stone, the Fanning sisters, and Rooney Mara, to name some. Like them, you too, shouldn't feel that you have to turn yourself orange to look beautiful! Through our guide on makeup for pale skin let us acquaint you with makeup products that are must-haves for you.
---
Suggested read: The guide on how to choose blush that flatters tour skin tone
---
All that's great, but you must know that maintaining pale skin isn't an easy job. You need to make sure you are wearing SPF 30 (at least) to protect your skin from the sun, all the time. Finding the right makeup is also going to be a headache. Unearthing the right shade of lipstick or blush that doesn't make you look like a clown, can be a struggle. Also, finding the right foundation or bronzer that does not only look fine in the store, but is also great on your skin thereafter, can be a drag.
Have you ever lamented about not finding the right makeup for your skin? Well, your cry has been heard, and your quest answered! Here are 9 products you need for your pale skin, and video tutorials on how to apply them.
1. Luminizer
There is a general rule of thumb for luminizers: For pale-looking skin, pearlescent tones work best while peach or gold tones are better suited for people with darker skin. The luminizer from Sephora helps you break that rule since it is self-adjusting. This is a cream that blends to a light highlight and makes your pale skin radiate.
2. Concealer
A concealer becomes a holy grail whenever someone tries makeup for pale skin. If you have a tricky skin texture, the NARS' Radiant Creamy Concealer can be your savior. These concealers come in a plethora of shades, from chantilly to cacao. The former is called the true ivory shade for people with pale skin.
If you have a slight tinge of pink in your skin tone, you can go up a shade to vanilla. The concealer makes your skin luminous. Pale skin has the tendency to look dry after makeup is applied. The concealer will provide you with a delicate shimmer, gliding smoothly onto your dehydrated skin.
For those on a budget, the Maybelline Fit Me Concealer is a great choice. It comes in 6 shades, and the lightest shade has a pretty creamy consistency. But if you want a better shade and a better glow, we suggest you save up for the concealer from NARS.
Pro-tip: If you are prone to dark circles under your eyes, the color-correcting trend can give you a hand, thanks to the concealer approved by Lancôme's editor. With a yellow cast it diffuses your purple tones, brightening up your pale complexion. For an instant lift, pat under your eyes after applying the foundation. 
3. Foundation
The concealer should be applied after the foundation, but finding the right foundation for your pale skin can be severely frustrating. Acne scars cause a discoloration that becomes more visible on fair skin.  BB creams are usually too sheer or carroty, and so, those with pale skin are better off without them. You should go for medium-coverage foundations from a line of makeup products which provide a number of shades. NARS Sheer Glow Foundation offers 17 shades while L'Oréal True Match Healthy Luminous Makeup has 15. And if you can save up a little more, Clinique Even Better Makeup can give you a whopping 30 shades.
You need to look for a sheer foundation that let your freckles show through, (why should you cover up those adorable freckles?!), and also doesn't oxidize after a couple of hours. Try using a primer under your makeup since that helps prevent oxidization. Also, go for a foundation which already has SPF. That way you need not bother about the sunscreen. Clinique and L'O real have an SPF of 20.
If you still have trouble finding a suitable foundation, or if you get hold of a superb formula without great range, try adding MAC Face And Body Foundation In White to it. This will create the perfect shade that you need.
4. Blush
As a woman with pale skin you must have often shied away from blush because it stands out on your fair skin tone, and makes you look, sorry for the word, clownish! Well fret not! You just need to find yourself the right shade of blush.
Kristina Johnson, professional makeup artist says,
"Make sure you have color on your cheeks, but be careful with blushes and bronzers that are too dark or orange."
Try your hands on sheer shades of pink first. For a natural-look, Bobbi Brown Blush is the best since it has a wide range of shades that you can choose from. You should try coordinating your cheek colour with the colour of your lips. And then pick a warm-toned pink lipstick and a balmy pink blush.
---
Suggested read: 25 of the most effective home remedies for glowing skin
---
5. Bronzer
According to Johnson, many pale-skinned women often fall into the trap of applying a bronzer that is either too dark for them or too orange for their complexion. It has happened with most of us, even when we have worked with bronzers that looked innocent, initially!
For those with extremely fair skin, the best bronzer's ought to be the Too Faced Chocolate Soleil Matte Bronzer. You can find these in two different shades: Light/medium and Medium/dark. For those with pale skin, the first one is a better option. It is brown without any unwanted tinge of orange. And do you know what is the best part about this bronzer?  It smells delicious! Reason enough to get hold of it, right?! 😉
6. Contour and highlight
If you want a light contouring, just use your finger and swipe a line under the cheekbones to your temples. Now buff it in properly using a kabuki brush. You need to blend it in thoroughly because that is the key to the soft look you need.
Achieving a contoured look which is soft and subtle can be a tough job, especially for those with a pale skin tone. Rather than playing with the palettes, go straight for the tried and tested formula: Contour using a foundation one shade darker than your skin tone.
Picking the right shade is half the battle won. Tarte's formula is amazing as it comes in 15 different shades with each one specifically created for a particular undertone. The build-in netting helps you get the lightest application possible which is great for those who are fair-skinned. Just dip your brush (better be fluffy) into the formula, spin, tap off extra, and dust it on!
Highlighters are easier for pale-skinned women than contour and bronzer. There are three things you must be very careful about while picking the perfect highlighter: Sparkle, denseness and undertones. Depending on whether your skin tone is warm or cool, go for either highlighter with pink, gold or silver undertones. Avoid golden or peach undertones though, coz they swerve into the orange territory sometimes, and that's not a happy place for us!
7. Nude lipstick
Nude lippies are tricky for every complexion, but girls with pale skin have a tougher time, coz there is a high chance you will look all washed out. Try and dodge hints of brown or orange in your lipsticks, and pick out peach or pink tones instead.
Alexa Chung has already confessed her crush on the range of nude shades Yves Saint Laurent Rouge Volupte Lipsticks provide. Chung is the queen of cat eye and nude lippies, and you know that paying heed to her advice could only do you good!
8. Eyeliner
The cult favorite when it comes to eyeliner for pale skin tone is Stile Stay All Day. And the reason is, it is very easy to apply and NEVER SMUDGES! But be careful because black eyeliner can look pretty harsh on your fair skin.
Stile comes with a wide range that offers 15 shades. Our experts pick brown and gray as better options for those with a fair complexion. If you are ballsy try using a shade of blue in a thin line on the upper lash-line. This isn't a subtle alternative, but you are sure to look sexy AF!
9. Mascara
To make sure your almost invisible lashes stand out, you might try jet-back mascara. But you cannot go all-bold all the time. Sometimes you got to keep things soft, and that's when you pick out a subtle brown mascara! This is what the doctor orders for nailing the everyday look, right?!
Brown mascara also serves another purpose. It helps highlight your long lashes without making them look like the legs of a spider! Clinique's Lash Power Feathering Mascara comes in a Dark Chocolate variety, and is excellent at separating the eyelashes. It gives you the extra oomph factor which lasts all day long!
---
Suggested read: The best Fall makeup looks, and how to get them
---
That's a wrap from us! Was this helpful? Do you have questions for our experts? Sound off in the comments below!
For more guides like this one on makeup for pale skin, sign up for our newsletter today!
Featured image source: Pixabay, under Creative Commons License
Summary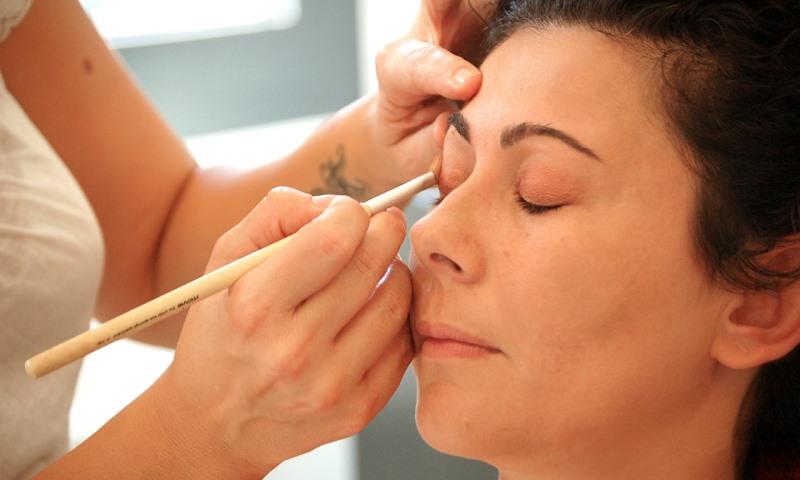 Article Name
A Complete Guide On How To Apply Makeup For Pale Skin
Author
Description
Stop fawning over your fair skin-tone. Here's a guide on makeup for pale skin with what products to use and how to use them! You can thank us later!